The number hovers over these NBA Finals: 31-1 -- the Golden State Warriors' record in their past 32 games with Stephen Curry and without Kevin Durant.
That is the version of Golden State that begins this final chase for a three-peat, and the team's fourth title in five seasons. If Durant returns, this becomes two different series: with him, and without him.
The Warriors can win it without him. That is self-evident. But that 31-1 number does not make them a sure thing against a confident Toronto Raptors team carrying home-court advantage. Golden State compiled that record against the broader NBA. Its opponents in all such games had a collective scoring margin of just plus-0.3 points per game, according to research by ESPN's Kevin Pelton.
The first stretch, coinciding with Durant's knee injury in 2017, came against a soft schedule. The Warriors eked out five-plus quarters against a Houston Rockets team that seemed overwhelmed by its opportunity. The Portland Trail Blazers were thin and gassed.
The deep end of the playoffs is where those records go to die. The Rockets of last season were unbeatable with all three of Chris Paul, James Harden and Clint Capela -- until the Warriors beat them. The Milwaukee Bucks hadn't lost three consecutive games until these Raptors blitzed them in four straight.
Without Durant, the Warriors lose their No. 1 option defending Kawhi Leonard, who has become San Antonio's "pound the rock" ethos incarnate: He makes sure you feel him on every possession, with burrowing shoulder-checks and implausible extended arms and a brick-wall torso not even Giannis Antetokounmpo could move, until you finally crack under the unrelenting pressure.
Leonard is an almost perfect postseason player. He is shooting 55 percent on long 2-pointers in these playoffs. The ability to hit contested, unassisted midrange shots at that rate is the ultimate postseason weapon. It is the skill that makes Durant Golden State's fail-safe. It is insurance against slumps, and elite defenses that take away everything else.
It could allow for Toronto to control tempo the way LeBron's Cavaliers did in toppling the last Golden State team without Durant. The Raptors and Warriors rank as two of the league's best fast-breaking teams. Which team finds more of those chaos points -- without leaking on the offensive glass, where the Warriors have been hungrier in the playoffs -- will play a role determining the championship.
Turnovers lead to those kinds of chaos points, and Golden State's turnover rate could be a bellwether. Toronto has long arms everywhere; the Warriors have a long history of arrogant, casual gaffes.
The Raptors won the possession game against the Bucks, and they have to again here -- against a Warriors team that has ramped up its offensive rebounding. Toronto forces a good number of turnovers, and Golden State is prone to making them.
Kyle Lowry and Pascal Siakam are smart seizing run-out chances. They should continue to, even against the greatest fast-breaking team since the Showtime Lakers -- just as the 2016 Cavs did in defiance of conventional wisdom. But when those chances don't present themselves, Leonard can grind the game to a pace that saps Golden State's verve.
---
When Toronto has the ball
In the one game Leonard played against Golden State this season, Klay Thompson took the bulk of the Leonard assignment when Durant rested. The bet here is the job falls first to Andre Iguodala, with Thompson taking Lowry, and Curry hiding on Danny Green. That probably leaves Draymond Green on Siakam, and whomever starts at center on Marc Gasol.
It might be time for Steve Kerr to get on with it and start Kevon Looney. The Warriors are wary of overtaxing Looney. They like bringing high-IQ players off the bench to settle reserve units. Looney and Iguodala have nice chemistry.
But Iguodala is starting for now, and Looney is way better than Jordan Bell, Andrew Bogut or Damian Jones. Start him -- even if DeMarcus Cousins returns. A recovering Cousins fits better with Golden State's second units. The Warriors should not risk disrupting the rhythm of the Curry/Thompson/Green trio by plopping in a slower big who needs the ball. Let Cousins mash opposing benches in lineups featuring only Thompson among Golden State's founding stars.
There is an argument for swapping Draymond Green onto Gasol, and Looney onto Siakam -- mimicking what Philadelphia and Milwaukee did. Gasol is the more frequent pick-and-roll partner for Lowry and Leonard; Draymond Green is more agile than Looney switching those plays, or corralling Lowry and Leonard at the arc. The Warriors tried switching their centers onto Leonard, and Leonard destroyed them.
But guarding Siakam allows Draymond Green to roam more freely. Siakam is a canny ball handler in his own right, and Green is better-equipped than Looney to defend that end of a pick-and-roll. The Warriors in this alignment would have Thompson, Iguodala and Draymond Green on Toronto's three best offensive players -- Lowry, Leonard, and Siakam -- and the ability to switch actions involving any two of them. (Green will probably get some chances as Leonard's primary guy.)
Thompson has been stout switching onto Siakam:
Siakam has improved since then. He went at Antetokounmpo with surprising gusto. The Thompson-Siakam battle will be one of those swing games-within-the-game.
Toronto will target Golden State's centers in the pick-and-roll. Golden State would probably live with Thompson and Iguodala switching onto Gasol on those plays. They could front him, and count on backside help.
The problem is on the other end of that switch -- Golden State's centers on Lowry or Leonard. Lowry cannot be passive against that matchup. He has to let the step-back 3-pointers fly, and roast those galoots off the bounce. He has to play with the KLOE swagger every second for Toronto to do this.
Golden State will occasionally trap Leonard with its centers, and that is where Gasol becomes so important. He can act as a release valve, and spray passes in 4-on-3 situations. But trapping Leonard is preferable to switching, and sometimes to dropping back -- a strategy that risks Leonard pulling up for 3s, or pitching to Gasol (and Serge Ibaka) for pick-and-pop triples. (Ibaka is 7-of-32 from deep in the playoffs, and 4-of-27 if you exclude Game 7 against Philly. He has migrated back into midrange. The Raptors will need some 3s from him to win.)
Leonard is stronger than both Iguodala and Thompson. Neither has the length to bother him with extendo-arms the way Durant does. Thompson is tough as hell and will win some battles, but Leonard can overpower him:
Toronto should use cross screens and other methods of getting Leonard deeper touches:
Getting Leonard the ball on the move -- slingshotting him from the corners, around multiple picks -- has been effective all season:
Leonard can hunt backdoor cuts out of those actions, and both Thompson and Iguodala have been aggressive denying the ball against him -- exposing the back door:
There has been tension all season between Nick Nurse's motion offense and Leonard's old-school one-on-one devastation. That tension is not inherently damaging. But Toronto knows how to incorporate Leonard into more elaborate, quick-hitting actions Nurse prefers:
The Raptors are better when they shift between styles. You can't beat Golden State with a steady diet of anything -- not even Leonard isolations and pick-and-rolls against set defenses. The Sixers sent very little help at those. The Bucks sent a lot. Leonard broke both. The Warriors are better than anyone in the middle ground, and at baiting opponents into thinking they see something they don't. Toronto's role players will need to hit open 3s, though they might not get as many naked looks this time around.
Any interaction between Leonard and a smaller teammate brings the possibility of a switch -- and a delicious mismatch. When Curry is stuck on Lowry, the Raptors should lean into Lowry-Leonard two-man stuff. They should run Curry through flare screen actions that surprised Milwaukee:
But after makes, the Warriors will stash Curry on Danny Green. To hunt Curry, the Raptors will have to redirect their offense through Green picks.
That hasn't looked natural. Leonard is not the sort of playmaker who gets rid of the ball early, and Green is not much of a threat beyond pick-and-pop 3s. He is in a vicious slump.
He is also one of the great 3-point shooters in NBA Finals history. Green will snap that slump. But to really punish Curry -- and to give themselves a chance to get him into foul trouble -- the Raptors might need to pair Lowry with Fred VanVleet more, so that Curry has to defend a dangerous ball handler. (Curry will also get some time on Norman Powell.)
---
When Golden State has the ball
Giving some Danny Green minutes to VanVleet sacrifices size and defense, and you need as much of those as possible to survive Golden State. Green is a popular nominee to defend Curry, with Lowry presumably sliding to Iguodala. Green has three inches on Curry, and five on Lowry. Curry feasts on most smaller guards.
But Green is at a severe quickness disadvantage chasing Curry through Golden State's maze of picks. The Raptors have preferred him on Thompson. Lowry guarding Iguodala also means one of Siakam and Leonard has to defend a Splash Brother, and overdoing any such matchup seems bad.
Leonard, of course, can guard anyone. The Spurs were selective using him as the primary defender on Curry, but Leonard did not look out at sea hounding Curry in open space:
Leonard-on-Curry looms as a crunch-time defensive weapon. Leonard is long enough to challenge Curry from behind, and get his giant magnet hands into passing lanes:
Curry has put Leonard on skates, but he gets everyone eventually:
Toronto won't ask Leonard to defend Curry full time, even with Durant out. (Leonard will get the Durant assignment, with Siakam as Plan B.) It is exhausting. The bet here is that Leonard starts on Draymond Green or Iguodala. I'd try him on Draymond Green -- with Siakam on Iguodala -- even though that assignment is exhausting in its own way.
To beat even the non-Durant Warriors, you have to be able to switch the Curry-Green pick-and-roll. That is just a fundamental truth now. It doesn't matter if injuries chip away at the shooting around those guys: If you blitz Curry over and over, Draymond Green is going to find a way to beat you with his playmaking. You need to vary your strategy, but switching has to be at the core of it.
Leonard can switch onto Curry. The Raptors won't worry about a smaller player jostling with Green on the other side of that switch; Lowry has defended Draymond Green often.
Another potential deployment of Leonard: as Klay-stopper against Golden State's second units. The Raptors have been miserable with both Lowry and Leonard resting, and aiming Leonard at Thompson in those minutes doubles as a way of keeping at least one of Toronto's All-Stars on the floor at all times.
But obsessing over optimal matchups against Golden State is folly, at least with Curry and Thompson both on the floor. On-ball action encompasses only a small portion of what the Warriors do. Toronto's optimal matchups will sustain for about three seconds. Once the Warriors start moving, the Raptors will start switching.
Green and Leonard have a lot of shared experience guarding the Curry-era Warriors. They know how to switch, talk (Leonard points and screams like a non-robot against the Warriors) and make reads on the fly.
There is no catchall answer. It seems smart to sag off Golden State's non-shooters -- until the moment they screen for Thompson and Curry.
Well, then, press those non-shooters, right? Nah. Do that, and everyone cuts for layups.
You have to do everything. You have to toggle from one strategy to the next in a flash, and then back again. You have to help, but not too much, and not at the wrong times. You have to be comfortable living in those in-between spaces -- in a netherworld that feels precarious to all but the very best.
Toronto has the very best -- smart, rangy regulars on the All-Defensive teams. They can track all the shifting variables, and improvise without bumping into one another. Leonard and Siakam are long and quick enough to effectively be in two places at once:
Golden State, of course, can engage in the same predatory simplicity as opponents who hunt Curry. If Durant returns, expect actions -- including the dreaded Curry-Durant two-man game -- designed to get Lowry and VanVleet onto Durant.
Until then, the Warriors can target Gasol and Ibaka. No team has played more centers off the floor. Golden State usually does that by dispensing with its centers, and sliding Green there. The Warriors barely went that route against the Trail Blazers, and have no access to the Death Lineup -- or the Coma Lineup, with Shaun Livingston in Iguodala's place -- with Durant injured.
They could try Curry/Thompson/Livingston/Iguodala/Green, though that group might not have enough shooting to justify the speed-for-size tradeoff. Alfonzo McKinnie could appear in such lineups; he should absorb a few minutes of the Leonard assignment on defense.
Curry can still test Gasol in the pick-and-roll. The occasional screen at half court is especially mean; it gives Curry a long runway and infinite options: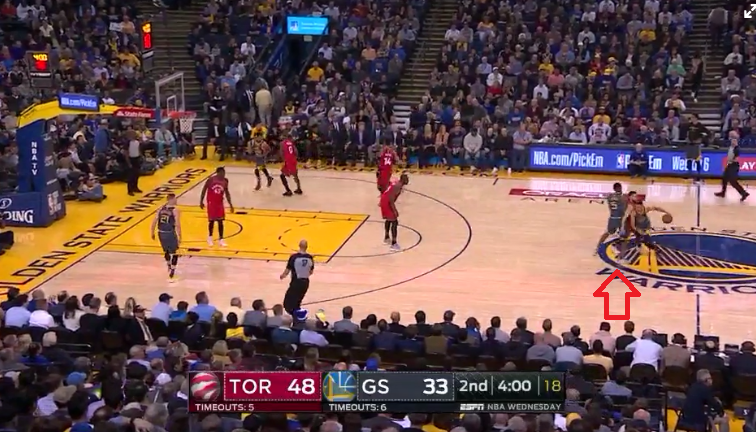 Imagine being Ibaka there? What a nightmare.
Gasol can't stay with Curry on switches. Drop back, and Curry rains fire. Gasol will have to pressure Curry, and force the pass to Looney -- turning Looney into a playmaker. You have to live with something.
But you don't always get to choose. A pick-and-roll presents a narrow range of decisions in a static environment. Pursuing Curry through a forest of off-ball screens is an entirely different thing. Plans are discarded. People panic.
Golden State can also hit Gasol with screen-the-screener actions -- when another Warrior slams Gasol on his way up to the Curry pick-and-roll, pinning Gasol behind the play.
Ibaka is nimbler than Gasol, but Toronto loses something on offense. Nurse has saved one card all season: Siakam at center. The Gasol deal rendered that card almost moot; it is hard to bench two of your six best players.
The absence of OG Anunoby really hurts here, too. He unlocks a lot of lineup possibilities. Nurse might explore Siakam at center anyway.
---
Prediction
The Raptors have a lot of answers. They have home court. Maybe in getting this far, they shed the mental yips that pockmarked their play at times before the Milwaukee series -- the bouts of hot-potato timidity from Lowry and Gasol.
But the pressure of the Finals is new, more intense. Golden State has lived it many times over. The Warriors are ready. Part of them is excited to start on the road. After all these years, they crave new challenges.
The Warriors' defense has struggled by its standards, and the biggest overarching question is whether Toronto can score enough to keep up; Golden State ranks ninth in points allowed per possession in the playoffs. But the Warriors faced offenses that finished second, third and ninth in the regular season. They locked in against Portland. Losing Durant forced them to dig deeper -- to tap back in to the roaring frenzy of their classic defensive performances.
They won't downshift now. A Durant return seems possible. It is hard to bet against a core that has been through this so many times, and beaten back so many challengers. The Raptors have the goods to take this, or to at least force Golden State to earn it with the rarest of wins: on the road, in Game 7. In fact, let's go there. My initial feel was Warriors in 6, but let's speak a classic into existence: Warriors in 7.