The 2019 NBA Finals pits a dynasty against an upstart franchise making its historic debut on basketball's biggest stage.
The Golden State Warriors enter Game 1 (Thursday, 9 p.m. ET on ABC) as the favorites in part because they are led by three of the best jump-shooters on the planet. The Toronto Raptors have Kawhi Leonard, the first non-LeBron star to get his team out of the Eastern Conference since 2010. And both teams boast top-five offenses thanks to terrific shooting.
In a make-or-miss league, these two teams are still standing because their stars make a ton of big shots. Let's highlight the six shot types that will swing the NBA Finals -- the most important looks for each each team's most important players.
---
Don't let Steph get looks on the left wing
Inside Stephen Curry's most important shot:
Steph Curry is even more dangerous from his favorite spot
The moment Steph Curry walks into the gym, he's in his range. But on catch-and-shoot 3-pointers from the left wing, he's unstoppable.
Curry's keys to the Finals
Since Kevin Durant went down against the Houston Rockets, we've witnessed the resurrection of the full Steph Curry experience, which is electrifying to watch and terrifying to try to stop. Just ask the Portland Trail Blazers. They watched Curry break the NBA record for points scored in a sweep by averaging 36.5 per game.
Portland had no answer for Curry out on that left wing or in the pick-and-roll. Curry orchestrated more than 31 picks per game against Portland, yielding a ridiculous 1.23 points per chance, per Second Spectrum tracking. Toronto has to do better than that, and it starts on the perimeter. If Curry is getting his 3s, the Warriors are very difficult to beat. If he's not, Toronto could shock the world. Golden State is 37-8 in playoff games when Steph hits five or more 3-pointers, but just 38-23 when he makes fewer than that.
Who will spend the most time defending Curry? Over the past three seasons, no Raptor has checked him more than Kyle Lowry. Curry is averaging 33 points per 100 possessions when that happens and the Warriors are generating 124 points per 100 as a team, according to Second Spectrum tracking. That's not good enough. But until KD comes back, the Raptors have one less superstar to worry about, and they can allot more defensive resources to the Splash Brothers.
In Durant's absence, Toronto may choose to put Lowry on Andre Iguodala and devote a bigger, longer defender like Danny Green to Curry. Green has a ton of experience against these Warriors and should be able to suppress and contest some shots that Lowry can't.
The Raptors have a lot of good options for a tough situation, especially if Durant is sidelined. Nick Nurse made the biggest adjustment in Canadian basketball history when he pivoted Kawhi Leonard to Giannis Antetokounmpo in Game 3, stifling the world's best interior force for the rest of the series. Nurse and the Raps now must find ways to shut down the league's best perimeter scorer.
Could we see Leonard take a shot at defending Curry in crunch time?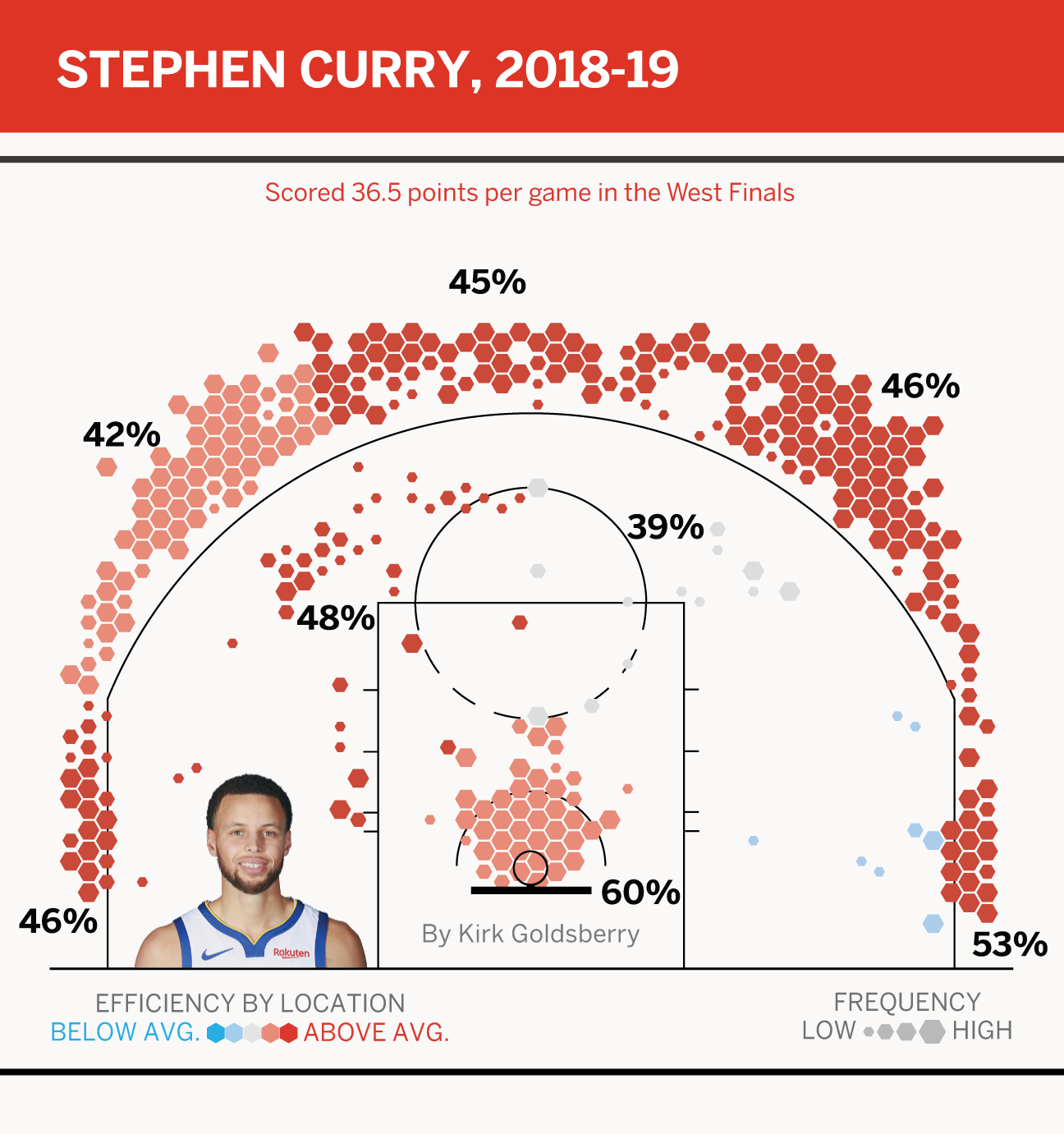 ---
Then there's Klay on the right side
Inside Klay Thompson's most important shot:
Don't let Klay Thompson shoot from the right side
Klay Thompson is a lights-out 3-point shooter, but he does most of his damage from the right side, where he's the best in the league.
Thompson's keys to the Finals
As if those Curry 3s weren't scary enough, the Raptors also have to worry about Klay Thompson.
The Splash Brothers fit together like a glove, and opponents must confront the terrifying symmetry of their long-range shooting. Just as Curry led the NBA in scoring from the left-wing 3 area, Thompson led the NBA in scoring from the right-wing 3 area. It's not fair that one team has both of these fellas! Just ask the Blazers, who watched as Steph and Klay averaged more than 27 points per game on 3s alone in the Western Conference finals.
Stopping Thompson means preventing clean catch-and-shoot looks. Again, easier said than done, but if Toronto can find ways to clog passing lanes and stay close to Klay off the ball, it will have a chance of hindering his production from downtown.
Yet another side effect of the Durant injury is how Klay gets his looks. Nobody assisted on more Thompson 3s this season than Durant, whose passes led to 67 of Klay's made triples, according to Second Spectrum data. With Durant out, Draymond Green has been the primary assister on 3s for both backcourt stars, so any efforts designed to suppress splashes need to account for Draymond's dishes. If the Raptors fail to contain them, their chances are bleak -- the Dubs have a 12-3 playoff record when Curry and Thompson score at least 25 points each.
Between the regular season and the playoffs, the Splash Brothers have combined to sink more than 5,000 3s. While many teams have designed defensive game plans to slow down these daggers, few have ever succeeded.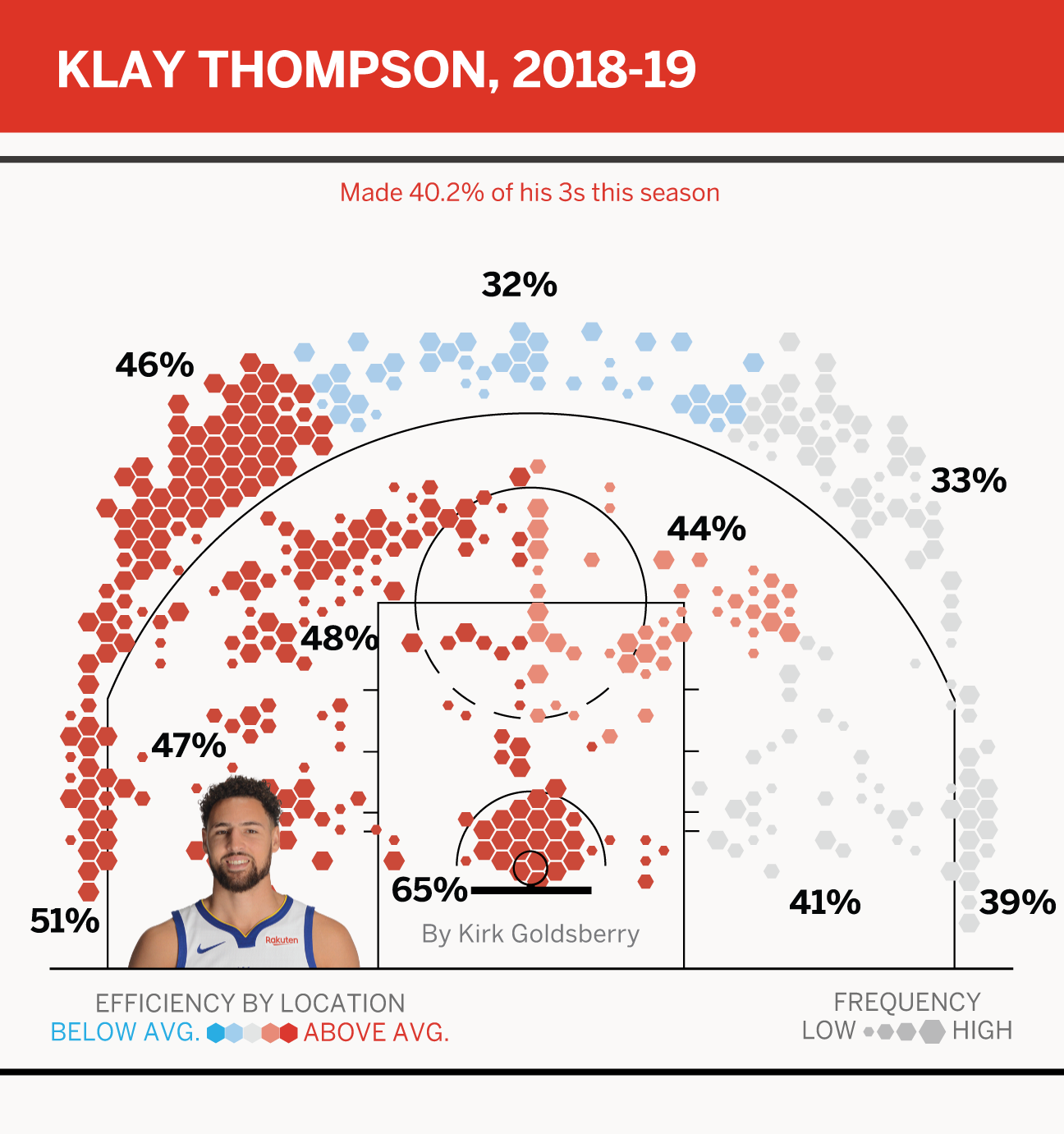 ---
What about KD?
Inside Kevin Durant's most important shot:
Kevin Durant is the best midrange scorer on the planet
When Kevin Durant returns, he will add an unrivaled element to the Warriors' potent offense: the most efficient 2-point repertoire in the game.
Durant's keys to the Finals
The Splash Brothers are the most dangerous 3-point shooting duo the league has ever seen, and they are scary enough by themselves. But another thing that makes this dynasty so nasty is having the world's best 2-point scorer in Kevin Durant.
Recall that Durant was the leading scorer in these playoffs before getting hurt. If Durant plays, the Raptors have three guys to throw at him. While Durant is dangerous coming off those midrange picks, Toronto can at least try to switch between these dudes:
Toronto and Golden State played twice early in the season. One was a Raptors blowout win without Leonard, the other an OT victory for Toronto. There's only so much we can read into these two games -- Marc Gasol was still in Memphis, for instance -- but Durant was unstoppable.
He scored 81 points on 53 shots. Those points came from all over the floor. The Raptors forced him into tough looks, and it just didn't matter. The average player would have been expected to shoot a 46.1 effective field goal percentage (eFG) given the shot quality, but KD had a 64.2 eFG, per Second Spectrum tracking. So even if the Raptors open this series with some answers for the best shooting duo in NBA history, KD will present his own kind of problem whenever he's back.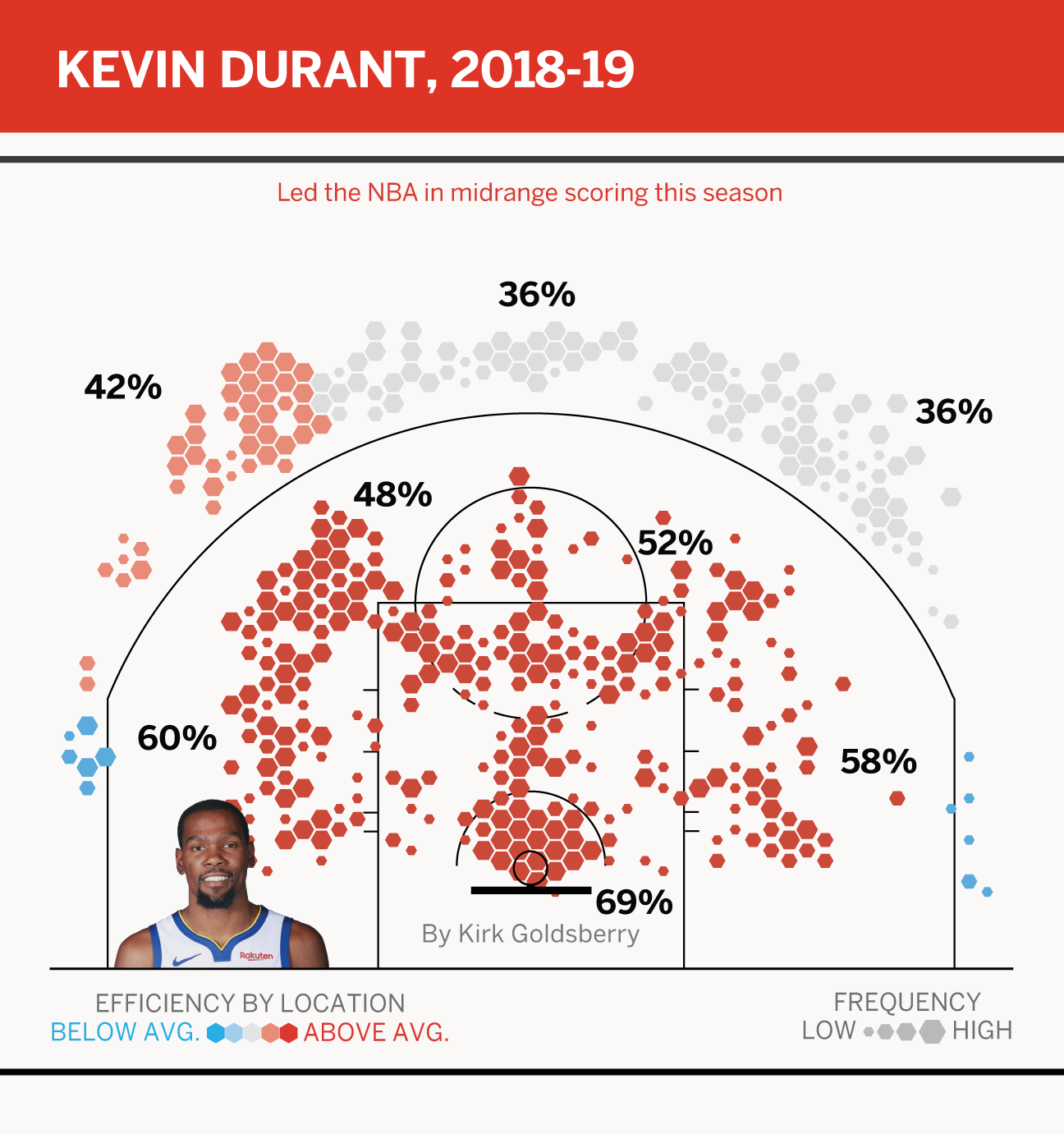 Curry (No. 1), Durant (No. 2) and Thompson (No. 5) made up three of the top five players in quantified shooter impact this season, according to Second Spectrum tracking. This means that of the 52 NBA players who attempted at least 1,000 shots, Golden State's star trio was among the very best at producing a significantly greater eFG than expected given the shot quality.
The Raptors can't let these guys get to their favorite spots.
---
Kawhi right in the midrange
Inside Kawhi Leonard's most important shot:
Kawhi Leonard's incredible playoff run hinges on pull-ups
He can hit the 3 or get to the hoop, but the key to Kawhi Leonard's success in the NBA Finals will be pull-up jumpers, especially on the right side.
Leonard's keys to the Finals
Leonard is by far the Raptors' most important player on both sides of the ball. On defense, he saved their season by stifling Antetokounmpo in the last four games of the Eastern Conference finals. On offense, he is averaging 31.2 points per game in the postseason. No other Raptor is even averaging 20. To call him their MVP would be a massive understatement.
Leonard's shot chart is similar to Durant's -- he can and will score from everywhere. How will the Warriors try to contain him until KD returns?
In the playoffs, Leonard's 55.9 overall eFG falls to 46.0 percent on isos -- and that number gets even worse when he's forced into a jumper (39.2 percent), per Second Spectrum. Iguodala, Thompson and Draymond Green need to do their best to keep Leonard out of the paint when they're left alone against him.
The same goes when Kawhi is the ball handler in pick-and-roll -- a play that leads to 1.09 points per chance for Toronto (trailing only Steph Curry among players with at least 200 postseason picks). Leonard can hit that midrange pull-up, but if it's contested it might be the least of the evils facing Golden State's defense.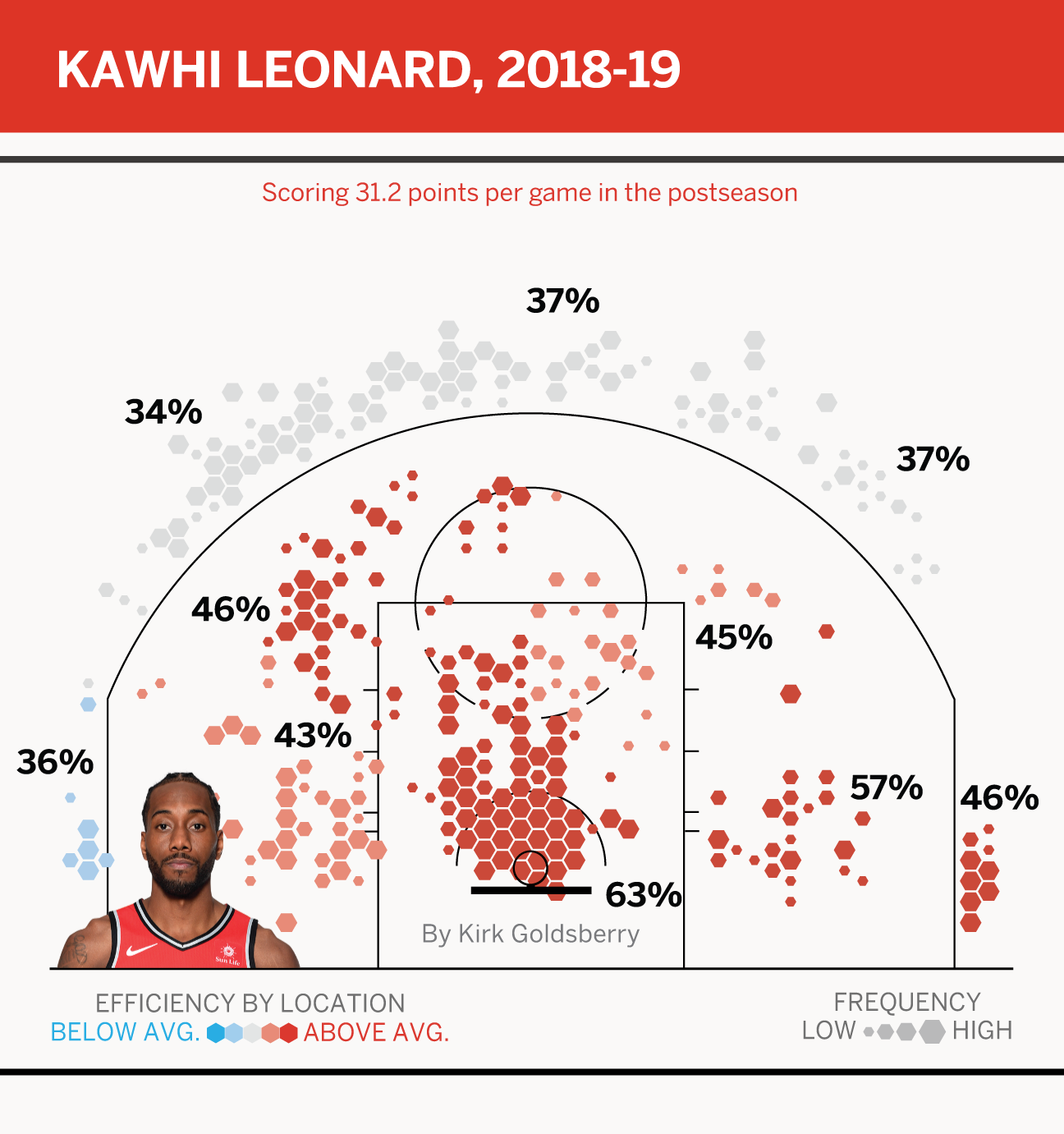 ---
Lowry's egalitarian shot creation
Inside Kyle Lowry's most important shot:
Kyle Lowry must spread the wealth in the Finals
Shooting numbers don't capture the full scope of Kyle Lowry's game. His ability to create open looks for others will be crucial in the Finals.
Lowry's keys to the Finals
If the Raptors have any chance against the Warriors, players other than Leonard need to be great. Even if Durant doesn't play, Golden State still has two incredible scorers who we know can get it done in the playoffs. Who will be Toronto's second fiddle?
Lowry is a good candidate. After all, he's a five-time All-Star. However, Lowry is not a big-time scorer, and he's nursing a thumb injury. Lowry is averaging 14.7 points per game in the playoffs while shooting worse than 45 percent from the field. His greatest impact happens elsewhere -- all those assist opportunities, a great 30.1 assist rate, Toronto's second-best net rating.
As a shooter, Lowry is most active at the top of the arc. During the regular season, over a third of his shots come from that area. But out of 44 players who tried at least 200 3s from up top, Lowry ranked 41st in efficiency. So while he loves that look, it's an unrequited love affair.
That's his personal swing shot in this series.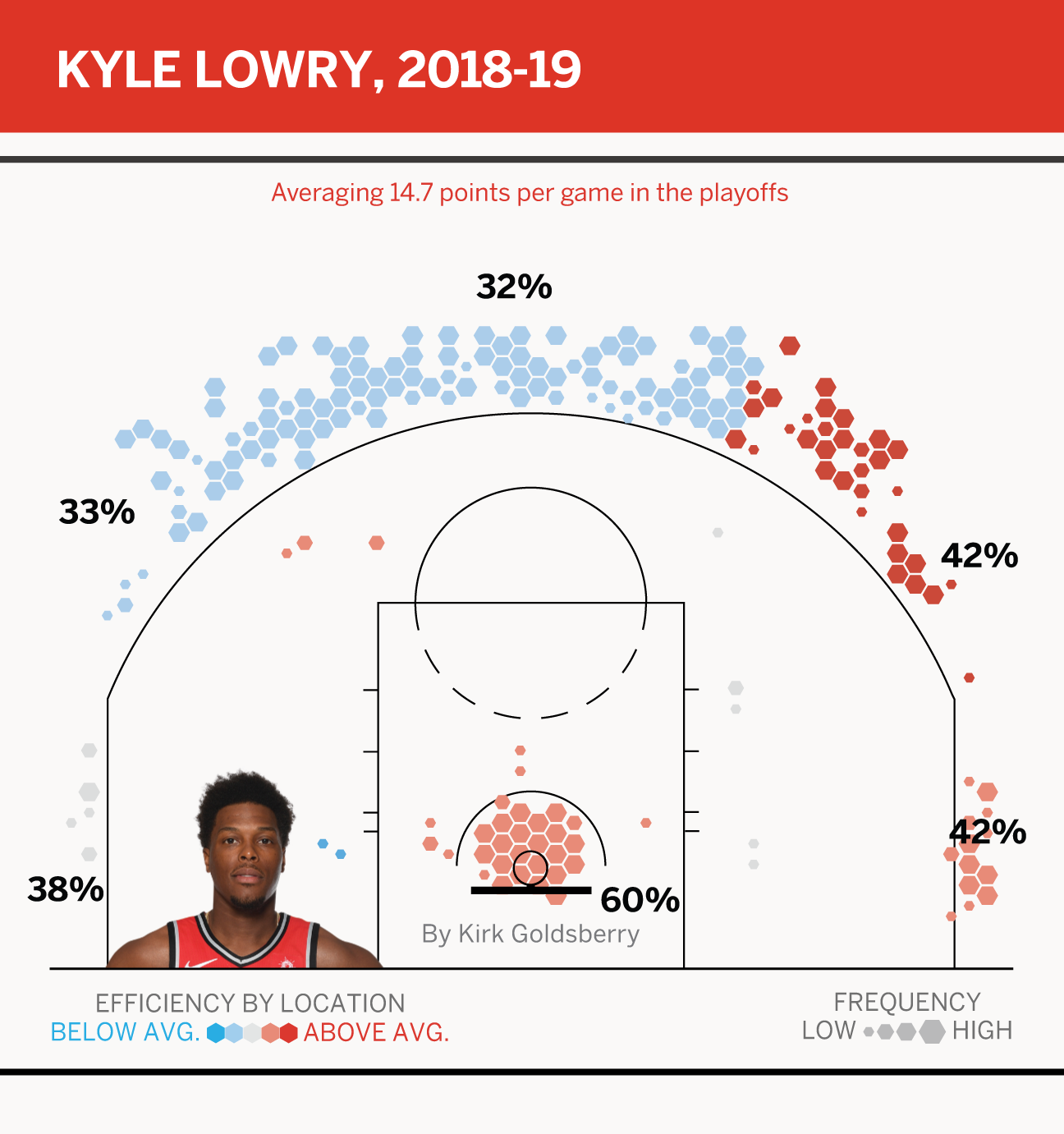 ---
Siakam's tricky corners
Inside Pascal Siakam's most important shot:
Pascal Siakam will make or break the Raptors from the corner
Pascal Siakam was one of the NBA's best shooters from the left corner this season, but he's suddenly become unreliable from his signature spot.
Siakam's keys to the Finals
Lowry's favorite target as a passer this postseason has been Siakam, a man with a simple shot chart. Blending corner 3s and rim attacks is a strange mix, but it's a combo that has propelled Siakam to new heights. He's the Raptors' No. 2 scorer and a matchup problem if he can find that corner range.
He'll also be critical to Toronto's pick-and-roll defense, which has been the best of any team in the playoffs.
The Raptors are giving up a postseason-best 0.74 points per chance on 1,038 total picks. Leonard, Siakam and Danny Green are the primary defenders on ball handlers, and all three of those guys are terrific ball-screen stoppers. If Siakam nails his corner 3s and slows down Golden State's screens on the other end, Toronto can hang.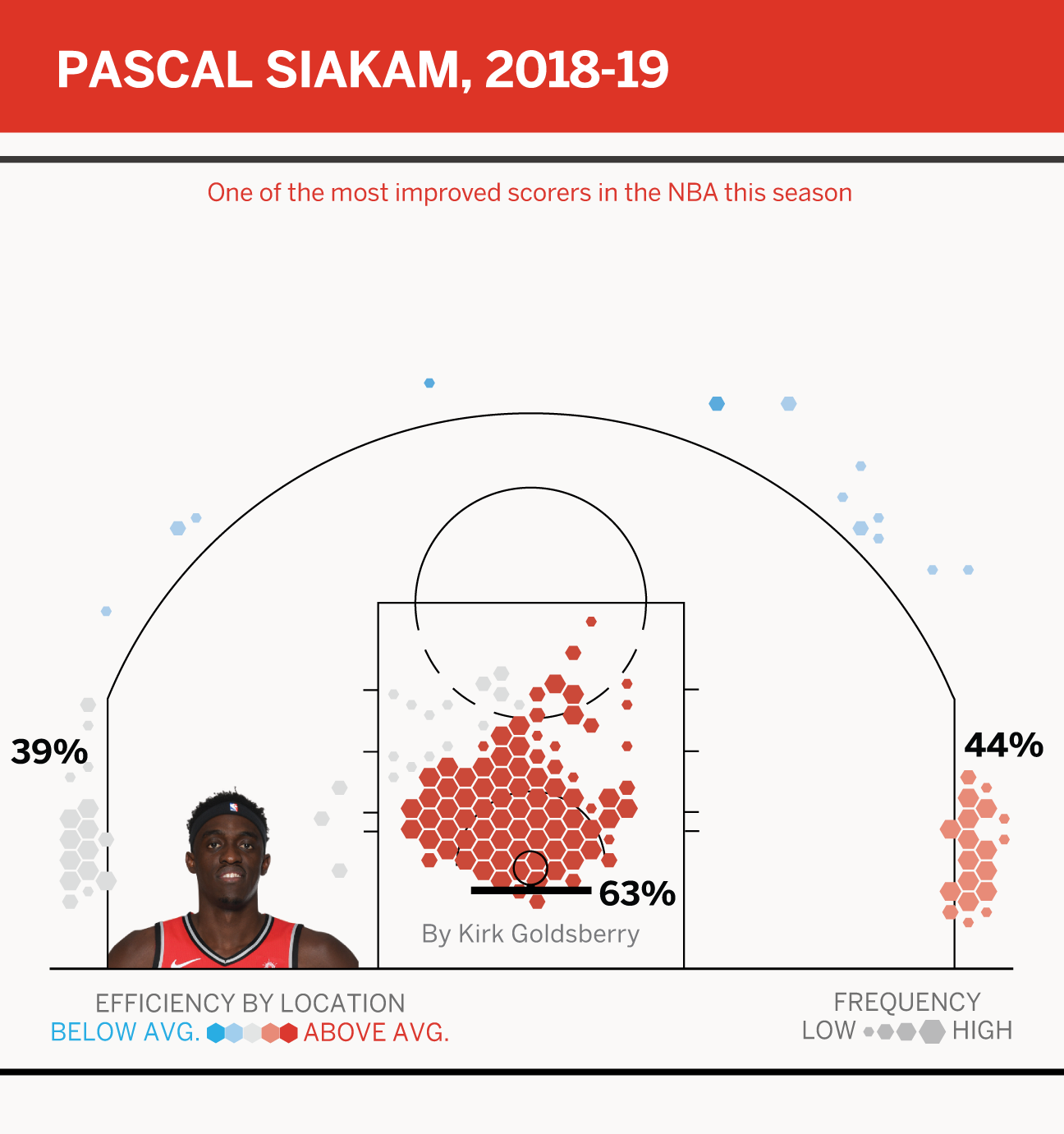 Leonard is the postseason MVP, but Toronto needs to generate shot-making elsewhere to have a chance at an upset. Siakam and Danny Green must hit corner 3s, Lowry can't disappear and role players such as Serge Ibaka and Fred VanVleet must provide meaningful contributions.
There's no room for error against these Warriors, but there wasn't much against the Bucks either.