The Toronto Raptors did exactly what they needed to do in their Game 1 win to open the NBA Finals. They played smart, physical basketball on both ends of the court and outperformed the Golden State Warriors in virtually every key phase.
What about Game 1 is significant moving forward, and what adjustments are needed?
Here are two key questions heading into Game 2 (Sunday, 8 p.m. ET on ABC).
Where are the Warriors going to get their points?
Let's start with the fact that Golden State didn't get enough buckets.
The Dubs made just 34 field goals, their lowest total of this postseason. They lost the 3-point battle and the 2-point battle. They lost the transition battle. They lost the turnover battle. Toronto introduced a physicality that muddied up the game, crowded the perimeter, induced 17 turnovers and frustrated the Warriors' ball handlers and jump shooters.
The Raps held Stephen Curry -- who averaged 24 field goal attempts per game in the Western Conference finals -- to just 18 field goal attempts. Nobody did a better job than Fred VanVleet, who matched up against Curry 29 times and held him to just two points in those instances, per Second Spectrum tracking. With Kevin Durant still sidelined, Curry needs to thrive, but Toronto made sure that didn't happen with a smart and aggressive pick-and-roll defense that suffocated Curry all night long.
Golden State entered the Finals with the postseason's best pick-and-roll offense, averaging 1.13 points per play. But Toronto entered with the best pick-and-roll defense, yielding a minuscule 0.74 points per chance.
Well, Toronto held the Warriors to 0.81 points per pick-and-roll chance in Game 1. That's fantastic.
Curry torched the Portland Trail Blazers in the screen game in the West finals, running over 31 picks per contest while yielding a ridiculous 1.23 points per chance, per Second Spectrum tracking. But Toronto isn't Portland, folks. In the closeout game of the West finals, the Warriors scored 50 points directly off of Curry pick actions (meaning the play led to either a shot or assist opportunity). In Game 1 of this Finals series, they scored 14.
The Raptors were strong at the point of attack, with bigs such as Marc Gasol and Serge Ibaka playing high and aggressive on Curry, forcing him to either take very hard contested jumpers or give up the ball to players such as Jordan Bell. The results speak for themselves: Warriors' ball handlers, including Curry, combined to score zero points on six shots off pick actions in Game 1. For comparison, they scored 37 points on 21 such shots in Game 4 against the Blazers.
Like the Dixie Chicks, the Splash Brothers love wide-open spaces, but the Raptors clogged up the point of attack in the pick-and-roll and largely took away the transition game, in essence challenging Golden State to find alternative pathways to buckets. That never happened.
Toronto forced Golden State to make a disproportionate number of shots in the half court and contested shots in Game 1. It was the exact type of physical, half-court game the Warriors would normally lean on Durant to win. (Durant has made 50 percent of his shots in the half court and 49 percent of his contested looks this postseason.) But sans Durant, the Warriors made just 40 percent of their shots in the half court -- their worst such mark this postseason -- and just 23 percent of their contested looks, their worst playoff mark in the Steve Kerr era.
One of this Golden State dynasty's trademarks is its ability to destroy teams on fast breaks. But the Raptors continued their defensive discipline from the Eastern Conference finals by getting back on defense, holding the Warriors to zero 3-pointers in transition.
If there are three numbers Golden State must improve going forward, these stand out:
The 3-point differential (Toronto was plus-3)

The transition differential (Toronto was plus-7)

Total points off Curry pick-and-roll action (only 14)
If the Warriors expect to regain control of this series, those key markers must improve.
What's sustainable about the Raptors' success?
The Warriors also must figure out what to do with Pascal Siakam, who went out and had one of the best Finals debuts we've ever seen. Siakam shot 14-of-17 and racked up 32 points, including an eye-popping 16 points directly against Draymond Green, the defensive spirit animal of the defending champs.
Shout out to any voters who didn't name Siakam Most Improved Player on their ballots.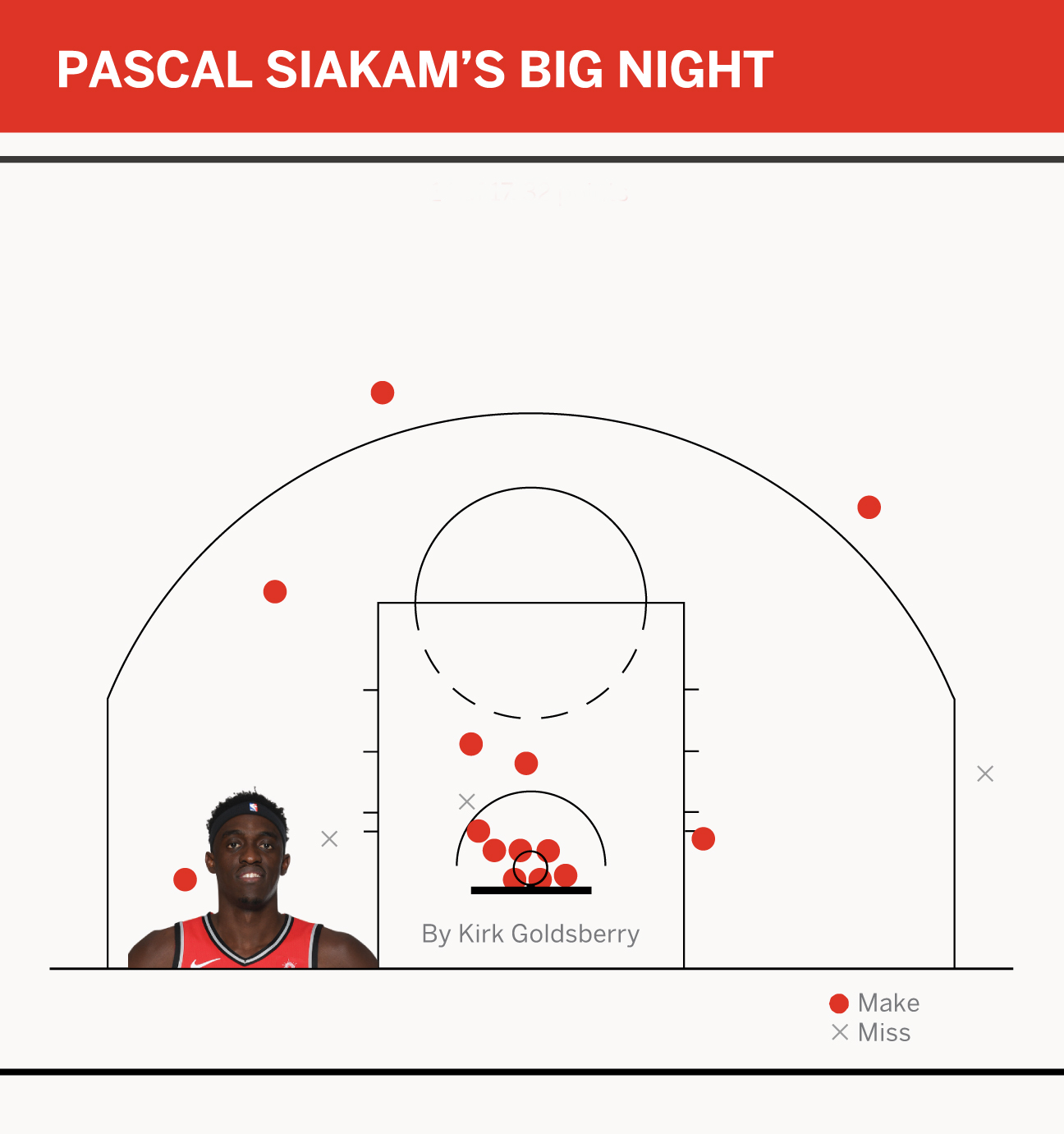 But while it's fair to say that Siakam won't do that again this series, it's also fair to assume that Kawhi Leonard and Kyle Lowry won't combine to shoot just 7-of-23 again -- especially if Andre Iguodala isn't 100 percent going forward. Iguodala is likely for Game 2 following an MRI, but the Warriors are going to be cautious since the injury is in the Achilles tendon area, according to a report by ESPN's Nick Friedell.
The Warriors did a great job on Leonard by holding him to only five made field goals, but much of that solid work was done by Iguodala.
Most matchups vs. Kawhi Leonard in Game 1
Like Leonard, Iguodala earned a Finals MVP thanks largely to incredible individual defense, and like Leonard, Iguodala's defense is among his team's most vital assets. If Iguodala can't play or operate at full strength, Leonard will likely shoot and score a lot more in this series going forward. (Side note: The Warriors also need to button up their transition defense. The Raptors made 12 of their 15 transition shots, including five from Siakam.)
Let's not forget Marc Gasol, who logged his most consequential performance as a Raptor. It's hard to overstate both the direct and indirect contributions he made in Game 1. Not only did Gasol disrupt Curry's pick-and-rolls on defense, he added 20 huge points on just 10 shots on offense. But that's not all. As a stretch-5, Gasol effectively thinned out Golden State's interior defense, opening up the lane for Siakam's rim attacks.
When Gasol is hanging out at the top of the arc, so is his large defender. In turn, Toronto's drivers have a lot less to worry about in the paint, and Siakam showed that he is going to be a problem if there's no help defense to contest his close-range buckets. Of Siakam's 32 points, 18 came in the paint. No other player in the game had more than six paint points. While Siakam's 82 percent shooting is not sustainable, his abilities to cause trouble in the dunker spot and to maneuver past a single defender to get clean looks in the interior certainly are.
Toronto's defense and the stellar play of Siakam and Gasol stood out in Game 1. But Toronto still has a ton of work left to do. Is Game 2 a must-win for Golden State? Heck no. Just ask the Raptors, who lost their first two games at the Milwaukee Bucks in ugly fashion before rattling off four straight wins. If Toronto taught us anything in the East finals, it's not to overreact to who wins the first game.