The ripple effects of Kevin Durant's catastrophic injury touched nearly half of the league's teams, but two weeks later, the team impacted most as free agency approaches might be one that was not completely obvious the moment Durant crumpled: the Brooklyn Nets.
For weeks, most plugged-in reporters have pegged Brooklyn as Kyrie Irving's preferred choice. With free agency less than a week away, that still appears true, per sources across the league.
The Nets over the past month have telegraphed their intention of pairing Irving with a second max-salaried superstar. Durant has been widely assumed to be that star. Four days before Durant tore his right Achilles tendon in Game 5 of the NBA Finals, the Nets agreed to trade Allen Crabbe and two first-round picks to the Atlanta Hawks in exchange for Taurean Prince and a second-round pick -- clearing $15 million in extra cap space. They opened about $2 million more space on draft night by trading the No. 27 pick to the LA Clippers in exchange for a protected 2020 first-round pick.
Depending on precisely where the cap ends up, Brooklyn is one or two minor moves from cracking the $71 million in space required to sign both Irving and Durant to maximum salaries.
Doing so will cost them D'Angelo Russell one way or another. Before Durant's injury, that was a no-brainer. There are maybe a half-dozen guys who have proved they can be the best player on a championship team. Durant is one. When you can get one in his prime, you do it.
In separating from LeBron James, Irving aspired to be one of those players. The ship on that likely sailed sometime over Games 3 and 4 of the Boston Celtics' Eastern Conference semifinals humiliation against the Milwaukee Bucks, as Irving bonked one horrendous midranger after another and bizarrely broke Boston's defense in demanding to guard Giannis Antetokounmpo and Khris Middleton. (Spoiler: It did not go well.)
The apex version of the 2018-19 Celtics was perhaps the most fertile ground possible for Irving to prove himself as a championship-level alpha. In dissecting what went wrong for Boston, not enough attention has been paid to Gordon Hayward's traumatic leg injury in the opener one season earlier.
People forget now, but there was legitimate debate going into that season over whether Hayward -- or even Al Horford -- was Boston's best all-around player. There was no question Irving was the Celtics' best scorer and orchestrator. If Irving could emerge as the rare Best Player On A Championship Team, it would be in a scenario like that -- when he stood as the best of three A-minus-level veteran stars who complemented each other, backed by a strong supporting cast.
We never saw that team.
The Nets without Durant might be able to approximate building such a team around Irving, but it's no sure thing. It's unclear why Brooklyn would want that after watching Boston implode. No: Irving is the All-Star to lure the A-plus superstar -- that is, Durant.
Now Durant is injured. His plans in free agency are muddled. He could miss all of next season. We don't know how he will look upon his return or whether he will ever be the same player. Ninety percent of Durant is still an All-NBA-level guy. But what if the other 10 percent is the difference between that and the top-five overall player who can indisputably work as the No. 1 option on a title team?
The uncertainty over Durant's intentions has created a dilemma for Brooklyn: Is Irving worth it on his own?
The Nets have billed themselves as Team Character and Culture. They helped grow Russell into an All-Star. They know him, and he knows them. Russell is four years younger than Irving. His max salary is $5.4 million lower than Irving's.
Irving might not be a poor character guy -- you get divergent answers about this -- but he is a volatile presence. He overwhelmed Boston's locker room and was a key ingredient in detonating the Celtics' chemistry before they developed any. Brooklyn cannot know what he will do to the environment that Sean Marks and Kenny Atkinson have so carefully nurtured -- only that it will change forever the moment he enters.
It is facile to present this moment as only a choice between culture and talent -- nothing is that black-and-white -- but it is partly a choice between culture and talent.
Irving is better than Russell. The only questions are by how much, and whether the talent gap justifies the culture shock. Russell's exact salary matters in answering.
I polled about 30 team executives, and there was near universal agreement that at their respective maximum salaries -- with Irving earning "only" $5.4 million more per season -- swapping Russell for Irving is worth it even if Irving comes without a second star. But what if Russell can't find a max deal -- or if the Nets leverage the extra year they can offer into a discount on annual salary?
A majority of the executives -- about 75 percent -- said that on talent alone Irving was still worth $8 million to $10 million more than Russell. But about half of those said if the salary gap widened to that level, concerns about chemistry would have them leaning toward sticking with Russell in scenarios that do not include Durant.
(Thought exercise: Where is Russell finding a mega-deal if the Nets pass? The Bulls just drafted a point guard. Utah traded for one. Dallas has a point forward; intel on what the Mavs might do with their cap space is all over the place. Orlando can open about $18 million in room only by renouncing rights to Nikola Vucevic. The Suns will sign a veteran point guard, and Devin Booker has campaigned for Russell -- a close friend. But other voices within the Suns may not share Booker's unabashed enthusiasm, sources say. They have only about $14 million or so in cap space as of now. We'll see how Phoenix approaches the point guard market. Indiana will have a hole at the position if Darren Collison leaves, and they will look at lots of targets -- including Russell. But they have so far focused on Ricky Rubio, sources have said.
(There is at least a kernel of truth to the Lakers' interest in a reunion, sources say, but L.A. has a lot to sort out. Russell fits the Knicks' timeline in case they strike out on bigger fish, but all indications are that New York will pursue short-term deals in that scenario, sources say. The Minnesota Timberwolves' pathway to a Russell deal is murky. Other unexpected sign-and-trade candidates will poke around.)
Russell-or-Irving is likely a discussion only because Caris LeVert suffered a gruesome-looking foot injury in November and missed three months. Before that injury, Levert looked like Brooklyn's best player and long-term cornerstone. It was LeVert receiving fringe All-Star buzz.
With LeVert injured, Atkinson had no choice but to hand the offense to Russell. The degree of ownership Russell exerted was almost astonishing. Russell averaged 62 pick-and-rolls per 100 possessions, according to Second Spectrum tracking data. Only two players -- Trae Young and Tony Parker -- topped that figure. Only two other full-time starters cracked 50: Kemba Walker (55.8) and D.J. Augustin (50.9).
What Russell did with all those chances has become something of a Rorschach test. Brooklyn ranked 18th in points per possession and scored at about the same level whether Russell played or sat, per NBA.com data.
Given the talent around him, that is not a bad result. Brooklyn provided decent spacing for Russell's pick-and-roll work, but the raw talent was underwhelming: a promising second-year rim runner in Jarrett Allen; an ace shooter in Joe Harris; a combination of raw wings (LeVert, Crabbe, etc.); and a rotating cast of stretch power forwards who belonged in smaller reserve roles. Russell made real strides within that context. What might Russell do as he gains experience and the talent around him improves?
Russell's personal improvement came entirely in honing skills he was already good at while steering even further away from weaknesses. Only 17 percent of Russell's shots came within four feet of the rim, the lowest mark of his career -- and one of the lowest among high-volume ball handlers, per Cleaning The Glass. He earned just three free throws per 36 minutes -- tied for his career low.
He redirected more offense into the midrange and floater zones. Russell is good at those shots. He hit 46 percent from both areas -- elite numbers! The follow-up questions are how much better Russell can get playing this style and how far any team led by Russell playing this style can go. There is an upper bound on midrange shooting. The Nets cannot expect Russell to hit 50 or 55 percent over any season. To reach another level -- to justify Brooklyn choosing the status quo -- Russell has to improve at other things.
He did some of that last season. Russell drained a career-best 37 percent of his shots from deep; his ability to hit off-the-bounce 3-pointers bends opposing defenses. Irving can hit the same high-wire shots, and he has nailed at least 39 percent from deep in six of his eight seasons.
Russell's crafty old-man game has grown craftier. He traps defenders on his hip, prods into the paint and keeps help defenders guessing until he baits them into guessing wrong:
He is a great hit-ahead passer in transition. He has shown a knack for flinging crosscourt lasers that catch help defenders leaning the wrong way:
But there is a meaningful gap in explosiveness and athleticism between Russell and Irving. Russell just does not get to the basket, and his trepidation deprives the Nets of some profitable scoring chances -- even when avenues toward those chances are staring them in the face.
Look how much daylight Russell has behind and in front of him: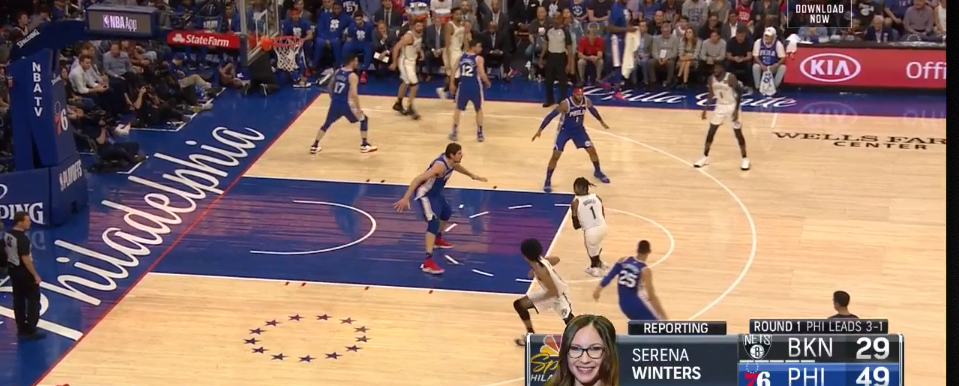 An off-the-bounce midranger out of that -- even an open one -- is a win for the defense. Russell's game veered in a score-first direction last season. That was somewhat out of necessity, but his passing was not as good as it should have been. That is one way for Russell to improve without going overboard changing his shot selection. Better passing organically leads to better shots -- for the passer and his teammates. Russell has the vision and feel to do it.
Russell's careful, crisscrossing guile can work against him when it amounts to overthinking. Patience in the face of opportunity gives a smart defense the chance to close windows.
In his first playoff appearance, against the Philadelphia 76ers, Russell faced a smart, huge, dialed-in defense that game-planned for him -- and assigned Ben Simmons to smother him. Russell shot 36 percent and averaged just 3.5 assists per game. That five-game loss is a teensy sample. But it is a data point. It was Russell's first taste of life as a No. 1 option in the playoffs.
If defenses don't fear your penetration, they can stick closer to shooters; those same crosscourt lasers can't catch help defenders leaning the wrong way if they never lean at all:
Russell has decent straight-line speed -- he flashes it so rarely that it almost startles you -- but even when he hits the gas, his finishing is suspect:
Irving produced 1.08 points per possession any time he shot after a drive or kicked to a teammate who fired right away -- 30th among 265 players who recorded at least 100 drives, per Second Spectrum research. (That ranking undersells Irving's impact, since the sample includes catch-and-go drives from secondary ball handlers; Jeff Green and Brook Lopez posted the highest marks in the league.)
Russell averaged 0.97 points on such plays -- 124th. He blew by defenders on just 12 percent of drives -- 232nd among that 265-player sample. He can't exploit switches with the same cruel efficiency as most top-line point guards. Irving recorded blow-bys on almost 25 percent of his drives -- a huge rate for a ball-dominant player.
The Nets can sign Irving solo without losing LeVert, Harris, Allen, Spencer Dinwiddie or any other core young player aside from Russell. In theory, they could keep Russell alongside Irving; sliding Russell into a secondary role would nudge him into more catch-and-shoot 3s. But that non-solution might irritate both players. (Signing Durant without Irving would nudge Russell in the same direction, but that seems unlikely in the wake of Durant's injury.) The Irving-Russell backcourt would bleed points on defense.
Without a second star, the Nets could roll their cap space over and sell the Irving-plus-youth core to the next classes of free agents and disgruntled superstars. Of course, they could pass on Irving and sell their current core -- with a re-signed Russell -- the same way. I'm not sure that holds the same appeal without another major leap from Russell, and it's unclear what that leap would look like.
Another non-Irving/Durant alternative: Re-sign Russell and use the Durant slot on a second-tier free agent -- perhaps Tobias Harris, who fills an urgent need at power forward. That's a good team! It would cost less, and if the Nets inked either player at below the max, the gap could matter.
Can it become a great team? You can't rule it out, especially with LeVert having reemerged in the postseason as an efficient 20-point scorer. But Irving bumps up the chances of reaching greatness. Irving and a mostly recovered Durant bump them up even more in the 2020-21 season. After rising from the grave to reach this point, the Nets will not want to risk getting trapped into "pretty good" status.
These kinds of salary-cap and free-agency windows don't open all that often. LeVert already is eligible for a big-money extension on June 30. (Prince is too.) Next summer's free-agency class is lighter on stars. It could be a few years before the next group of game-changing 30-and-younger superstars hits unrestricted free agency. Some won't consider changing teams.
A smart team can act boldly in the present and have faith it can sort out the future later if things go poorly. Irving on a max deal through his prime should be movable. Brooklyn has no bad contracts. The Nets are pick-neutral going forward.
And things might go poorly. Irving has left bad vibes with two franchises. But if he signs with the Nets, he will never be able to bellyache about anyone else determining his destiny for him. He will be closer to family. He will have access to a cutting-edge sports science team. (Irving has a history of knee issues.) And he will have to know on some level that alienating a third franchise will deal a near fatal blow to whatever is left of his reputation.
Almost no one inside the league thinks this is an easy decision. The Nets could talk themselves into either direction. But the bet here is that if Irving wants to come, the Nets will sign him -- with or without Durant -- and figure out the rest later.