OK, so that happened. We just experienced the wildest week ever in the NBA. We've covered the big stories already: Kawhi Leonard and Paul George, Brooklyn's coup, New York's disappointment, the Lakers going 1-for-2 on star-chasing.
Let's zoom further out and scan the league's remade terrain.
Winner: Kawhi Leonard and the (temporary?) new NBA landscape
For three years running, the cap spike of 2016 headlined the losers category. It enabled an unprecedented four-star superteam, and came as close as any single event possibly could to eliminating competitive balance. It benefited one class of players -- call them Biyozgovs, or the Mozgombos -- above everyone else, though reduced contract lengths mitigated that; players get back into free agency faster than ever.
The spike has mostly run its course. Kevin Durant is in Brooklyn. In one backroom power move, Kawhi Leonard rescued Paul George from a capped-out low-level playoff team; rejected the Lakers' attempts to build perhaps the greatest big three in basketball history; and left the league as open as it has been in years. The league's quietest superstar "found his voice," as one executive put it. He recruited George, Durant and even Kyrie Irving at points, sources say.
We now have three pairings of top-15 players (depending on how you rank Irving): Irving and Durant; Anthony Davis and LeBron James; Leonard and George. Depending on your taste, the Warriors (Stephen Curry/Klay Thompson or Draymond Green) and Sixers (Joel Embiid/Ben Simmons -- the latter outside my top 15) are on the edge of sporting such a duo. If not, they have one supernova and two (Thompson, Green) or three guys (Simmons, Al Horford, Tobias Harris) from the next tier.
Utah brings three from that second tier: Rudy Gobert, Mike Conley and Donovan Mitchell, though Mitchell has to improve his passing and consistency to cement his status there. Three other top-15s benefit from some combination of complementary second-tier stars, roster continuity and snug surrounding fit: Nikola Jokic, Damian Lillard and James Harden.
The reigning MVP might have the weakest supporting cast in terms of star power, but the entire Milwaukee Bucks roster is built to suit Giannis Antetokounmpo. Also: He's the freaking MVP, and perhaps heir to "Best Player In The League" status.
This season is going to be awesome.
Now the ol' turd in the punch bowl: Will parity, if this is parity, last? There might be something about the star duos-vs.-trios thing. Might be. In a lot of circumstances, you have to strip everything away to fit three max players -- picks, players, cap room. It is hard to engineer, harder to sustain. Maybe there is something conscious about moving to a two-star model.
It may also be random. What happens if a third star wants to go to the LA Clippers? The geography is worth monitoring, too. The New York Knicks struck out again, but five superstars forced their way to Los Angeles and New York.
Two of those fortunate teams -- the Clippers and Brooklyn Nets -- had no prior record as free-agent destinations. They got there by piling smart move atop smart move. George and Leonard have never been shy about wanting to return home, and they are two of the last current NBA stars from a golden generation of Los Angeles-area basketball.
Management matters. But markets still matter, too. Let's see where it all goes before anyone declares a wide-ranging systematic victory.
Winner: The West
All eight incumbent Western Conference playoff teams have a case to make it again, unless and until the Oklahoma City Thunder trade Russell Westbrook. (It feels mean to label Westbrook a "loser" here after doing so following another first-round flameout. It's also unavoidable. The Thunder have won zero playoff series since Durant left. They still have the same issues on offense despite at least five years of empty rhetoric -- aimed at Westbrook -- about adjusting. Another star left him. It's not great.)
The Lakers are dislodging one of those eight. Three other lottery teams have "if everything goes right, we can crack the race for No. 8" upside: New Orleans, Sacramento, and Minnesota. (The Minnesota Timberwolves were solid before Robert Covington got hurt, though they spent the summer in a holding pattern.) Optimists might add Dallas, but its roster beyond Luka Doncic and Kristaps Porzingis is blah. We have to see how those two mesh, and the state of Porzingis, after a year away.
I refuse to punt on the idea of slotting the 16 best teams into the playoffs regardless of conference.
Loser: The East
Again.
Even the Bucks are worse off for losing Malcolm Brogdon, their second-best player for parts of the Eastern Conference finals. (One of biggest swing questions in the 2020 title race is whether Eric Bledsoe has permanent playoff-itis. With Brogdon, the Bucks almost made the NBA Finals despite Bledsoe struggling. Without him, they have limited margin for Bledsoe error.)
Recouping one first-round pick in the Brogdon sign-and-trade with Indiana matters; the Bucks were out two, and they need trade currency. Expect them to search out ways to flip that pick for talent, provided such a deal does not take them into the luxury tax.
They could also have kept Brogdon despite some long-term injury concerns, and paid the tax. That's what contenders do. I would assume Milwaukee took Giannis Antetokounmpo's temperature on this. Signing his older brother, Thanasis, to a two-year deal was certainly nice.
Tentative winners: Small-market teams spurned by star wings from the 2010 draft
The Utah Jazz are loaded after trading for Conley and splurging on Bojan Bogdanovic -- a last-minute pivot after Nikola Mirotic spurned them. Jeff Green and Ed Davis bring needed depth.
Utah will miss Derrick Favors. An injury to Green or Davis would bring more danger than it should. But the Jazz will be really hard to guard with four shooters around Gobert and two ball handlers who can score from anywhere, in Conley and Mitchell.
In the past, Quin Snyder leaned on complex motion to mask a lack of go-go talent. The Jazz can simplify now and run more classic spread pick-and-roll around Gobert. They remind of the peak Dwight Howard-era Magic, down to Gobert grabbing enough offensive rebounds on his own to mimic the effect of a normal team having two or even three guys crash the glass.
Gobert faces a huge burden on defense, but is it really so much bigger with Bogdanovic as small-ball power forward than with Jae Crowder? Gobert is back-to-back Defensive Player of the Year. It's his job to handle that burden.
Utah can make the Finals, but I'm a tick lower on the Jazz than the consensus. They don't feel soft, exactly. Maybe lacking in force? Compare them to last season's Philadelphia 76ers, who overwhelmed opponents -- and unnerved the champion Toronto Raptors -- with sheer size and athleticism. Even Conley doesn't scare you in that sense. He's fast, but he's barely 6-foot-1; he beats you with craft. Gobert is not as powerful or coordinated rolling to the rim as peak Howard.
Which projected starter is defending huge alpha wing scorers like LeBron, George and Leonard? What about James Harden? That job fell mostly to Ricky Rubio in last season's playoffs.
Dante Exum and Royce O'Neale figure into those questions. They bring some of that missing oomph. But will Utah be able to score enough against elite defenses with one or both on the floor? Bogdanovic is 30; that four-year, $73 million deal may not age well.
Meanwhile, Bogdanovic's old team retooled around players in Victor Oladipo's age range: T.J. Warren, Jeremy Lamb and Brogdon. If Brogdon's foot holds up, he is an ideal fit next to Oladipo; I argued before free agency that the Pacers should sign him instead of Rubio. Brogdon can space the floor, allow Oladipo to function as point guard, and soak up as much ball-handling duty as Oladipo asks.
Brogdon cost a ton, including a lottery-protected pick heading to Milwaukee. Lamb, at $10 million per year, is a steal. Warren has to show Nate McMillan he cares about anything beyond scoring. Joining a winning culture should nudge him there.
The Pacers are still one rotation guy short, and the gaping hole is at forward. They could fill it down the line by trading Myles Turner or Domantas Sabonis for a wing. For now, the Pacers are all-in playing their two bigs together. The results improved last season, in limited minutes. It is a really nice NBA subplot that both Turner and Sabonis want it to work -- that neither sees the other as a threat.
Top big wings rarely become available. They are the most valuable player type in the NBA. Most realistic deals for one amount to Indiana selling low on Sabonis or Turner. One natural trade match to monitor: Boston, with three such players in Jaylen Brown, Jayson Tatum and Gordon Hayward (and Marcus Smart can play up a position or two) and a shortage of proven bigs.
KD, Kyrie make a legacy-defining decision to join Nets
Scoop Jackson details the journey that Kevin Durant and Kyrie Irving will set upon by joining forces with DeAndre Jordan on the Brooklyn Nets.
Losers: The woebegone Hornets
I just cannot get over the Charlotte Hornets failing to make a real run at trading Kemba Walker if they knew they would not come close to offering him a max contract, let alone the supermax. They then let Jeremy Lamb -- a good wing who just turned 27 -- walk for nothing, and finished the trifecta by paying Terry Rozier nearly twice as much as the Pacers paid Lamb.
Yeah, Rozier plays a position of need with Walker in Boston. There is just not much evidence he plays it all that well -- he has shot less than 40 percent overall in all four career seasons -- and certainly not well enough to merit almost $20 million per season.
Also, what in the world is this tweet?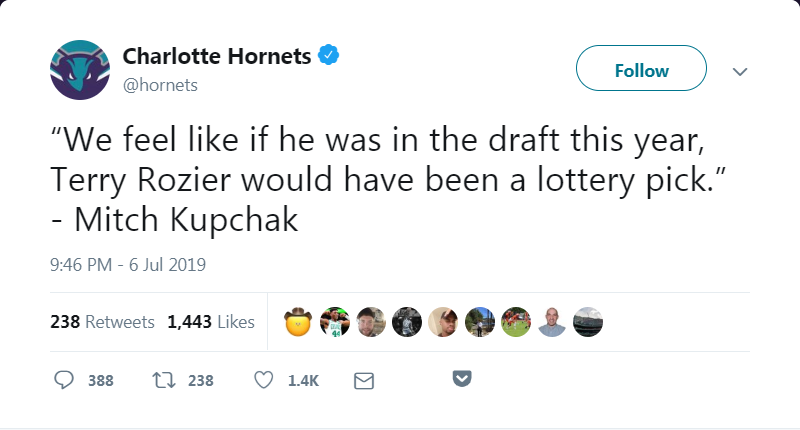 Is Charlotte saying that the college version of Rozier -- the one who went 16th in the 2015 draft, two picks outside the lottery -- would have been a lottery pick in this draft? Or worse: Are the Hornets arguing present-day 25-year-old Rozier would have been a lottery pick in 2019?
Umm, yeah: The veteran you just agreed to pay $58 million should probably rank in the top 14 of the draft that just happened.
But why are we surprised? This team turned down four first-round picks to draft Frank Kaminsky. Charlotte apologists can pretend this didn't happen, but it absolutely did, and current and former higher-ups have more or less admitted it. The Hornets turned down two more picks -- from Chicago -- to draft Noah Vonleh, sources have told ESPN. In a whirlwind last summer, they turned Dwight Howard into Bismack Biyombo and second-round picks instead of simply buying out Howard -- as the Nets did after acquiring Howard days later.
The Hornets had the bad luck of several players hitting free agency in the summer of 2016 -- i.e., the summer of the cap orgy. Drafting well requires good luck. But the Hornets missed on every top-10 pick aside from Walker. Drafting may be an inexact science, but any franchise needs a higher hit rate than this.
At least now we get to see what the kiddos can do. Unleash Malik Monk!
Winner: A continuity test case
Two years ago, a GM told me "continuity is the lost currency of the NBA." I liked that.
There is a tendency as teams load up to assume those who stand pat have fallen behind. But basketball is a rhythm sport. Teams improve as players develop deeper familiarity with each other. Continuity can be a strength. It might grow more powerful amid crazy year-to-year turnover.
The Houston Rockets, San Antonio Spurs and Denver Nuggets are all banking on that. It has seemed like an awful summer for Houston. The Los Angeles teams loaded up. The Clippers will enter this season ahead of the Rockets; the Lakers might, too. There have been firings and contract disputes and rumblings of near-fatal chemistry issues.
Houston is really good. It was the only Western Conference team to challenge the Durant-era Warriors. It is bringing everyone back. But a lot of its players are on the wrong side of the aging curve. If the rumored fissures are real, it may indicate that Houston's style of play (i.e. James Harden's) has a shelf life -- that stylistic continuity would not carry the usual benefits.
Still: Too many discussions about the reloaded West have ignored the Rockets.
Denver has the compound power of youth and continuity. The Nuggets are deep at every position, though another injury to Michael Porter Jr. chips away at that -- and at what had been overflowing excitement from higher-ups about how ready Porter looked. The Nuggets are also primed for a consolidation trade on the wing. I will not stop beating the "Bradley Beal to Denver" drum until I speak it into existence.
The Spurs might have the most vanilla tentpole All-Stars in the league, but they also get Dejounte Murray back to join Derrick White. Remember: The normally stolid Spurs could not hide their enthusiasm last year over what Murray was about to do before his knee injury.
They snagged two tweener forwards -- DeMarre Carroll and Marcus Morris -- at good value. Add Rudy Gay, and San Antonio has lineup flexibility and more switchability on defense. The Spurs know how to win in the regular season. They never beat themselves -- unless they need to foul in the final seconds of an elimination game.
Loser: Phoenix Suns
Phone rings at league office.
NBA cap nerd: Hello, Phoenix Suns. Do you have a trade?
Suns: Baaaah baaa baaah! Baaah.
Nerd: What's that? You're trading Josh Jackson, the No. 4 pick two years ago, to the Memphis Grizzlies for Kyle Korver and Jevon Carter -- and you're going to waive Korver?
Suns: /plaintive bleating
Nerd: Wait -- you're throwing in De'Anthony Melton and two second-round picks? Are you sure you aren't getting another player or something?
Suns: BAAAAA BAAAH BAAAAAAA! /sound of hooves smashing random buttons
Nerd: Kelly Oubre Jr.'s cap hold? Is that what you're trying to say? You're doing this to fit Oubre's cap hold?
Rationalize it all if you want. Before the draft, Phoenix had only about $9 million in cap space -- not enough to sign a real point guard, and the Suns made the startling discovery last season that having a real point guard helps. They dumped Warren, a decent player on a good contract, and paid the giddy Pacers the No. 32 pick for taking him. Sure.
After subsequent trades and signings, the Suns on July 3 found themselves about $2 million short of being able to squeeze in Oubre's $9.6 million cap hold -- and re-sign him. The Memphis trade rectified that.
Jackson had been available for nothing. The Suns decided they didn't want him for reasons that had little to do with his on-court performance -- which was mostly frenzied and unproductive anyway.
But incentivizing another team to take him in part because you screwed up your cap sheet is a disaster. It borders on malpractice. Like, why is Aron Baynes and his $5.45 million salary on this team? The Suns acquired Baynes in a draft-day trade in which they swapped roughly equivalent first-round picks with Boston: Phoenix got No. 24, which it used on Ty Jerome, in exchange for Milwaukee's top-seven protected pick in 2020. There is no way the pick Phoenix got was worth $5.45 million more than the one it gave up. It wanted Baynes.
The Suns already had full Bird rights on Richaun Holmes, another center who carried a teensy $1.62 million cap hold, per an estimate by ESPN's Bobby Marks. Boom, there's almost $4 million in savings -- eliminating any need for the Memphis robbery. They later signed Frank Kaminsky, another backup center, with the room exception.
Did it really require $17 million per season to sign Rubio? What was Rubio's market once Indiana pivoted to Brogdon? Is Rubio a good fit next to Devin Booker? Is Oubre worth all this trouble? He looks like a 3-and-D guy. He's a long-armed menace defending the ball. He's still just 23. But he's a 32% career shooter from deep who daydreams away from the ball on defense. Seriously: Count the backdoor cuts.
You can't criticize the Suns for signing Booker to a max extension a year ago instead of waiting until restricted free agency this summer -- a move that added $17 million to their cap sheet. Phoenix is trying to repair its image with top players. Holding Booker in limbo does the opposite.
But the rest? It's just a mess.
Winner: The suddenly prudent Bulls
Did the Chicago Bulls experience some secret transfer of power? Three summers ago, the Bulls gave themselves the Barry Horowitz premature pat on the back for sitting out the cap spike -- before tossing money at Dwyane Wade and Rajon Rondo. Last summer, they spent $20 million on Jabari Parker, labeled him a wing, and hoped everyone would nod and turn their gaze to some other misshapen team.
The Bulls made Otto Porter Jr. their first de facto free-agency signing of this summer by flipping Parker and Bobby Portis -- both on expiring contracts -- for Porter at the trade deadline. Absorbing Porter's megadeal, which could run through 2021, marked an uncharacteristic acceptance of reality: No one good takes our cap space. Enough flailing at shiny objects. Our young players are about to develop to the point where we will be too good to outright tank. Let's just be decent and figure it out later.
Thaddeus Young might be the human manifestation of that mindset: He's not a star, but he's good enough -- smart, creative, tough as hell -- to win games. He can play power forward next to either Lauri Markkanen or Wendell Carter Jr. Tomas Satoransky is an upgrade on offense over Kris Dunn. Satoransky's pass-first approach is a better fit in lineups featuring Zach LaVine, Markkanen and Porter. He has hit 42 percent from deep over the past two seasons, though on low volume.
Ryan Arcidiacono and Luke Kornet are good value signings. I ... I like what Chicago did? I feel like Homer Simpson (and his kids) did upon realizing he had predicted the disintegration of the comet headed for Springfield.
Porter's $28.5 million player option for 2020-21 now becomes one of the league's most interesting contract wrinkles. If he picks it up, Chicago will have no cap space next summer. If he declines it with an understanding that a fat long-term contracts awaits -- the move Harrison Barnes just pulled in Sacramento -- Chicago could be capped out in 2021 and beyond as Markkanen, Carter and LaVine come up for new deals.
The Bulls won't be good this season. They'll probably top out as mediocre. That's fine. At some point you have to stop fetishizing the transaction game and build an actual basketball team. If they disappoint, the revamped lottery odds provide a better chance at leaping up the draft board.
This is a huge year for LaVine and Markkanen. If LaVine grows into more of an all-around player -- and not an empty calories hog -- Chicago's ceiling and position in the trade market change. Markkanen should be good. He has a good stroke, some handle and vision, and a bit of a nasty streak. But this will be his third season. It's time for production to catch up with appearances.
Winner: The Memphis Predators
Memphis is a couple of steps behind Chicago. The Grizzlies can prioritize the transaction game.
Odds are Josh Jackson stagnates. Most sexy second draft types do. But taking a no-cost flier on him is Rebuilding 101. Ditto for snaring a lightly protected first-round pick along with Andre Iguodala -- and getting Golden State to delay that pick obligation until 2024 (at the earliest), when the Warriors will be at risk of real decline. The Grizzlies maximized Conley's trade value, and they are in position to do the same with Iguodala and Crowder.
I don't love the three-year, $45 million extension for Jonas Valanciunas, but it's ultimately harmless considering Valanciunas' production and the state of the franchise.
General loser-ish-ness: Washington Wizards
Just over two calendar years ago, the Washington Wizards were one Kelly Olynyk outburst from the Eastern Conference finals. Now they are basically tanking, though they have Beal, which amounts to holding Beal hostage. Players have only so many NBA minutes in them. It is such a shame that Beal -- who led the league in minutes last season -- might have to waste 3,000 more carrying this sorry roster.
In mid-December, Washington traded a young player (Oubre) for an adult in the room (Trevor Ariza) to save their unraveling season. Six weeks later, the Wizards gave up by dealing Porter.
Their payroll is so bloated, they had to pass on re-signing potentially useful players -- Portis and Satoransky -- in favor of cheaper deals to Thomas Bryant (promising!), Ish Smith and Isaiah Thomas.
They didn't have the flexibility to hunt blue-chip future picks in salary dumps the way Memphis and Atlanta did. Instead, they gathered fringe prospects and second-round picks in junior versions of those deals. That is something -- a reversal of past pick hemorrhaging, assuming ownership does not mandate the sale of all those second-rounders.
Winner: The deep Pelicans
It started with one immense stroke of luck, but David Griffin reinvented the New Orleans Pelicans in a matter of weeks. New Orleans could roll 12 deep in solid NBA players. (Don't sleep on Kenrich Williams, Frank Jackson and Christian Wood.)
They are perhaps a little light on shooting, though Josh Hart is a good bet to bump his 3-point accuracy back up after surgery to clean up festering knee issues. Alvin Gentry can stagger the rotation so that two of Hart, Jrue Holiday, J.J. Redick and E'Twaun Moore are out there as much as possible around the Pelicans' non-shooters. Gentry will also have the Pelicans running like hell, and a lack of shooting doesn't hurt as much if you live on a permanent fast break.
But spacing will get cramped. Young teams generally struggle, though a couple of New Orleans' key young guys -- Lonzo Ball and Brandon Ingram -- are at the point where they should take major steps.
Playoff expectations feel a little premature. That's not really the point, though. Two months ago, the Pelicans had no direction -- no future. Now they are stocked with interesting young players and own damn near the Lakers' entire future draft catalog -- a portfolio that got more valuable when Leonard picked the Clippers. If the Lakers somehow avoid even a one-year dip over the next half-decade, it won't change the fact that the Pelicans had an incredible spring and summer of 2019.
Winner: Portland, not satisfied
I don't mind the Portland Trail Blazers' gamble on Contract Year Hassan Whiteside, even if it cost them Maurice Harkless -- meaning Portland lost both its rangy starting forwards (Harkless and Al-Farouq Aminu) in the span of 36 hours. The Blazers have to get by with guards sliding up a position and bigs -- Zach Collins -- sliding down. (Anthony Tolliver can fill minutes, too.)
Eh. Harkless and Aminu appear more essential in stature -- big wings who can guard other big wings -- than they are in reality. Every postseason, opponents dared Harkless and Aminu to shoot 3-pointers. Every year, they missed until Portland cut their playing time. The Blazers are just getting that process over early.
Whiteside is comfortable with almost everything Portland asks of its centers: hang near the rim on defense; gobble up offensive rebounds when opponents swarm Lillard and CJ McCollum; and post up the occasional mismatch. His entitled pouting won't fly on Lillard's team. In Miami, Whiteside could talk himself into the (false) idea that he was both the Heat's best and highest-paid player. Neither is true in Portland. Even Whiteside must recognize that.
One Portland-specific area of concern: Whiteside has no track record making plays in space, something every Blazer screen-setter must do given how defenses trap Lillard. (Whiteside is a lazy, noncontact screen-setter to boot.)
Whiteside is a sloth with the ball. He has averaged fewer than one assist per game every season of his career save 2017-18 -- when he averaged exactly one. He makes Enes Kanter look like Draymond Green.
Still: Whiteside will have some monster statistical games mooching off Portland's star guards, and that raw production matters over the slog of the regular season. He's a fine placeholder for Jusuf Nurkic.
Portland's young players are primed for leaps. Kent Bazemore and Rodney Hood stabilize the outside shooting. Portland is still one move from being a real title threat, but it will enter this season in good position to strike.
Loser: Everyone, because Bobi and Tobi were separated
Some team is going to reunite these guys someday out of pure sentiment, and will be lauded as heroes. I hope these two go out dancing the night before the first Dallas-Philly game and film the whole thing.
Tentative winner: Good extension candidates
There won't be as much cap space next summer, but that is more than counterbalanced by the massive drop in the number of max-level veteran free agents. The top remaining extension-eligible guys -- Jaylen Brown, Pascal Siakam, Caris LeVert, Sabonis, Buddy Hield, maybe Ingram -- can reasonably warn their teams: If you don't give me what I want now and I have a big year, watch out next summer.
Next summer. It can't possibly live up to the week that just reoriented the entire NBA. Right? Right?