As the Toronto Raptors hoisted the Larry O'Brien trophy in June, they put a punctuation mark at the end of a wild NBA decade.
The 2010s will go down as one of the league's most successful periods, and the decade will be remembered for a couple signature trends: the rise of 3-point shooting and analytics. Shooting skills have always been vital in the NBA, but they became paramount this past decade.
The league leaned heavily into analytically correct shot selections that promoted 3-point shooting while minimizing midrange looks, resulting in an awakening that has reformed pro hoops. Most of the biggest shots of the decade came from beyond the arc -- Ray Allen's dagger from the right corner, Kyrie Irving's Game 7 step-back. Before Stephen Curry won his first MVP in 2014-15, no NBA MVP had led the league in 3-point scoring. Now, three of the past five winners have.
This decade belonged to shooters, and these 10 were the very best. Although there's still no perfect metric to quantify shooting skill, the top shooters in the game are able to combine volume and efficiency in ways normal NBA players can't. These aren't simply the guys with the highest 3P%, eFG% or TS%. They created and converted thousands of difficult shots from all over the court at high rates.
In a decade obsessed with shooting efficiency, these fellas reformed the ways we look at scoring in pro basketball.
---
1. Stephen Curry
We have to start with Curry, arguably the best shooter the game has ever seen. In a decade that we'll remember for its 3-point awakening, Curry was the alarm clock.
Check this out:
By sinking 2,025 3s in the 2010s, James Harden ranked second in the NBA in made triples. Steph was No. 1 by a country mile, hitting 458 more 3s than Harden.

Curry's 3s were tough. No one has attempted more triples since 2013-14 -- the first year we have full player-tracking data via Second Spectrum -- and only four players took more difficult attempts when accounting for shot quality and defender distance. The gap between Curry's expected eFG (49.6%) and actual eFG (64.0%) on 3s is greater than any other player's.
That combination of perimeter volume and efficiency was simply unprecedented before Curry came along. But as Curry's stardom rose, the rest of the league took notes. He'll forever be associated with the dominant trends of this decade. His shot chart from the past 10 seasons shows a man who is very good at hurling airy leather orbs through metal rings from every angle.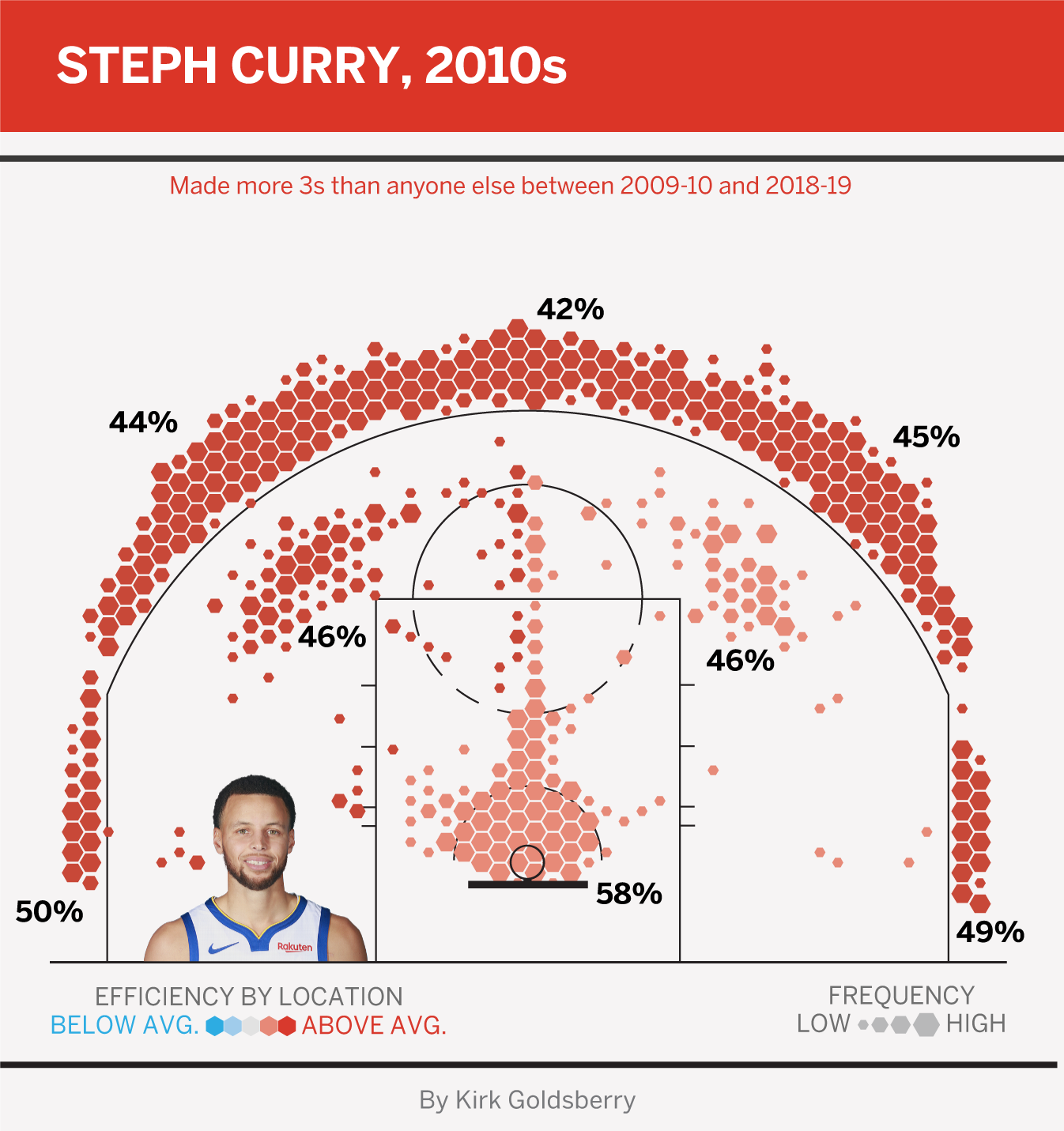 Before the 2015-16 season, no NBA player had made more than 300 3s in a season -- not Larry Bird, not Reggie Miller, not Ray Allen, not Curry. That season, Steph went out and made 402, in large part because he unlocked the power of the unassisted 3-pointer. Curry's 2015-16 is probably the best shooting season ever. He became the only player in history to put up 50/40/90 numbers while scoring more than 30 PPG.
Long-range scoring was a skill set reserved for catch-and-shoot specialists at the beginning of this decade, but Curry busted our shooting records by destroying those conventions. To this day, more than 80% of NBA 3s are assisted, but for Curry that number is just 62%. The dude creates and makes his own 3-pointers off the bounce better than anyone else we've seen:
Since 2013-14, 57 players have attempted at least 500 off-the-dribble 3s. CJ McCollum ranks No. 2 within that group by making 37% of his attempts; Curry is at 40.7%, per Second Spectrum tracking.

In that same time, 218 players have attempted at least 500 catch-and-shoot 3s. Curry ranks second in both made 3s and 3P%.
LeBron, Heat repeat with Game 7 win over Spurs
On June 20, 2013, after a thrilling Game 6 win, the Heat finish off the Spurs with a 95-88 victory. LeBron James leads the way with 37 points and 12 rebounds in Miami's title defense.
---
The race for second-best shooter of the 2010s was much closer than the race for the top spot, but it's still hard to argue against KD here.
Durant can score from anywhere against anyone. That's what makes him special. Shots near the rim remain the most efficient attempts in the game, and unlike the decade's other great jump-shooters, Durant is a monster at the basket as well as in the midrange. Looking at his shot chart, you see the breadth of his brilliance.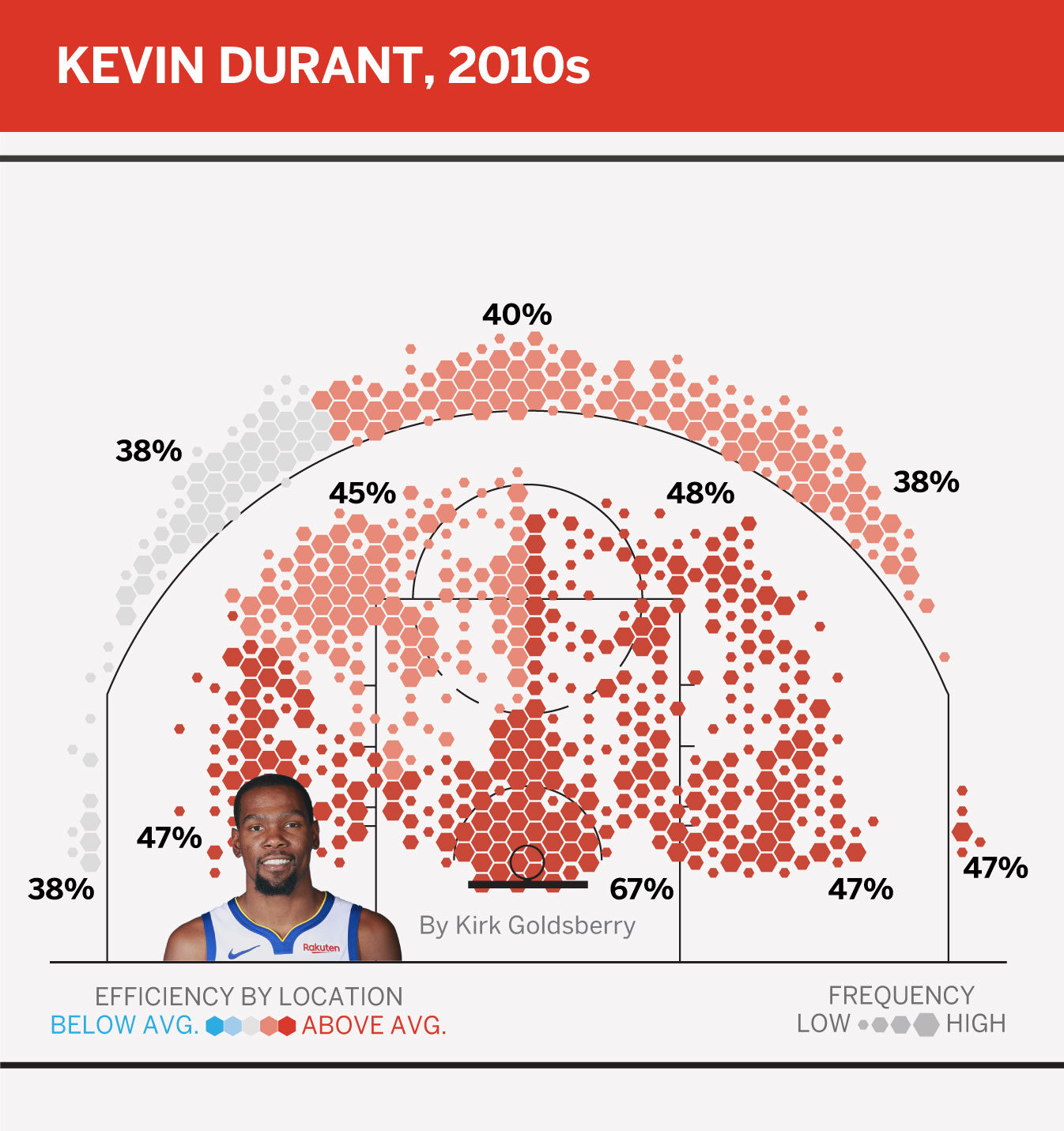 Durant won four scoring titles in the 2010s thanks to his amazing blend of size, skill, smarts and scoring instincts. No player in the league can get good looks with such ease. Plus, Durant launched more jumpers than anyone else this decade. In other words, the money was easy.
If we're tracking all shots since 2013-14, not just 3s, Durant had the second-biggest gap between his actual and expected eFG, per Second Spectrum's shot-quality metrics. His plus-9.82% was only slightly behind Curry's plus-9.92%, and no other player topped plus-7.54%.
Like Curry, Durant put up a 50/40/90 season, but unlike Curry, he did it mostly inside the arc.
---
Nobody scored more points in the 2010s than LeBron James, and he absolutely owned the paint.
Unlike the decade's other breakout superstars, James' scoring efficiency is mostly limited to one area. But that one area is the most vital spot in the sport. Despite the massive growth of 3-point scoring, shots around the rim still produce the biggest return on investment in the game.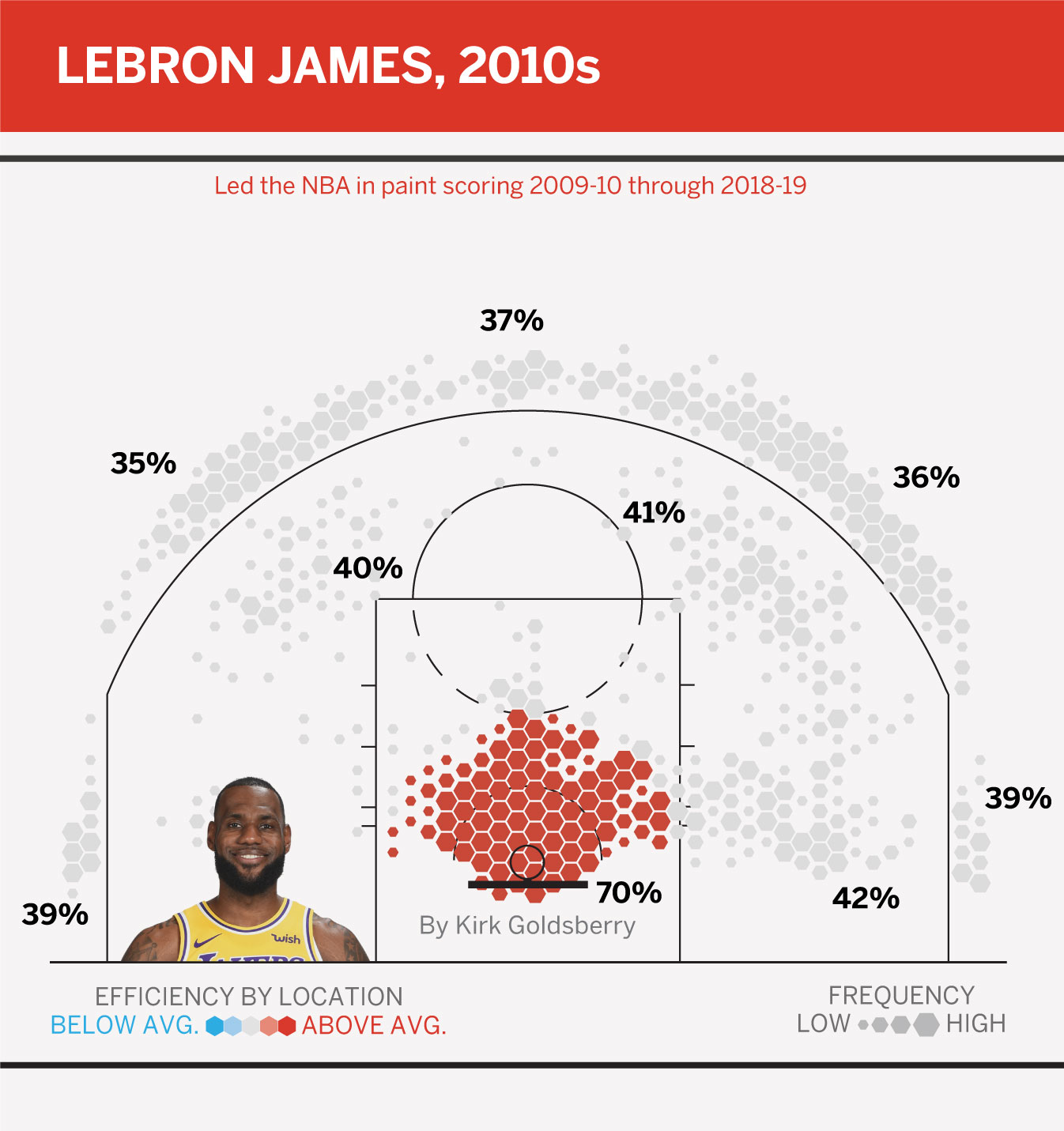 Perhaps the decade's most staggering scoring stat reveals just how dominant the decade's best player was in the sport's most important zone. Check this out:
James led the NBA in total paint scoring and ranked No. 2 in paint efficiency out of 227 players with at least 1,500 attempts the past 10 seasons.
Yep, that's crazy. While interior shooting is an entirely different skill from jump-shooting, James is the Steph Curry of close-range buckets:
Dwight Howard ranked No. 2 in the NBA in the 2010s by converting a whopping 3,796 field goals within 8 feet of the basket. James made 4,434!

During the 2010s, 152 NBA players converted at least 1,000 field goals within 8 feet of the basket. Of that group, James ranked No. 1 in FG%, converting a ridiculous 69.2% of his shots.
Harden's dance moves walk the line between travel and art form
Here is a look at a selection of James Harden shots this season on which he showed off magic footwork.
It's fair to say that James is just an average jump-shooter; he made only 38.3% of his shots beyond 8 feet during the 2010s. But it's impossible to argue that the decade's leading scorer has an offensive formula that's anything short of awesome.
---
Thompson has a case as the most terrifying heat-check shooter we've ever seen. Just utter his name around an Oklahoma City Thunder fan, and you'll see the terror he can strike in a fan base. If it weren't for Thompson's 11 3s in a must-win Game 6 of the 2016 Western Conference finals, the entire NBA landscape would be different today. That night, Klay and his triples saved Golden State's season, punctured the Thunder's potential title run and set the wheels in motion for Durant to land in Oakland later that summer.
Dirk's signature fadeaway helped him cement legacy
Fourteen-time NBA All-Star Dirk Nowitzki's signature fadeaway jumper helped him build a unique Hall of Fame career.
Unlike almost any other catch-and-shoot specialist, Thompson has won games in huge moments with ridiculously efficient volume scoring. Who can forget the night in 2016 when he scored 60 points against the Pacers despite dribbling just 11 times and possessing the ball for a total of 90 seconds?!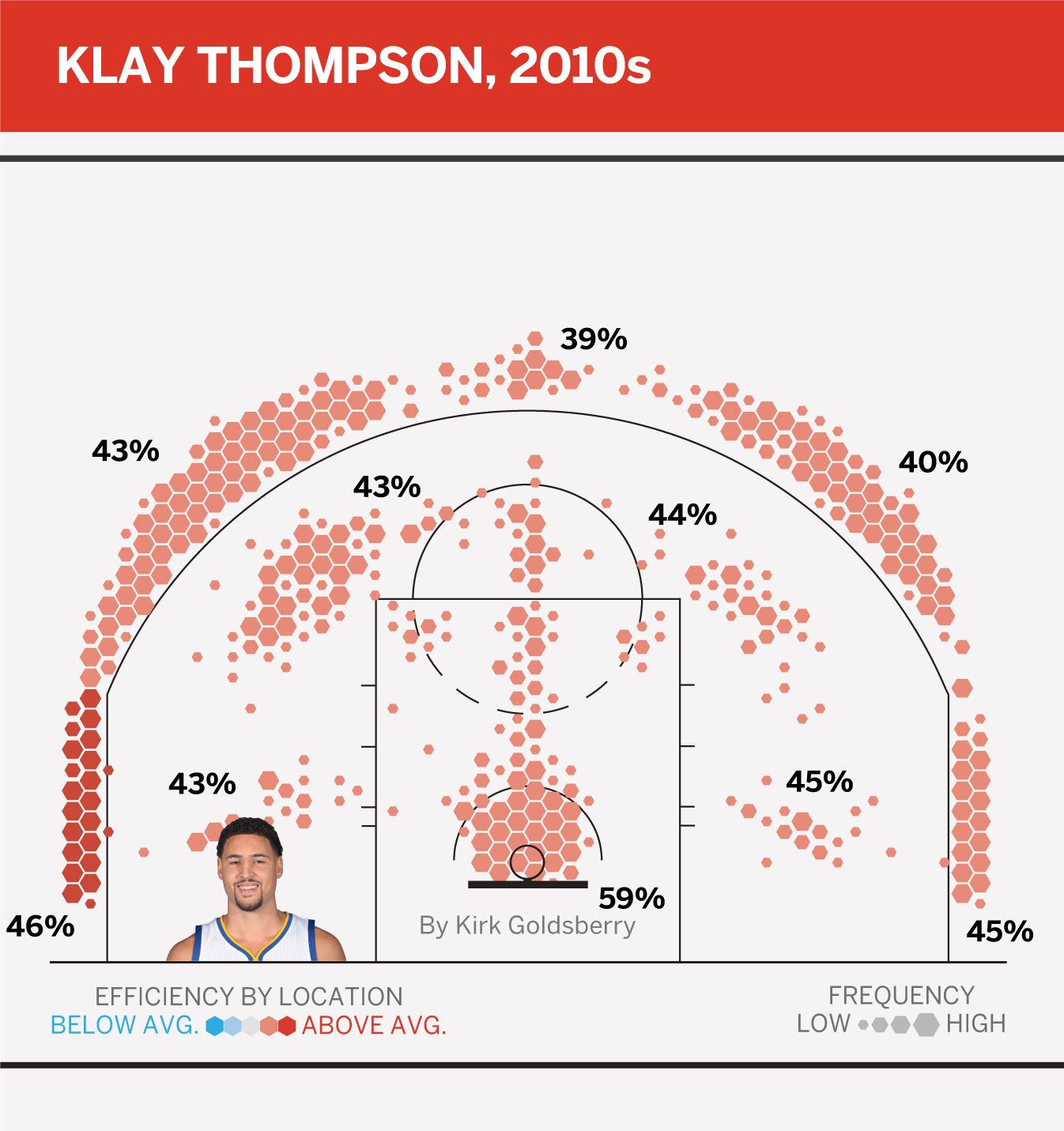 Thompson made the third-most 3-point shots this decade, trailing only Harden and Curry. But what's incredible is that he did that as second or third banana on one of the era's most dominant teams.
---
5. James Harden
Love him or hate him, there's no denying that Harden is one of the most innovative scorers we've ever seen. While his shot chart reveals that he's an average shooter from the field, Harden achieves superstar efficiency levels by sticking to a ketogenic shot diet and getting to the line.
Harden began the decade as a young buck coming off the bench in OKC, but he ended it quarterbacking the most unique offense in the game. Even though his efficiency numbers might not compete with those of the other guys on this list, his volume, creativity and innovation are second to none.
Don't believe me? He's already the all-time NBA leader in unassisted 3s, and he just turned 30.
---
6. Dirk Nowitzki
The only player who has combined size, scoring and jump-shooting efficiency as well as Durant is Nowitzki. But Dirk began this decade at 31, and even though he led the Mavs to the 2010-11 NBA title, it's fair to say that many of his best seasons were in the 2000s.
Yet Nowitzki routinely built some of the hottest shot charts in the league well into his 30s by taking and making incredibly difficult midrange looks. Defenders knew what was coming, but it didn't matter. Thanks to his fadeaway, his high release and his high-arcing shot, Nowitzki routinely scored on even the league's most skilled defenders as he drained thousands of midrange Js.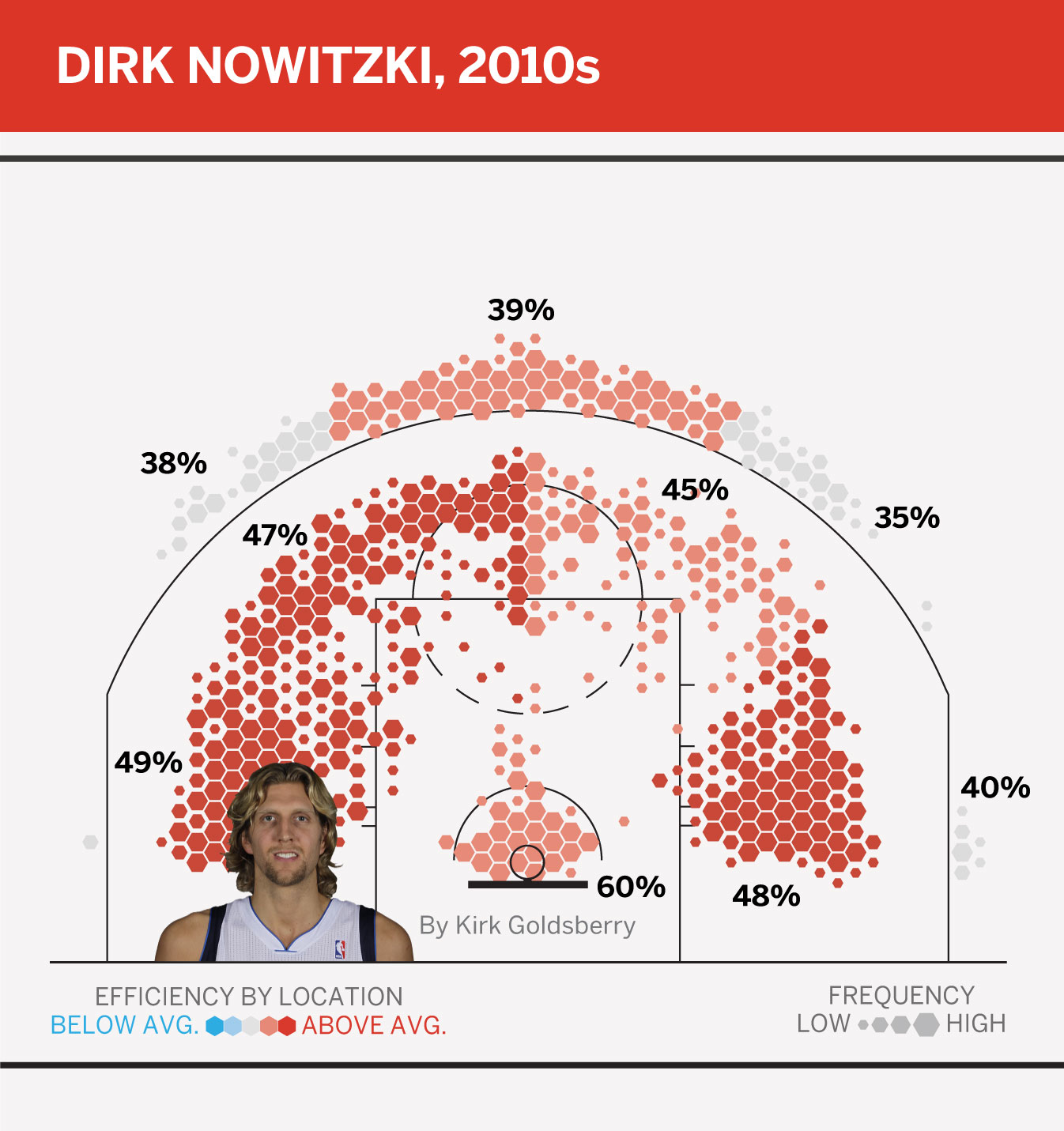 There are few shooters in league history who can conjure an image in our heads as rapidly as Nowitzki. Even casual fans can imagine him posting up with his back to the basket before rising up for his patented one-leg fadeaway and releasing that illuminati jumper. We already know what his statue will look like.
But one sad thing about the decade is that post-up play and midrange shooting -- the exact things that made Dirk a household name -- are both rapidly falling out of favor. If present trends continue, those one-legged fadeaways will go extinct just like the sky hook.
---
Chris Paul is one of the best midrange shooters in the world. Who can forget the off-the-bounce game winner over Tim Duncan to send the Spurs packing in the 2015 playoffs? Paul developed an incredible midrange arsenal for 12 years in the NBA before he landed in Houston's Land-Of-No-Midrange.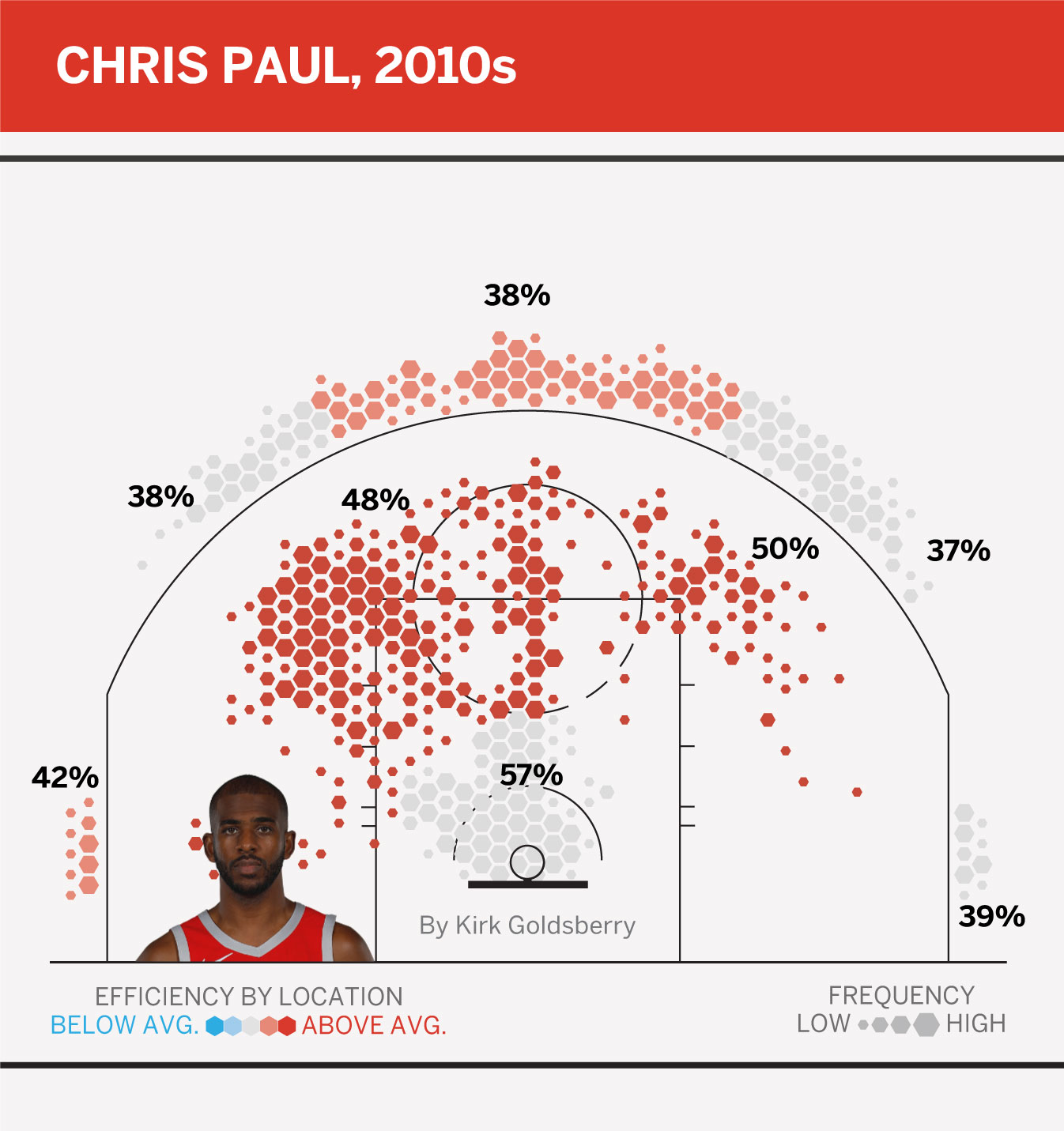 No midrange, no problem. Paul quickly adapted his game for Moreyball and became a 3-point threat while almost completely abstaining from the kinds of elbow jumpers that made him famous.
In his first six seasons in the league with the Hornets, just 18% of his shots were 3-pointers. In his next six seasons with the Clippers, that number was 28%. But in his past two seasons, 3-pointers have represented more than 48% of his looks. It has been a remarkable late-career transformation and further evidence that the world's best shooters can thrive and adapt in ways normal shooters can't.
One of the most intriguing questions about Paul's next chapter in OKC: Will he go back to his beautiful midrange game?
---
If it weren't for Curry, Lillard would be revolutionary -- the greatest deep 3-point shooter we've ever seen. Along with Curry, Lillard is changing the way the league looks at acceptable shot distances. Both of these guys are comfortable pulling up from 30-plus feet, a distance that would have been laughable at the beginning of this century. Nobody's laughing now, as Lillard is using those deep triples to great effect.
Lillard has made huge shots in huge moments with monster game winners against Houston in 2014 and Oklahoma City in 2019. The OKC shot will go down in history as the boldest game winner in playoff history. The cool, calm 37-footer that ended the Westbrook era in OKC would've been a terrible shot for most NBA shooters, but Lillard isn't most shooters. During the 2018-19 season, Lillard made more than 39% of his attempts from between 30 and 40 feet.
---
Redick has jumped around his whole career. The New Orleans Pelicans will be his fifth team since he entered the league in 2006. But as Redick entered his prime, the NBA began a love affair with 3-point shooting, and Redick has the checks to prove it, as teams have continued to value his unique ability to knock down shots in all sorts of predicaments.
Along with Curry and Thompson, Redick is one of the few NBA players who can come off of a curl, set his feet and get a high-efficiency shot off in traffic.
---
Korver has bounced among five organizations during his remarkable 16-year NBA career. While his uniform has changed a lot in that time, his jumper has remained incredibly consistent.
Among the 200 NBA players who tried at least 1,000 3s in the 2010s, nobody was more accurate than Korver, who made 44.5% of his attempts. He's the only one on that list looking down at Curry.
The only reason Korver isn't higher in our rankings? He can't create his own shots like the guys above him can.