During his 17 years in the NBA, LeBron James has played with a lot of teammates -- 167 so far, to be exact. The former No. 1 overall pick had played with six other top picks -- Shaquille O'Neal, Joe Smith, Andrew Bogut, Greg Oden, Derrick Rose and Kyrie Irving -- entering this season, and that group expanded to eight earlier this week when James played a regular season game with Anthony Davis and Dwight Howard for the first time.
But which players have been the best of James' teammates? That's the question we put to our expert panel, made up of seven of our writers and a former NBA player who spent multiple seasons playing alongside James. We asked them to focus on each player's time alongside James, and to attempt to project where Davis will fall on that list. So you won't see O'Neal or Rose -- two players who won NBA MVP long before teaming up with LeBron -- on this list. You also won't seen names you might have forgotten like Edy Tavares (who played one game for the 2016-17 Cavaliers) or Eddy Curry (14 games for the 2011-12 Heat) or even Eddie House (56 games for the 2010-11 Heat).
What you will see are the players who, in the eyes of our panel, have made or will make the biggest on-court impact while playing alongside James.
Just missed the cut: Chris Andersen, Danny Green, Drew Gooden, Larry Hughes, James Jones, Mike Miller.

15. Udonis Haslem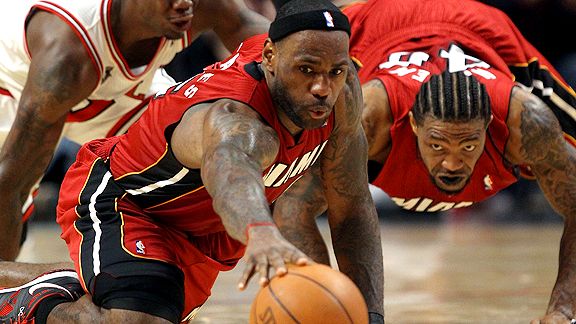 Team
Miami Heat | 2010-14
Haslem ranks second behind only Dwyane Wade in games played in a Miami Heat uniform, and his willingness to take less money in 2010 helped bring James to Miami. Though he struggled because of injuries during the Heat's four-year Finals run, he was an integral part of those teams, and -- like James -- is heading into his 17th season. The Heat lifer is Miami's all-time leader in total rebounds, and averaged nearly six per game during his four seasons alongside James.
---
14. Carlos Boozer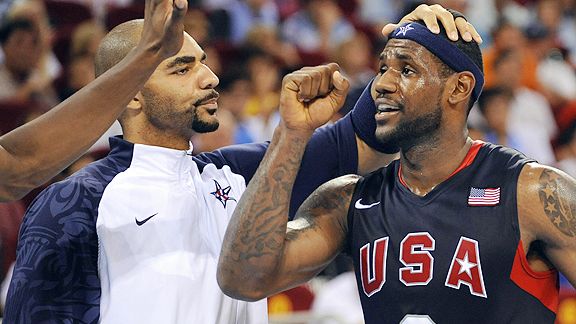 Team
Cleveland Cavaliers | 2003-04
Though he played only one NBA season alongside James, Boozer remains one of only two players to average at least 15 points and 10 rebounds (Kevin Love in 2016-17 is the other). After Boozer's contentious departure from Cleveland, he went on to play in two All-Star Games and the 2008 Olympics, leaving fans to wonder what might have been if he'd stayed.
---
13. Mario Chalmers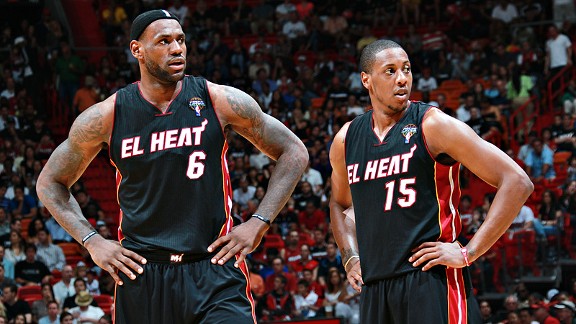 Team
Miami Heat | 2010-14
The frequent target of James' ire during their time together, Chalmers was also the most consistent point guard during LeBron's Heat years. He shot better than 38% from 3-point range, and his 242 games started are the most for any point guard who has ever played alongside LeBron (and sixth most overall).
---
12. Anderson Varejao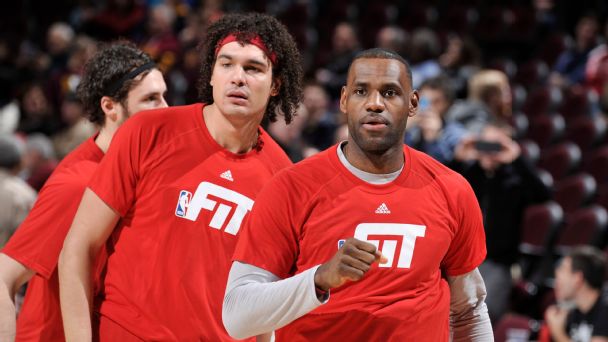 Team
Cleveland Cavaliers | 2004-10, 2014-16
One of two players to play alongside LeBron during both of his Cleveland stints (Mo Williams is the other), Varejao ranks second in career games played as LeBron's teammate. However, he was on the losing end of LeBron's greatest triumph as a member of the Warriors in the 2016 NBA Finals.
---
11. JR Smith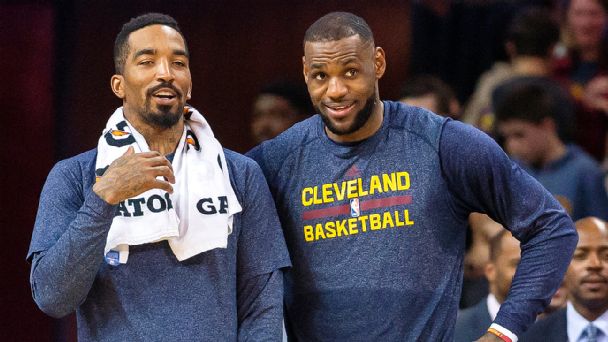 Team
Cleveland Cavaliers | 2014-18
Acquired from the Knicks midway through LeBron's first season back in Cleveland in 2014-15, Smith went on to be a key player in the Cavs' four consecutive Finals trips. Though NBA Twitter probably will remember him for his blunder in Game 1 of the 2018 Finals, James and the Cavs probably would not have won the 2016 title without the two big 3-pointers he made to open the second half of Game 7 in that series.
---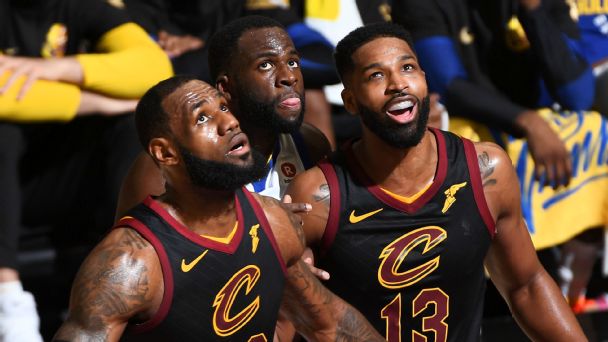 Team
Cleveland Cavaliers | 2014-18
Thompson isn't just a former Cavs teammate of LeBron's, the two also are part of the Klutch Sports family together. On the court, Thompson averaged 8.3 rebounds in four seasons playing alongside LeBron -- only Boozer, Love and Gooden have pulled down more rebounds on a nightly basis while on LeBron's team.
---
9. Shane Battier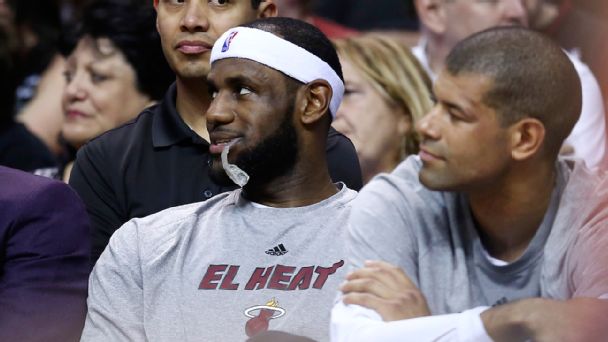 Team
Miami Heat | 2011-14
Battier joined LeBron and the Heat after the 2011 lockout and helped power Miami's small-ball lineup to consecutive NBA championships. Battier's most memorable moment as LeBron's teammate came when he set an NBA record by making six 3-pointers in Game 7 of the 2013 Finals (one more than James had in that same game).
---
8. Mo Williams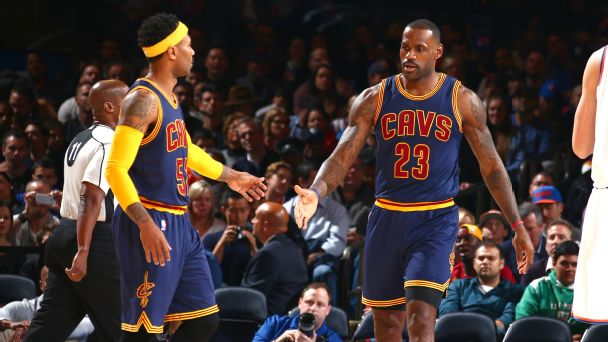 Team
Cleveland Cavaliers | 2008-10, 2015-16
During the 2008-09 season, Williams became just the second player to make an All-Star team while playing alongside LeBron (Zydrunas Ilgauskas had been the first in 2005). Williams averaged nearly 17 points during his first stint with James, then returned to Cleveland in 2015-16 to help the Cavaliers win their first NBA title.
---
7. Ray Allen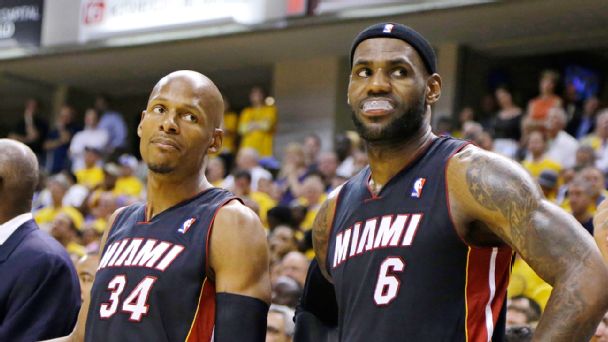 Team
Miami Heat | 2012-14
If his tying shot with 5.2 seconds left in regulation in Game 6 of the 2013 Finals had been the only shot he'd ever made as LeBron's teammate, Allen would probably still be worthy of this ranking. But he made more than 300 3-pointers in two seasons in Miami while shooting nearly 40% from beyond the arc as the Heat made the last two of their four consecutive Finals trips.
---
6. Zydrunas Ilgauskas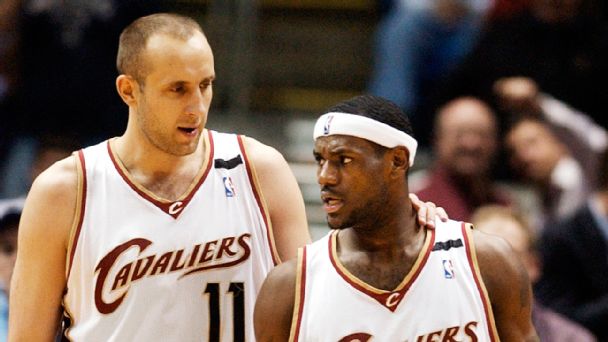 Team
Cleveland Cavaliers | 2003-10
Miami Heat | 2010-11
Among the players who've suited up as a teammate to LeBron, no one has played more games with him than Ilgauskas. The two were teammates for seven seasons in Cleveland and one in Miami, and LeBron's attendance at Big Z's jersey retirement ceremony helped set the stage for LeBron's eventual return to Cleveland later that year.
---
5. Kevin Love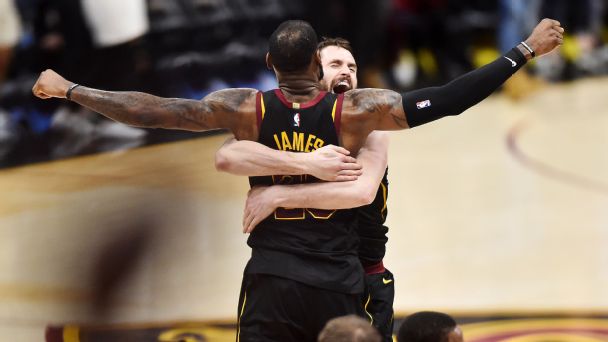 Team
Cleveland Cavaliers | 2014-18
Acquired by the Cavs the same summer LeBron returned to Cleveland, Love went on to make two All-Star teams playing alongside James. His defensive stop on Stephen Curry late in Game 7 of the 2016 Finals helped secure LeBron's third career title. During their four years together, Love averaged 17 points and 10 rebounds.
---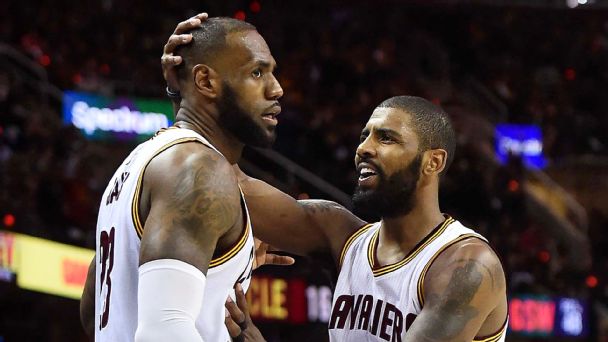 Team
Cleveland Cavaliers | 2014-17
Though Irving eventually forced his way from James and out of Cleveland, their three years together were memorable. Irving made the All-Star team three consecutive years while putting up 22 points and five assists per game. He also matched LeBron with 41 points in Game 5 of the 2016 Finals, and then made the go-ahead 3-pointer with under a minute left in Game 7 of that series.
---
3. Chris Bosh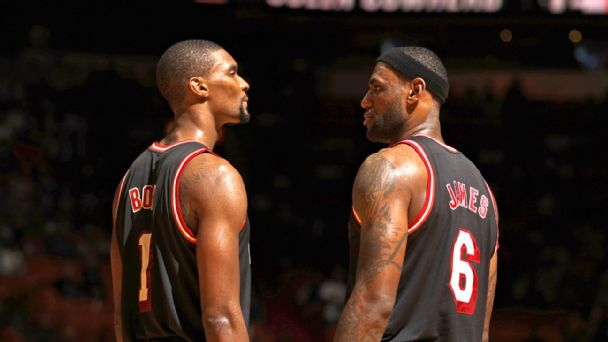 Team
Miami Heat | 2010-2014
Frequently maligned during his time with LeBron in Miami, history has been kinder to Bosh, who helped usher in the era of small ball while playing center alongside LeBron. Bosh made the All-Star team during all four of LeBron's seasons in Miami, and went from shooting 24% on just 25 3-point attempts in 2010-11 to draining 34% of his 218 attempts in 2013-14. He also pulled down the rebound that led to Allen's tying 3 in 2013, and stuffed Danny Green at the buzzer of overtime in that same game.
---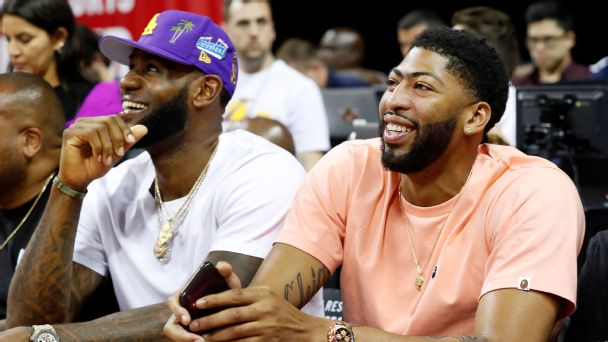 Team
Los Angeles Lakers | 2019-20
Davis has played just one regular-season game with LeBron (the two were All-Star teammates each of the past two years), but it's hard to question his production before coming to Los Angeles. He has made six All-Star teams, been a three-time first-team All-NBA selection, and is still only 26 years old. However, it's entirely possible that this season is the only one he ever plays with James, as Davis is set to become a free agent in June.
---
1. Dwyane Wade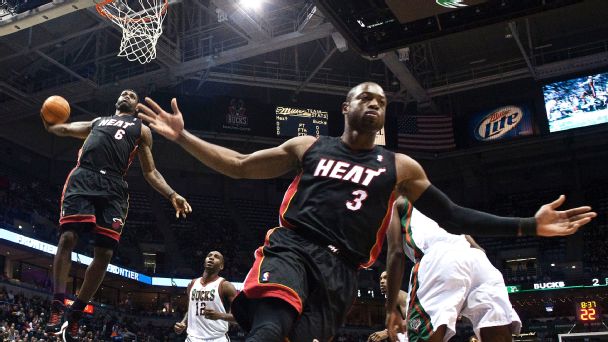 Team
Miami Heat | 2010-2014
Cleveland Cavaliers | 2017-18
Though it's debatable whether the 2019-20 version of Davis is better than the 2010-11 version of Wade, there's no debating Wade's track record while playing alongside LeBron in Miami. The two went to four consecutive Finals and won two titles. And while their "peanut butter and jelly" reunion in Cleveland didn't provide a storybook ending, they got one last opportunity to be teammates at the 2019 All-Star Game. Plus, their sons are now high school teammates, perhaps giving NBA fans a glimpse at James-Wade 2.0.
Voting panel: Tim Bontemps, Chris Herring, Zach Lowe, Jackie MacMullan, Dave McMenamin, Kevin Pelton, Marc Spears, and a former teammate of LeBron James.