Team USA hit the Olympics in Tokyo as the three-time defending gold-medal winner, but it was coming off a disappointing seventh-place finish at the 2019 FIBA World Cup, the worst finish ever in a major international competition by a team from the United States.
Still, despite finishing seventh in China, Team USA went on to win gold for the fourth consecutive Olympics, led by Kevin Durant, who became the first U.S. men's basketball player to average more than 20 points per game in a single Olympics, earning his third gold medal. Team USA beat France in the gold-medal game, avenging a loss from earlier in the Olympics.
The US will now look to defend its Olympic title in Paris in 2024.

Latest news

USA Basketball exhibition results
July 10: Nigeria 90, USA 87
July 12: Australia 91, USA 83
July 13: USA 108, Argentina 80
July 18: USA 83, Spain 76
---
Tokyo Olympics schedule
QUARTERFINALS
Monday, Aug. 2
Slovenia 94, Germany 70
Tuesday, Aug. 3
United States 95, Spain 81
France 84, Italy 75
Australia 97, Argentina 59
Thursday, Aug. 5
United States 97, Australia 78
France 90, Slovenia 89
Aug. 6
Gold-medal game: United States 87, France 82
Aug. 7
Bronze-medal game: Slovenia vs. Australia, 7 a.m. ET
---
PRELIMINARY ROUND
Saturday July 24
Group A: Czech Republic 84, Iran 78
Sunday July 25
Group B: Italy 92, Germany 82
Group B: Australia 84, Nigeria 67
Group A: France 83, United States 76
Monday July 26
Group C: Slovenia 118, Argentina 100
Group C: Spain 88, Japan 77
Tuesday July 27
Group B: Germany 99, Nigeria 92
Wednesday July 28
Group A: United States 120, Iran 66
Group B: Australia 86, Italy 83
Group A: France 97, Czech Republic 77
Thursday July 29
Group C: Slovenia 116, Japan 81
Group C: Spain 81, Argentina 71
Friday July 30
Group A: France 79, Iran 62
Saturday July 31
Group B: Italy 80, Nigeria 71
Group B: Australia 89, Germany 76
Group A: United States 119, Czech Republic 84
Sunday Aug. 1
Group C: Argentina 97, Japan 77
Group C: Slovenia 95, Spain 87

Team USA Roster
Bam Adebayo, Miami Heat
Devin Booker, Phoenix Suns
Kevin Durant, Brooklyn Nets
Jerami Grant, Detroit Pistons
Draymond Green, Golden State Warriors
Jrue Holiday, Milwaukee Bucks
Keldon Johnson, San Antonio Spurs
Zach LaVine, Chicago Bulls
Damian Lillard, Portland Trail Blazers
JaVale McGee, Denver Nuggets
Khris Middleton, Milwaukee Bucks
Jayson Tatum, Boston Celtics
Bradley Beal and Kevin Love were previously on the roster, but Beal was forced out due to COVID-19 protocols and Love withdrew from the roster after training camp and early exhibition games. They were replaced by Johnson and McGee.


Three gold medals all as the team's leading scorer means no man can touch Kevin Durant when it comes to Olympic success.
Read Kirk Goldsberry's story

---

After back-to-back seasons of uncertainty in the NBA and no practice time, Team USA can still overwhelm with talent.
Read Brian Windhorst's story

---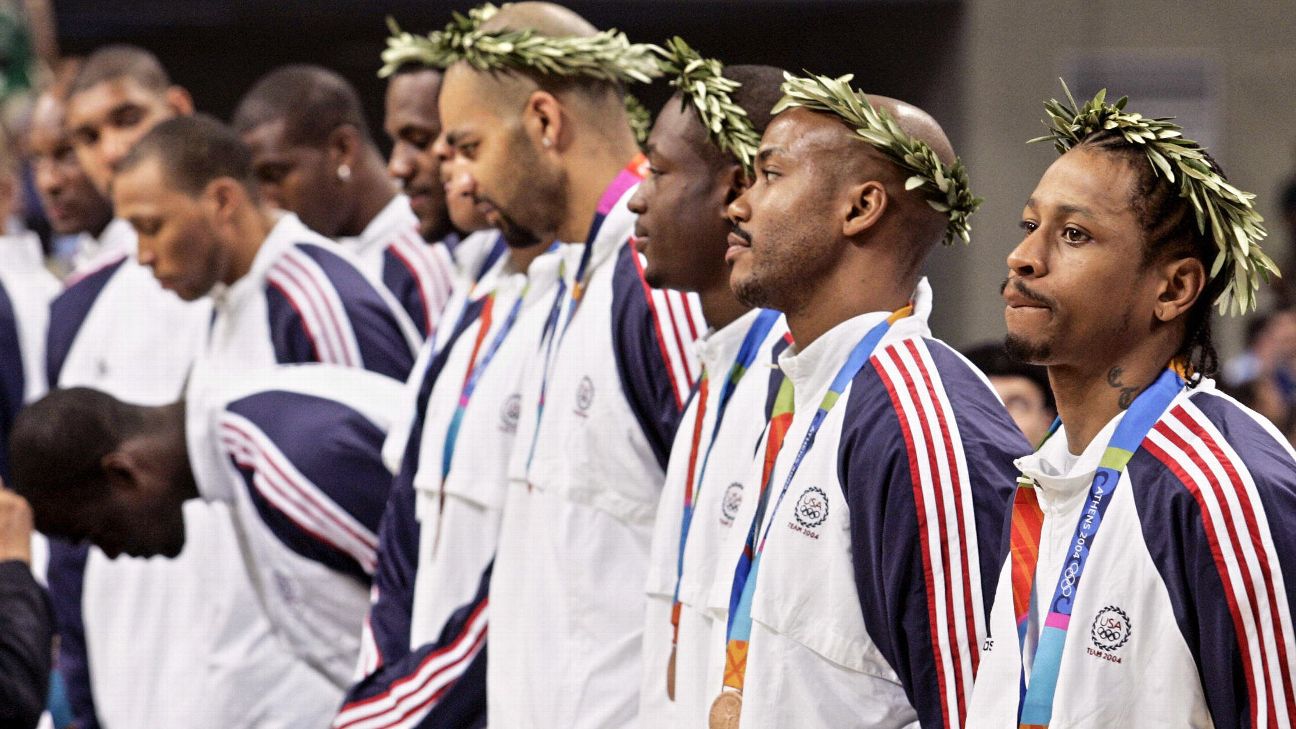 A third-place finish at the 2004 Athens Olympics wasn't just viewed as a failure -- it forced USA Basketball to rethink everything.
Read the oral history on the turning point for Team USA.
---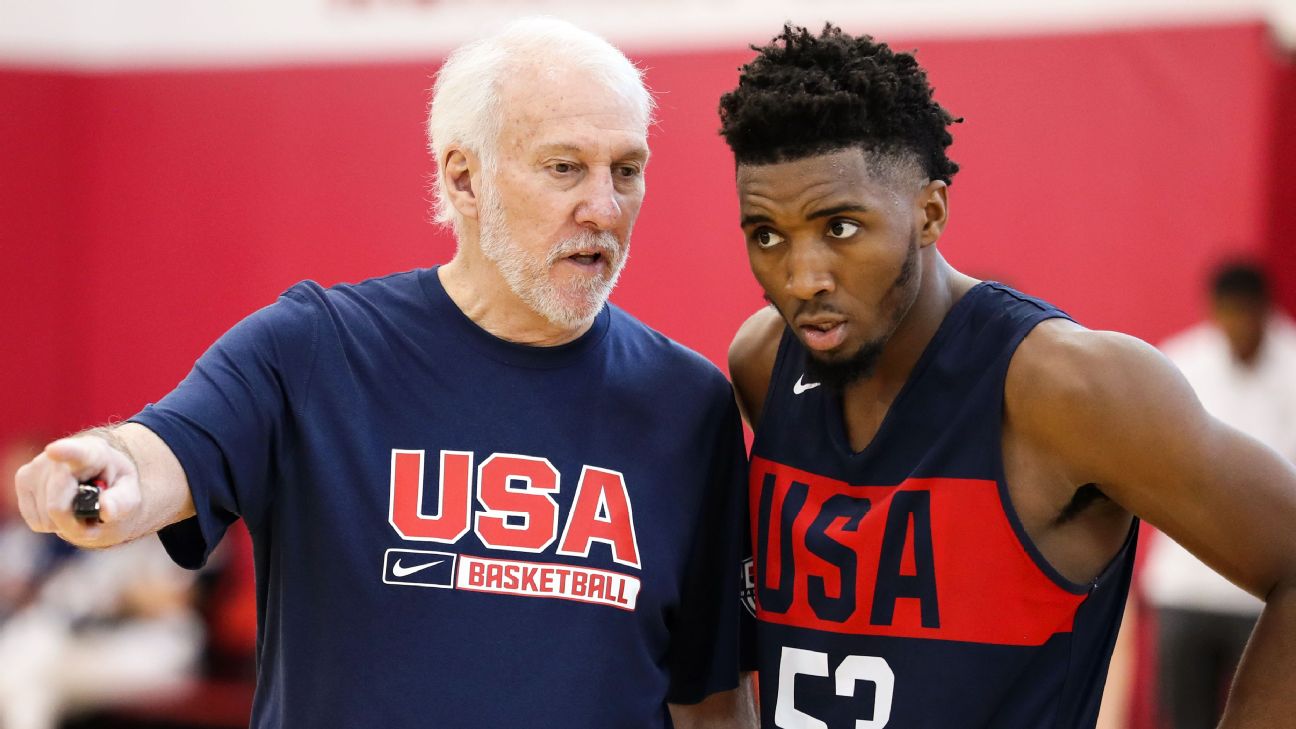 What does Gregg Popovich have left to prove? Putting together this team is a big lift. Leading it to an undefeated run and a world championship is a big ask, even for a living legend with an impeccable record and solid gold reputation. The risk/reward ratio is off. So why is he doing it?

Olympic qualifying tournaments
June 29-July 4
Belgrade, Serbia
June 29 results: Serbia 94, Dominican Republic 76
June 30 results: Serbia 83, Philippines 76
July 1 results: Italy 90, Puerto Rico 83; Dominican Republic 94, Philippines 67
July 3 semifinals: Italy 79, Dominican Republic 59; Serbia 102, Puerto Rico 84
July 4 final: Italy 102, Serbia 95
Kaunas, Lithuania
June 29 results: Poland 83, Angola 64; Lithuania 76, Venezuela 65
June 30 results: Slovenia 118, Angola 68; Venezuela 94, Korea 80
July 1 results: Slovenia 112, Poland 77; Lithuania 96, Korea 57
July 3 semifinals: Slovenia 98, Venezuela 80; Lithuania 88, Poland 69
July 4 final: Slovenia 96, Lithuania 85
Split, Croatia
June 29 results: Germany 82, Mexico 76; Brazil 83, Tunisia 57
June 30 results: Mexico 72, Russia 64; Brazil 94, Croatia 67
July 1 results: Germany 69, Russia 67; Croatia 75, Tunisia 70
July 3 semifinals: Brazil 102, Mexico 74; Germany 86, Croatia 76
July 4 final: Germany 75, Brazil 64
Victoria, Canada
June 29 results: Canada 97, Greece 91; Turkey 95, Uruguay 86
June 30 results: Canada 109, China 79; Turkey 87, Czech Republic 70
July 1 results: Greece 105, China 80; Czech Republic 80, Uruguay 79
July 3 semifinals: Czech Republic 103, Canada 101 (OT); Greece 81, Turkey 63
July 4 final: Czech Republic 97, Greece 72