Here we go: the top 15 in my NBA League Pass Rankings for 2019-20.
You can find Part 1 and all of the rules here. These are not power rankings.
15. BOSTON CELTICS (31)
Boston drops 13 spots despite replacing a frowny-faced philosopher-point guard (Kyrie Irving) with a rough stylistic equivalent in Kemba Walker -- owner of the league's nastiest in-and-out dribble. The combined departures -- Al Horford's subtle brilliance, Marcus Morris' toughness, Terry Rozier's long 2s, Guerschon Yabusele's ass -- cannot inflict this much damage on Boston's watchability.
But last season's Celtics were never as watchable as the algorithm predicted. Their heralded starting five, brimming with ballhandling and creativity, added up to less than the sum of its parts. Their offense became stilted and arrhythmic. Players oscillated between extremes of deference and greed, never finding the happy middle ground. Now the one hub who might have been able to connect the others -- Horford -- serves that role for a rival.
There is hope Boston can settle into a watchability zone between this ranking and last season's. The chemistry presumably isn't toxic now. Gordon Hayward should be closer to Utah form. Jaylen Brown and Jayson Tatum are hungry. One or both could make All-Star pushes; Tatum looks to be attacking the rim more already. His reclining, willowy midrangers are basketball grace notes, analytics be damned.
The Timelord -- Robert Williams III -- adds a vertical athleticism Boston has not had in a while. Tacko Fall looms. The trimmings are as good as it gets: the green uniforms (perhaps the best in U.S. sports history), the parquet, the sonorous Mike Gorman, Tommy Heinsohn's hoarse homerism in the Johnny Most tradition.
14. PORTLAND TRAIL BLAZERS (32)
The Blazers are the quality control dividing line -- a comfort-food movie. They have more star power than the teams beneath them, though most of it is of the below-the-rim-variety. The teams above them bring more juicy unknowns.
Damian Lillard is a stone-faced destroyer of franchises. CJ McCollum is the league's preeminent midrange artist -- a leaning, bobbing, weaving, stop-on-a-dime phantom. Fans in Denver are still traumatized by what McCollum unleashed in Game 7 of last season's second round.
Zach Collins swats at enemy shots with sneering violence. If he hones his 3-pointer, he might become Portland's third franchise tentpole. Everyone is dying to see Anfernee Simons. Hassan Whiteside supplies dunks, and he has a knack for catching shots -- swallowing them whole -- instead of blocking them. That's cool.
God bless Mario Hezonja, always in pursuit of a wild highlight when a much simpler play is staring him in the face:
The art and broadcast are top-notch. I dig the Blazers returning to a white painted area for their 50th anniversary season: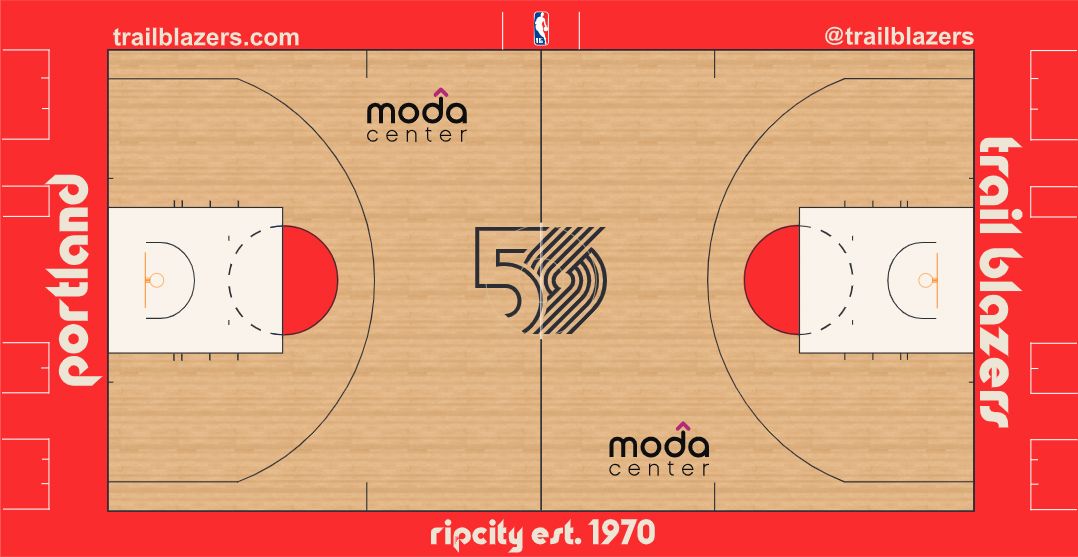 Maybe we will get a few classic Pau Gasol Statue of Liberty dunks.
13. HOUSTON ROCKETS (33)
The Rockets are the league's most polarizing watch. I can't quibble with fans tired of the James Harden Dribble-And-Step-Back Jamboree, even if the degree of difficulty and stutter-step artistry involved are almost unprecedented. But I like the slowed-down chess match of each opponent trying newfangled ways to defend Harden.
Milwaukee pioneered a "force him right" variant that built on San Antonio's gambit from the 2017 playoffs, when Harden melted into a puddle. Utah abandoned its entire base defense last postseason in favor of something even more gimmicky; Harden digested it like a basketball Terminator, and eviscerated the Jazz until they reverted to something approaching normalcy.
Russell Westbrook is a welcome chaos agent. When he snares a defensive rebound, he will kick one of the league's slowest teams back into gear. Assuming Harden cedes some ballhandling duty -- he has to -- Westbrook can run pick-and-roll in wide-open space. The Thunder rarely offered that, but when they did -- particularly in 2016, with lineups featuring Kevin Durant, Serge Ibaka, Dion Waiters and Steven Adams -- Westbrook was unstoppable.
This could all go haywire. Mike D'Antoni is already making jokes about Tilman Fertitta -- the Rockets' hard-chargin', hard-tweetin', allegedly apolitical owner -- firing him. The two stars might fight over the ball. Westbrook might chill beyond the arc as Harden dances, a passive-aggressive saboteur of spacing.
He might also screen for Harden, dash in for high-wire offensive rebounds, and cut in random directions. No matter what, it's going to be must-watch.
Characters lurk on the fringes: Gerald Green, indiscriminate chucker and permanent Vincent Vega-looking-around GIF on defense; and maybe Ben McLemore. I hope McLemore makes the team, because I need an oral history of this two-possession sequence.
12. GOLDEN STATE WARRIORS (33.5)
This is Golden State's lowest finish ever. It feels icky.
Stephen Curry is still the league's most telegenic player. His 30-whatever-footer to beat Oklahoma City three years ago is one of the brightest flashbulb moments in league history. Everyone who watched on that Saturday night remembers exactly where they were.
But running pick-and-roll on this shallow roster, Curry will often resemble a quarterback fleeing a jailbreak blitz toward half court. That's still fun: Curry threading passes to Draymond Green, who will shift into 4-on-3 mode from there. No big man has ever played that role quite like him.
D'Angelo Russell should fit Steve Kerr's read-and-react offense, and bring a new dynamic.
The art is first rate; blue and yellow go well. The crowing homerism of the broadcast might be more palatable now that the Warriors aren't invincible, but it could also grow defensive and hostile. Their comedy score fell off a cliff after years of dominating with Nick Young, JaVale McGee, Zaza Pachulia, and other performers.
Two very different rookies -- Jordan Poole and Eric Paschall -- should get a chance to play.
I'm mildly intrigued by Omari Spellman.
11. BROOKLYN NETS (34)
A league-high 9.5 in the minutia category propels Brooklyn one or two spots too high. (We once adjusted by reducing their score under the Ian Eagle Corollary, but that didn't feel appropriate here. These guys are entertaining. We docked that half-point to protest the YES Network ditching "Who Am I?")
The gray court is a risk worth taking, and the accompanying jerseys -- with graffiti-style wordmark -- look great. Their home whites are underrated. The white shines against black lettering.
The Nets play fast and shoot 3s, and the combination of DeAndre Jordan and Jarrett Allen should boost their dunk totals. Allen is fearless on defense. He has gone chin-to-chin with Giannis Antetokounmpo above the rim so many times -- some wins, some losses -- that they have a little rivalry brewing.
All three lead ball handlers offer something different. Irving brings shoulder-shaking flash, and ambidextrous spinny finishes at the rim. Caris LeVert's herky-jerky rhythm wrong-foots defenders. (In a nice twist, LeVert told me last season he tried to improve his finishing by watching YouTube videos of Irving demonstrating how to use spin off the backboard.) Spencer Dinwiddie likes to pull the ball way out against switches, put his head down, and zoom in straight lines.
When David Nwaba played in Chicago, Stacey King, the Bulls' analyst, nicknamed him "Demolition Man." Perfect. Nwaba plays every second at full tilt. He sprints and dives and leaps from somewhere off your TV screen to try and block shots. You worry Nwaba is a risk to himself and others, but you can't look away.
10. SACRAMENTO KINGS (34.5)
Whoa! A 20-spot jump for the Kings!
Leap onto the De'Aaron Fox bandwagon before it speeds away. Fox had the Kings living in transition last season -- after turnovers, misses, makes, even free throws. Luke Walton might try to play even faster.
Buddy Hield put together one of the 10 or so greatest shooting seasons ever -- 43% from deep on eight tries per game. Hield needs only a sliver of space to let fly, and he pries it open with cagey pump fakes, sidesteps, and moonwalks.
Marvin Bagley III is going to be a monster scorer from all over the floor. Dewayne Dedmon is enough of a threat spotting up for 3s that Bagley should spend at least some of his time with the starters screening for Fox and jaunting down the lane for ferocious dunks. Bogdan Bogdanovic is a trickster with and without the ball.
The deep purple of the courts and uniforms is soothing. Grant Napear strikes the right balance between cutting honesty and caught-in-the-moment enthusiasm on commentary.
I actually thought the Kings would rank higher. This feels right, though. Fox's breakneck style won't catch teams by surprise anymore. Sacramento fueled its transition game with a league-best turnover ratio, and a youngish team might have a hard time duplicating that.
Their half-court offense was clunky -- 22nd in points per possession, per Cleaning The Glass -- and the Kings will suffer hiccups sorting an ultra-deep rotation that might force some guys to play a bit out of position. Richaun Holmes is one of the league's angriest dunkers, but his presence could rob us of some Bagley-Harry Giles III minutes.
9. NEW ORLEANS PELICANS (34.5)
Zion Williamson is prime Lawrence Taylor playing basketball. In his one summer league game, Williamson tossed Kevin Knox aside like a frail quarterback, took the ball (and Knox's soul), and dunked. In a preseason game Friday, he went right at Rudy Gobert -- and finished through him. Wow.
Zion is going to break a backboard. Someone is going to make the mistake of stepping into his path as he sprints the ball up the floor, and that person is going to fly 20 feet backward and have his chest cavity caved in.
The Pelicans ranked second in pace last season, and they are going to absolutely fly with Lonzo Ball heaving hit-aheads to Williamson as everyone else runs the wing. Williamson can function as a rim-running center when he plays without Derrick Favors -- perhaps with Nicolo Melli spacing the floor.
We will learn a lot about the respective ceilings of Ball and Brandon Ingram. Frank Jackson hurls himself at the rim. Kenrich Williams deserves the nickname "Kenny Hustle." E'Twaun Moore has one of the softest floaters in the league.
Also:
🎤 MAKIN' MY WAY DOWNTOWN 🎶@TheReal_NAW1 sings his way into the crowd's heart 😩🙌 pic.twitter.com/eiOEiPEkaF

— New Orleans Pelicans (@PelicansNBA) October 6, 2019
You know you love that song. You sing along to it in the car. What is the best part of that video? Nickeil Alexander-Walker deciding to just go for it? (Alexander-Walker looks gooooooood.) David Griffin, the Pelicans' personnel chief, grinning like a proud father after years of looking miserable amid Cavs melodrama (none of his making)? Jrue Holiday wearing the "Karate Kid" headband he can't wear in games anymore for reasons that remain unclear? (I am still mad.) Swin Cash's "really?" face?
There is a plausible scenario in which New Orleans coalesces around a contagious youthful joy, exceeds expectations, and cracks the postseason as a lower seed with a roaring homecourt advantage -- the kind that rattles nervy favorites. I am rooting for that scenario.
8. CHICAGO BULLS (34.5)
I've compressed comedy/curiosity scores, but it's hard with the Bulls. Zach LaVine takes some of the, umm, strangest routes on defense you will see in the NBA. Jim Boylen sweats and yells and crouches, hands on knees, like a basketball Matt Foley (motivational speaker). I am a sucker for Stacey King's catchphrases and cornball jokes.
(Unpopular Boylen opinion: He's a smart coach. Just talk to him, and that shines through. There is even some logic in how he stripped the Bulls down to the basics of physicality and effort upon taking over. I kinda wish he would just coach instead of thinking he needs to play a cartoon capital-C Coach.)
LaVine is the best dunker since prime Vince Carter, with the craziest shot selection this side of JR Smith. My man will take half-turnaround 3s. But his jumper is pretty, and he can go on extended hot streaks.
There is a ton of smart give-and-go improvisation -- the winks and nods in tight spaces that make basketball sing -- between Otto Porter Jr., Tomas Satoransky and Thaddeus Young. We need a full season of the Lauri Markkanen-Wendell Carter Jr. duo. They could develop into the rare frontcourt pairing in which both members can play inside or outside -- allowing them to shift almost randomly and keep defenses guessing:
The Michael Jordan-era pinstriped black throwbacks are tasty: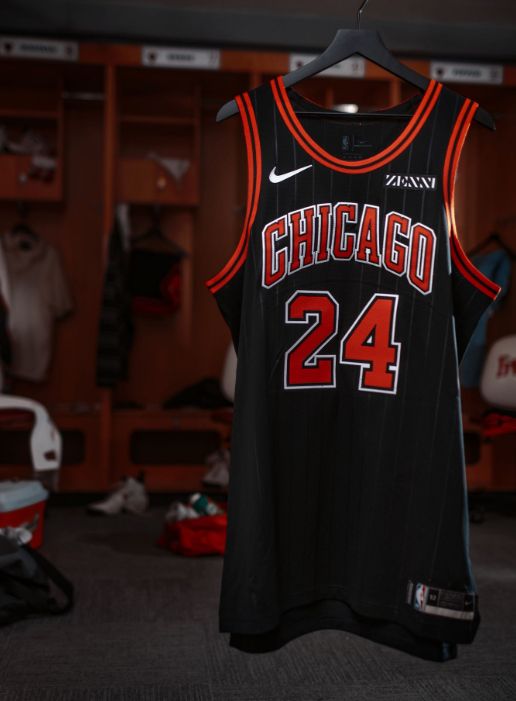 7. UTAH JAZZ (35)
Utah brings intricacy for the nerds and loud highlights for when you just want to see supernova athletes do cool stuff. The Jazz tried more dunks than anyone last season; Gobert trailed only Antetokounmpo in made dunks during the regular season and postseason combined (according to Second Spectrum tracking data). Gobert is the rare star who can look awkward and then transcendent within the same move -- a mortal who suddenly explodes into the sky.
Donovan Mitchell and Mike Conley can break ankles. Joe Ingles is a classic irritant -- a scathing trash-talker who goads you into retaliating, and laughs in your face when the referees catch you. He uses the most convincing pass fake since Manu Ginobili to get defenders lurching in the wrong direction. Royce O'Neale gives no quarter.
Utah amped up the pace last season after playing at a crawl in previous seasons. Little known fact: Quin Snyder was the runner-up to Joaquin Phoenix for the title role in "Joker." Dante Exum carries the lure of unfulfilled promise.
The commentary is solid but veers into saccharine territory when the broadcast talks about How Special Utah Fans Are and What It Means To Be A Jazz Man. Utah wisely kept its rippling orange alternate court for another season, and boy am I happy to see the 1990s-era purple "mountain" throwbacks again -- complete with this accompanying court: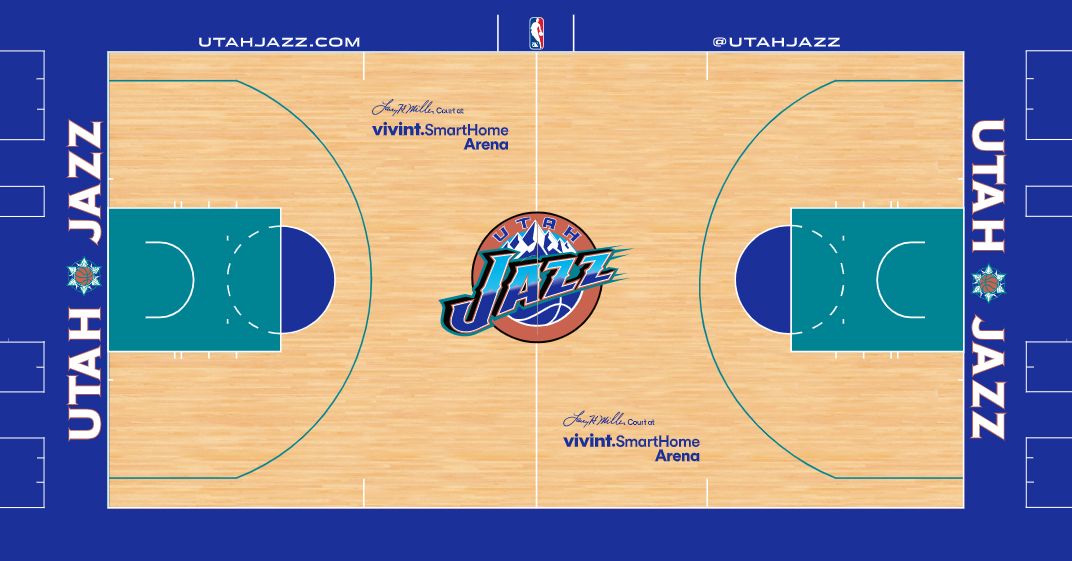 6. DALLAS MAVERICKS (36)
You could say I am excited for the Luka Doncic-Kristaps Porzingis pairing -- and for Porzingis to play his first real game in 19 months. They should complement each other on both ends, with minimal overlap on offense. Both can work mismatches from the block and space the floor.
Doncic is already one of the league's dozen best passers, and that might be conservative. At 6-7, he can see over defenses and whip LeBronian crosscourt lasers:
He slings those bad boys when defenders are leaning the wrong way, and if they're not, Doncic will trick them off-balance with lookaway fakes:
He relishes crunch time. Doncic hit 48% of his shots in the last three minutes of games with the score within three points, eighth best among 40 guys who compiled at least 25 such attempts.
Seth Curry has hit 45% from deep in two of the past three seasons, and he's a manipulative little thief on defense -- baiting rubes into passes he can swipe:
Jalen Brunson is built like a fire hydrant and tucks the ball in traffic like a running back. You cannot take your eyes off of Hollywood's Boban Marjanovic.
Rick Carlisle teams always run pleasing half-court offenses. Now the Mavs need to squeeze more from fast breaks. They were basically the inverse Kings last season: efficient in the half court, bricktastic in transition.
At long last, the Mavericks are beginning to overhaul their milquetoast art -- starting with those one-legged fading Dirks shaded into the opposite corners of their court: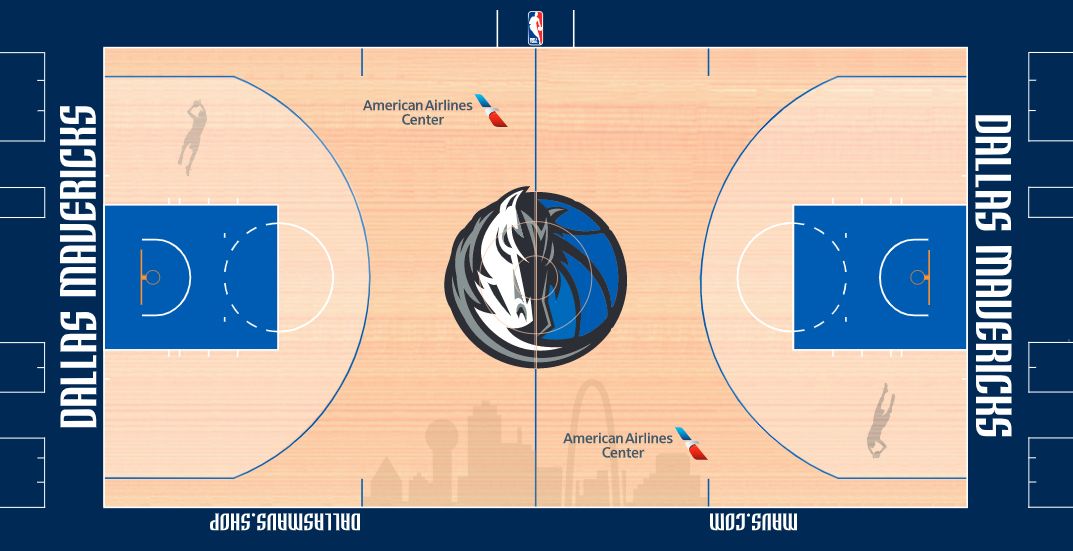 I mean, come on. That's amazing. Stay tuned for more.
By the way: Can we get Dirk as an occasional guest on the broadcast? He kills it on the mic every time.
5. DENVER NUGGETS (38)
This is the line of demarcation: five teams way more watchable than the rest.
You could pull the names of four non-All-Stars out of a hat, put them on the floor with Nikola Jokic, and have a borderline top-five-watchability team. Some passes exist only because Jokic envisions them, and dares to throw them. There is no passing lane. No one is open. Only Jokic sees that if he dribbles over there, Gary Harris or Jamal Murray will slide two steps that way, and a void of 3-D space just larger than a basketball might open somewhere between the floor and a defender's outstretched arm.
Denver's longest-tenured players have gotten used to Jokic's imagination, and in that way, something of a compound effect builds: They see pieces of Jokic's vision, cut and shift accordingly, and together with Jokic open a few more of those basketball-sized voids.
Murray headhunts at the rim. Harris is a sneaky explosive baseline dunker. Will Barton injects end-to-end chaos for a slowpoke team, and Paul Millsap does the little things that make nerds squeal. Jerami Grant might be the league's most violent dunker. People are drooling in anticipation of Michael Porter Jr.'s debut.
I'm hoping we see some version of a rainbow skyline jersey this season. The courts are all decent, though I will never understand Denver's excising powder blue.
But Jokic is the star attraction, and it goes beyond his passing. He's a post-up brute with classic footwork -- counters upon counters. He is the king of the long-distance tip-in, even if he has to tip the ball to himself first:
Denver quietly led the league in offensive rebounding rate last season. The Nuggets play a relatively clean game, and they might well finish with the top seed in the West.
4. LOS ANGELES CLIPPERS (38.5)
There is a delightful contrast between the polish of LA's new stars -- the liquidy grace of Paul George, Kawhi Leonard's stoic brutishness -- and the frenzied, wild, trash-talking, balls-to-the-wall nature of several support players: Patrick Beverley, Lou Williams and Montrezl Harrell.
Those last two formed the single most captivating pick-and-roll combination in the league last season. Williams turns elite defenders into bumbling idiots with eye fakes, shoulder shimmies, choppy dribbles, and impossible fades to his left. Harrell is a straight-line battering ram who does pullups on the rim and brings more passing and post-up skill than he lets on at first glance.
Leonard's one-on-one game is more watchable than it has any right to be. He meanders with his dribble and bores into his defender's chest -- they almost combine into one blur of limbs -- only to suddenly rise straight up, as if on a pogo stick, for an implausibly clean look as that defender falls backward. I'm not sure anyone puts tighter spin on jumpers. That four-bounce all-timer to knock out Philly was the product of both luck and years of work.
Leonard isn't the sharktopus he once was on defense -- he saves that energy for when it really matters now -- but when he dials it up, he produces the most audacious one-man end-to-end sequences outside Milwaukee:
Can you imagine trying to dribble when the Clips have Leonard, George and Beverley barricading the perimeter? I'm sweating just typing that.
Paul George: still a boss. I would watch a Ballmer Cam. Thumbs up to the new black court with an LA street grid shaded into the boundaries.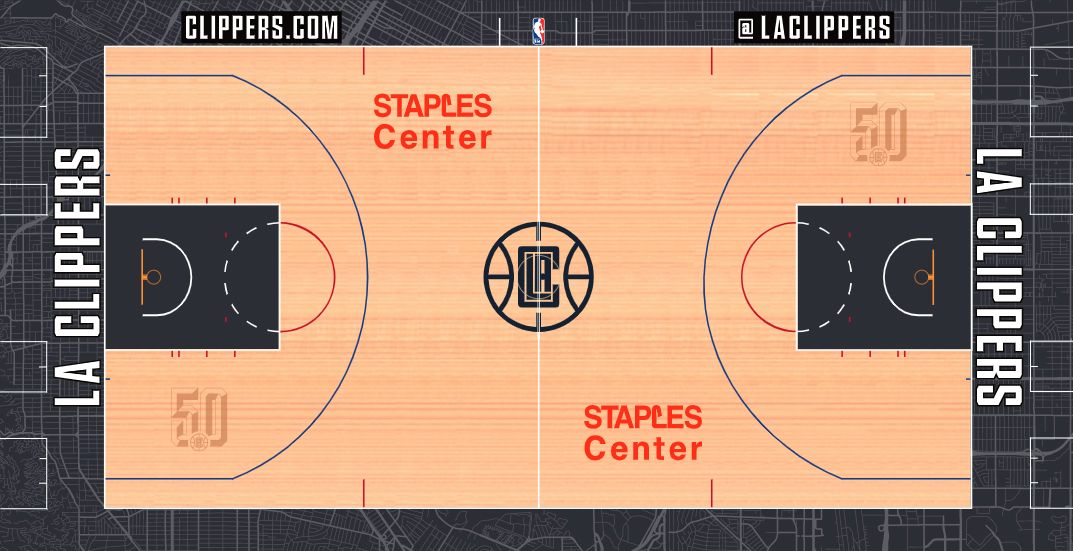 The Clippers are treading a fine line rebranding themselves LA's "gritty" team, but they are getting it right so far.
Chauncey Billups is going to teach a master class on commentary.
3. MILWAUKEE BUCKS (39)
Antetokounmpo dunked 319 times last season (in the regular season and postseason combined, according to Second Spectrum), most in the league, and every one felt like a mini-earthquake. I can't decide which species of Giannis dunk is more impressive: when he goes coast-to-coast in four dribbles and flies in for a one-handed thunder job; or when he backs his man underneath the rim, jumps from a flat-footed position, and crams in the poor guy's face.
The latter type is certainly ruder. Antetokounmpo seems to know; he makes his stankiest stink faces after those dunks. He got Ben Simmons with one, and proceeded to call Simmons a "f---ing baby" on live television.
That dunk type is perhaps the rawest distillation of Antetokounmpo's physical gifts. He has minimal territorial advantage. His defender jumps right along with him. Antetokounmpo just jumps higher and extends the ball beyond anyone's reach.
Antetokounmpo crafts highlights from positions of extreme vulnerability. He can walk the baseline tightrope, pick up his dribble under the backboard, stick the ball way out of bounds, and slingshot passes at almost any angle -- including to shooters stationed diagonally behind him.
Mike Budenholzer made Antetokounmpo's life easier by plopping shooters all around him. Brook Lopez became Splash Mountain. On some trail 3s, Lopez waits for retreating defenders to skid by like waves crashing at his knees:
Having the Lopez twins on the same team will bring hilarity. Robin is good for one crazy-eyed ejection per season. Budenholzer has the league's best anguished coach face and postgame goodbye wave.
He also installed an innovative, almost counterintuitive defense that invited average shooters to launch above-the-break 3s. The league will be ready for it this season.
Marques Johnson is becoming a star on commentary.
2. LOS ANGELES LAKERS (41)
LeBron and Anthony Davis play for the freaking Los Angeles Lakers -- the team with the gold jerseys, the league's snazziest court, and Lawrence Tanter's Hollywood cool narration. The two stars have shooting around them. Davis is ready to show off a more well-rounded game on offense. LeBron is hinting at an "Oh, you forgot about me?" revenge tour.
Frank Vogel has some thorny lineup questions to sort out. Alex Caruso can play, and draws the kind of fan support usually reserved for lovable end-of-the-benchers. Dwight Howard and JaVale McGee combine for an unfair comedy score. Please, basketball gods, give us one stretch in which Howard hijacks the offense for a series of terrible post-ups as LeBron shoots Vogel dirty looks.
The Lakers also have the funniest "bro" fans in the league. Remember these guys?
When this team is on, it will be lethal. If the Lakers slump, it will be instant soap opera. Either scenario makes for must-watch TV.
1. PHILADELPHIA 76ERS (42)
The Sixers are so weird, big, goofy and loaded with personality -- well, one mega-personality -- they repeat as League Pass champions despite losing the high-wattage curiosity factor of Markelle Fultz. I didn't think it was possible.
I have so many questions. How will their Gigantor starting five of Josh Richardson, Simmons, Tobias Harris, Horford and Joel Embiid play on each end? Can Simmons and Embiid find a pace that suits each of them? Where is Simmons standing and moving when he doesn't have the ball -- especially when Embiid is posting up? Will we see more Simmons-Embiid pick-and-rolls?
Where are opponents hiding their smallest defenders? Richardson supplies the most obvious place, but he's good, and the Sixers can use him on either end of screening actions with literally every other member of that lineup to force uncomfortable choices. Some opponents stashed undersized defenders on Harris last season and got away with it. Can Harris punish them?
How do the Sixers deploy Simmons on defense? They have the goods to be impenetrable. Could they place three guys on the two All-Defensive teams?
And these are just the wonky basketball questions! Simmons might shoot jumpers! Embiid demands your attention every second. When he's not tired, he can obliterate dudes in the post with an ease and brutality that give off the whiff of prime Shaq. (No one will ever be as devastating as prime Shaq.) But Shaq couldn't pump-and-drive from the 3-point arc and uncork flying windmill dunks in playoff games.
Embiid is the best trash-talker in the league, and I don't believe for one second he will follow through on his vow to stop. That would be a travesty. He actually hurts people's feelings. The Pistons should contemplate just benching Andre Drummond against Philadelphia -- that's how badly Embiid owns him. Karl-Anthony Towns started trying on defense because Embiid humiliated him on Instagram. Hassan Whiteside is probably glad to be in the opposite conference.
Marcus Smart shoved Embiid to the floor and wanted to fight him. Eric Bledsoe got ejected after chucking the ball at him. Embiid waves goodbye to guys after fouling them out. What a legend.
Matisse Thybulle and Zhaire Smith are exciting prospects who should crack the rotation. I could listen to Brett Brown read the phone book. Philly has surpassed Boston, Portland and the Lakers as owners of the best top-to-bottom art in the league.
The Sixers are deserving champions. Now, on to the games!