The fourth Friday brings a fresh batch of 10 things:
1. The 9-1 Celtics, on a string
Boston has slid to 11th in points allowed per possession, and it was reasonable to expect slippage with Gordon Hayward out (and Enes Kanter back). Boston's bench is wobbly, and its core lineups ask a lot of an undersized point guard in Kemba Walker and a patchwork of backup center types.
But those core lineups -- the ones that will play the lion's share of minutes when it matters -- have been stingy all season. Daniel Theis has made a strong case to start even with Kanter healthy.
Boston's best defensive groups buzz around with ferocity and airtight connectivity:
Look at all the rapid-fire thinking -- non-thinking, really -- crammed into 10 seconds. It starts with Jaylen Brown and Jayson Tatum negotiating a DeMar DeRozan/Trey Lyles pick-and-roll. Brown and Tatum are as switchable as it gets; only three teams have switched screens more often than Boston, per Second Spectrum.
Tatum and Brown are probably primed to switch here. DeRozan might expect it. He veers away from the pick, a classic ploy to wrong-foot switches. Brown and Tatum read that, and stay home.
Tatum dips down to help Brown, and that leaves Lyles open one pass away. Walker, guarding Bryn Forbes up top, doesn't rotate to Lyles. He trusts Tatum to recover and run Lyles off the arc. Tatum pays off that trust. Lyles blows by Tatum, but Walker corrals him. Tatum spots that, and flies to Forbes -- who then zooms by Tatum. No matter. Walker is there to cut off Forbes without losing track of Lyles. He deflects Forbes' pass, and ruins San Antonio's possession.
That is awesome. One blip of confusion -- a slight lean the wrong way, a flat-footed pause to think -- and the entire scheme falls apart.
Tatum has grown into a good defender -- smart, rangy, with a knack for disrupting stuff away from the ball. Provided more help on offense, Walker is playing the best defense of his career.
Marcus Smart doesn't even have a position on defense anymore. He guards everyone. He's also shooting 39% from deep on (by far) a career-high attempt rate. Uh oh.
On the other end of the floor, Boston suddenly leads the entire stinking league in points per possession. The Celtics appear to be a level above Toronto (a remarkable story itself), Miami and Indiana. It might be time to consider them a legitimate threat to Milwaukee and Philadelphia. If they upgrade the frontcourt, look out.
Chicago's putrid offense -- 27th in points per possession -- is confounding. The Bulls sport a tidy shot chart: the most attempts at the rim, an average number of 3s, the second-fewest midrangers. Their free throw, turnover, and offensive rebounding rates are in acceptable ranges. They are taking the fewest pull-up jumpers in the league.
And yet: Their half-court offense has been abominable. (They have been fantastic in transition, per Cleaning The Glass.) They have struggled shooting from almost every area. No team has underperformed its expected effective field goal percentage -- based on the location of each shot, the nearest defender, and the identity of the shooter -- by a larger margin, per Second Spectrum.
The Bulls' shooting isn't this bad. Some of their nominally good shooters -- including Markkanen -- are off to slow starts. Others -- Tomas Satoransky -- don't shoot enough.
I suspect this stems from luck, inexperience, and a dearth of plus playmaking at the perimeter positions. Satoransky hasn't been able to leverage his canny passing as effectively against opposing starters. Chicago's offense has little flow or continuity. The ball can stick after the first scripted action, leaving someone to create one-on-one. (No Bull gets more excited by this than Coby White, an inveterate chucker.)
Markkanen has been the chief victim. He hasn't been quite as involved in Chicago's pick-and-roll attack -- as screener or ball handler -- as last season. He badly needs an ace playmaker to get him the ball on pick-and-pops with space to shoot or drive. Even when the Bulls engineer those situations, Markkanen has looked sluggish and hesitant. His handle hasn't held up in traffic.
Jim Boylen told reporters Tuesday that Markkanen is suffering from a sore oblique. I felt some relief reading that. It would explain a lot.
3. Minnesota wings, ganging up
Karl-Anthony Towns' MVP-level play drew the early attention. Now the focus is on the reinvented Andrew Wiggins -- shooting 9-of-14 in the last three minutes of close games, and flashing new playmaking craft. (For more on Wiggins, here's Thursday's Lowe Post podcast with Howard Beck.)
Ryan Saunders' decision to play smaller, with four wings and guards around Towns, has been a boon for both. That infrastructure collapses if Minnesota's small-ball groups can't hold their own on the glass. They have managed thanks in large part to their wings -- especially Robert Covington and Josh Okogie -- rebounding at levels way above expectations for their size and traditional positions.
Covington hangs just outside the fringes of the paint in case the ball ricochets his way. Every night, he robs the other team of one or two extra possessions by sneaking in from behind and snatching the ball from over the head of an opposing rebounder. For a team with a thin margin for error, those possessions really matter.
If Covington is a good gang rebounder, Okogie is a one-man rebounding gang. He risks bodily harm flinging himself toward the scrum -- on both ends of the floor:
Minnesota ranks 20th in defensive rebounding -- just good enough to get away with playing small.
When I was a high school teacher, one colleague wanted to assert his authority over a wiseacre student who was eating a bagel in class -- which was against school rules. My colleague silently walked to the student's desk, picked up the bagel, took a giant bite, and slam dunked it in the trash. He then resumed his lesson.
It was so audacious. It was the teaching equivalent of Daniel Plainview drinking a rival's milkshake. It was almost rude.
Parker, renewed in Atlanta, is announcing his power with a similar stone-faced blunt force. He has been perhaps the league's rudest dunker. I mean, this is just impolite:
(Poor Thon Maker has been the victim of a lot of rude dunks.)
Oh no, Anfernee Simons:
Parker sees Simons and does not care. He barely slows down. He does not alter his path. You are either getting out of Parker's way, or he's embarrassing you. Parker has 33 dunks, trailing only Clint Capela, Anthony Davis (34 apiece) and fellow surly dunker Giannis Antetokounmpo (38), per tracking data.
The suspension of John Collins transformed Parker from bench curiosity into essential replacement starter. (The Hawks are splitting the rest of those power forward minutes between Vince Carter and De'Andre Hunter -- with Bruno Fernando even sopping up a few.)
Lloyd Pierce has turned Parker into a single-minded finisher. Parker is setting 24 ball screens per 100 possessions, about two-and-a-half times his career rate, per Second Spectrum, and he's rumbling down the lane on lots of those -- with Atlanta's centers spotting up around the arc.
At the same time, Parker is barely running any pick-and-roll; the Hawks have basically given up on Parker as an off-the-bounce creator outside of fast breaks. (They have also given up Parker as a wing, but everyone but the Bulls had already gotten there before last season.)
He's also shooting more 3s (ignore the percentage!) and trying on defense. Trying is not the same as succeeding, but it's a start.
The partnership of starry Thunder expats is working ... well enough? That's about what we tepid optimists expected despite the glaring overlap in pairing the two most ball-dominant players in history. Houston is 8-3 with the league's fourth-best offense. Westbrook has reignited a dormant transition game, and bought Harden on-court rest. (Seriously: Track Harden when Westbrook handles the ball. You might have a hard time finding him; Harden might be loitering around half court, off your screen.)
Their defense has stabilized after a lazy, hazy first half-dozen games.
Houston has outscored opponents by only four points per 100 possessions when Harden and Westbrook share the floor. That margin probably needs to be beefier for Houston to get through the West. Their offense in those minutes is scoring at a league-average rate. They have soared when Harden goes solo, and flopped in Westbrook-only minutes.
Westbrook is attempting 2.3 catch-and-shoot 3s per game -- his usual average. That number should spike playing next to Harden; Westbrook has turned down a lot of looks like this:
New Orleans on Monday strayed farther from Westbrook than any other opponent so far. The Pelicans had Westbrook's defender in Harden's lap. More teams will do that when the stakes are higher.
No one is asking Westbrook to jack eight catch-and-shoot 3s per game. He's 3-of-23 on such looks. If his jumper is permanently broken, this is all moot. (Harden renders a lot of things moot when he goes supernova.) Westbrook is good at catching passes from Harden, and slashing through open space.
But some of those drives lead nowhere:
In good seasons, Westbrook nailed about 35% of his catch-and-shoot 3s. For Houston to hit its ceiling, he is going to have to take and make a threshold amount of those shots.
One wrinkle to watch: Super-small lineups with PJ Tucker at center and Westbrook on the floor -- and Harden on the bench -- have floundered; Houston is minus-22 in 38 such minutes. It's early, but I'm not sure Westbrook is as effective as Harden in five-out groupings. Harden is a much more polished isolation player. He can work without a pick. Westbrook can roast guys one-on-one, but that's hard even for him if his defender is waiting in the paint.
Houston might do better tethering Westbrook to a rim-running screen-setter. That would require fiddling with Capela's minutes, praying Tyson Chandler has something left, or scrounging someone similar from the scrap heap.
6. The refs are onto some B.S.
God, I love when the refs sniff out this chicanery:
Here's Bradley Beal pulling the fast-break version of the ol' Chris Paul "I'm going to slow down and veer sideways for no reason":
Referees are cracking down on close-range offensive fouls, including push-offs. (This is a big reason Antetokounmpo has been in so much foul trouble.)
Refs have whistled 5.3 offensive fouls per game this season, up from 4.5 at this point last season and 4.1 two seasons ago, per data the league provided to ESPN. Push-offs are up dramatically: an estimated 2.7 per game so far, up from 1.6 a year ago.
Refs might be a little overzealous now, but this feels like a healthy correction.
7. Anfernee Simons' follow-through and uncertainty in Portland
Simons' follow-through is somehow mesmerizing. There might be prettier ones, but Simons' is the longest, cleanest and snappiest. You can almost hear his wrist snapping.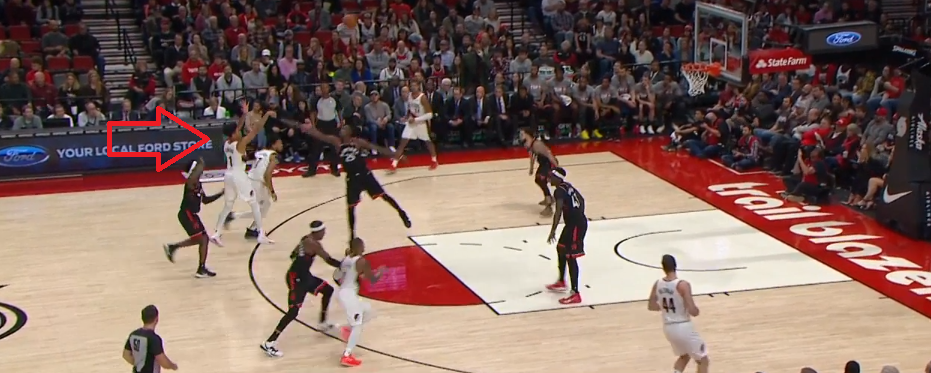 Simons' defenders need to be wary of getting smacked in the head. One shooting coach theorized Simons' release looks that way because he is 6-foot-3 with a mammoth 6-9 wingspan.
Simons is starting to happen. He is shooting 38% from deep, and working a jitterbug pick-and-roll game. The injury-ravaged Blazers have played heavy minutes with Damian Lillard, CJ McCollum, and Simons all on the floor. Portland is plus-25 in 74 such minutes.
The Blazers are 4-8, and have lost six of seven games. They are about to start a six-game road trip. Lillard has carried (and managed!) an enormous load with McCollum scuffling a bit early; he leads the league in minutes. It wouldn't be shocking if a losing streak sparked urgency for a win-now trade to bolster the frontcourt -- something more consequential than Thursday's deal with Carmelo Anthony. The Blazers are surely hoping to stay afloat a little longer. The trade market doesn't really open until Dec. 15.
It's tempting to conclude Simons' emergence might push Portland to finally investigate the market for McCollum. But Simons has barely played. He's 20! Portland made no secret of its championship ambitions. Dealing McCollum to go younger imperils present-day championship ambitions.
Losing imperils them, too. Lose too much now, and Portland's short-term goals could change. Even if Portland surges, continued strong play from Simons could bring some interesting -- and unavoidable -- offseason dilemmas.
Send this sequence to Springfield!
The 4-7 Cavs have been frisky. Their starting five -- Collin Sexton, Darius Garland, Cedi Osman, Kevin Love and Thompson -- has blitzed opponents by 11 points per 100 possessions.
The young guards can get a little dribbly -- Garland loves him some floaters -- but the offense looks nice when the ball moves. Osman and Sexton are shooting well from deep. (Sexton is a scorching 13-of-24 on catch-and-shoot 3s.) Love is a stabilizer.
Full disclosure: The amount of Thompson happening on offense was slated for a "dislike" here after the first week of the season. Thompson dribbling, passing and shooting this often cannot be a healthy indicator. Right? But those floaters and shot-put hooks just keep going in! He's shooting a preposterous 56% from floater range! Thompson has always been an underrated passer, and one of the league's nastiest offensive rebounders.
Thompson is averaging 15 points and 10.5 rebounds after a silent performance in a loss to Miami on Thursday. He has canned three 3s after draining precisely zero before this season. He's contesting a lot of shots around the basket, and guarding whomever John Beilein asks. That might mean chasing quicker power forwards so Love can jostle with centers. He's making (and I can't believe I'm saying this) a legitimate All-Star case, though he will probably fall short.
Thompson and Andre Drummond are competing for Greatest Contract Year of All Time.
9. Dejounte Murray is a phantom, but the Spurs' starting five isn't working (again)
Imagine throwing this apparently harmless entry pass, and realizing as it is in midair that the long-limbed blur who was just harassing you is trying to steal it -- and damn well might get there?
Most guys deny entry passes by sagging way off ball handlers. Some hop back and forth in a cat-and-mouse game. Point guards can digest all of that stuff. They can't read Murray's intentions because he doesn't telegraph them. He's in your face, and then, like some sort of ghost, he's intercepting your pass. He races the ball:
He is, almost literally, in two places at once.
Murray is a threat to invade any nearby passing lane. When opposing point guards scoot ahead of him on the pick-and-roll, he's long enough to swat their shot from behind. He's second overall in deflections, and averages 3.0 stocks per 36 minutes. His ability to defend all three perimeter positions allows Gregg Popovich to deploy his guards in almost any three-man combination. (Even so, he won't play Murray and Derrick White together. Come on, Pop! Give the people what they want!)
Murray is a gambler, which always triggers delicious tension in San Antonio. Popovich yanked Murray against Memphis on Monday after one gamble gone bad. Popovich will eventually accept that Murray's roving mostly pays off. In that sense, perhaps Murray is the true Spursian heir to Manu Ginobili.
Murray does not bring Ginobili's derring-do on offense. He is gun-shy; Murray has attempted only 10 3s, and has barely busted out the improved midrange jumper everyone raved about a year ago. The Spurs' starting lineup could use some scoring punch. (Stop me if you've heard this before, but the Spurs are getting walloped with DeMar DeRozan and LaMarcus Aldridge on the floor. If Popovich has any desire to extend DeRozan's contract, the rest of the front office should confiscate all his computers, phones, and pens.) It bequeaths deficits upon the bench -- a big reason the 5-6 Spurs are reeling a bit.
Hopefully Murray grows more assertive with time.
10. The Clippers, honoring L.A. tradition
After each opening tip, Brian Sieman, the Clippers' new play-by-play guy, reminds viewers that the winning team will start the fourth quarter with the ball. That is an homage to Ralph Lawler, Sieman's predecessor and one of the NBA's truly iconic voices. (It's such a nice touch that the opening scene of "Drive," one of the all-time badass openings to any movie, is scored to Lawler calling a Clippers game.) Chick Hearn, the Lakers' legendary play-by-play voice, offered viewers the same tip.
I always liked that Lawlerism. It seemed a throwaway in the moment, but as one team ran the clock out at the end of the third quarter, you sometimes caught yourself thinking: Wait! They get the ball back to the start the fourth quarter! A double-possession! That suddenly felt important -- and all because Lawler implanted something in your brain a couple of hours earlier. Good on Sieman for carrying on the tradition.