Let's take off our shoes and hop around the league for 10 things:
1. The unlikely reserves of the unlikely Raptors
The defending champion Toronto Raptors roaring to a 15-6 start despite losing Kawhi Leonard and then two of their six best players -- Kyle Lowry and Serge Ibaka -- to injury might be the single-best story in the NBA. The Raptors rank in the top 10 in both points scored and allowed per possession. They have outscored a tough slate by 7.2 points per game -- fifth best. Wow.
Injuries forced Nick Nurse -- early Coach of the Year favorite -- to play goofy lineups featuring players who weren't supposed to be in his rotation. Those lineups have flummoxed opponents with long arms, screaming effort, and a little more drive-and-kick polish than anyone anticipated.
Rondae Hollis-Jefferson has defended every position. Nurse has stuck him on Marcus Morris Sr., Terrence Ross, and other scorers in box-and-one and triangle-and-two schemes. Toronto has given up a minuscule 94 points per 100 possessions with Hollis-Jefferson, Terence Davis (how was this dude undrafted?), and Chris "Bobby" Boucher (also undrafted!) on the floor -- miles stingier than Milwaukee's top-ranked overall defense. (Davis is also shooting 43 percent from deep!)
Marvel at this connectivity, focusing on the left wing:
OG Anunoby spots Al-Farouq Aminu's back cut, and slides away from Evan Fournier in the corner to take him. Davis reads that, and spins to Fournier before Fournier can fire. Fournier transitions into a pick-and-roll; Davis and Hollis-Jefferson switch it seamlessly.
Watch how Davis, Hollis-Jefferson, and Norman Powell -- on fire -- talk and switch and rotate through this possession before funneling poor Dennis Smith Jr. into the brick wall that is Boucher:
Milwaukee is running away with the East. The best versions of the Sixers have more championship equity than Toronto. Miami and Boston are legit. Victor Oladipo looms. But Toronto isn't a fluke. The Raptors are a problem.
It is the perfect synthesis of why New York's summer spending spree yielded a team almost precisely as bad as last season's very bad one: The Knicks cannot effectively play their star free-agent acquisition with their second-most-important building block. That seems like a thing you would want to do.
Randle and Robinson share the court about 10 minutes per game. Opponents have humiliated New York by 18 points per 100 possessions in those minutes. The Knicks' offense has sputtered almost to a halt.
Robinson is a game-changing rim-runner, but he tiptoes through thickets of bodies with Randle and Frank Ntilikina also on the floor. New York's ball handlers have no actionable passing corridors:
Robinson knew this was coming -- that he would have to find other ways to contribute. He honed his jumper, and his passing from the elbows. Neither skill has yet translated to games. (Robinson has been massively impactful in non-Randle minutes.)
Randle is more versatile, but at heart he's a rim-runner too. He's at his best setting screens, rumbling into open space, and making plays in 4-on-3 situations -- a more selfish Draymond Green, basically. He cannot play that role next to Robinson.
That has left Randle to fling his body at the rim -- and into those same clusters of humans -- in hopeless one-on-one attacks. For long sequences, he resembles a video game protagonist running into a wall over and over because the human controlling him has abandoned the game (or is middle-aged).
Randle is averaging 9.8 isolations per 100 possessions, ninth most in the league, per Second Spectrum. The players above him are either multiple-time All-Stars (LeBron James, Giannis Antetokounmpo, James Harden, Russell Westbrook, Leonard) or about to be (Pascal Siakam). New York has scored 0.81 points per possession anytime Randle shoots out of an isolation, or passes to a teammate who fires. Ugly.
Randle has coughed the ball up on 15% of those plays, eighth worst among 125 players who have compiled at least 25 isolations. Randle is a decent passer, but he undoes a lot of that with turnovers. His assist-to-turnover ratio is an even one-to-one, and that is not unusual for him. Dead man walking David Fizdale yanked Randle after 21 embarrassing, out-of-control minutes in yet another awful home loss against Denver on Thursday.
The Knicks can blame this on Fizdale if they want. Firing coaches in Year 2 is what the Knicks do. He hasn't nudged them toward any stylistic identity -- on either end. Guys are in the doghouse, and then they log 30 minutes.
But this roster never made sense.
3. The Nuggets, all-in on defense
Denver ranks a shocking 18th in points per possession as Nikola Jokic continues to look disengaged for chunks of almost every game. His post touches are way down, and the Nuggets are getting nothing when they dump the ball to him: an unthinkable 0.79 points per possession on any trip featuring a Jokic post touch, and 0.85 points whenever Jokic shoots out of a post-up or passes to someone who lets fly, per Second Spectrum. And that is after the usual "just beat the Knicks by 40" boost.
Those numbers last season: 1.22 and 1.05. That (early) decline is jaw-dropping. (Also: What happened to Gary Harris?) Hopefully Jokic is pacing himself for what should be a long season. Denver's cold shooting from almost everywhere should improve.
The Nuggets have not let their clunky offense infect their spirit on the other end; they top the league in points allowed per possession.
Denver still corrals pick-and-rolls high on the floor, and doubling that far from the basket exposes the juicy stuff -- corner 3s and shots near the rim. Denver gives up a few too many of each. The Nuggets are probably getting a little lucky; opponents are shooting just 30% from deep and 35% on midrangers -- the lowest respective marks in the league, per Cleaning The Glass.
But holy hell are the Nuggets flying around to close windows before opposing offenses slide through them. They rotate with both ferocity and calm attentiveness -- a tough balance to strike. Players rarely stray from the scheme, zip somewhere they shouldn't, or bite on fake cuts and other trickery.
They know where the offense wants to go, and which teammates might need a little extra help -- and when. They don't over-rotate providing that help. Their best possessions are filled with leans and half-slides -- just enough to make the offense hesitate, but not so much that anyone ends up out of place. It is quite artful. This is one way roster continuity manifests: chemistry on defense.
They are not dogmatic about their scheme, either. Jokic will sometimes hang back in the paint when that is more convenient. Denver's strong work so far is more evidence that Jokic -- big, smart, inhaler of rebounds -- is much less damaging on that end than heavy-footed optics might indicate.
Paul Millsap is a rock. Jamal Murray has stepped up his physicality and effort. Denver is 14-5. If it rediscovers its verve on offense, watch out.
One Dallas coach told ESPN's Mike Schmitz this week that Doncic "plays at his own pace." You hear this a lot. It is usually a way of saying Doncic is patient, maybe even a little slow, with a knack for changing pace from one dribble to the next -- and even between dribbles.
Doncic is all those things. When he gets a switch, he likes to pull the ball out, dance a bit, and launch step-backs.
But the best players -- the geniuses -- know how to play against type, and one driver behind Doncic's lightning-quick ascendancy into MVP territory is a new and carefully deployed decisiveness:
Clint Capela might expect some prolonged dribble dalliance leading to a step-back. Instead, Doncic puts his head down and goes right away. Doncic isn't fast, but acting without hesitation effectively makes him so.
Oh, baby. Upon engaging Capela, Doncic scoots back toward the arc mid-dribble. He then rises from his crouch and cradles the ball in what resembles a windup into a jumper, only to bust out a nasty hesitation dribble.
Doncic is getting to the rim more, and shooting a LeBronian 74% in the restricted area.
Milwaukee appears to have set the record for fastest transition from feel-good curiosity to "wake me up in the playoffs." Umm, hello? The Bucks are 19-3! They've won 13 games in a row! They're No. 2 in both offense and defense! Giannis Antetokounmpo is averaging 31 points in 31.7 minutes per game -- plus 13 rebounds and 5.5 assists. He's on pace for the highest player efficiency rating ever.
Milwaukee's dominance might hurt Antetokounmpo's chances of becoming only the 12th repeat MVP. I recently heard two influential announcers proclaim LeBron the clear front-runner without mentioning Antetokounmpo. Harden is averaging 7.7 more points per game than Antetokounmpo, but playing time explains much of that gap; Antetokounmpo is pouring in 35.2 points per 36 minutes compared to 37 for Harden, but he doesn't have to play as much because Milwaukee is too good. (Early season foul trouble deflated his minutes, too.)
LeBron has drawn tons of deserved praise for his resurgence on defense. Antetokounmpo's continued destruction is ... boring, I guess?
Milwaukee's defense is functioning much the same as last season. The Bucks shut off the rim, avoid fouling, and encourage non-corner 3s from so-so shooters. Lopez is the keystone, and his rim protection has reached another level.
Lopez has dancer feet. His timing is exquisite. He doesn't bite on pump fakes. He stays in his stance and slides a little faster than ball handlers expect. He doesn't unfold to his full height until he absolutely has to, and when he does, he somehow appears 8 feet tall. Opponents are shooting only 45% around the rim with Lopez nearby, one of the best marks in the league.
A lot of guys are afraid to even approach; opponents launch way more midrangers with Lopez on the floor, per Cleaning The Glass.
Also refreshing on the Milwaukee center front: D.J. Wilson cracking Mike Budenholzer's rotation again. He deserves a chance.
6. Jersey propaganda
Did the NBA and/or Nike pass some rule that every local announcing crew must proclaim the home team's city edition jersey the league's best? There can only be one "best," and it is Miami's (with Denver's rainbow skyline duds as runner-up). Some are drab or derivative, but announcers talk each one up as if they are must-have and Oh my gosh, Jim, aren't you so excited to see the players finally wearing them?
The closest thing I've heard to criticism is one analyst -- his or her identity will be protected in this era of Orwellian jersey propaganda -- remarking that Team X's city edition was "growing on me."
Some of the jersey marketing campaigns are laughably faux intellectual, as if the thing is a piece of inscrutable avant-garde art and not a fancy tank top. Others are, well, this: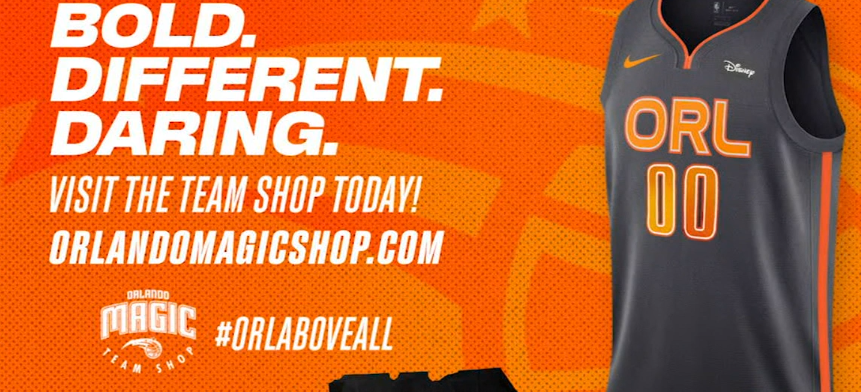 Those three words all mean the same thing.
I kinda like Orlando's new orange look, even if my brain registers the orange Magic as Oklahoma State. Teams should use city editions to experiment with alternate colors. A lot of the jerseys are nice! Some have interesting origin stories. Let's talk about them without puffing them up.
7. Dzanan Musa has big dreams, man
Hypothesis: Musa has the largest ambition-to-talent ratio of any current player. One of the unexpected pleasures in Brooklyn's wave of injuries has been watching Musa, thrust into duty, attempting acts of brazen individualism usually reserved for superstars. My man will go 1-on-3 in transition even if all three defenders are taller and more athletic than he is.
Going 7-of-40 from deep (17.5%!) has not sapped Musa's bravado. Open catch-and-shoot 3s from just beyond the arc bore him. Musa lives for 28-footers.
The best part of Musa flying too close to the sun is the aftermath. He seems legitimately astonished that any act of derring-do has failed.
I'm not even mad. I'm kind of impressed. I like to think Musa approaches the New York dating scene with the same unflappable confidence.
None of this is meant to render final judgment. Musa is only 20. He shot 36% on 3s in the G League. He has some craft to his game. Bravery will serve him well.
After one of the strangest sagas in recent sports history, it's kinda starting to happen for Fultz. He's shooting 56% on 2s, including a preposterous 50% on dicey shots between 10 and 16 feet from the basket -- an important shot for Fultz, since he is still gun-shy from deep. His jagged, herky-jerky off-the-bounce game confuses defenders. He can go from zero to 60 and back to zero in a blink, and he changes direction with an unexpected cadence.
When defenders duck under picks to keep Fultz out of the paint, he bobs back-and-forth behind his screener in a game of hide-and-seek until he senses an opening.
Orlando's offense is still just 24th in points per possession, but there are hints of improvement to come once they get Nikola Vucevic back. Their new starting five (with Fultz in place of D.J. Augustin) has scored about 111 points per 100 possessions -- equivalent to the fifth-ranked overall offense. Fournier is on the tear of his life. Injuries have forced the Magic to trend a little smaller, and that is probably healthy for their offense; the Fultz-Augustin pairing is plus-32 in 79 minutes.
One Fultz favorite: his Lowry-style hit-ahead passes.
Fultz is not one of those control-freak point guards. If he sees a chance for Orlando to score against an unsettled defense, he's happy to pass the baton early. Sometimes, his target has no obvious path to pay dirt. That's fine. Just rushing the ball up is valuable. It preserves mismatches that materialized on the previous possession. Backpedaling defenders are prone to mistakes.
There is also something undeniably stylish about underhanded hit-aheads -- another Fultz thing:
The Lakers took deserved heat for paying Rondo $9 million to do whatever it is he did for last season's mishmash of a team, but Rondo -- now on a two-year, $5.2 million deal -- has fit in surprisingly well for this new version.
The Lakers have walloped opponents by 16 points per 100 possessions with Rondo and LeBron on the floor, per NBA.com. That might not sustain once Rondo cools from deep. (He's shooting 50% on 3s.) There is inherent tension pairing LeBron with a shaky-shooting ball handler. Toss in a non-shooting center -- JaVale McGee or Dwight Howard -- and you are asking for droughts.
But Rondo's playmaking has helped those lineups flow. Rondo's genius has always shone most brightly when the game breaks from script -- when the initial set hasn't yielded anything, and the floor is jumbled. In moments of chaos, Rondo sees things -- passes, cuts, rebounding opportunities -- that elude most players.
He rebuilds the bridge from Point A to Point B, or conjures a new Point B. He is more connector than initiator.
Rondo is dishing 10.2 dimes per 36 minutes, on par with his All-Star peak.
It helps on this roster that Rondo is a daring and accurate post entry passer. He is not afraid to lob over fronting defenders to LeBron or Anthony Davis. Rondo is a willing screener for LeBron, and if defenders switch, LeBron shifts into bully-ball mode knowing Rondo will feed him.
Frank Vogel has experimented playing LeBron alongside both Rondo and Alex Caruso, and with so much ballhandling around him, LeBron occasionally morphs into the league's most devastating off-ball cutter.
The Lakers might experience some hiccups on offense as their schedule stiffens. Lineups with Rondo and Davis -- but no LeBron -- are dead even for the season. Rondo's defense remains uneven. But Rondo has been a helpful presence, and it has been a while since we've gotten to say that.
I know long 2s are out, but would it kill Carter to, like, show some awareness that jump shots remain legal? Or have the Bulls -- sporting an analytics-friendly shot profile without the shot-making to pay it off -- banned Carter from glancing at the rim? This dude was supposed to be Al Horford 2.0!
Opposing centers are sagging off Carter as if he's DeAndre Jordan. They barricade every passing lane. In theory, Carter can punish that style of defense by pivoting into dribble handoffs. In practice, the Bulls have not demonstrated that sort of improvisational flow.
A wide-open pick-and-pop midranger is still an acceptable endpoint. You get only 24 seconds. Sometimes, there is nothing better around the corner.
Carter establishing himself as a threat would force defenses to press him, and unlock new options. Despite endless foul trouble, Carter has probably been Chicago's best all-around player. That doesn't mean the Bulls should be satisfied.