Let's roll into the holidays with 10 (or 11) NBA things:
1. A moment for the Point God
Any discussion of Chris Paul's place in history turns noisy, fast. For now, a moment to appreciate the Point God in Winter:
Paul might have the most diverse lob portfolio ever. (Professor Andre Miller, Ph.D., Point Guard University, would like a word.) That lob comes suddenly. There is no start-and-stop prodding into the paint. Paul pulls up off one foot, almost as if he is lofting a floater.
Something about it -- the distance, the cadence -- is just different.
Paul is one step ahead of everyone. He stole a win from the Timberwolves by demanding officials -- loudly enough to embarrass them -- enforce the untucked jersey rule. Paul is probably the only player both smart enough to remember that rule, and petty enough to point out the infraction.
On Monday, the Thunder guard swiped another victory from the hapless Bulls with a combination of fiery 3-point shooting and classic Paulisms: sneaking up from behind Wendell Carter Jr. at waist level to poke the ball away after Carter had grabbed a rebound; and rip-throughs with Oklahoma City in the bonus. (Pro tip: Change the channel if Paul's team gets in the bonus early, unless you enjoy Rip-Through Theater.)
A few weeks earlier at a Clippers-Thunder game, referees paused the action as the Thunder were about to inbound from the sideline. Paul was badgering them. Everyone then trudged toward the opposite sideline; the Thunder inbounded there.
I assumed Paul realized the officials had chosen the wrong side. I asked him after the game. It was even more subtle. The preceding foul had occurred in the middle of the floor, and Paul knew the Thunder were entitled to pick their sideline. Paul preferred the other one. He might have been the only person in the arena aware of any of this.
His brilliance can be easy to miss:
Paul downloaded how corralling that sideways rebound had taken him far from his designated defender -- and into the path of a big man ill-equipped to guard him. He sprinted the ball up the court to solidify that mismatch.
You can understand why Paul grates on some teammates. He never stops searching for small edges -- and telling you about them. He is usually right. He will do anything to win. He is the WWE heel who hides a foreign object in his tights or exposes the turnbuckle when the officials aren't looking.
The league is more entertaining with Paul in it.
2. Yes, the Spurs' shot selection matters
A year ago, those wishing to cast San Antonio's shot selection as Gregg Popovich's noble fight against modern stylistic homogeneity could point to the Spurs' sixth-ranked offense.
Turns out, overcoming a willful mathematical deficit might have required unsustainable shooting. Last year's Spurs ranked first in 3-point shooting, second from midrange and fifth near the rim.
Their shooting has regressed (miss you, Davis Bertans!), and the midrange express now ranks 17th in points per possession. Their defense is still bad. Their offense can't save them anymore.
No one is asking the Spurs to become the Rockets -- to design their offense around the desired endpoint (a 3-pointer) and work backward. Stylistic diversity is good for the league. In fairness, their 3s are up slightly in the last 10 games.
But San Antonio's offense as is produces organic 3s, only their alleged stars (and some role players) -- with the tacit permission of their coach, indisputably one of the greatest ever across all sports -- opt out of them in favor of long 2s.
Like, these have to be 3-pointers:
On maybe a half-dozen possessions per game, LaMarcus Aldridge picks-and-pops toward the top of the arc or the corner. One more step and he is in 3-point range. Yes, Aldridge is more comfortable inside the arc. That comfort might impact his accuracy. But there is no way his shooting percentage from 12 inches inside the arc is so much higher than his mark from one inch behind as to justify forfeiting that extra point.
He does the same thing with trail 3-pointers -- a shot every star big man strolls into several times per game.
There is no basketball reason for this. You are not showing anyone. You are not proving old ways work better. You are just passing up one shot for a worse one.
On some of these possessions, the Spurs still end up with a good shot. That can happen when five talented players have 15 seconds to cut and pass and drive. The old-man-yelling-at-cloud crew highlights those plays.
That same crew ignores the possessions that sputter -- when DeMar DeRozan catches the ball behind the arc, no defender within 15 feet, dribbles into a brick wall and bonks an 18-foot fadeaway. We are good at remembering how a possession ends, not how it could have ended.
There are lots of ways to win over 48 minutes. In a game of finite possessions, the extra point isn't everything; teams with different underlying philosophies can overcome that extra point by being good at other stuff.
But San Antonio's best players are voluntarily turning down healthy, open 3s.
By the way: Opponents have blitzed the Spurs by eight points per 100 possessions with DeRozan and Aldridge on the floor. That is a horror show. It's not entirely new; the Spurs were merely neutral in such minutes last season.
The 11-16 Spurs have a run in them. They always do. They are only one game out of the playoffs. But they are searching more than ever.
3. The paint patience of Jaylen Brown
Brown has developed a knack for screeching to a halt in the paint, holding his pivot foot, and faking and pivoting as defenders drift by like crashing waves:
Brown will take every bit of the allotted three seconds. (Domantas Sabonis also is a wizard at this, only he finishes with more violence.) It is a useful display of patience from a guy who came into the season known as a full-speed-ahead straight-line driver.
Brown has flashed more nuance and craft in making a mini-leap toward All-Star status. He is shooting a career-best 57% on 2s.
Boston's refusal to include Brown in trade talks for Kawhi Leonard was a fork-in-the-road moment. It looked dumb as Leonard led the Raptors to the championship. Boston in the aggregate has probably acted too cautiously -- and with too much confidence last season in its plan to lure Anthony Davis.
But Toronto gave up nothing near Brown's level of long-term importance in trading for Leonard. The Raptors barely got through the second round. Milwaukee shoved them to the brink of a 3-0 deficit in the conference finals. Leonard left. Was he always leaving? Boston bet he was.
Brown is doing what he can to help Boston live with its choice. He won't become a franchise-level star unless he improves his playmaking, but he is growing across the board.
Young can be a special offensive player, but Atlanta will go nowhere serious until he buys in on defense.
There is too much of that: Young upright, flat-footed, arms at his side. That stance makes him slow snapping into action away from the ball. He can be late scurrying around screens, and he often just smacks into them. He is a piece of floating tissue everyone else just shoves away.
Atlanta has allowed 117 points per 100 possessions with Young on the floor -- and 103 when he sits, per NBA.com. Lots of factors beyond Young go into those numbers, but his play contributes. He ranks 435th among 438 players in ESPN's defensive real plus-minus after finishing dead last a year ago.
For years, Young has been compared to Stephen Curry. When Curry is a liability on defense, it is only because of his skinny frame. Curry is a fighter. He gets in a stance, spreads his arms and executes Golden State's scheme. He didn't make the Warriors' defense, but he didn't break it, either.
5. Cover your eyes, the Nets bench is in!
I don't even know whether this is a "like" or "dislike," because damn is it riveting watching Brooklyn -- in the absence of both Kyrie Irving and Caris Levert -- try to survive when Spencer Dinwiddie (making a strong All-Star case!) and Joe Harris rest. Kenny Atkinson actually has run out a lineup of Theo Pinson, Timothe Luwawu-Cabarrot, David Nwaba, Rodions Kurucs and DeAndre Jordan. Like, in real games. Previous incarnations involved Dzanan Musa and Iman Shumpert.
Remarkably, the Nets win those minutes some nights. It is NBA MacGyvering. Someone makes two random 3s. Pinson coaxes in a couple of ugly long 2s. Nwaba goes coast to coast for a dunk, steals the inbounds pass and lays the ball in. (Nwaba is a thrill to watch. His torn Achilles tendon -- just as he was solidifying a role -- is such a bummer.) They buy time. The Nets are 11-6 without Irving, and the sample size of Irving's teams winning when he is injured is growing beyond "hot take" territory.
Still: That bench feels so rickety. When Atkinson senses it going off the rails, he slides Garrett Temple back in early. Wilson Chandler's return from his suspension might help. On Thursday in San Antonio, Atkinson used Temple in Pinson's place as backup point guard -- with Chandler at power forward. But overall, opponents have outscored the Nets by 58 points in 208 minutes with both Dinwiddie and Harris off the floor since Irving's injury.
The only real solution is to perhaps take Harris out a little earlier and bring him back to prop up non-Dinwiddie lineups. That comes at the cost of breaking up Harris and Dinwiddie -- probably Brooklyn's two healthy best players. I can understand maximizing the Harris-Dinwiddie minutes.
Until everyone gets healthy, Atkinson just has to close his eyes and hope.
This is such an Ingles pass:
When an offense gets the other team scrambling, the ball usually continues around the horn; the next logical pass is to the left corner. No Jazz man is there. Even so, the Magic clearly did not expect Ingles to touch the ball back to Royce O'Neale.
Ingles would make that same pass even if Utah had an open shooter in that corner. He is clever playing against expectations.
The Jazz have looked more like themselves on offense with Ingles starting again. The way he plays -- extra passes, ball fakes, instant decisions -- is woven into the DNA of Quin Snyder's "advantage basketball" system. The Jazz are prone to stagnancy without him. (Ingles also didn't get as many minutes with an elite pick-and-roll finisher coming off the bench.)
Snyder will face an interesting decision once Mike Conley returns. Utah's original starting lineup -- with O'Neale in Ingles' place -- has fared well. The Ingles version plays a little smaller on defense; O'Neale guards a lot of opposing power forwards, and with him on the bench that job falls to Bojan Bogdanovic.
Snyder could toggle lineups based on matchups, but that is hard for players who crave routine.
7. Oh crap, Anthony Davis can do this?
Around this time every season, Davis does something that makes you gasp: Uh oh. He added that? Two seasons ago, he started busting out crossovers and in-and-out dribbles. Almost exactly a year ago -- right before things went haywire in New Orleans -- he scored 80 combined points on 34-of-58 shooting in back-to-back games against Dallas and flashed an endless reservoir of post moves. (Those games were legitimately terrifying.)
This -- from the Lakers' Dec. 6 win at Portland -- was such a moment:
An effortless lefty jump hook? Yikes.
The volume of Davis post-ups -- no one has posted up more, per Second Spectrum data -- is a concession to the Lakers' roster construction. It is harder to run the LeBron James-Davis pick-and-roll with a traditional center -- JaVale McGee or Dwight Howard -- on the floor. Defenders on James and Davis in those scenarios are typically close enough in size to switch. (Cut to Kevin Love nodding.) If Davis rolls, he barrels into a cluttered lane.
The James-McGee/Howard pick-and-roll relegates Davis to spot-up duty. He is too good for that. That leaves a ton of post-ups. Even then, there often is a giant help defender -- the guy guarding McGee or Howard -- lurking just across the lane.
Davis has made the most of those chances. He doesn't need much room to score or draw fouls. He crouches low, explodes through tight corridors along the baseline and outraces those help defenders to the rim
At some point, the Lakers will need to lean into their Davis-at-center lineups. But so far, the trade-off -- shooting for size -- has been worth it, mostly because the Lakers' two superstars thrive in any ecosystem.
Psst ... Robinson has committed only 17 fouls in 191 minutes over New York's past seven games -- about 3.2 per 36 minutes. The Knicks would probably sign up for that over Robinson's remaining career.
On switches, Robinson isn't leaping at pump fakes and trying to block every jumper. He'll sometimes open his hips and concede a driving lane -- something Draymond Green does a lot. It looks like a mistake, but it is really Robinson showing faith in his ability to bother shots from behind:
Robinson has been more careful to avoid bumping and reaching with his off arm.
New York is two years into a spirited debate over how often Robinson should switch on pick-and-rolls. No one is better at blocking 3-pointers. There is power in that. Possessions peter out as guards dance with Robinson, only to find themselves smothered.
But he also bites on fakes, and he fouls a lot. With Robinson 30 feet from the hoop, the Knicks are vulnerable on the glass.
David Fizdale overdid the switching. He dabbled in a bizarre scheme in which the Knicks would go under picks and switch anyway -- defeating the entire purpose of ducking screens:
Mike Miller has kept Robinson closer to the rim without totally excising switches. That feels like a proper balance. Variety is important. It keeps offenses on edge. The threat of a Robinson switch might spook ball handlers. Deployed properly, switching with Robinson can be a weapon -- not an act of surrender.
9. Is Philly answering one big question?
The Sixers are so weird, it is easy to get lost fretting about the little things within possessions: Where is everyone standing? Is Ben Simmons in the dunker spot? How is Brett Brown's facial hair?
Some of those are real problems, as the Heat highlighted in zoning Philly to death on Wednesday.
The Sixers have scored only 105 points per 100 possessions with Joel Embiid and Simmons on the floor, equivalent to a bottom-five offense. They are searching for a crunch time identity.
Zoom even further out and Philly had one fatal weakness last season: They were horrible when Embiid rested. A lot of Philly's offseason -- including signing Al Horford -- was aimed at fixing that. Horford and Simmons now play every meaningful minute Embiid rests, and the Sixers are plus-94 in 374 such minutes, per NBA.com data.
Brown has mostly (and wisely) played those minutes without a traditional point guard, making such lineups gigantic and ultra-switchable. Brown can go heavy on shooting: Simmons/Horford/James Ennis III/Mike Scott/Furkan Korkmaz. For more defense, he can slide Matisse Thybulle in. Tobias Harris floats in when Philly needs more shot creation.
These groups push the pace and jack tons of 3s -- precisely the way lineups built around Simmons should play. Simmons' scoring and free throws are down. He has taken only five 3s. That frustrates. But he is having a fine all-around season -- and is really grinding on defense.
Simmons and Embiid might never really complement each other. The Sixers are making the best of it by going all-in on defense and optimizing around their centerpiece stars whenever one sits.
10. Detroit's maligned red uniforms
These seem to be wildly unpopular: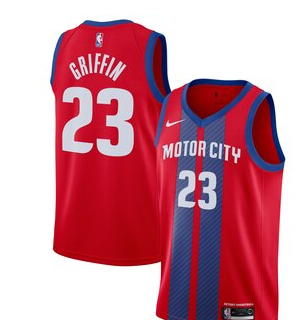 I like 'em. So there. Motor City is cool. Colors are fun, and the Pistons have a classic red-and-blue scheme. These are miles better than last year's gray-on-black version, which barely registered from any distance greater than an arm's length -- let alone on television.
One downside: The striping -- meant to mimic highway lanes (ugh) -- resembles tread marks, as if a truck has run over the prostrate Pistons. That is perhaps not the best imagery for an 11-16 team.
One reason Melo has fit in Portland: He is setting almost 23 screens per 100 possessions, by far the highest rate of his career, per Second Spectrum. That makes sense given he is a full-time big man screening for two star guards
Portland often empties one side of the floor for Anthony's two-man game; and when opponents switch, Anthony can hold office hours against smaller players. Anthony going one-on-one is still a low-efficiency play, but if he's going to do it, it might as well be against mismatches.
Anthony has been smart headhunting for screens in semi-transition, and Damian Lillard is killing teams out of double-pick actions:
There might not be anyone better at squeezing through that teensy space between defender and the screener -- in effect going before using any pick. (Kemba Walker might be Lillard's only competition.)
The Trail Blazers are scoring almost 1.08 points per play directly out of Melo screening actions -- 19th among 141 players who have set at least 100 picks, per Second Spectrum.