JOEL EMBIID RELISHES the opportunities to launch 3-pointers. The execution of that shot, the 7-foot Philadelphia 76ers center believes, classifies him as a modern NBA player, a multifaceted big man whose skills and athleticism should not -- and will not -- confine him to a small, defined patch of basketball real estate on the block.
Embiid also confesses that what he craves nearly as much as knocking down those treys is to lure players into believing he is about to release the 3. He does this with a most curious pump fake: hoisting the ball well above his head, then unfolding ever so slowly, like a rusty crane squeaking in protest for a dose of WD-40.
Often, it's a fellow big man who is ambling out to contest that shot, at which point a giddy Embiid unleashes his superior speed to blow past his defender with two hard dribbles and a dunk. If the big stays home, Embiid surveys the rim, lines up his elbow and lets it fly.
And, in that moment, a generation of the best post players in the game's history emits a collective groan.
"Get in, get your butt on the block and dominate," an exasperated Patrick Ewing says.
"When he shoots 3s," Charles Barkley says, "I guarantee the defender is like, 'Man, that was so easy.'
"When [Joel Embiid] shoots 3s, I guarantee the defender is like, 'Man, that was so easy.'" Charles Barkley
"It's so stupid not to use your big man. No. 1, if you have a guy who is great, he can't be stopped in the post one-on-one. He's going to draw a double-team and you will get wide-open 3s. Or he's going to get the other team in foul trouble. I just don't think these big guys are using their brains."
For Barkley, it doesn't matter that Embiid averages more post touches than any other player in the NBA. It doesn't matter that the only others who are remotely close to his 10.4 touches a game are San Antonio Spurs big man LaMarcus Aldridge (9.7) and Los Angeles Lakers star Anthony Davis (9.2).
To traditionalists, that Embiid's numbers are a far cry from the halcyon days of Wilt and Kareem and Moses and Shaq is the problem. Theirs was an era of big men who routinely torched opponents with their backs to the basket, so dominant in the paint they were referenced on a first-name basis by an adoring basketball public.
No longer. The low-post big man is a dying breed in the NBA. And if the numbers continue to follow current trends, it could well be extinct within five years.
READ: How MJ and elite players handle pressure
---
THE LIGHTNING ROD is Embiid.
Hall of Fame centers can't fathom why players such as Spencer Dinwiddie and Shai Gilgeous-Alexander spend more time in the paint than the Sixers center does. Modern NBA strategists contend that Embiid could become the signature big man of the next decade by embracing his developing prowess from the perimeter. Sixers coach Brett Brown stresses he will not go old school and plant his franchise player in the key.
"One of the reasons coaches don't go to the post anymore is that it's easier to scheme against a big man other than Kevin Durant on the perimeter looking at you -- and it's not even close," Brown says. "You can double bigs easier, you can swarm them, you can hold them up knowing people are waiting on the perimeter and the [shot] clock is evaporating.''
Yet some of the game's greatest big men push back on the notion that there's no longer a place for low-post scoring.
"You ever heard of the term cooking the books? That's what [big-man analytics] are to me," Hall of Famer Shaquille O'Neal says. "'Oh, our company is doing great. We're doing this. And we're doing that,' when actually it's a bulls--- company.
"My contention is that if a big man comes in and wants to dominate, he can dominate -- and easily. Because we have shifted away from physicality, teams don't know how to play [that style] anymore.
"If the right big man comes in, it'll be back like the old days, where he will be a guy you've got to change your defenses for."
O'Neal says Embiid could be that dominant force, but only if he eschews the 3-point line and backs his man into the paint instead.
Dominance, in this context, is shaking the rim and bludgeoning an opponent in the paint.
But the game is changing, Embiid counters, and big men need to be able to face up and shoot the ball, put it on the floor, and act as a facilitator when they're double-teamed.
"We need to be able to do everything on the basketball court," Embiid says. "That's what I've been trying to do, to kind of change the narrative around big men."
Brown insists he hasn't abandoned using Embiid in the post and claims his goal is for him to have at least 15 touches a game from there. That's a fine strategy for the Sixers, but the 29 other teams do not have a Joel Embiid at their disposal.
"The numbers don't support their skill set," one NBA general manager says about big men who live primarily in the post. "They're DOA -- dead on arrival."
---
IF THIS ALL sounds like hyperbole, consider this: Before the NBA added the 3-point line in 1979-80, centers won 15 of the previous 16 MVP awards. No center has won MVP since 2000.
Shaq was that most recent MVP center.
Since then a lot has changed. LeBron James entered the league in 2003, the same year author Michael Lewis released "Moneyball." That book was about baseball, but its broad idea -- that analytics can be mined to gain advantage -- resonated across all sports. While James became the face of the NBA, "Moneyball" became the brains of it, and 16 years later every front office uses numbers to justify every transaction.
These same numbers that front offices use to evaluate players are also used for play types and their relative value -- and the indicators reveal why traditional big men hold less value than ever.
When judging play types available to a modern NBA offense, and play types for a modern NBA big man, post play is inefficient. It's dying off, and quickly.
In the 2013-14 season, there were 15.4 post-ups per 100 possessions, according to Second Spectrum tracking data. This season there are just 8.4 per 100 -- a 45.5% drop-off in just six seasons.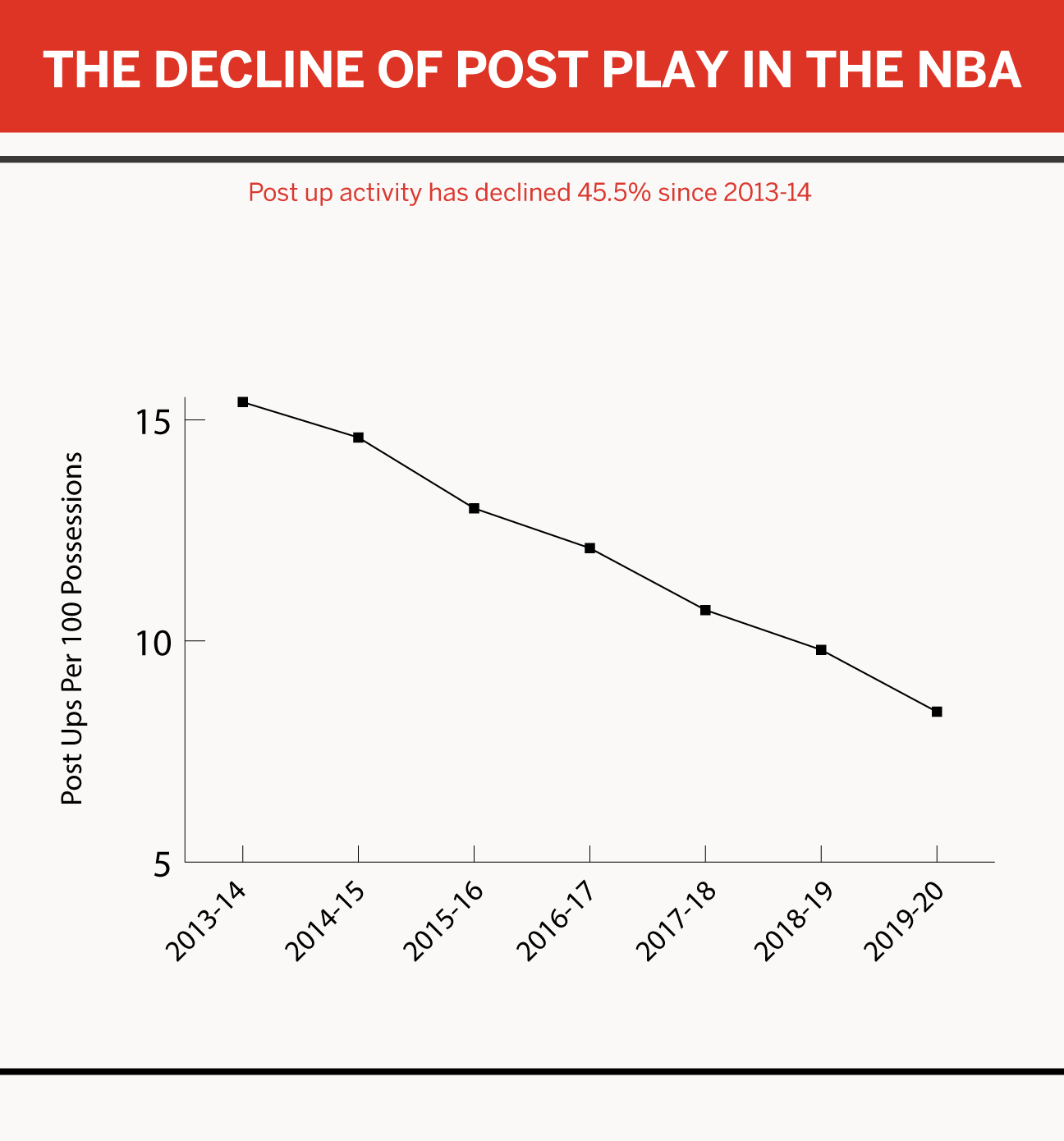 Those trends become more acute when drilling down to individual players. In 2013-14, there were 20 different NBA players finishing at least five post plays per game. This season, that number is down to five -- Embiid, Aldridge, Davis, Karl-Anthony Towns and Kevin Love. The flock of bigs camping out on the low block is dwindling more each season because their coaches believe these bigs are more useful elsewhere on the floor.
The average NBA possession this season is worth 1.08 points, per Second Spectrum data. The average NBA possession that ends with a post action yields 0.96 points. In contrast, the average catch-and-shoot 3-point shot is worth 1.12 points.
In simpler terms, 3 is greater than 2, which is why an average 48-minute game this season includes 67 3-point tries and just 17 total post-ups.
Nobody has embraced the 3-point trend more enthusiastically than Houston Rockets general manager Daryl Morey. His team holds virtually every 3-point record, from single-game marks to season-long totals. Last season, Houston jacked up a record 70 3s in an overtime loss to Brooklyn.
"People say to me, 'You hate midrange shots, you hate post-ups,'" Morey says, "but that's not true. When I played in high school, those were my best shots.
"We're just doing what works. We've created the top offense in NBA history over the last five seasons, so we're sticking with that."
The Golden State Warriors, for their part, created a dynasty on the marksmanship of Stephen Curry, Klay Thompson and Durant -- without featuring any meaningful presence in the paint.
"I think the NBA made a big mistake when everybody tried to model themselves after the Golden State Warriors," Barkley says. "The Golden State Warriors had the three greatest shooters who ever lived. So, everybody starts shootin' 3s. There are seven teams shooting more 3s in the last two years than the Golden State Warriors. We know the Rockets are an anomaly.
"But the notion that six other teams would shoot more 3s than the three greatest shooters that ever lived, that's stupid, and asinine."
But even the biggest stars of the 1980s, such as Julius Erving, Magic Johnson, Larry Bird and Michael Jordan, played away from the basket. Big men such as Kareem Abdul-Jabbar, Kevin McHale and Moses Malone were still valuable, but they were no longer the faces of their championship teams.
With each passing season, teams became more sophisticated in their schemes. The Bulls' dynasty of the 1990s was a harbinger of things to come. As Jordan teamed up with Scottie Pippen, the Bulls dominated the game from the wings, and the parade of bigs who joined them was significantly marginalized.
---
IT'S ALMOST INARGUABLE that 3-point shooting is the most important skill in the game right now. It affects everything from draft positions to playing time to offensive architecture. Coaches believe that treys lead to offensive efficiency, and that by clogging up the areas between the paint and the 3-point line, post players clog key drive-and-kick arteries.
This realization has driven many of the league's best post players to change their games. Consider Milwaukee Bucks center Brook Lopez: In his lone All-Star season in 2013, 1% of Lopez's shots were 3s. Last season, 66% of his attempts were behind the 3-point line.
"It's amazing how much it's changed," Lopez says. "Big men now, we kinda have to do everything."
Bucks coach Mike Budenholzer has three 7-footers on his roster: Lopez, his twin brother, Robin, and reigning MVP Giannis Antetokounmpo (who is technically listed at 6-foot-11).
Antetokounmpo is the most prolific scorer in the paint since O'Neal. In fact, those two players account for the top six best seasons of points in the paint since 2000.
But Antetokounmpo is not accomplishing this by posting up. Although 65.8% of his shots come in the paint, only 7.6% of his shots come out of the post. He scores on drives, in transition, on lobs and on putbacks. He also hoists 5.2 treys a game, with the full endorsement of his coach.
"I'm a big fan of [shooting 3s]," Budenholzer says. "I feel really great about how bigs are evolving. I'm not against posting up to change our look from time to time. If we can have everything, I guess, that's what coaches and teams want. But for us, the ability to shoot and create space is a huge priority. I crave it more than anybody."
For those big men who resist, or don't possess the skills to be effective in today's NBA, they quickly become obsolete.
---
ROY HIBBERT'S CAREER was at its apex in May 2013. The Pacers center had dominated the New York Knicks in the Eastern Conference semifinals, averaging 13.3 points, 10.3 rebounds and 3.2 blocks a game -- none more memorable than a rousing rejection of Knicks star Carmelo Anthony at the rim in a clinching Game 6.
And although Indiana had fallen in the conference finals to James and the Miami Heat, nobody had pointed the finger at Hibbert. He had led his team in points (22.1), rebounds (10.4) and true shooting percentage (61.4) in that series. The next season, he was an All-Star and runner-up to Joakim Noah in Defensive Player of the Year voting.
But then it all turned -- dramatically. Hibbert became the poster boy for big men doomed by the pace-and-space game. The new style of play exposed his lack of mobility and quickness. Teams drew him away from the basket by positioning their bigs on the perimeter, turning the once-dominant defensive force into a liability.
Just a year after Hibbert had dominated the Eastern Conference playoffs, the 2014 postseason told a much different tale. The No. 8-seeded Atlanta Hawks, coached by Budenholzer, held Hibbert scoreless in Games 5 and 6 of their first-round series against the No. 1 Pacers. They did so by spreading the floor with five shooters, drawing the slow-footed Hibbert away from his home in the paint -- and smack into foul trouble (the Indiana center played only 153 minutes in the series after playing 277 against the Heat a season earlier).
The big man had been thoroughly humiliated. Two months later, the Pacers traded him to the Lakers.
By the end of 2016, he was a reserve whose career was hanging in the balance. A year later, he was out of the league. It was, Hibbert says now, what the NBA wanted -- more dynamic wing players and fewer power-based big men.
"My last year with the Pacers, [assistant coach] Popeye Jones told me that the team had a meeting with the stats guys, and they said the one-on-one post-up is the worst shot in basketball, because it's basically one and done, there's no movement," Hibbert says. "[When] you shoot 3s, there's opportunities for offensive rebounds and kickouts."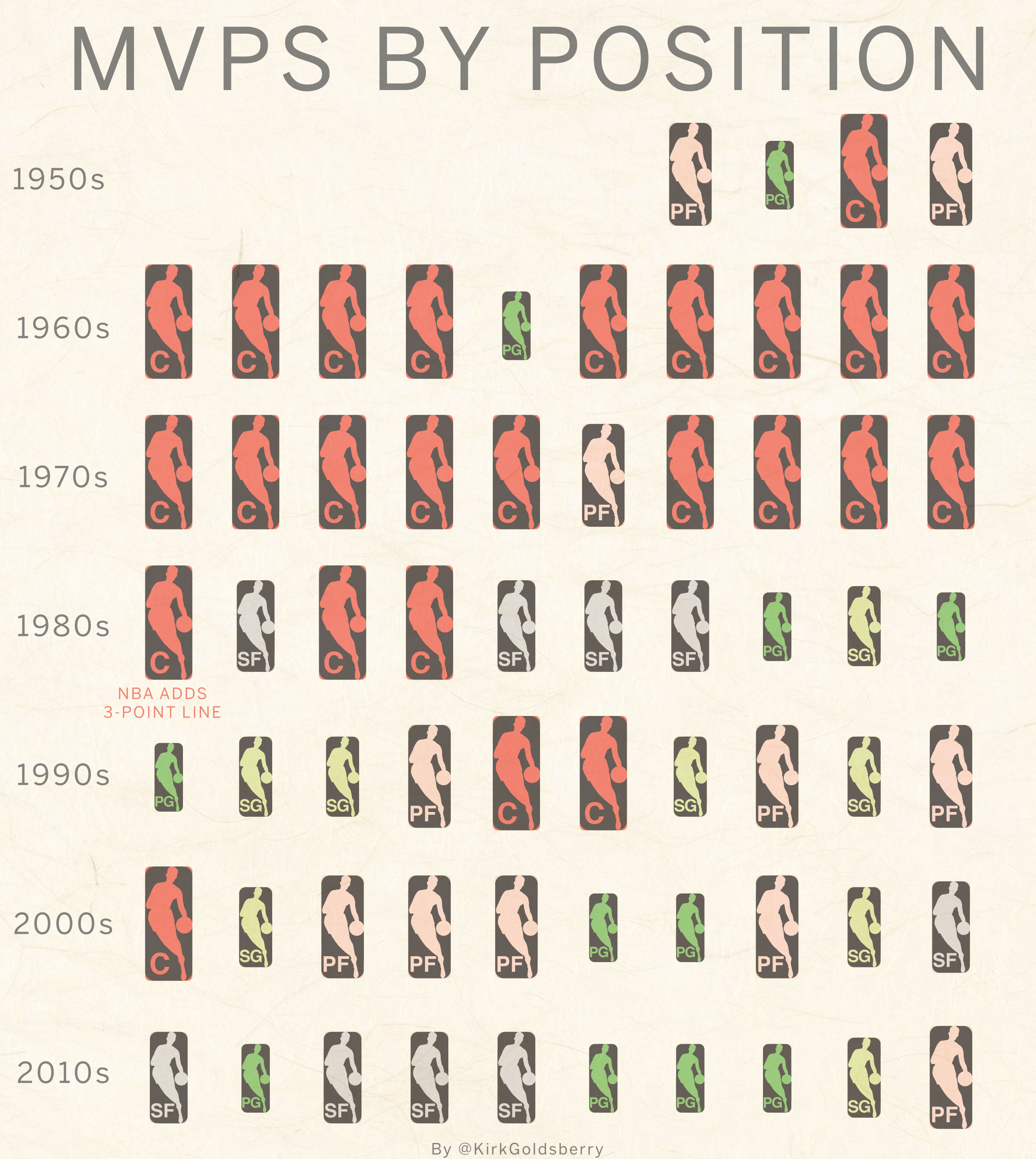 ---
ALTHOUGH THE 3-POINT SHOT organically altered how the NBA game is played, the league has long implemented some pointed rules that eroded the value of the league's tallest and biggest players. The NBA outlawed goaltending (1944). It widened the lane not once, but twice (1951, 1964). And, for a time, banned zone defenses (reinstated in 2001).
But the most significant contemporary change was in 2004, when the league eliminated handchecking with a stated goal of "opening up the game." (This came after the heavily favored Lakers, featuring O'Neal and Kobe Bryant, were upset in the Finals by a physical, defensive-minded Detroit Pistons team led by big man Rasheed Wallace).
Doing away with handchecking enabled the league to legislate more scoring for perimeter players -- and it worked. In 2003-04, only Tracy McGrady (28.0) scored 25 or more points per game. The next season, the first without handchecking, seven players crossed the 25-point threshold, with 5-10 point guard Allen Iverson (30.7 PPG) leading the charge. This season, there are 14 players averaging 25 or more points a game, and only one of them -- Towns -- is a center. This trend has cemented the belief of NBA analytics teams that, when it comes to defensive contact, post bigs will not be rewarded in the same way perimeter players will be.
"When we played in the '94 Finals against Houston, we were two defensive powerhouses battling," Ewing says. "But the NBA wants [the game] to be a more high-scoring affair, because they think that's more appealing to fans. So, they've changed the way the game is played."
In 2019, a defender can legally jam an armbar into Embiid's lumbar region if he's in the low post, but if the same defender dares to lay a finger on JJ Redick's elbow behind the 3-point line, officials will nail him with a 3-shot shooting foul, literally the most punitive infraction in the game.
"A lot of the rules on how can you defend the perimeter versus inside players are pretty different,'' Morey says. "I'm not sure what the answer is. I don't even know if we actually need an answer -- the game is as good as it has ever been."
Not everyone agrees. Former big man Vlade Divac, now the general manager of the Sacramento Kings, laments, "Your guy gets manhandled [on the block], but there's no call, and at the 3-point line, you breathe on the guy wrong and it's a foul.
"Maybe if we change the rules, post play will come back."
---
KEVIN LOVE GREW up as a post player, watched each evolution with great interest and then came to embody it. As a 20-year-old rookie in Minnesota, Love took fewer than 3% of his shots from 3-point range; last season in Cleveland, he took 52% of his shots from downtown while hoisting up 6.7 3s per game. In his Hall of Fame career, Reggie Miller never attempted more than 6.6 per contest.
"For me, it was definitely 'adapt or die' when I got here to Cleveland," Love says. "I knew that I wouldn't be posting up as much anymore. We had two ball-dominant players, with Kyrie [Irving] and LeBron, and I had to kind of see where I fit in. I went from getting so many touches in the post, and being the primary No. 1 option, to being the third guy, and really just being a floor-spacer a lot of the time."
Love was fortunate that his father, Stan Love, an ex-NBA big who could shoot, had instructed his school-age son to develop a perimeter game along with ballhandling skills. When he made the switch to the perimeter in the NBA, Love says it was an equally big adjustment on the defensive end of the floor.
"I had never really played or defended that far out from the basket," Love says. "You're having to switch off onto a Klay Thompson. You have to switch to Steph Curry. Kevin Durant. Even though you're a 4- or 5-man, you really have to do that -- or you're dead in the water."
The new breed of big men continued to evolve. In 1998, a rookie center from Germany named Dirk Nowitzki turned the notion of a big man on its ear. Although Nowitzki was an average rebounder and a marginal shot-blocker, he dominated from behind the 3-point line like no other 7-footer before him.
Suddenly, the possibilities for shooting bigs were endless.
SHAQUILLE O'NEAL REMEMBERS to duck at the last moment as he strides through the doorway of the Atlanta Ritz-Carlton, where his friend and television partner Charles Barkley is seated. The two massive men dwarf the room, squeezing onto a seemingly doll-sized settee as they banter on the topic at hand -- guys like Embiid shooting 3s.
"He frustrates me the most!'' Barkley exclaims. "He could be the best player in the NBA.''
O'Neal smiles slyly.
"Those 3s are pretty,'' he says, as Barkley howls. "But you're supposed to punish guys.''
Size used to matter, almost more than anything. Not anymore, Mavericks owner Mark Cuban says.
"The analytics don't specify whether it's a big, or a small, or a medium-sized guy," Cuban says. "Analytics are driven by the skill set of the player and the team.
"Right now, if you're a decent shooter -- regardless of your height -- you're better off shooting a 3."
What is the future of the big man in a league in which Dallas leads the league in scoring and its newly acquired 7-foot-3 stud drains 40-footers? Is there still a place for a dominant post-up player?
The majority of former big men interviewed point to Embiid as the game's best hope. Brown says his big man's post play remains a work in progress.
"So, what does Joel have to do to make this work?" Brown says. "First, he has to be a willing passer. Then it's on the coach to space it properly. He has to be a willing quarterback, and be aware of timing, sense the double-team.
"The notion that, 'Oh, [Joel] floats too much,' well, he does a little. When it ends up being dramatic is when it's 98-98 with two minutes left and, people say, 'What's he shooting a 3 for?' That's a little bit true, because it's in a more pronounced environment. But at 98-98, you know he's going to be doubled. For sure."
The prospect of being doubled in today's NBA leaves O'Neal salivating at the opportunity. Give him a chance, Shaq says, and he'd take total command of the key.
Asked what he would do if O'Neal were on his roster, Morey answers, "I would give him the ball 1,000 times, is my guess. Is he coming? Can I draft him somewhere?"
Although Shaquille O'Neal won't be walking through that door, perhaps we're focused on the wrong big man.
"I would actually love to play in this NBA," O'Neal says. "I would bring a little bit more physicality. I would bring my length, I would bring my athletic-ness. So, before you say, 'Shaq can't play in this era today,' I'm already playing.
"My name is Giannis Antetokounmpo."