Halfway through the 2019-20 NBA season, the Los Angeles Lakers stand alone at the top of the Western Conference standings, and it's become clear that this new-look squad is among the best legitimate contenders to win the 2020 NBA Finals.
The main reason the Lakers are playing so well is pretty simple: They have LeBron James, arguably the most valuable player in the NBA right now.
On one hand, we shouldn't be surprised. After all, James has taken his teams to the Finals eight of the past nine seasons. But the man also is 35 years old, which is a downright ancient number by NBA standards. Superstars aren't supposed to dominate this league at that age.
If James scores 18 points against the Philadelphia 76ers on Saturday night (8:30 p.m. ET, ABC), he will pass Kobe Bryant for third place on the all-time scoring list, which is nothing short of astounding. Yet it's the way James is getting to this record that's truly incredible. While these kinds of milestones usually occur at the irrelevant end of a superstar's career, this one comes in the midst of a season where this dude is still the best player on the best team in the ferocious Western Conference.
LeBron is out here breaking sacred old-man records in the midst of a title chase and a legitimate MVP campaign. That's special.
After a rocky season in 2018-19, James is back playing at a ridiculous level on the wrong side of 35. Between his scoring, his passing and his defense, there's no question he's still in fine form. Just how rare is this? Bryant played his last playoff game at age 33. Michael Jordan played his at 34. Larry Bird hung it up at 35. Only Karl Malone won an MVP after turning 35, but James is making the case to be the second in an era defined by its breakneck pace and its hyper-athleticism.
Everyone defines MVP a little differently, and the case for the Milwaukee Bucks' Giannis Antetokounmpo has been seemingly overwhelming for much of the season. But James' midseason case for this being a real MVP race boils down to this: The Lakers look like the best team in the West when LeBron is on the court, and they look like a lottery team when he's not.
How valuable is that?
By almost any measure, the Bucks are the best team in the NBA, yet they still crush opponents when Antetokounmpo is on the bench, posting a net rating of plus-7.9. That would still rank No. 1 overall in the NBA.
Make no mistake, that's an impressive mark for Milwaukee's title chances. And, no, it's not Giannis' fault his team is awesome when he sits. But in a weird way it could hurt Antetokounmpo's MVP case -- and it's vastly different from what's happening in Lakerland.
Even though they have Anthony Davis, the Lakers without James are a negative team. They post a net rating of -1.6, which would rank 18th in the NBA -- in between the Detroit Pistons and the Chicago Bulls. Folks, the Pistons and Bulls aren't very good.
If LeBron wins the MVP this year, it will be because of his unmatched ability to make his teammates better. Outside of James, Davis and Danny Green, the Lakers roster consists of a hodgepodge of castoffs, aging role players and unproven youngsters. But here they are, 4.5 games up in the West. If you don't think James is MVP, name another player who could have brought this group to the top seed in the West.
Despite leading the NBA in scoring during the 2010s, James isn't even the leader in points per game on his own team. But he's still a top-12 scorer in the NBA, and he's an unmatched offensive engine when you consider everything else he does on that end.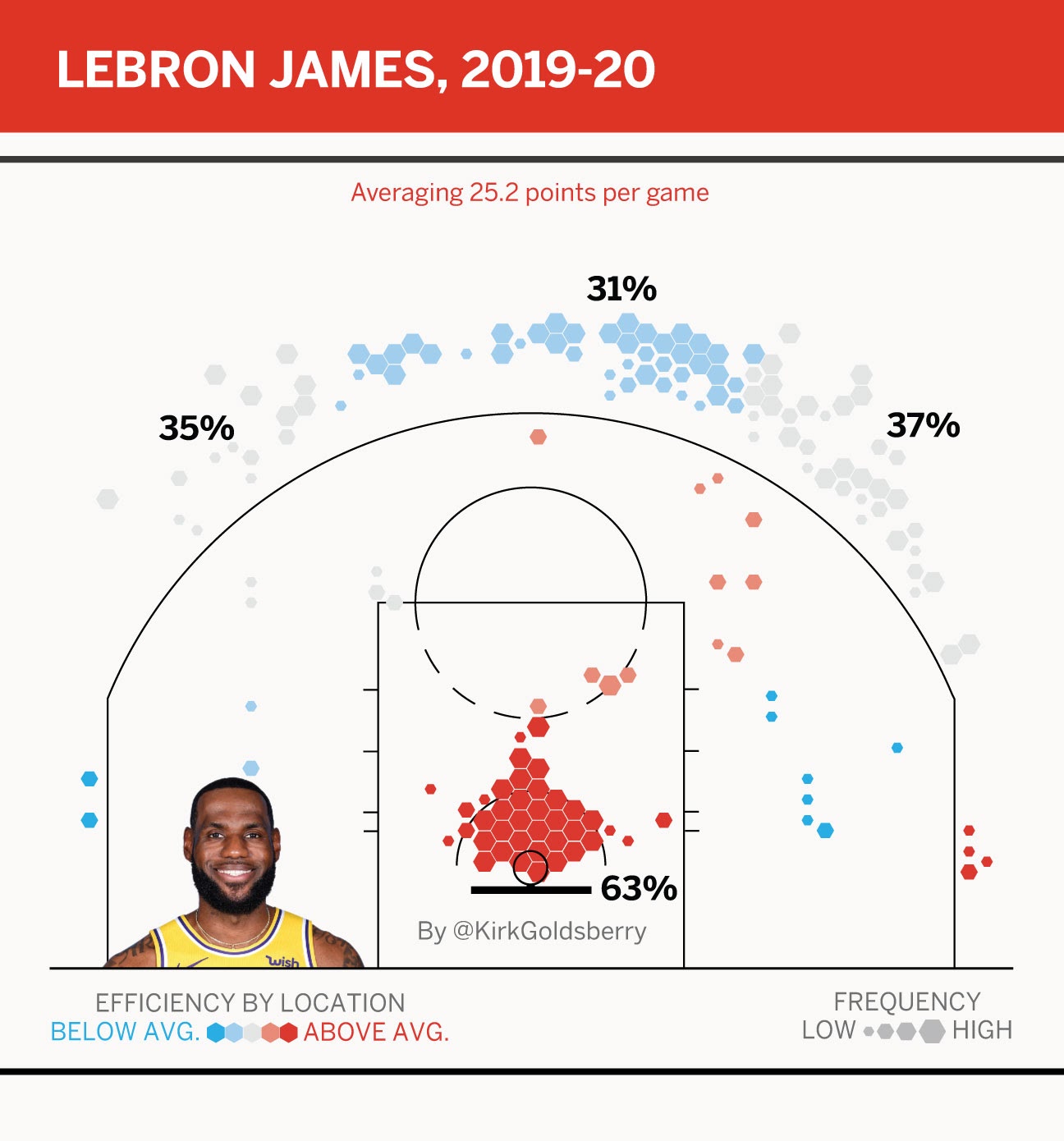 James is still racking up over 25 PPG, and he still scores a vast majority of his buckets at the rim. But he's also taking more 3s than ever before, and he seems more interested in passing. That's good, because he's the greatest passer in the sport. Who else in the NBA makes these kinds of over-the-head, cross-court passes? Nobody, that's who, and that's partly because few scorers distract an entire defense as much as James.
When you're the best interior scorer of the past 20 years, your opponents collapse more and open up corners. Nobody in the game is better at punishing teams for doing that with breathtaking kickouts. Just ask Caris LeVert, who can only helplessly wave his arm as this rocket pass races past him and straight into the hands of his defensive assignment, Kyle Kuzma, who then drains a wide-open 3.
Corner 3s are special shots. Not only are they symbolic of the analytics era, but they also are the most assist-dependent look on the floor. Over 93% of NBA corner 3s are assisted, and perhaps it's unsurprising that nobody in NBA history has generated more corner 3 assists than James.
Corner 3 prowess is as much about passing as it is about shooting. P.J. Tucker leads the NBA this season with 55 made corner 3s. James has assisted on 72 overall. If you go back to the beginning of the player tracking era (2013-14), Klay Thompson leads all shooters with an incredible 580 made corner 3s. In that same time frame, James has assisted on a wild 830 of them. James Harden ranks second ... at 654.
So while we rightly associate sharpshooters like Thompson and Tucker with corner 3 success, those guys just punctuate the process. The truth is that many of their triples originate elsewhere on the floor, when a playmaker breaks a defensive concept and fires a ball to an open teammate in the corner. It's exactly that kind of action that makes James so valuable this season.
The Lakers have drained 344 3s with James on the floor. Between his own unassisted 3s and his assists, James has generated 57.8% of them. The Lakers are shooting better than 40% on the nine attempted 3s LeBron is creating per game. And his overall assists lead to more than 27 PPG, by far the best such mark in the NBA.
If there's one thing that separates regular superstars from the truly transcendent ones, it's the ability to elevate their teammates. On offense, this concept often presents in the form of passing, and if you study passing numbers around the league, James is far and away the NBA's best this season.
James has been the NBA's ultimate rising tide for over a decade, but for the first time in his career he's leading the league in assists, creating clean looks all over the court for his team.
Just look at this: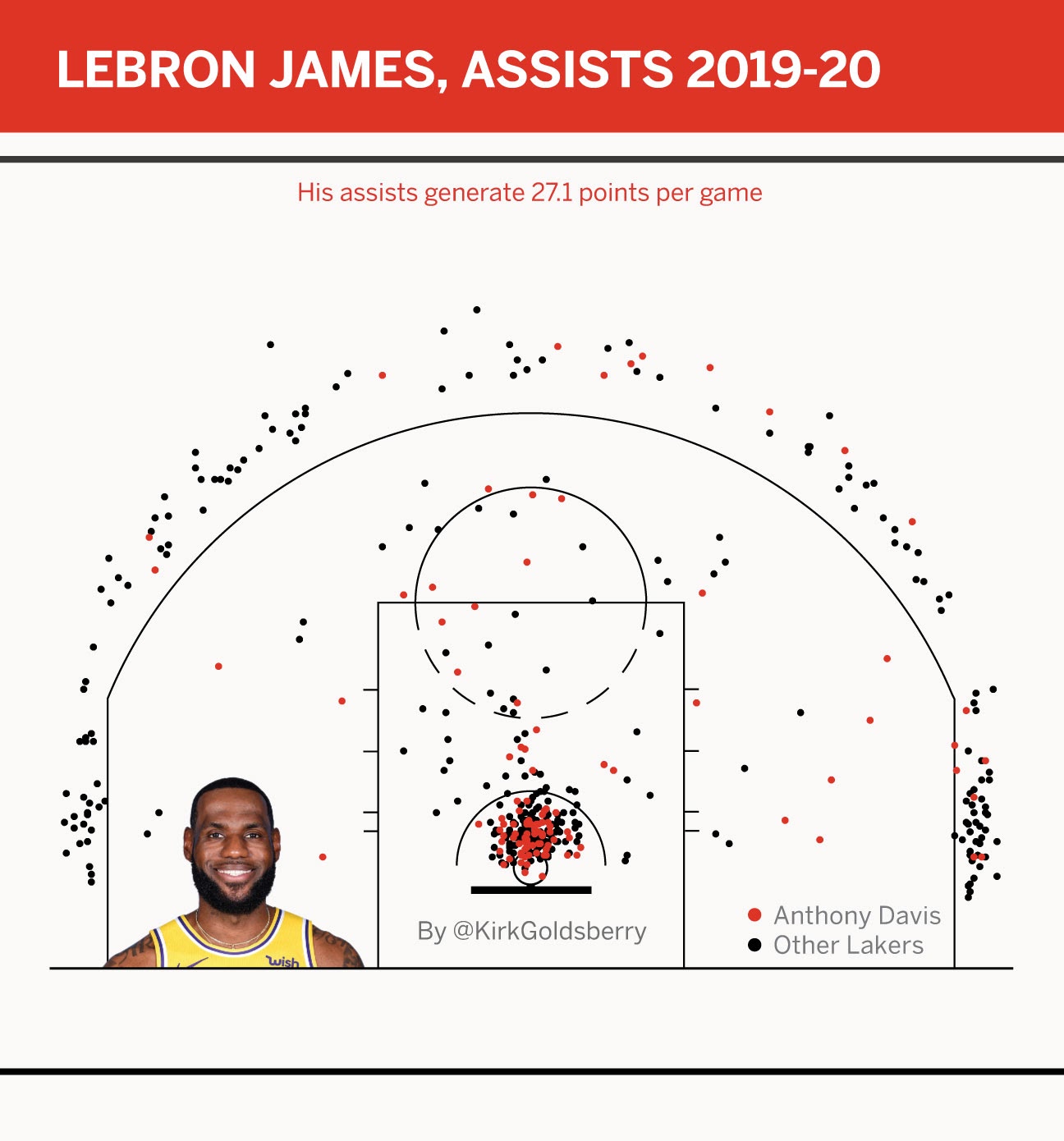 James doesn't just create a lot of shots with his passes -- he creates a lot of shots in great spots. A vast majority of his dimes occur either in the restricted area or beyond the arc, and he's assisted nobody more than Davis. Of James' 464 total assists, 117 (25.2%) have targeted AD this season.
As James ages gracefully into his late 30s and his downhill-locomotive-drives get a little slower and a little less terrifying, his passing has become paramount. He's the primary assister for all of the Lakers' top 10 scorers, including himself. A vast majority of his own buckets are unassisted.
Simply put, James is the best shot creator in the world. Consider these two stats showcasing his volume and efficiency:
No player has created more shots with passes this season than James (1,017)

Of the top 25 shot creators by volume in the NBA, shooters on the receiving end of James' passes are the most efficient, racking up a ridiculous 1.22 points per shot
When you factor in James' scoring and his passing, he has his hand in over 52 points per game: 25 as a scorer, 27 as a passer.
We've become so accustomed to James' brilliance over the past 16 years that we're at risk of failing to appreciate the nuances of his third act. He ranks No. 1 both in ESPN's real plus-minus (RPM) -- measuring his holistic on-court impact -- and in defensive RPM, a reflection of how engaged he's been on that end.
He's still dominating the league at an age when most players are either retired or washed. He's played in 43 of 45 games. He's not only a legitimate MVP candidate, he's one of just three players from his draft class still playing.
As LeBron surpasses Kobe on the all-time scoring list, the thing that really stands out isn't the points. It's the incredible longevity and consistency of James' career. He may or may not surpass Giannis for the MVP this season, but he's definitely the most valuable player of the era.