Who are the most likely picks for every team in the 2020 NBA draft?
NBA franchises are preparing for a very different pre-draft process in the middle of the coronavirus pandemic, with uncertainty surrounding the date of the draft and teams being forced to rely heavily on previous scouting and intel.
ESPN draft experts Jonathan Givony and Mike Schmitz break down how things might shape up with their latest two-round mock draft. This includes likely picks based on the latest intel and their selections for the best fits in the first round (while accounting for each prospect's projected draft range).
Note: We don't yet know how the NBA plans to sort out the final standings and lottery heading into the 2020 draft, so ESPN's Basketball Power Index was used to project the order for this mock draft.
More: Top 100 rankings
---
Anthony Edwards
Georgia
SG
Age: 18.6
Best fit: LaMelo Ball
Edwards would add instant offense to an already high-powered nucleus with his ability to get downhill and rise up from anywhere on the floor. Small-ball lineups featuring Stephen Curry, Edwards, Klay Thompson, Andrew Wiggins and Draymond Green would offer an intriguing blend of skill and bounce, while Edwards also has the long-term upside to grow into the face of the franchise down the line.
But Ball is the most intriguing fit here. The Warriors want to play fast, and there's no better open-court igniter in this crop than LaMelo. Ball pushing the break with two of the greatest shooters of all time filling the lanes would make for must-see TV. In an offense that thrives off of instinctual reads, his playmaking would shine bright, as long as he's willing to alter his sometimes-trigger-happy style of play.
One more option for the Warriors here: Maccabi Tel Aviv playmaker Deni Avdija would be a great fit. If Golden State ends up with the No. 1 pick and isn't blown away by its options, trading down for Avdija could work well. -- Schmitz
---
James Wiseman
Memphis
C
Age: 19.0
Best fit: Onyeka Okongwu
The Cavs will have to wait on Andre Drummond's $28 million player option decision, but they are likely to be in the market for a franchise frontcourt player, which is why a center like Wiseman is attractive.
However, there's a case to be made that the defensive versatility of Okongwu actually makes him a better fit, which could mean trading down a few slots and adding another asset to their stockpile of draft picks. Okongwu has elite timing as a shot-blocker and projects as a switch-all pick-and-roll defender with considerable offensive upside thanks to his excellent touch, hands and feel. -- Givony
---
Isaac Okoro
Auburn
G/F
Age: 19.1
Best fit: Isaac Okoro
The Hawks could use a prospect with upside who impacts winning and doesn't need much offensive volume to be effective. Okoro fits that description perfectly. Not only does he have the explosiveness to wreak transition havoc alongside Trae Young but he's arguably the best defender in the draft. He's an active ball-mover, smart cutter and rugged rebounder.
While Okoro isn't viewed among teams as a consensus top-five prospect, he's the type to maximize his long-term potential and thrive as a high-level starter with potential to develop into more than that. A nucleus of Young, Okoro, Cam Reddish, De'Andre Hunter, John Collins and Kevin Huerter could make the Hawks one of the most exciting young teams in the NBA. -- Schmitz
---
LaMelo Ball
Illawarra
PG
Age: 18.6
Best fit: LaMelo Ball
A Ball and D'Angelo Russell backcourt might be one of the worst defensive pairings in the league, but the Timberwolves need to continue to stockpile star power to speed up their rebuild. No one in this draft class has more of that than Ball.
Ball's size makes him easy to pair with another guard, and teammates will love his tremendous passing creativity and the way he empowers others. Ball does not turn 19 until the end of August, leaving considerable room for him to improve his perimeter shooting and defense. -- Givony
---
Onyeka Okongwu
USC
F/C
Age: 19.3
Best fit: Deni Avdija
Okongwu gives Detroit a switchable, bouncy rim protector who finishes everything, with outstanding touch and plenty of offensive upside. He would boost Detroit's small-ball frontcourt of the future alongside Sekou Doumbouya.
While Okongwu would be a big win for Detroit, I'd also strongly consider Avdija here. He would give Detroit an exciting young playmaker, even if he's more of a point forward than a true lead guard. Avdija is comfortable functioning as a combo forward off the ball the way he did for Maccabi Tel Aviv in the EuroLeague, but I've always thought his true value will come with the ball in his hands like we've seen at the FIBA level. -- Schmitz
---
Deni Avdija
Maccabi Tel Aviv
G/F
Age: 19.2
Best fit: LaMelo Ball
None of the players the Knicks started at point guard this season has emerged as a long-term solution, which could cause them to look to the draft to find a franchise playmaker. Although Ball's compatibility with RJ Barrett might look questionable, the Knicks aren't in a position to pass up on arguably the most talented player in the draft.
Should Ball be off the board already, Avdija looks like an interesting fit who can provide some of the ballhandling, playmaking, unselfishness and defensive versatility the roster lacks. -- Givony
---
Obi Toppin
Dayton
PF
Age: 22.0
Best fit: Tyrese Haliburton
The best offensive player in college basketball, Toppin brings high-flying dunks and deep pick-and-pop 3s that would infuse a level of excitement into the Bulls' fan base. Although it's unclear who exactly will be making the pick for this front office, the Bulls have traditionally felt more comfort with older, accomplished players, making ultra-productive 22-year-old Toppin an ideal fit.
Haliburton deserves some real consideration, especially with Lauri Markkanen and Wendell Carter Jr. already in the fold. Haliburton is one of the draft's best all-around players thanks to his spot shooting touch, stellar basketball IQ and defensive instincts. -- Schmitz
---
Precious Achiuwa
Memphis
F/C
Age: 20.8
Best fit: Onyeka Okongwu
After starting Bismack Biyombo and Cody Zeller at center this season, the Hornets will likely be looking to upgrade the position long term, especially on the defensive end. Enter Okongwu, the draft's most versatile big man thanks to his elite timing, instincts and switchability.
If Okongwu is already off the board, Achiuwa has the strength and length to contain centers with the lateral quickness to stay in front of guards. -- Givony
---
Tyrese Haliburton
Iowa State
PG
Age: 20.1
Best fit: Onyeka Okongwu
Even with the Wizards having big money committed to guards Bradley Beal and John Wall, Haliburton can fit in multi-guard lineups thanks to his size, spot-up shooting and quick decision-making.
But Okongwu looks like the best fit here given the Wizards' current roster. Ranking dead last in the NBA in defensive rating, Washington is in dire need of an athletic big who can put a lid on the rim, guard the perimeter and clean the glass like Okongwu can. Although he likely will be off the board, the Wizards' front office should be ecstatic if Okongwu ultimately fell in their lap. -- Schmitz
Full Haliburton scouting report
---
Killian Hayes
Ulm
PG/SG
Age: 18.6
Best fit: Tyrese Haliburton
Finding a guard who complements Devin Booker has long been a priority for the Suns, who made progress this past season. Ricky Rubio is a strong fit, but he turns 30 this offseason.
A versatile backcourt player like Haliburton, who can play on or off the ball, will likely be a priority. And if Haliburton is off the board this late in the lottery, Hayes is a solid second choice. -- Givony
---
RJ Hampton
New Zealand
PG
Age: 19.1
Best fit: Jaden McDaniels
The Kings should be in talent accumulation mode, and the former top-five recruit has plenty of that as a slippery 6-5 combo guard who changes ends in a hurry. Should Hampton ultimately share the court with De'Aaron Fox for stretches, Sacramento would have arguably the fastest backcourt in the entire NBA.
In terms of fit, though, adding a big wing such as McDaniels is likely a priority, with Harrison Barnes being the only true wing on the roster. Although McDaniels had an up-and-down season on an underachieving team, it's not easy to find 6-10 forwards who can space the floor, handle in space and provide some versatility defensively. -- Schmitz
---
Tyrese Maxey
Kentucky
PG/SG
Age: 19.4
Best fit: Isaac Okoro
Given DeMar DeRozan's player option, finding a long-term wing starter will surely be a priority for the Spurs.
Okoro has the toughness, unselfishness and defensive versatility that Gregg Popovich covets, but he is still a consistent jump shot away from reaching his full potential. What better place for him to hone that part of his game than with the Spurs?
If San Antonio is unable to move up high enough in the lottery to pick Okoro, a versatile guard such as Maxey could also fit. -- Givony
---
Cole Anthony
North Carolina
PG/SG
Age: 19.8
Best fit: Aaron Nesmith
The Blazers haven't been afraid to swing on talent over positional need in the past, and Anthony entered the collegiate ranks with arguably as much buzz as any player in his class.
Adding another floor-spacing wing alongside Damian Lillard and CJ McCollum also makes a lot of sense here. Six-foot-6, 215-pound Nesmith would provide instant shooting for Portland, as he knocked down 52% of his 3s on 115 attempts before going down with a foot injury. -- Schmitz
---
Aaron Nesmith
Vanderbilt
SF
Age: 20.4
Best fit: Aaron Nesmith
Continuing to surround Zion Williamson with 3-point shooting is the best way to unlock his game. While Nesmith's college accuracy is likely unsustainable over a larger sample, there is little doubt that he's one of the best shooters in this class, especially off movement. -- Givony
---
Devin Vassell
Florida State
G/F
Age: 19.6
Best fit: Leandro Bolmaro
Vassell's shooting will be coveted on a Celtics team that isn't short on ball handlers, but I'd love to see what 6-7 Argentine playmaker Leandro Bolmaro looks like in Brad Stevens' offense.
Bolmaro brings a nonstop motor, defense and toughness. His activity as a cutter, slasher and ball mover will make him playable early in his career, while his ballhandling and vision give him potential to develop into a big point guard of the future. -- Schmitz
---
16. Minnesota Timberwolves (via Brooklyn)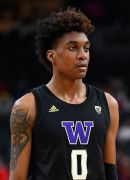 Jaden McDaniels
Washington
SF/PF
Age: 19.5
Best fit: Saddiq Bey
The Timberwolves might look to shore up their wing depth if they elect to draft a guard with their lottery pick. Having a bigger wing who can also slide to the 4 and space the floor for Karl-Anthony Towns would surely be attractive. Although the upside of a project like Jaden McDaniels might be attractive at this stage of the draft, having a more ready option who is adept at defending multiple positions and spacing the floor effectively could be prudent. Bey is a long-armed, 3-point shooting wing with an NBA body and terrific role-playing potential. -- Givony
---
Theo Maledon
Villeurbanne
PG
Age: 18.8
Best fit: Theo Maledon
Having entered the season in our top 10, Maledon has gone from hyped to undervalued because of sporadic playing time with ASVEL and the level of competition in the EuroLeague. But at 6-5 with a strong feel for the game and the ability to play on or off the ball, Maledon would be a seamless fit alongside Markelle Fultz. -- Schmitz
---
Nico Mannion
Arizona
PG
Age: 19.0
Best fit: Aaron Nesmith
Although the passing creativity, deep shooting range and unselfishness of Mannion is tempting, the Bucks likely will be looking to add wing depth and additional shooting to the roster. That makes Nesmith appealing if Milwaukee can snag him with Indiana's pick. -- Givony
---
Saddiq Bey
Villanova
SF
Age: 20.9
Best fit: Saddiq Bey
Luka Doncic is at his best with shooting and defensive versatility around him, and that's exactly what Bey provides. The Villanova product plays a mature game on both ends of the floor and offers NBA-ready skills with his spot shooting and ability to chase around an opponent's best perimeter scorer.
Although not the most explosive athlete, Bey is an underrated playmaker and would certainly fit Dallas' current timeline. -- Schmitz
---
Patrick Williams
Florida State
SF/PF
Age: 18.6
Best fit: Nico Mannion
With Chris Paul turning 35 and Dennis Schroder about to enter the final season of his contract, finding a guard who can complement Shai Gilgeous-Alexander long term will likely be a priority for the Thunder.
If Mannion is still available, he has the type of intangibles the organization covets, along with the shooting range and feel needed to operate in a variety of lineup constructions. If not, Williams makes sense here. -- Givony
---
Josh Green
Arizona
G/F
Age: 19.3
Best fit: Tyler Bey
Given the Nets' timeline with Kevin Durant and Kyrie Irving in the fold, a defensive dynamo such as Bey would make an intriguing fit in Brooklyn. There are prospects on the board touted more highly -- including Green -- but Bey is the type of rebounder and finisher who could make an instant impact alongside star shot creators. -- Schmitz
---
Leandro Bolmaro
Barcelona 2
PG/SG
Age: 19.5
Best fit: Saddiq Bey
Wing depth likely will be a priority for the Nuggets this offseason. A bigger wing like Bey -- who can space the floor, make the extra pass and defend multiple positions -- would elevate a team that is already flush with shot creation.
And if the deep Nuggets go for the best player available, that's likely Bolmaro. -- Givony
---
Robert Woodard II
Mississippi State
SF
Age: 20.5
Best fit: Robert Woodard II
Already loaded with once-undervalued prospects in Tyler Herro, Bam Adebayo, Duncan Robinson and Kendrick Nunn, the Heat could get another potential value pick in Woodard. At 6-7, 230 pounds with a 7-1 wingspan, huge hands and greatly improved shooting stroke, Woodard would give Erik Spoelstra additional depth at the combo forward spot behind Jae Crowder. -- Schmitz
---
Kira Lewis Jr.
Alabama
PG
Age: 19.0
Best fit: Kira Lewis Jr.
The Jazz will have to wait on Mike Conley's $34 million player option decision, but they are likely to be in the market for depth at point guard regardless.
This class is flush with young guard prospects to groom for the future, and Lewis' speed, unselfishness, creativity and budding shot-making give him a great framework, especially considering he's younger than most freshmen projected to be drafted. -- Givony
---
25. Oklahoma City Thunder (via Denver)
Jahmi'us Ramsey
Texas Tech
SG
Age: 18.8
Best fit: Jalen Smith
Ramsey is the likely pick here for now, but I like the fit with Maryland's Jalen Smith.
Fresh off a season in which he averaged 15.5 points, 10.5 rebounds and 2.4 blocks while shooting 60% from 2 and 37% from 3, Smith is an ideal big to pair with Shai Gilgeous-Alexander. Often earning comparisons to a smaller Myles Turner, Smith should be considered one of the top non-lottery sleepers, especially for a Thunder team that could use a floor-spacing, shot-blocking big. -- Schmitz
---
26. Boston Celtics
Isaiah Stewart
Washington
C
Age: 18.8
Best fit: Isaiah Stewart
The Celtics cycled through different options at center this season and should look to the draft to improve their depth inside. Stewart brings toughness, intensity and physicality to every possession, making him a solid fit on a roster with plenty of shot creation and scoring. -- Givony
---
27. New York Knicks (via LA Clippers)
Vernon Carey Jr.
Duke
C
Age: 19.1
Best fit: Payton Pritchard
While the Knicks are likely set on finding their point guard of the future with their top-10 pick -- and Carey will be appealing this late in the first round -- Pritchard could help turn the franchise around with his shooting and toughness. He shoots it from 30-plus feet with ease, makes most basic reads and displays underrated defensive skills. Pritchard also fits well alongside shot-creating wings such as RJ Barrett thanks to his ability to space the floor off the catch. -- Schmitz
---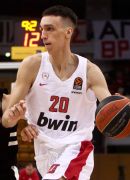 Aleksej Pokusevski
Olympiakos B
PF
Age: 18.2
Best fit: Isaiah Stewart
The Raptors have never been shy about investing resources in prospects needing long-term development. A 7-footer who can dribble, pass and shoot, Pokusevski wouldn't have been eligible for the draft had he been born six days later, making him one of the youngest players ever projected to be drafted in this age-limit era. With Serge Ibaka and Marc Gasol passing their prime, the Raptors might look at the plethora of big men available here. -- Givony
---
Cassius Winston
Michigan State
PG
Age: 22.1
Best fit: Skylar Mays
One of the most polished pick-and-roll point guards in the draft, Winston would give the Lakers a much-needed boost at the backup PG spot with his handle, craft, touch and feel. I'm also fascinated by LSU's Skylar Mays and his potential fit alongside LeBron James or, in the second unit, Alex Caruso. The 6-4 senior is a combo guard who can run the show in a pinch, knock down open spot 3s, play pick-and-roll and defend point guards thanks to his toughness and instincts. -- Schmitz
---
30. Boston Celtics (via Milwaukee)
Jalen Smith
Maryland
PF
Age: 20.0
Best fit: Cassius Winston
Smith would be a nice addition to Boston's frontcourt, but having a cheap yet productive backup point guard behind Kemba Walker will be appealing here as well. And Winston's pick-and-roll prowess combined with his 3-point ability is highly attractive in today's NBA. -- Givony
---
Second Round
31. Mavericks (via Warriors)
Udoka Azubuike | Kansas | C | Age: 20.5
32. Hornets (via Cavaliers)
Devon Dotson | Kansas | PG | Age: 20.6
33. 76ers (via Hawks)
Daniel Oturu | Minnesota | C | Age: 20.5
34. Timberwolves
Zeke Nnaji | Arizona | C | Age: 19.2
35. Kings (via Pistons)
Tyler Bey | Colorado | PF | Age: 21.1
36. 76ers (via Knicks)
Payton Pritchard | Oregon | PG | Age: 22.1
37. Wizards (via Bulls)
Keyontae Johnson | Florida | SF | Age: 20.8
38. Knicks (via Hornets)
Tre Jones | Duke | PG | Age: 20.2
39. Pelicans (via Wizards)
Jordan Nwora | Louisville | SF/PF | Age: 21.5
40. Grizzlies (via Suns)
Amar Sylla | Oostende | PF/C | Age: 18.5
41. Kings
Corey Kispert | Gonzaga | SF | Age: 21.0
42. Spurs
Abdoulaye N'doye | Cholet | PG/SG | Age: 22.0
43. Blazers
Jared Butler | Baylor | PG/SG | Age: 19.6
44. Pelicans
Malachi Flynn | San Diego State | PG | Age: 21.9
45. Bulls (via Grizzlies)
Grant Riller | Charleston | PG/SG | Age: 23.1
46. Celtics (via Nets)
Skylar Mays | LSU | PG/SG | 22.5
47. Magic
Elijah Hughes | Syracuse | SG/SF | Age: 22.0
48. Pacers
Cassius Stanley | Duke | SG/SF | Age: 20.6
49. Warriors (via Mavericks)
Reggie Perry | Mississippi State | PF/C | Age: 20.0
50. Thunder
Xavier Tillman | Michigan State | C | Age: 21.2
51. 76ers
Paul Reed | DePaul | PF | Age: 20.8
52. Hawks (via Rockets)
Kenyon Martin Jr. | IMG Academy | SF/PF | Age: 19.2
53. Kings (via Heat)
Ashton Hagans | Kentucky | PG | Age: 20.7
54. Warriors (via Jazz)
Killian Tillie | Gonzaga | PF/C | Age: 21.9
55. Nets (via Nuggets)
Paul Eboua | Pesaro | PF/C | Age: 20.1
56. Hornets (via Celtics)
John Petty | Alabama | SG/SF | Age: 21.3
57. Clippers
Nick Richards | Kentucky | C | Age: 22.3
58. Raptors
Immanuel Quickley | Kentucky | PG | Age: 20.8
59. 76ers (via Lakers)
Desmond Bane | TCU | SG | Age: 21.7
60. Pelicans (via Bucks)
Markus Howard | Marquette | PG | Age: 21.0