The 1990s Chicago Bulls will always be remembered as Michael Jordan's team, but the triumphant basketball dynasty was bookended by virtuosic performances that go beyond the GOAT.
Scottie Pippen and Dennis Rodman provided the team with defensive greatness that helped ensure the Bulls went a perfect 6-0 in the NBA Finals.
Both not only helped Chicago win all those rings, but they also reshaped the NBA in the process, foreshadowing some of the league's major trends.
Heading into Episodes 3 and 4 of "The Last Dance" (Sunday, 9 p.m. ET on ESPN and the ESPN App), let's dive into what made both wings special -- and how we still see that influence in today's game.
MORE: Watch replays of "The Last Dance" Episodes 1 and 2
---
The prototype
The Bulls' dynasty started late in the first quarter of Game 2 of the 1991 Finals.
Chicago had lost Game 1 at home against Magic Johnson and the Los Angeles Lakers, making Game 2 the Bulls' biggest game ever. Win and they would tie the series, lose and they would be down 2-0 to an organization that had won five of the previous 11 NBA titles.
Coach Phil Jackson started the series with Jordan on Johnson, which made sense. By that time, Jordan was a perennial first-team All-NBA defender. But even MJ struggled to contain Magic. Jordan was in foul trouble throughout Game 1 and Johnson's triple-double propelled the Lakers to a huge road victory. When Jordan picked up his second foul just eight minutes into Game 2, it appeared that the Bulls were in deep trouble.
That's when 25-year-old Pippen slid over to defend the greatest point guard ever. It was an adjustment made out of necessity, but a masterstroke nonetheless. Pippen and the Bulls immediately forced a shot-clock violation. After a quick layup by Horace Grant on the other end, Pippen picked up Johnson at three-quarters court, hounding him as he struggled to initiate the Lakers' half-court set. The crowd picked up on the intensity and started cheering on Pippen's effort.
Sensing the moment, Johnson never passed the ball. Instead, he went and backed down Pippen. The two had bumped and danced for 60 feet all by themselves, with the other eight players watching. By the time they reached the left block, the Bulls crowd was in a frenzy.
Johnson spun into the paint and forced an impossible shot around Pippen's endless arms. It missed badly. The climate of the entire series was changing. On the other end, Jordan, now liberated from defending Johnson, quickly found Bill Cartwright for an easy layup. As the Lakers inbounded the ball to Johnson, Pippen was awaiting him at the free throw line.
Johnson dribbled across midcourt and called for timeout. The series was never the same. The Lakers were never the same. The league was never the same.
When Pippen took over the Johnson assignment, the Bulls held a narrow 20-18 lead. They went on to outscore the Lakers 87-68 the rest of the way, with Johnson ending the game having shot 4-for-13.
"They were trying [to] wear me out or take the ball out of my hands, take your pick," Johnson said after the game. "Scottie is more physical than Michael so the matchup was a little different."
Pippen spent a lot more time guarding, pressing and trapping Magic the rest of the series. The Bulls won four consecutive games and their first NBA championship.
Johnson had never seen a defender quite like Pippen. Nobody had.
Bulls beat Lakers to clinch first title
On this date in 1991, the Bulls defeat the Lakers to win their first NBA title, rebounding from a devastating 1990 Eastern Conference loss to the rival Pistons.
In some ways, Pippen was to defense what Johnson was to offense. Johnson combined skills and size on offense in ways that, at the time, made him the most gifted perimeter playmaker in NBA history. At 6-foot-8, 210 pounds, Pippen was strong enough to handle size but athletic enough to handle quickness, too. Oh, and about those arms -- Pippen's 7-foot-3 wingspan enabled him to constantly snag rebounds, block jumpers and deflect passes that would've been out of reach for normal players.
In the parlance of today's NBA, Pippen had switchability. He could guard every position at an elite level, but that was just the beginning. Pippen wasn't just a maniacally confident on-ball pest, he was also a ferocious help defender with impeccable timing, displaying the kind of great instincts that come only with being a superb overall talent.
"We had to worry about Scottie on defense the same way we had to worry about the league's other great players on offense," former opponent Brent Barry told ESPN.
Pippen was the Honey Badger of the NBA.
Opposing coaches would have to account for Pippen's defense in their game plans, but his offense wasn't bad, either. He was one of the best transition scorers in the league, and also could fill it up within half-court sets. His shot chart from 1996-97 -- his last All-Star season -- reveals that he was a threat in the paint, in the midrange and from downtown.
(Pippen drilled nearly 37% of his more than five 3-point attempts per game behind the shorter, 22-foot line. When the line moved back to its current position for the 1997-98, his accuracy dipped to around 32%.)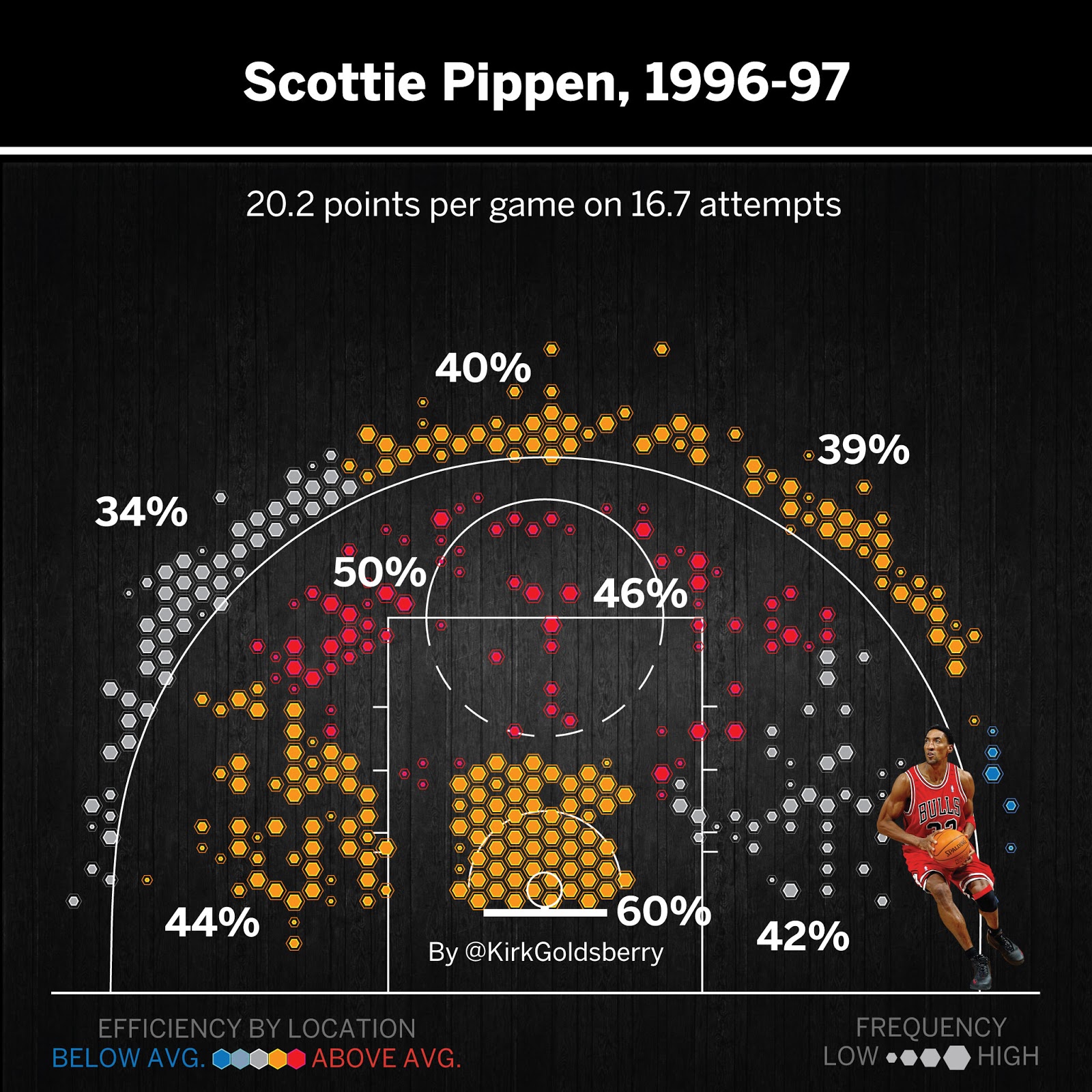 As the Bulls finished off the Lakers in Game 5 of the 1991 Finals, Pippen showed the world his offensive power, finishing the game with 32 points, 7 assists, 13 rebounds and 5 steals. He played all 48 minutes as the Bulls ended the Lakers' dynasty and started their own.
Pippen left his own legacy on the game. The top 50 of ESPN's 2019-20 real plus-minus -- which estimates a player's true on-court impact -- is filled with big, switchy wings who provide real offensive value. These are the kinds of players who earn huge paydays in free agency -- way more than Pippen made with the Bulls.
Looking at the list of recent Finals MVPs, it's impossible not to see Pippen's impact. Many of today's most impactful players are built like Pippen. From Kawhi Leonard to LeBron James to Andre Iguodala, famously clutch playoff performers play a lot like Pippen. It turns out two-way greatness comes in handy when games matter the most.
In Episode 2 of "The Last Dance," Pippen tells us his basketball idol growing up was Julius Erving. That makes sense -- Dr. J was one of the first superstars to show us that leaping rim attacks could be both beautiful and effective. But with all due respect to the Doctor, Erving didn't play D like Pippen, and today's most valuable wings are able to lock down in ways that evoke Scottie more than Julius.
Pippen's legacy suffers a bit from a natural offensive bias in basketball discourse. The iconic image from Game 2 of the 1991 NBA Finals will always be Jordan's breathtaking, hand-switching lay-in. And it should be. But the Bulls' triumph over the Lakers was possible thanks only to Pippen's defense, specifically his ability to single-handedly frustrate an all-time point guard.
Two decades later, both Leonard (2014) and Iguodala (2015) would win Finals MVP for remarkable defensive performances against James, who is the closest player we've ever seen to Magic. Those great performances evoked Pippen as much as they did Jordan.
The vital dirty work
The Bulls' dynasty ended in 1998 in Utah, as Chicago upended Karl Malone and the Utah Jazz. Instead of Magic, the Jazz had the Mailman, one of the most dominant power forwards to ever play the game.
Although that series will always be remembered for the shot that ended it, the Bulls wouldn't have won without the services of the famously enigmatic Rodman. Rodman was the perfect foil for Malone, both physically and mentally. He pestered, he taunted and he contained Utah's best player.
How good was Malone? Back in 1997-98, the Mailman was squarely in his prime, the second-best player in the NBA. He won the '97 MVP and finished second in 1998 behind Jordan. He was a monster.
While most pick-and-roll big men specialized either in running to the rim for easy jams or popping out for catch-and-shoot jumpers, Malone could ruin you either way. He was built like Hulk Hogan but had the feathery touch of a great spot-up shooter.
The Mailman could score from every spot in the 2-point area, and if the Bulls had any hopes of beating the Jazz, they'd need Rodman to slow him down. The Jazz repeatedly tested Rodman on the low block, but he held strong.
Pippen: Rodman joining Bulls was 'match made in heaven'
Scottie Pippen and Dennis Rodman reminisce about when Rodman joined the Bulls and how well he fit in with everyone else.
Like Draymond Green for the Golden State Warriors, Rodman didn't have to worry about his own scoring. The Bulls had the best offense in the NBA, despite the fact that Rodman barely scored. He never averaged more than 12 points per game in a season (and Green has done it only once). That doesn't mean Rodman didn't contribute on the offensive end, though.
Rodman's defense against Malone started on offense. The Worm was an absolute menace on the offensive glass. The incredible offensive proficiency of Jordan, Pippen and Toni Kukoc freed up Rodman to perpetually bug Malone by chasing offensive boards. Stopping the Bulls didn't just mean forcing Jordan and Pippen to miss shots -- as if that wasn't hard enough -- it meant forcing Rodman and his teammates to miss rebounds, too.
During the 1996-97 season, Rodman grabbed a ridiculous 19% of available offensive rebounds. Malone had to expend a lot of energy trying to clean the glass just to get stops during the '97 and '98 Finals matchups. To Malone's credit, he won the rebounding battles against Rodman more than he lost them, but the effort slowed down his overall game.
The Bulls held Malone below his season scoring average in all four of their victories in the '97 Finals. Even though Malone won the MVP award that regular season, Jordan took home the Finals MVP, thanks in part to the major defensive contributions of a teammate. After converting 55% of his shots during the regular season, Malone made only 44% in the Finals, as Rodman and the Bulls effectively reduced the Mailman to an average-efficiency scorer.
It was more of the same in 1998. Rodman and the Bulls were once again to keep Malone in check, and they did. After Game 3 of that series, legendary Utah Jazz coach Jerry Sloan was left stunned.
"I don't know if I've ever seen a team play any better defensively since I've been in the business," Sloan said. "And they ate us alive. We couldn't get into our offense, couldn't get up the floor. They came out and got after us. I don't know if I've ever seen a team that quick defensively."
Even though Rodman didn't start any of the six games in the '98 Finals, his presence was massive. He ended up fourth on the team in total minutes played, behind Jordan, Pippen and Kukoc.
Jackson used both Luc Longley and Rodman on Malone, but he aligned Rodman's minutes with those of Malone in key stretches. Rodman's masterpiece that year came in Game 4.
Malone torched Longley early and often, scoring 17 of his 21 points that night with that matchup. However, Rodman completely frustrated Malone in crunch time. Aside from a meaningless garbage-time layup, Rodman shut the Mailman out entirely as Chicago took a commanding 3-1 series lead. Just as Pippen had done in '91, Rodman supplied absolutely vital dirty work.
In some ways, Rodman was a once-in-a-lifetime player. The dude couldn't care less about scoring and lived to rebound and play great defense. That was a rare bird then, and it's a rare bird now.
Through another lens, though, Rodman's athleticism and defensive flexibility at 6-foot-7 provided a blueprint that Green's game expanded. Green doesn't rebound like Rodman did, but he provides more offensive value elsewhere. And his ability to slide all the way up and guard bigs -- like Rodman could -- is something teams now desperately seek in the draft. That wasn't always the case.
After one stunning defensive performance in 2014, Green was asked about old draft profiles that criticized his potential on that end. Green's response: "They said I fell in the draft because, 'What position would I guard?' I'll never forget that." The eventual answer, of course, was basically all of them.
You see some traces of Rodman and Green in a singular prospect like Zion Williamson. This blend of abilities is highly coveted and rarely there. But we know it when we see it, and it's amazing.