In "The Last Dance," we witness Michael Jordan and the Chicago Bulls en route to their sixth and final NBA championship. It's been a trip, transporting us back in time to a style of play that we will never see again.
Since the Bulls' run to the 1998 title, we've seen dynasties grow in San Antonio, Los Angeles and Oakland. We've witnessed LeBron James become the best player in the world and appear in eight straight NBA Finals. But most of all, we've watched the look and feel of pro basketball completely shift.
Here are seven ways in which the NBA is completely different now than it was two decades ago:
• Jordan propelled the league to new heights, resulting in today's players making a lot more money. But while paychecks are up across the board, some kinds of players are doing better than others.
It's no surprise MJ was the highest-paid player in 1997-98, making $33.1 million that season. But looking back at the league's other highest-paid players from that season shows us just how much the league's values have transformed over the past two decades.
Check this out:
According to research from ESPN's Bobby Marks, eight of the 10 highest-paid players in the NBA in 1997-98 were centers.

No center is among the league's top 20 earners in 2019-20.
Since the "Last Dance" season, the game has turned inside out. You can see evidence of that on every cap sheet around the league. Teams used to save their biggest checks and their highest draft picks for bigs, but those days are fading quickly.
The five highest-paid players in the league are now point guards, and only two or three power forwards fall in the top 20, depending on how you identify Tobias Harris.
• Size and strength are by no means obsolete, but they have never been easier to replace. Due to rule changes and the league's analytical awakening, teams are less eager to spend sacred cap resources on power forwards and centers with the 10 years of experience necessary to notch a $40 million annual salary.
On the list of highest-paid players, you don't get to a center until No. 22 ... and that's Kevin Love, who none of us even called a 5 until recently. Folks, there's nothing central about Love's offensive game. The dude averages more 3-point tries per 36 minutes than Reggie Miller or Ray Allen ever did.
When the 2019-20 NBA season was suspended, Love was hoisting up 7.9 3s per 36 minutes (down from 8.8 in 2018-19). Miller never eclipsed 6.5, and Allen never tried more than 7.8.
• Bigs used to be the quarterbacks of this league, but now guards and wings take all the snaps. Since the Jordan era, we've traded in post-ups for pick-and-rolls. These numbers, per Synergy Sports tracking, are stunning:
In 2004-05, an average NBA game included 18.5 pick-and-roll plays. This year, that figure reached 41.8.

In 2004-05, an average NBA game included 22.7 post-up plays. This year, that number crashed down to 10.6.
If you went to an NBA game 15 years ago, you were more likely to see a bruising center or big wing run a post-up action than any kind of pick-and-roll. Now you're four times as likely to see ball handlers running the show off ball screens.
In 1997-98, the best player in the world was a post-up shooting guard who loved to shoot midrange fadeaways. With the exception of LaMarcus Aldridge, no star player regularly does that anymore.
• We live in a pace-and-space world. As plodding bigs have faded from rotations and rosters, the games have gotten faster.
Jordan's own Charlotte Hornets ranked last in pace in 2019-20, averaging 96.2 possessions per game. But that exact tempo would've ranked first in the NBA in 1997-98, when the Boston Celtics were the quickest team with a pace of 94.9.
• During the second three-peat, Jordan's absolute favorite jump shots came from the 2-point areas between the elbows and baselines.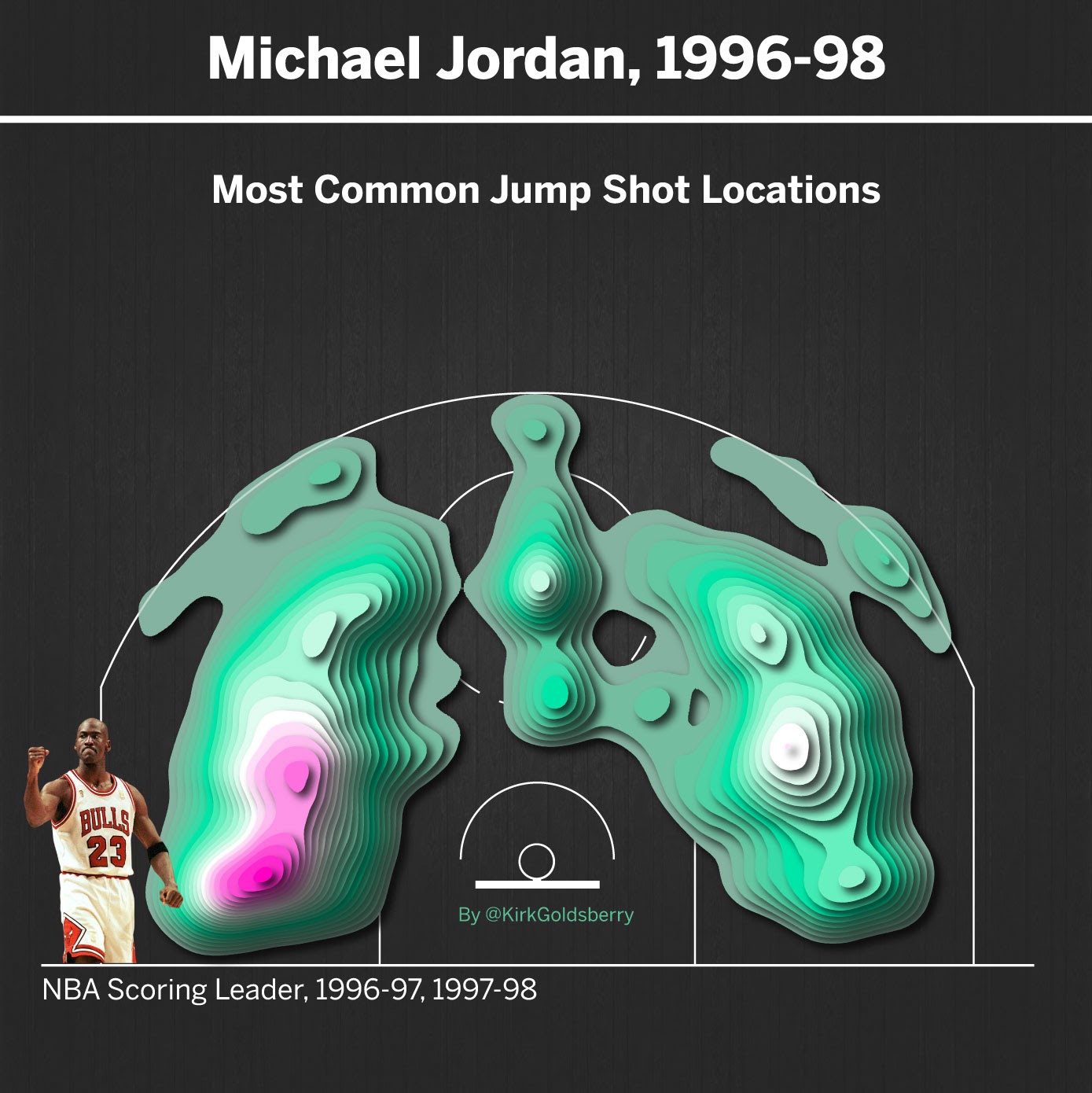 He was not alone -- 2-point baseline jumpers were incredibly popular during that 1996-98 stretch, accounting for 26% of the league's field goal attempts. But Jordan's signature shot itself is fading away.
In 1997-98, 34 different NBA players attempted at least 300 shots from these zones. In 2018-19, only Aldridge tried that many. His 332 attempts would've ranked 29th overall during the "Last Dance" season. In Jordan's NBA, post play was the norm and half-court possessions regularly ended with players such as Jordan, Glenn Robinson, Patrick Ewing and Hakeem Olajuwon shooting fadeaway jumpers from the block.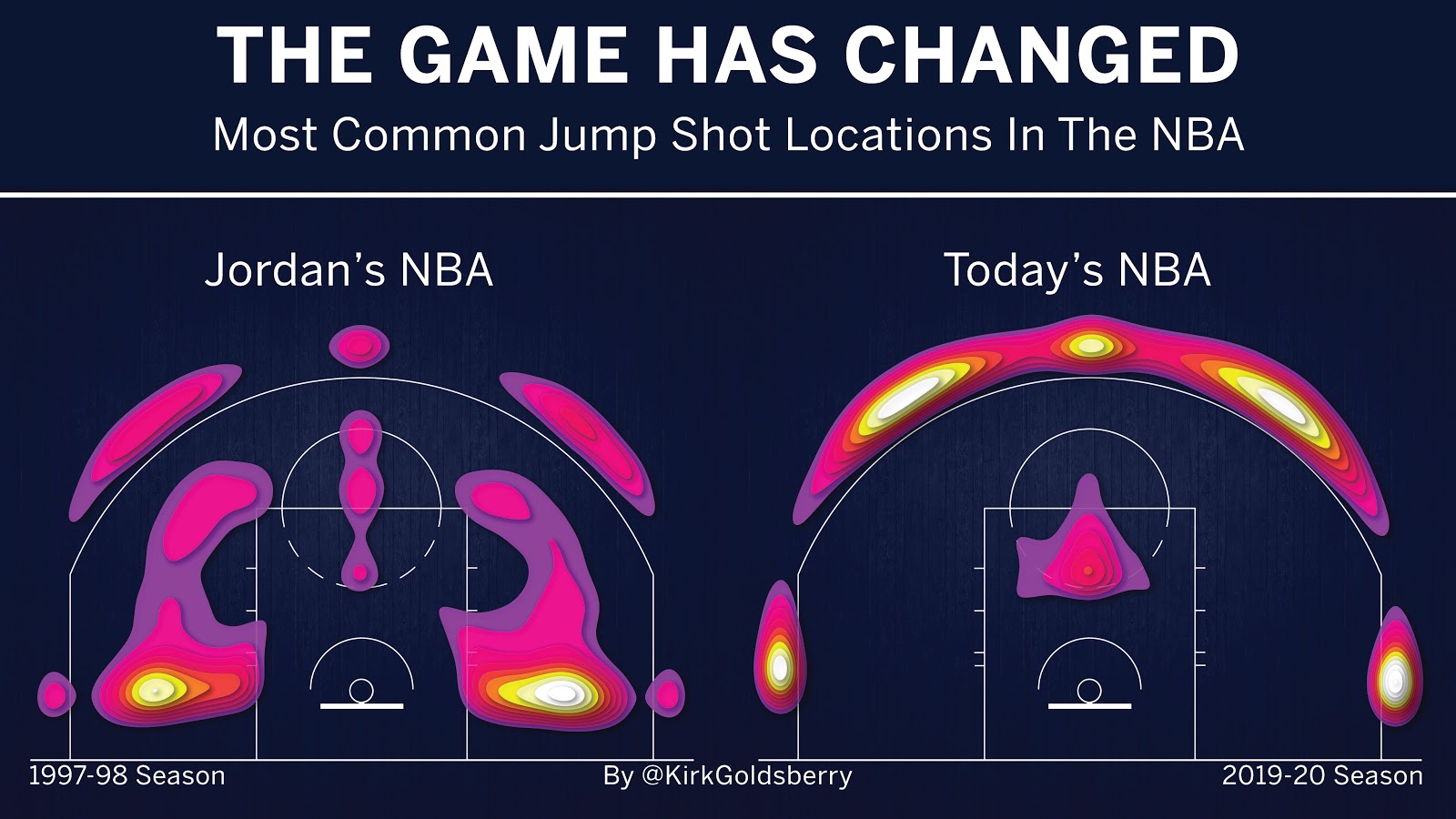 • In 1997-98, MJ launched 869 shots in the midrange areas near the low blocks en route to his 10th scoring title.
Annual scoring champions provide key snapshots of the NBA at large. Jordan was the best scorer of his era because he was the best post-up and midrange shooter of his time. He was the best at what everyone was trying to do.
Last season's leading scorer, James Harden, hoisted up 1,909 total field goal attempts and only 29 of them came from the baseline-2 area MJ made famous. The 1997-98 Bulls attempted 962 3-point shots. Last season, Harden attempted 1,028 by himself.
Like Jordan, Harden is both a caricature of his era's trends and a harbinger of its future. While Jordan's game was perfectly calibrated for the kind of hands-on physical play of the 1990s, Harden's game is perfectly suited for the hands-off, data-driven dogma of today. Technically, these fellas play the same sport. But comparisons across these two eras can get wonky in a hurry.
This graph shows the precipitous decline of baseline 2-point activity between Jordan's last season in Chicago and this season, in which Harden will likely win his third consecutive scoring title: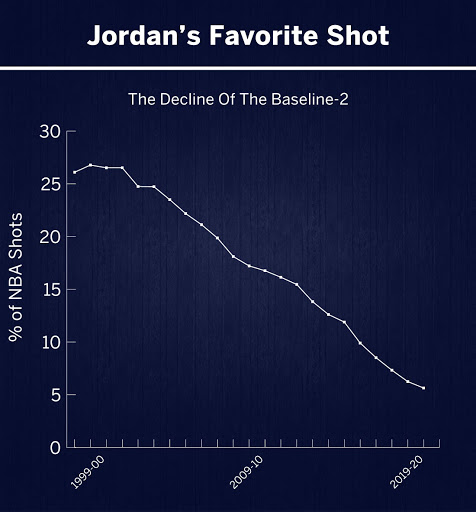 An average NBA game in 1997-98 included more than 40 attempts from midrange baseline areas. During the 2019-20 season, that figure was down to 10.
• In Jordan's era, superstars dabbled in 3s and teams featured one or two catch-and-shoot specialists. Today, long-range shooting is so fundamental that it's quickly becoming a prerequisite skill to even gain entry to the NBA. As a result, while the paint will always be key, the 3-point area has replaced the midrange as the league's other economic hotspot.
Today's NBA teams must not only be able to shoot the 3 but defend the 3 as well. That's no small feat. Defending the 3-point line requires more lateral quickness than defending the midrange. In turn, plodding defensive players such as Roy Hibbert have fallen out of favor, while switchy bigs have become well-paid prototypes.
Looking back at the signature sequence of the 1998 Finals, Jordan swoops in along the baseline and strips the ball from Karl Malone -- one of the finest post-up players in NBA history -- before dribbling down and stepping into an unassisted midrange jumper to win the game. That incredible sequence wasn't just the "Last Dance" for Jordan and the Bulls, it was also the pinnacle of that form of choreography on basketball's biggest stage.
The dance is different now.