Editor's note: This story was originally published on May 5, 2020.
"You're actually rooting for the clothes, when you get right down to it."
This famous line from "Seinfeld" might have been intended to mock sports fandom, but when it comes to uniform appreciation, it's actually appropriate. In this case, we are rooting for the clothes -- the best clothes in NBA history, according to ESPN's NBA experts.
For the purposes of this exercise, we considered a team's jersey set (home, road, alternate) a single entity, unless the styles differed in ways more significant than a color swap, something that has happened more frequently in this era of jersey "editions," some of which are worn only a handful of times each year.
When it comes to jerseys, most people have different tastes, and our panel was no different. But there was near-consensus on the three jerseys that emerged at the top of the list.
MORE: The Bottom 10 jerseys in NBA history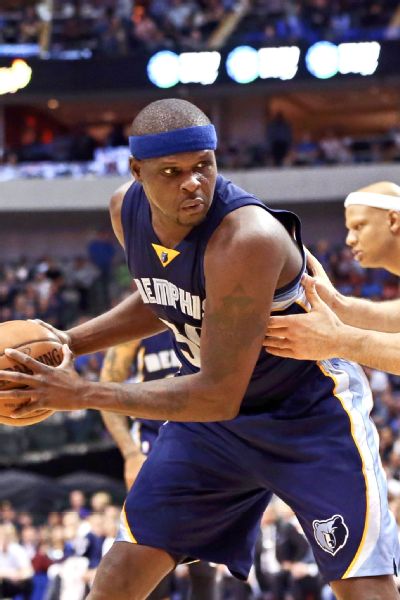 74. Memphis Grizzlies (Grind City Blue)
Seasons worn: 2004-19
Notable players in this look: Mike Conley, Marc Gasol, Tony Allen, Zach Randolph
The Grizzlies dumped the black from their early Memphis years and settled on a set of blue tones that became synonymous with Grit 'N' Grind. -- Adam Reisinger
---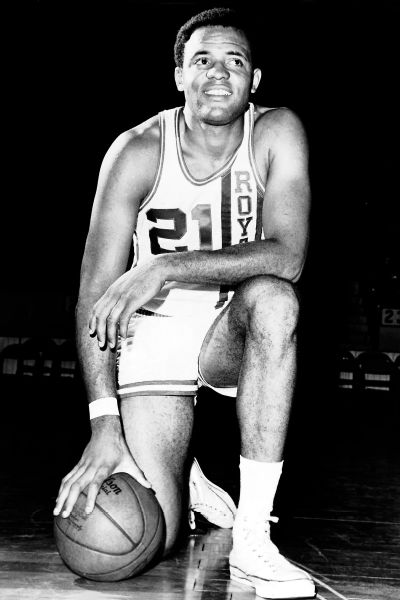 73. Cincinnati Royals (White with stripes)
Seasons worn: 1967-70
Notable players in this look: Oscar Robertson, Jerry Lucas, Tom Van Arsdale
Vertical text doesn't always work on NBA jerseys, but the Royals made it look good with an iconic red, white and blue color scheme. -- Reisinger
---
72. Philadelphia 76ers (Red 'SIXERS')
Seasons worn: 1994-97
Notable players in this look: Allen Iverson, Jerry Stackhouse, Clarence Weatherspoon, Derrick Coleman
Dana Barros wore this No. 3 jersey in 1994-95. Allen Iverson wore the same jersey two years later as a rookie. One of them made it more memorable. -- Dave McMenamin
---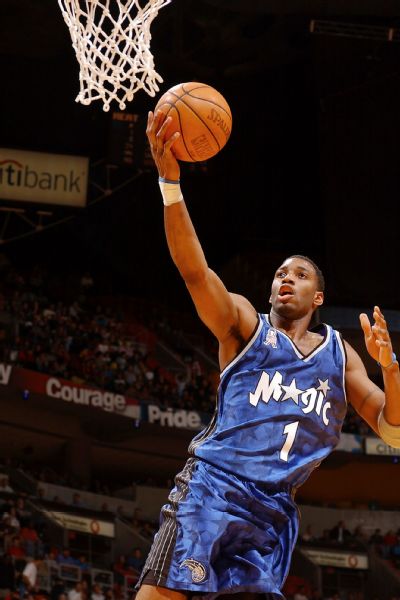 71. Orlando Magic (Sublimated stars)
Seasons worn: 2001-03
Notable players in this look: Tracy McGrady, Mike Miller, Darrell Armstrong, Patrick Ewing
Stars on jerseys have never been as cool as when Tracy McGrady was dropping buckets all over the league in these. -- Nick Friedell
---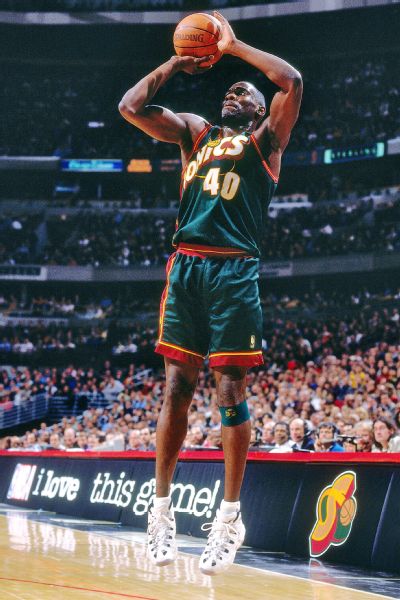 70. Seattle SuperSonics (Space Needle)
Seasons worn: 1995-99
Notable players in this look: Gary Payton, Shawn Kemp, Detlef Schrempf, Hersey Hawkins
It's not the classic Seattle look, but this Space Needle-inspired design is what most people remember when thinking about the Shawn Kemp- and Gary Payton-era Sonics. -- Andrew Lopez
---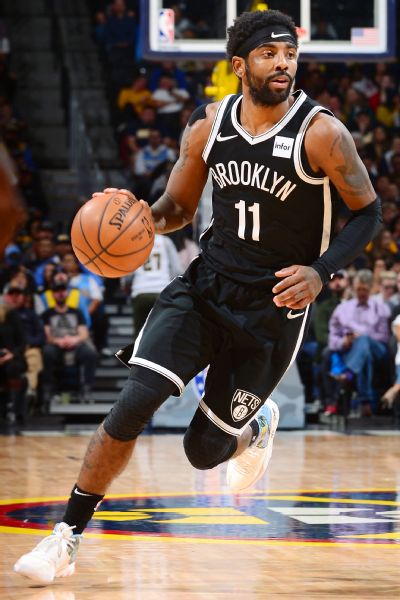 69. Brooklyn Nets (Black and white)
Seasons worn: 2012-present
Notable players in this look: Deron Williams, Brook Lopez, Kevin Garnett, Kyrie Irving
Ditching hues for a clean black and white look was bold. Then-part-owner Jay-Z debuting the jerseys himself in the first-ever Barclays concert became the perfect Brooklyn launch. -- Nick DePaula
---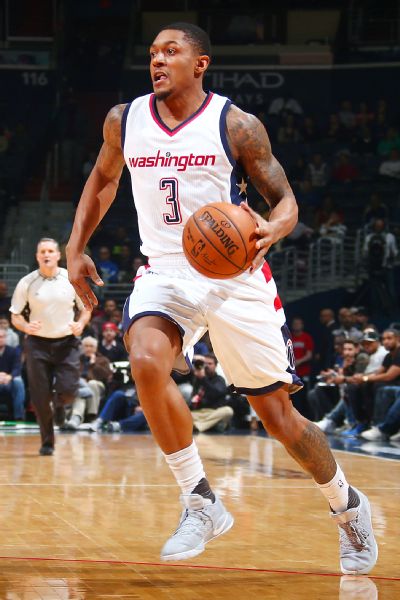 68. Washington Wizards (Stars and Stripes)
Seasons worn: 2016-17
Notable players in this look: John Wall, Bradley Beal, Otto Porter, Markieff Morris
During the 2016-17 season, the Washington Wizards unveiled a "Stars and Stripes" alternate in honor of military servicemen and women. The Wiz broke out the uniform for every home game during their 2017 playoff run. -- Aaron Dodson
---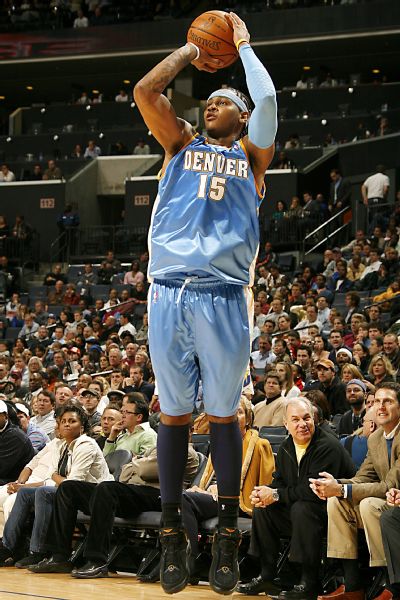 67. Denver Nuggets (Blue Dazzle)
Seasons worn: 2003-08
Notable players in this look: Carmelo Anthony, Allen Iverson, Kenyon Martin, Marcus Camby
This is one of those jerseys that just screams 2000s. The dazzle cloth version stands out above the set that just followed it. -- Lopez
---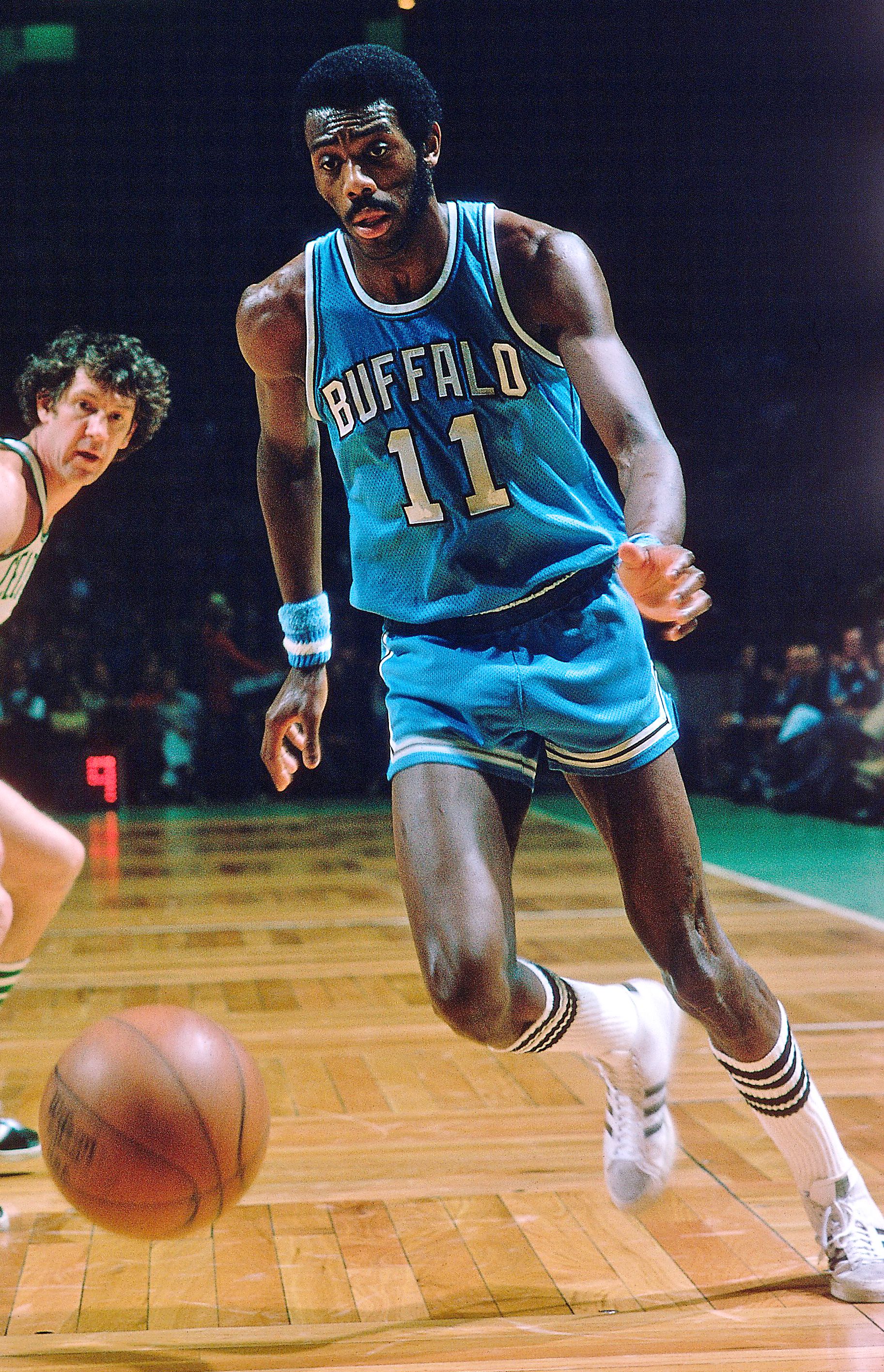 66. Buffalo Braves (Baby blue)
Seasons worn: 1973-77
Notable players in this look: Bob McAdoo, Randy Smith, Adrian Dantley, Gar Heard
Simple and smooth -- that blue stood out even in a city known for its perpetually snowy and gray demeanor. -- Friedell
---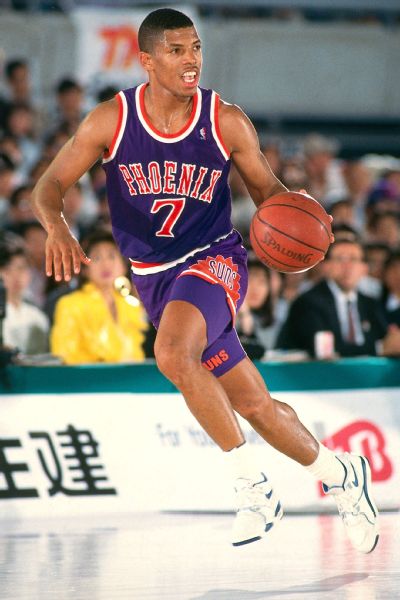 65. Phoenix Suns (Western blue)
Seasons worn: 1973-92
Notable players in this look: Alvan Adams, Walter Davis, Kevin Johnson, Tom Chambers
The Suns tweaked their original jerseys by adding a "Western" font, and the look was so good it lasted nearly two decades. -- Reisinger
---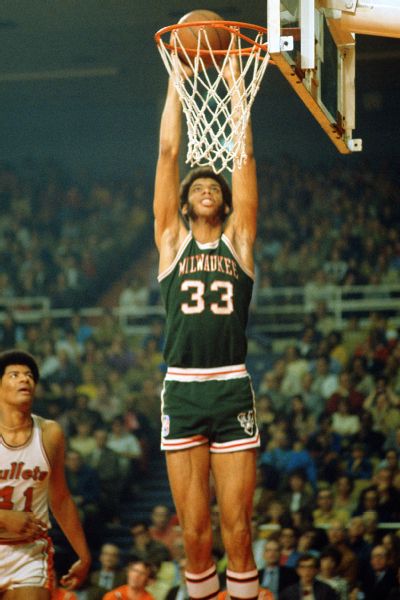 64. Milwaukee Bucks (Classic green)
Seasons worn: 1968-73
Notable players in this look: Kareem Abdul-Jabbar, Jon McGlocklin, Bob Dandridge, Oscar Robertson
There isn't a lot going on here, but sometimes simpler is better, especially when your franchise won its only title in this look. -- Reisinger
---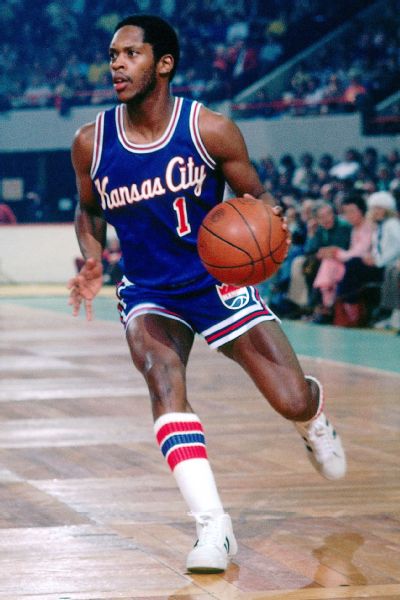 63. Kansas City Kings (Blue/white script)
Seasons worn: 1972-75
Notable players in this look: Nate Archibald, Sam Lacey, Jimmy Walker, Nate Williams
The swooping underline and subtle crown accent atop the script "Kings" font can still be seen throughout the franchise's identity, even well after the franchise moved to Sacramento. -- DePaula
---
62. Philadelphia Warriors (Original blue)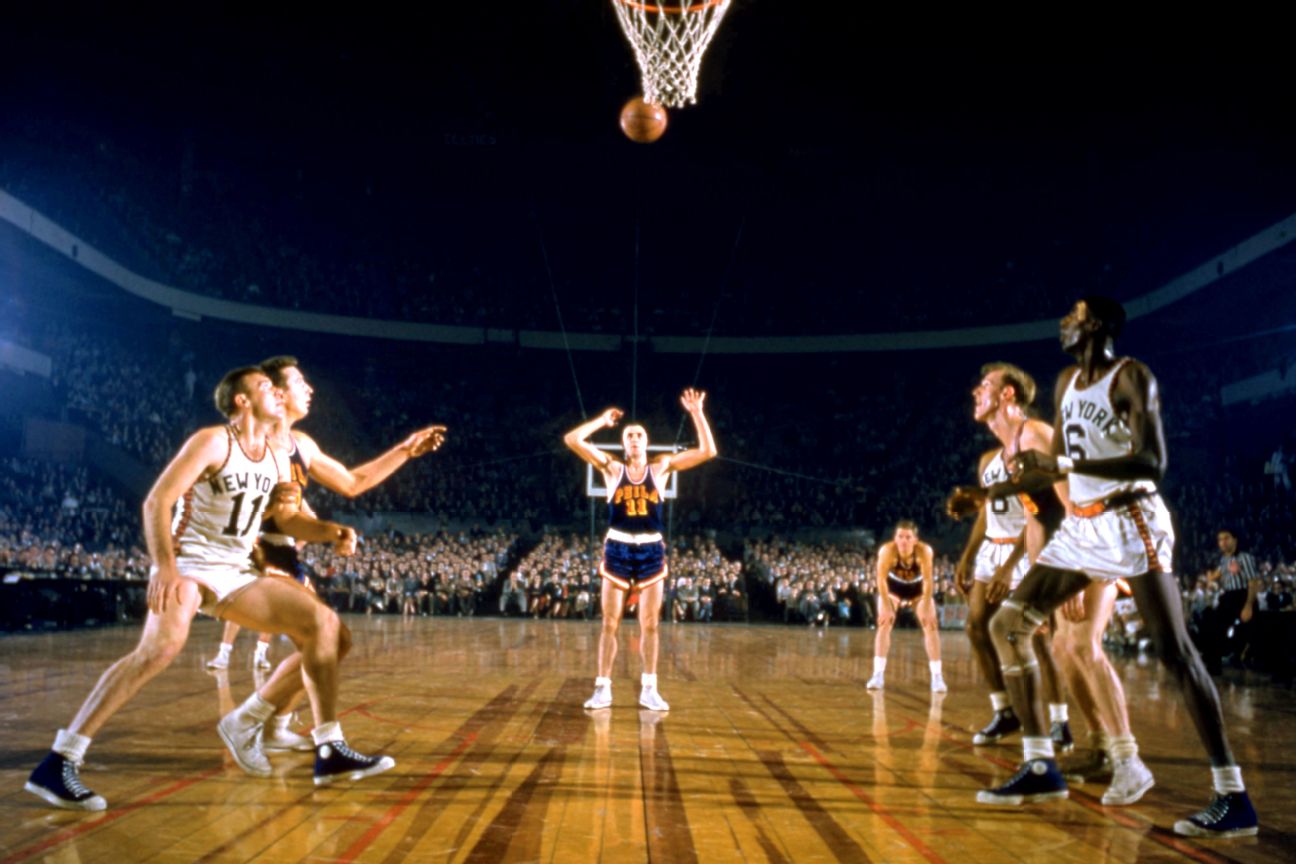 Seasons worn: 1946-62
Notable players in this look: Wilt Chamberlain, Paul Arizin, Neil Johnston, Tom Gola
The Warriors landed five different spots on our list, this one for the jerseys in which Wilt Chamberlain began his Hall of Fame career. -- Reisinger
---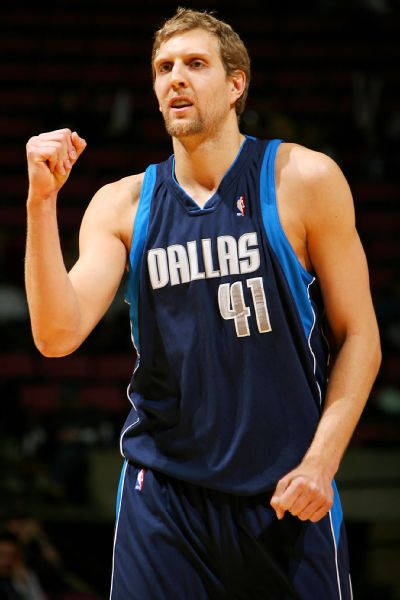 61. Dallas Mavericks (Modern navy)
Seasons worn: 2001-09
Notable players in this look: Dirk Nowitzki, Steve Nash, Jason Terry, Michael Finley
Mark Cuban's first goal upon buying the Mavs was modernizing the franchise. Their sleekened and colorblocked navy new look has carried the team ever since. -- DePaula
---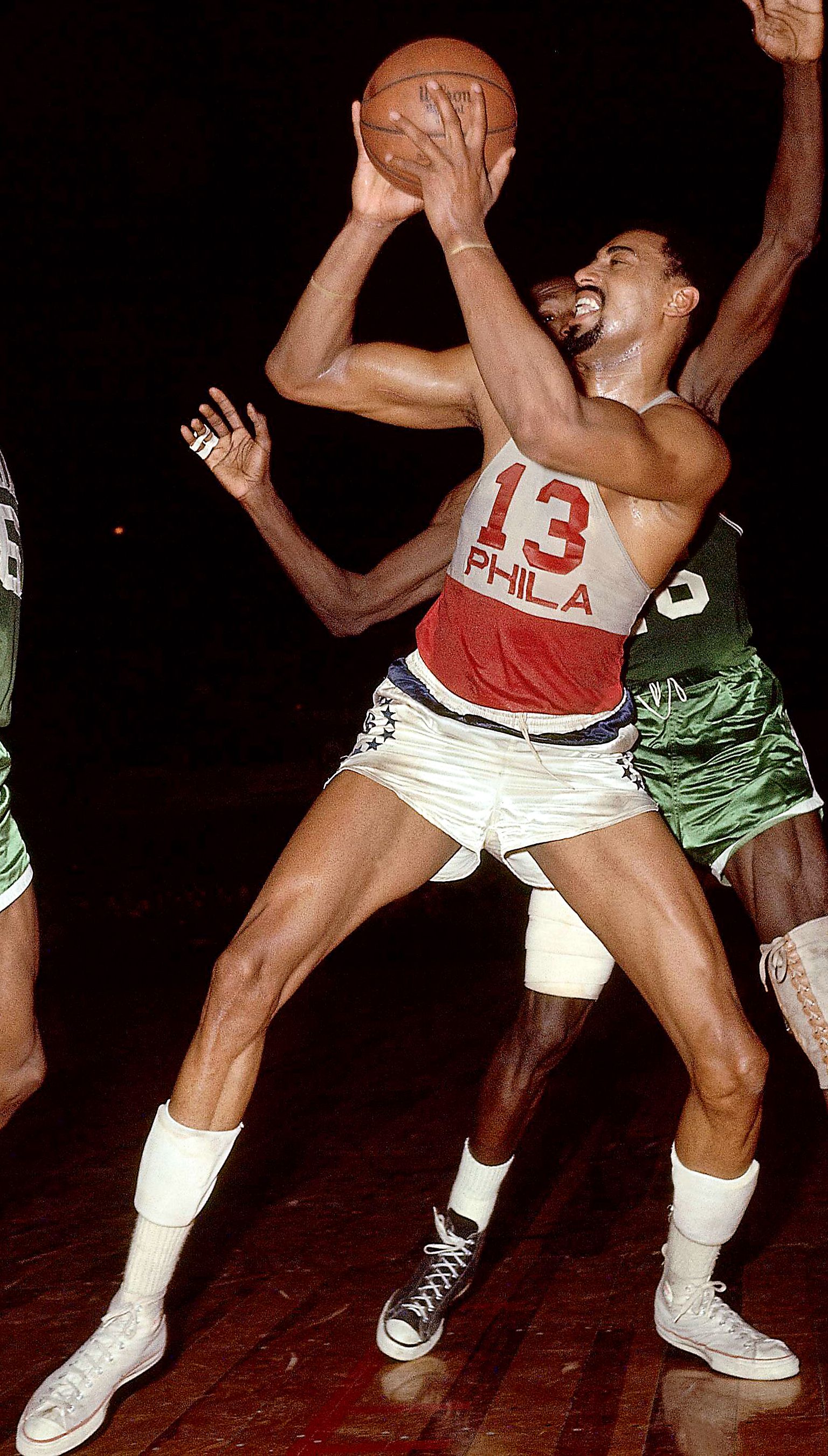 60. Philadelphia 76ers (Two-tone PHILA)
Seasons worn: 1965-66
Notable players in this look: Wilt Chamberlain, Hal Greer, Billy Cunningham, Chet Walker
Two-tone doesn't always work. This is one of those times where it does with the classic "PHILA" across the chest. -- Lopez
---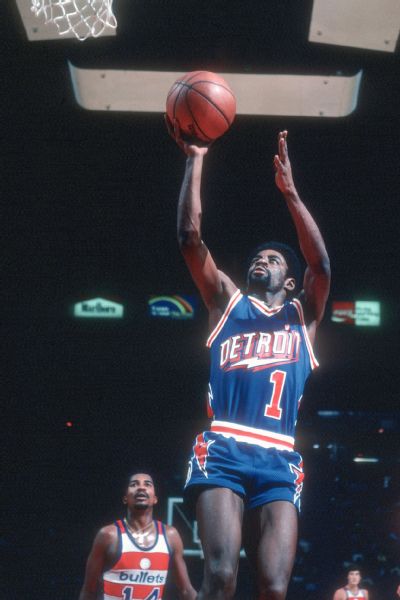 59. Detroit Pistons (Lightning bolt)
Seasons worn: 1978-81
Notable players in this look: Bob Lanier, John Long, Terry Tyler, Kent Benson
The lightning bolt that extends from the side of the jersey down to the shorts is an incredible design element that makes this a memorable look. -- Reisinger
---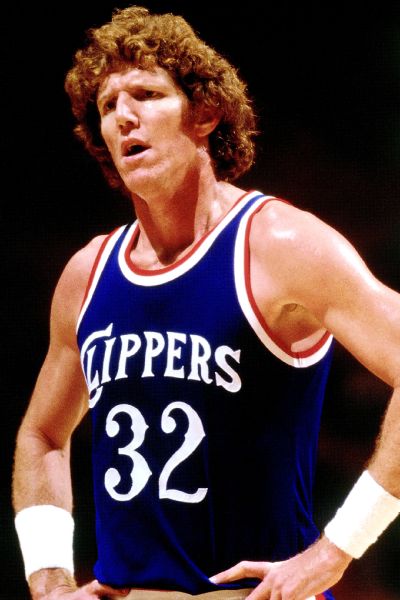 58. L.A. Clippers (Royal blue)
Seasons worn: 1984-87
Notable players in this look: Bill Walton, Michael Cage, Marques Johnson, Derek Smith
In 1984, the Clippers moved from San Diego to Los Angeles and changed their colors from light blue/orange to royal blue/red. New team uniforms delivered a new "CLIPPERS" font, marked by a Pacman-esque "C." -- Dodson
---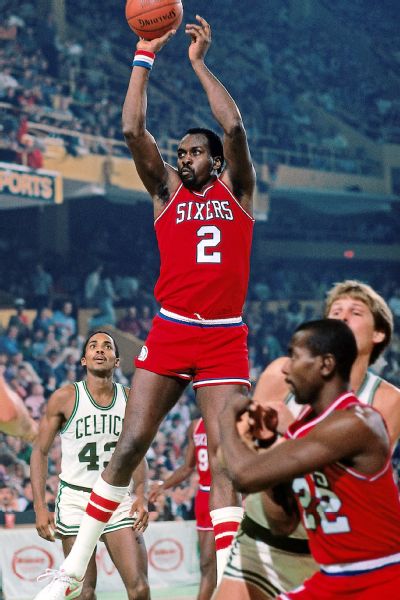 57. Philadelphia 76ers (Classic red)
Seasons worn: 1978-91
Notable players in this look: Charles Barkley, Julius Erving, Moses Malone, Mo Cheeks
This is the longest-lasting jersey in 76ers history, and with good reason. Simple, understated, classic, in bold, beautiful colors that helped raise a banner. -- Reisinger
---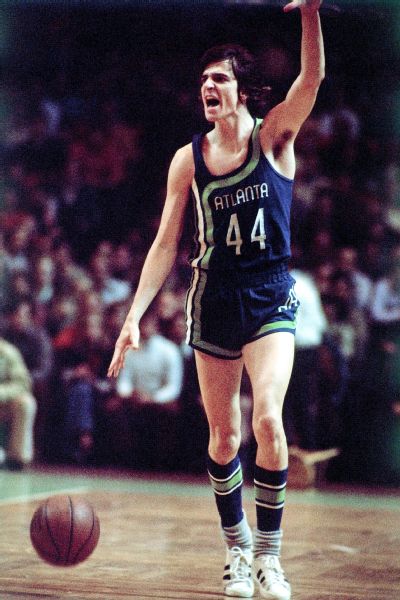 56. Atlanta Hawks (Neon stripe)
Seasons worn: 1970-72
Notable players in this look: Pete Maravich, Walt Bellamy, Lou Hudson, Walt Hazzard
Pistol Pete flipping crosscourt and behind-the-back passes in these jerseys makes them a classic look worth remembering. -- Friedell
---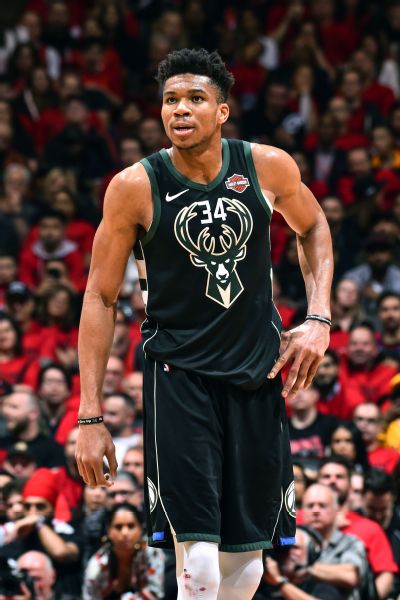 55. Milwaukee Bucks (Statement edition)
Seasons worn: 2017-19
Notable players in this look: Giannis Antetokounmpo, Khris Middleton, Eric Bledsoe, Brook Lopez
Big logos replacing a team name or city wordmark is a recipe for disaster, but the Bucks pulled it off. Extra credit for the numbers in between the antlers. -- McMenamin
---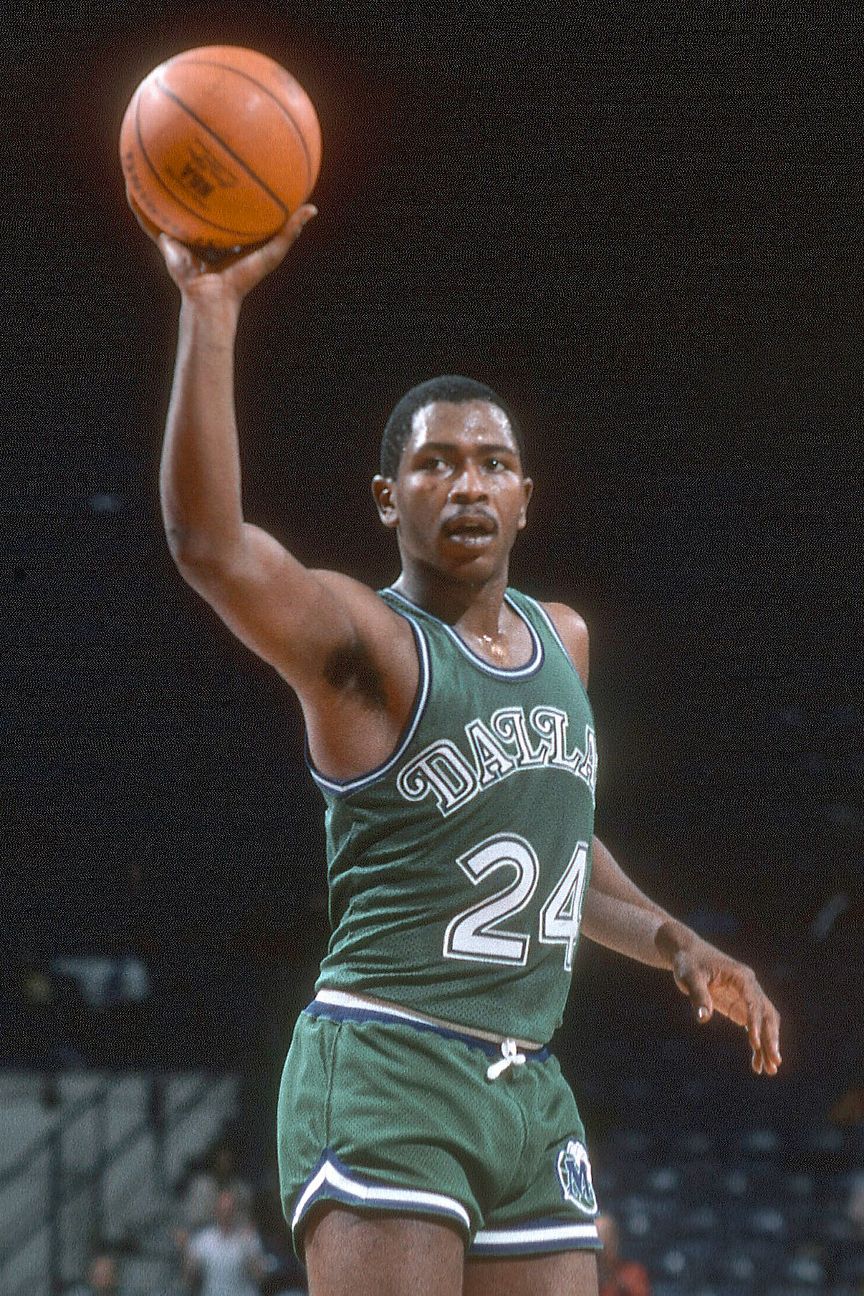 54. Dallas Mavericks (Classic green)
Seasons worn: 1981-92
Notable players in this look: Rolando Blackman, Derek Harper, Mark Aguirre, Brad Davis
Why this look and not the blue of Dirk's rookie year? Two words: Curly L's. The unique font over the green background makes this stand out. -- Reisinger
---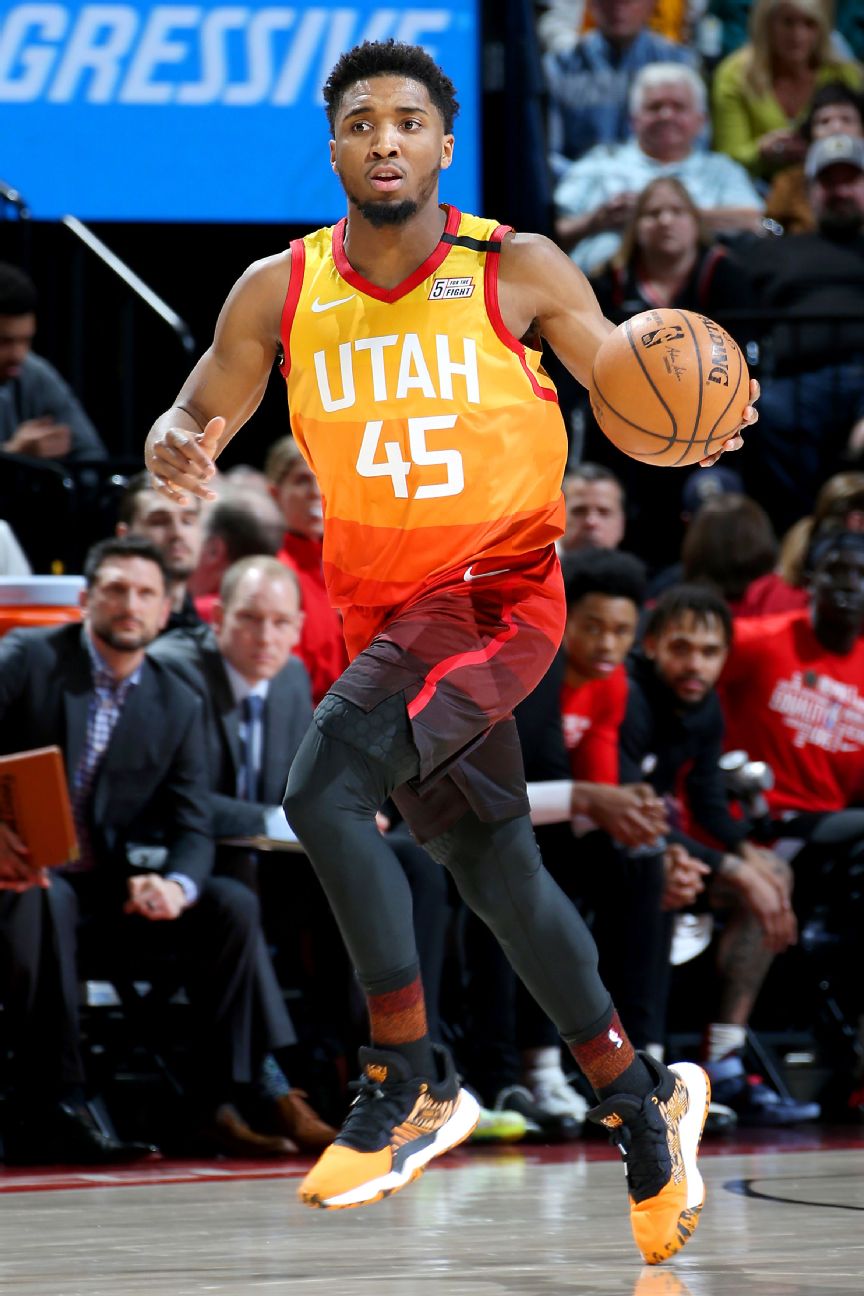 53. Utah Jazz (Red Rocks)
Seasons worn: 2017-present
Notable players in this look: Donovan Mitchell, Rudy Gobert, Joe Ingles, Derrick Favors
All for any Utah jersey that incorporates mountains or rock formations -- instead of you know, Jazz, which belongs in another city. -- Lopez
---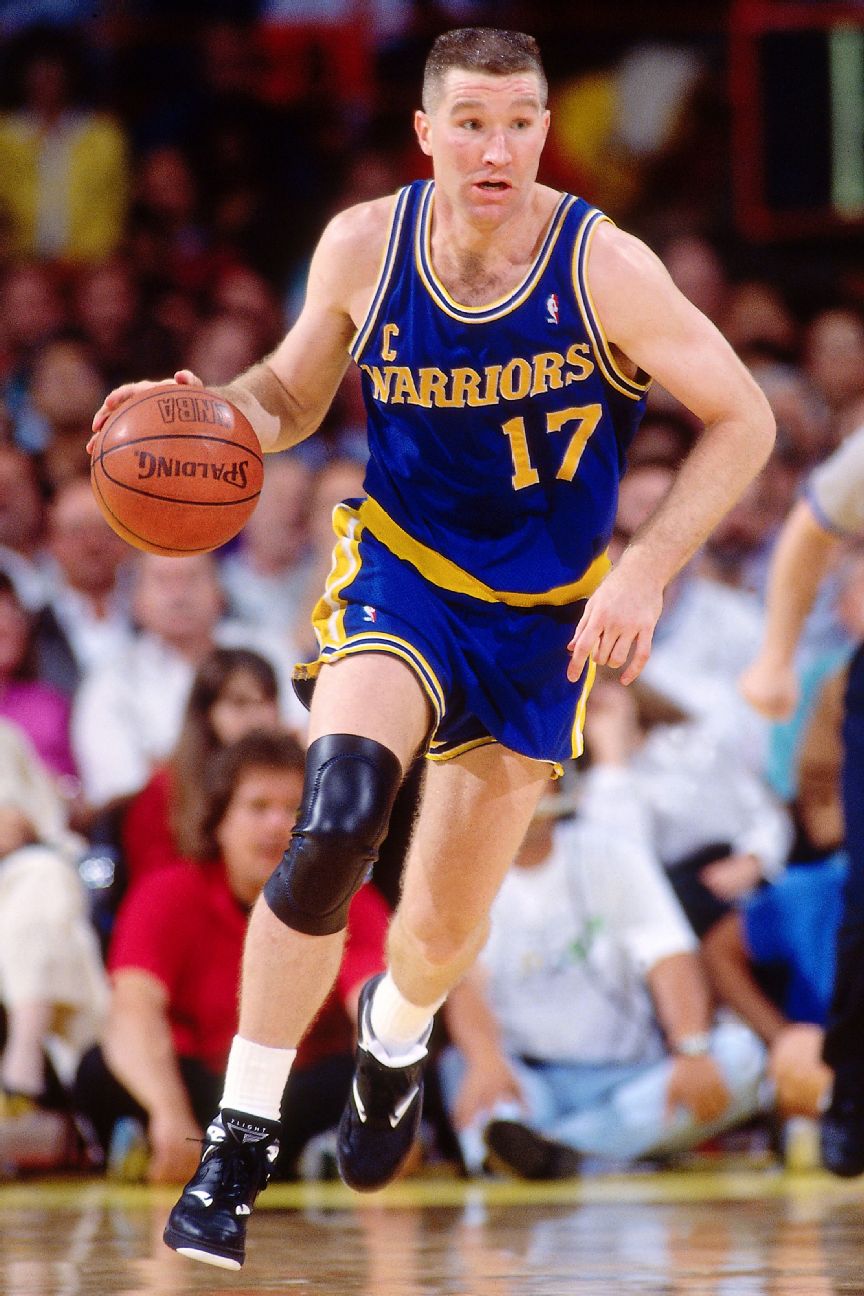 52. Golden State Warriors (Blue and gold)
Seasons worn: 1989-97
Notable players in this look: Chris Mullin, Tim Hardaway, Mitch Richmond, Latrell Sprewell
These jerseys will forever be associated with the Run TMC era. They were sleek, they were fun and the team scored a lot of points with Don Nelson calling the shots. -- Friedell
---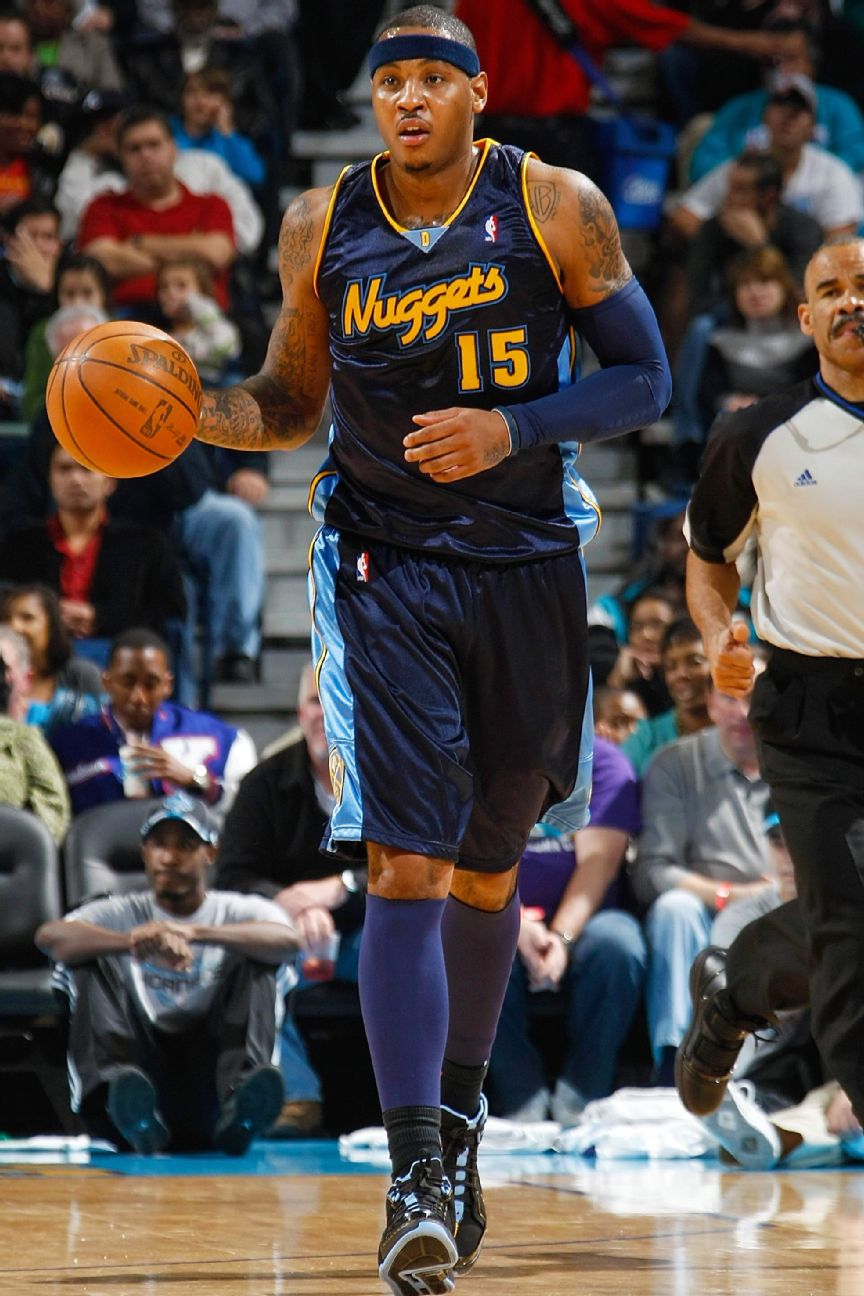 51. Denver Nuggets (Navy cursive)
Seasons worn: 2008-12
Notable players in this look: Carmelo Anthony, Chauncey Billups, Ty Lawson, Nene
The yellow cursive. The dazzle fabric. The baby blue side panels pairing with the dark blue base. These were legit. -- McMenamin
---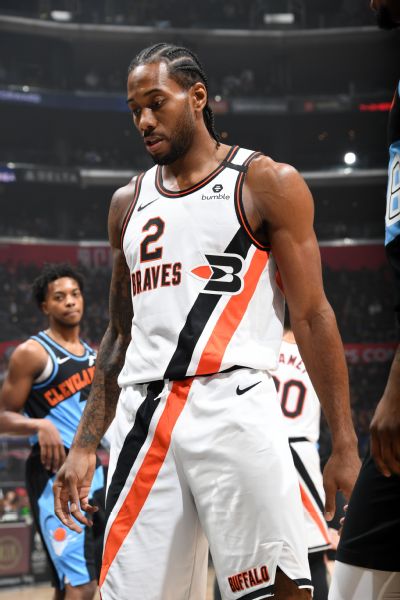 50. Buffalo Braves (Diagonal striped)
Seasons worn: 1971-73
Notable players in this look: Bob McAdoo, Randy Smith, Elmore Smith, Bob Kauffman
Every few years, the LA Clippers break out these as throwbacks. They should do it more often. No other franchise has a look quite like it, with diagonal stripes and offset text and numbers. -- Reisinger
---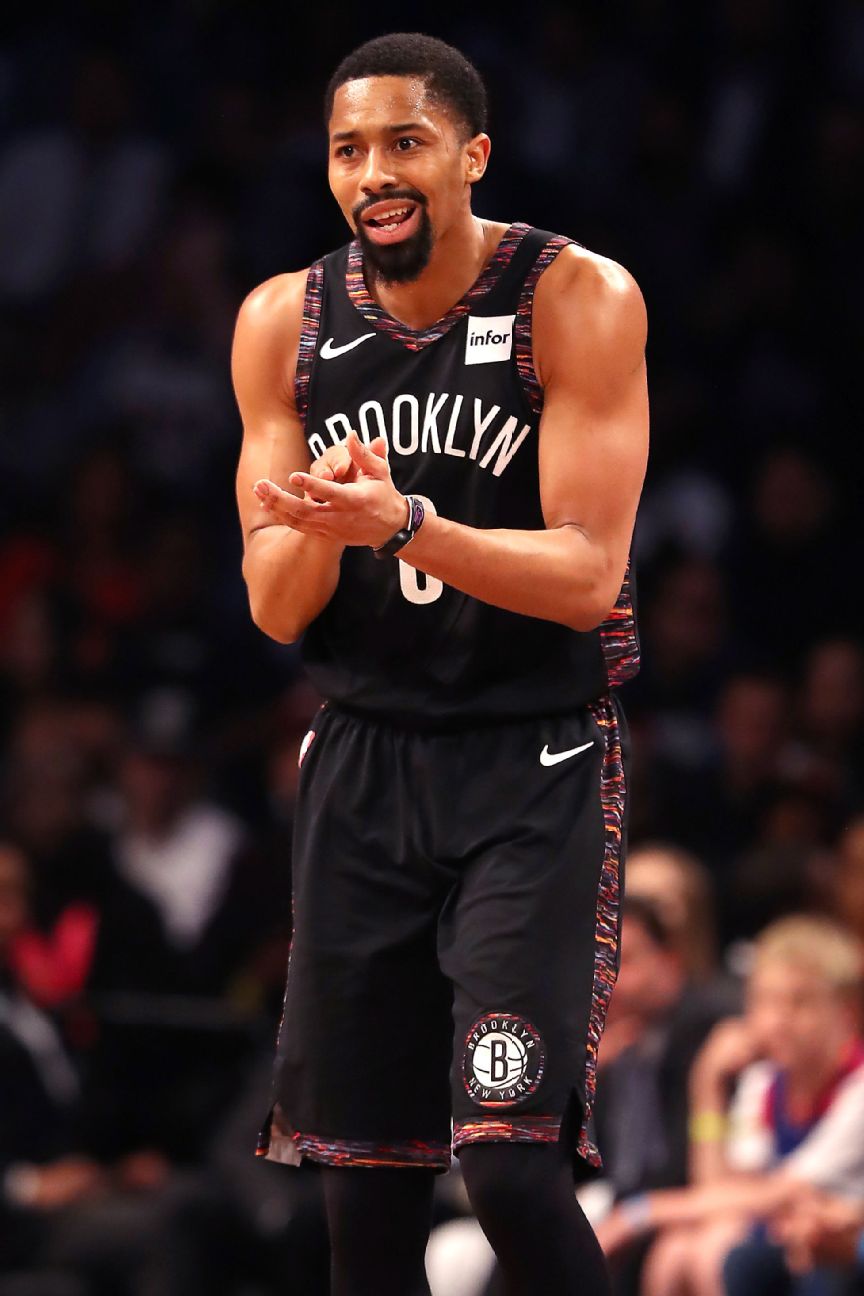 49. Brooklyn Nets (Brooklyn's Finest)
Seasons worn: 2018-19
Notable players in this look: D'Angelo Russell, Spencer Dinwiddie, Jarrett Allen, Joe Harris
Once these threads were introduced to the game, they were a B.I.G. hit ... get it? Sorry. Anyway, these Notorious B.I.G.-inspired jerseys paid homage to the famous Brooklyn rapper's style with their "Brooklyn Camo" trim. -- Lopez
---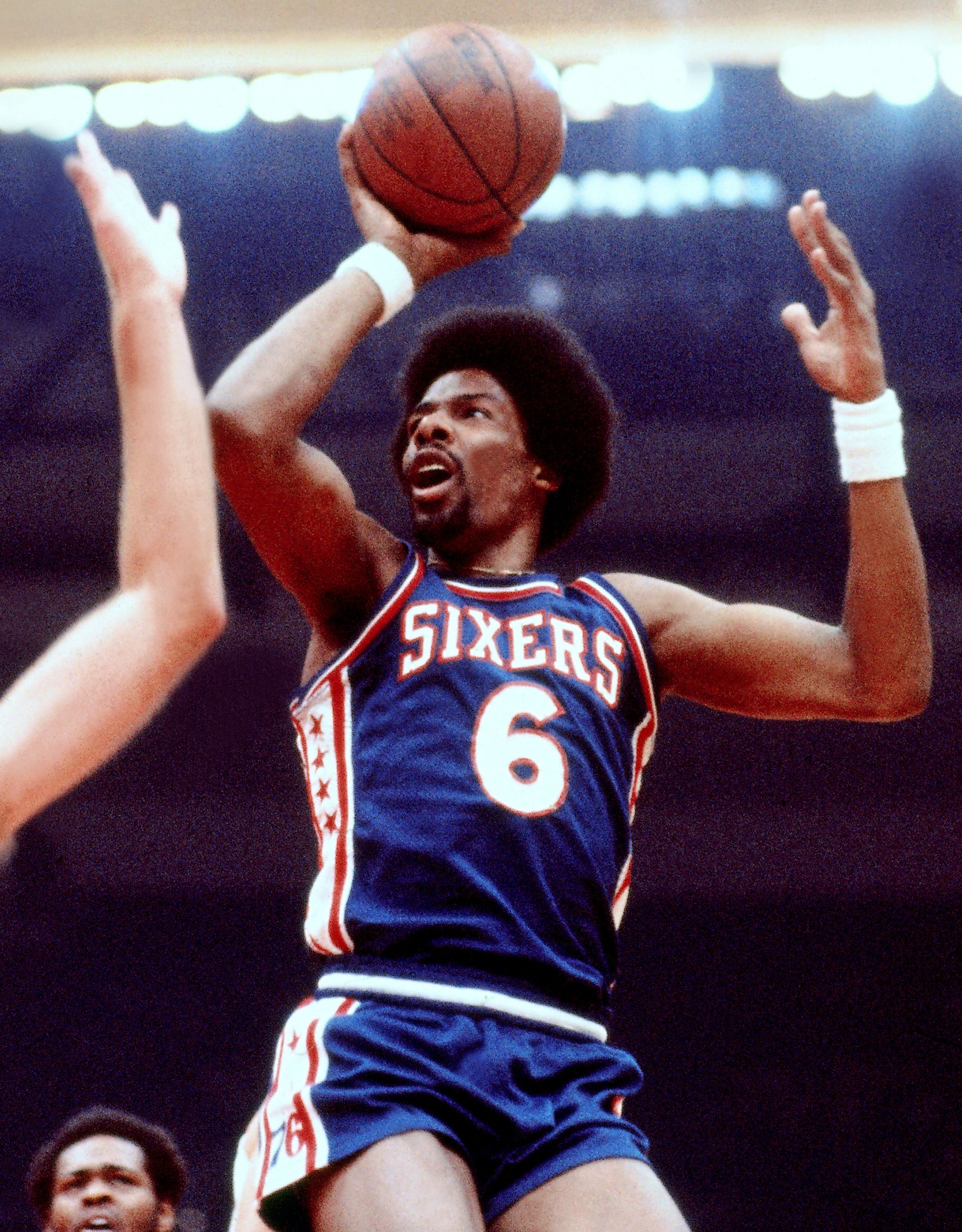 48. Philadelphia 76ers (Bicentennial stars)
Seasons worn: 1976-77
Notable players in this look: Julius Erving, World B. Free, Doug Collins, George McGinnis
If any franchise could get away with having a jersey for just one year, it's the 76ers, who wore these for the nation's bicentennial. They were Dr. J's first 76ers jersey, making them an instant classic. -- Reisinger
---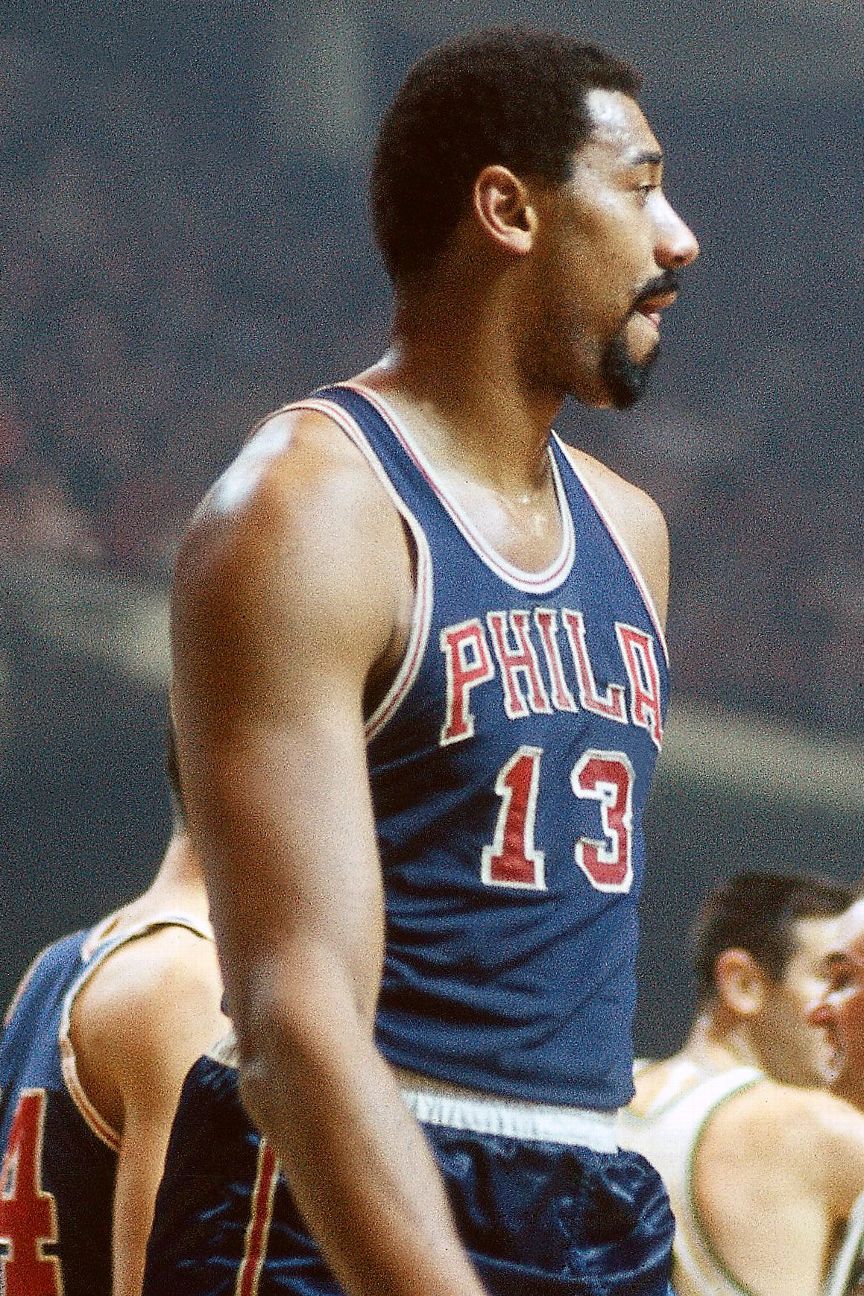 47. Philadelphia 76ers (PHILA)
Seasons worn: 1966-67
Notable players in this look: Wilt Chamberlain, Chet Walker, Hal Greer, Billy Cunningham
Historically, the shortened city wordmark design is associated with Wilt Chamberlain's dominance of the 1960s. Then Allen Iverson single-handedly launched the throwback jersey era of the 2000s, after gracing the cover of SLAM in retro "PHILA" and fro'd fashion. -- DePaula
---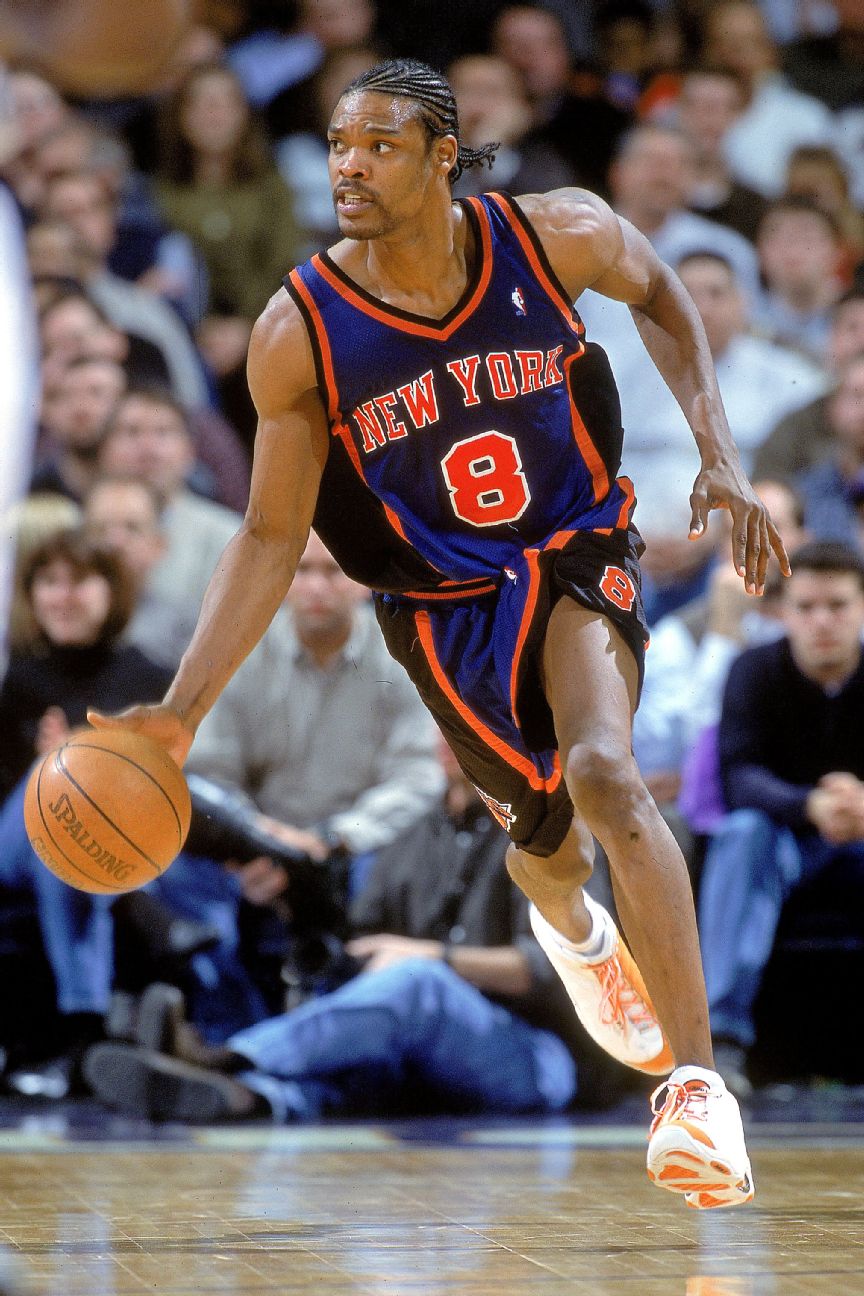 46. New York Knicks (Black accents)
Seasons worn: 1997-2012
Notable players in this look: Allan Houston, Stephon Marbury, Latrell Sprewell, Larry Johnson
Many teams have tried to incorporate black into their traditional color scheme with mixed results. This was a success. The black side panels make the thick orange piping stick out, and the white outlining "New York" works too. Bonus: Players' uniform numbers were on their shorts. -- McMenamin
---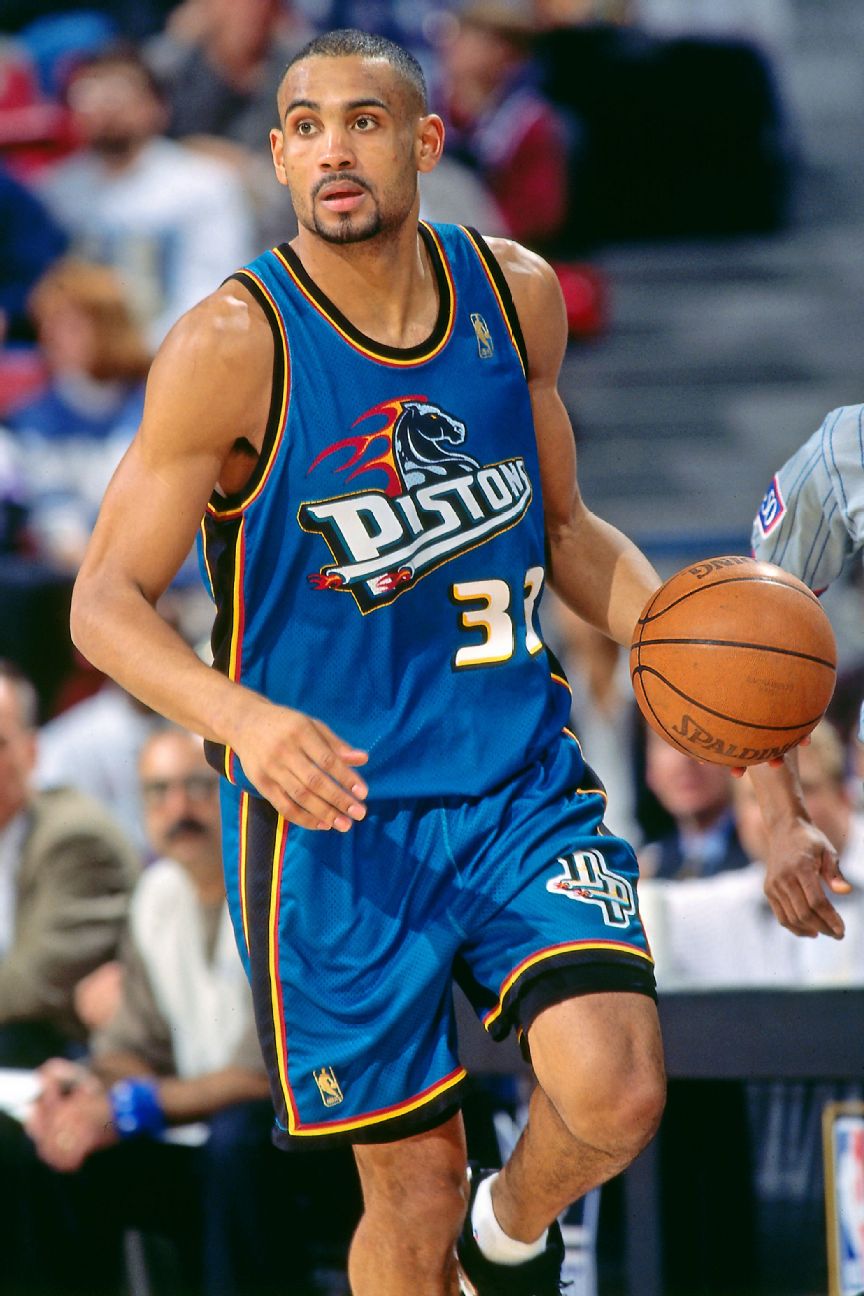 45. Detroit Pistons (Teal horse)
Seasons worn: 1996-2001
Notable players in this look: Grant Hill, Jerry Stackhouse, Lindsey Hunter, Jerome Williams
Abandoning Detroit's simple blue and red uniforms of the beloved "Bad Boys" era wasn't well-received at the time, but the vivid teal tone and literal Piston graphic jerseys became a cult classic years later. -- DePaula
---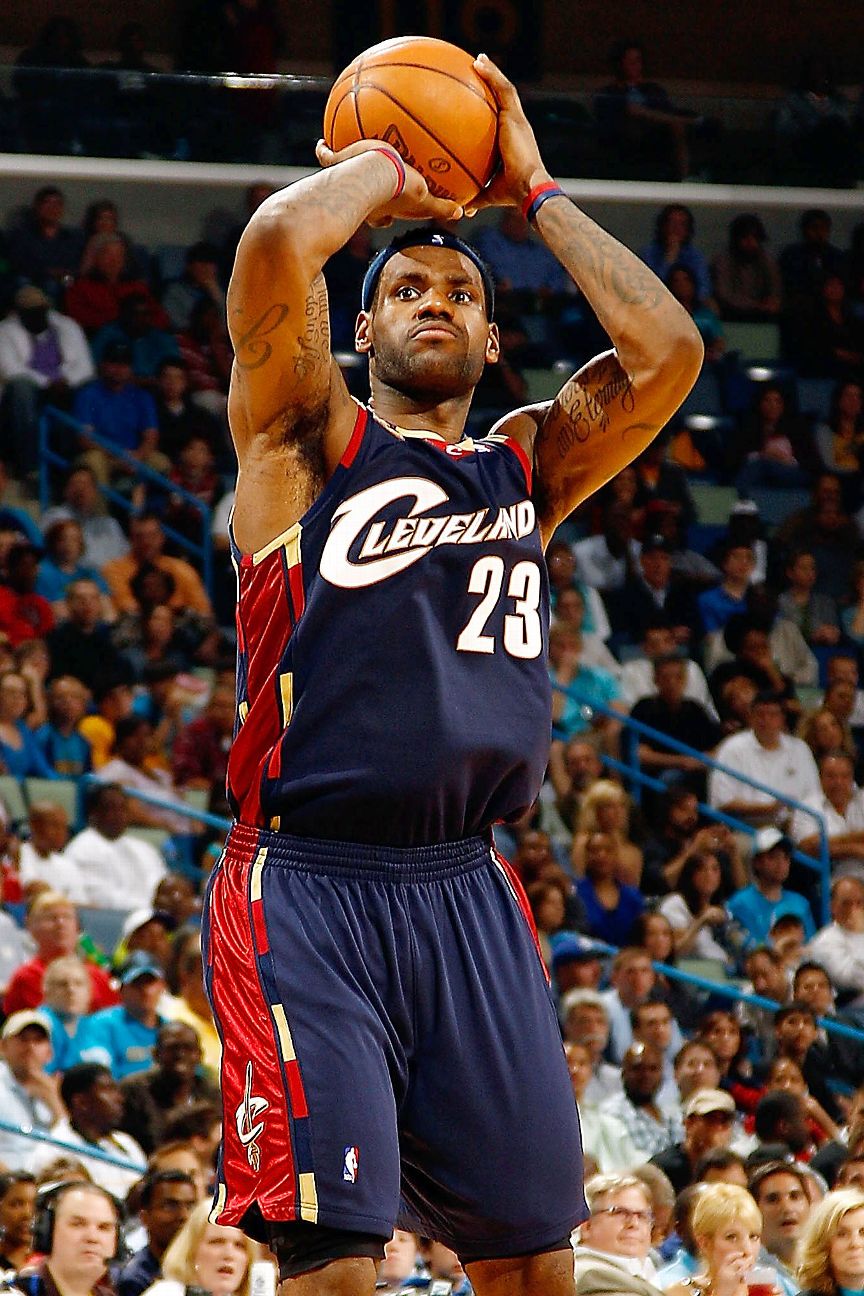 44. Cleveland Cavaliers (Navy alternate)
Seasons worn: 2005-10
Notable players in this look: LeBron James, Zydrunas Ilgauskas, Anderson Varejão, Mo Williams
The deep navy base and dark burgundy side panels made the white "Cleveland" wordmark stand out. But it was the seemingly minuscule details -- from the gold outline around the lettering to the alternating blue, wine and gold piping that accented the collar and shoulder seams -- that made it special. -- McMenamin
---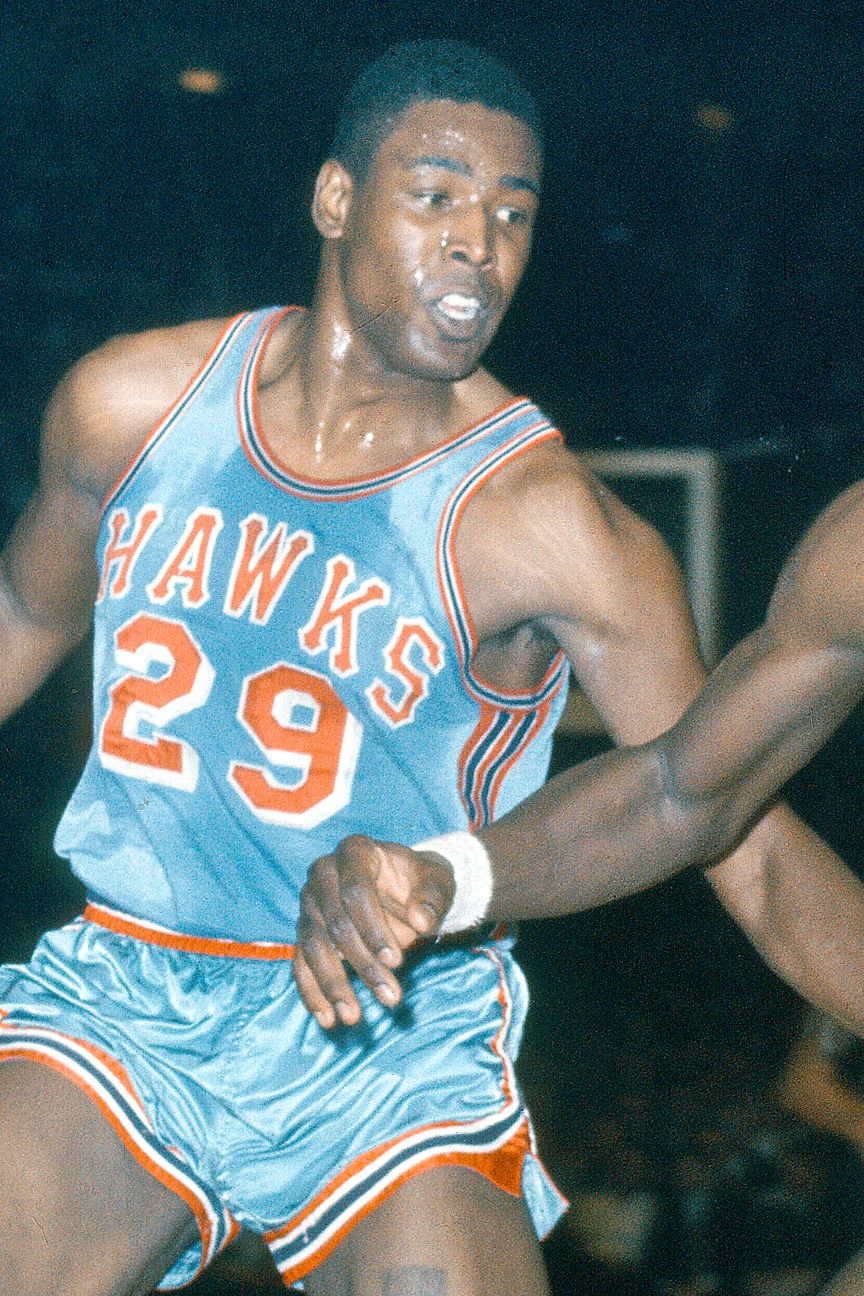 43. Atlanta Hawks (Blue and red)
Seasons worn: 1966-70
Notable players in this look: Lou Hudson, Lenny Wilkens, Zelmo Beaty, Bill Bridges
These baby blues looked great on Hawks players back in the day and when the team brought it back as a throwback look. This jersey came over from the St. Louis Hawks, and should've stayed around longer. -- Lopez
---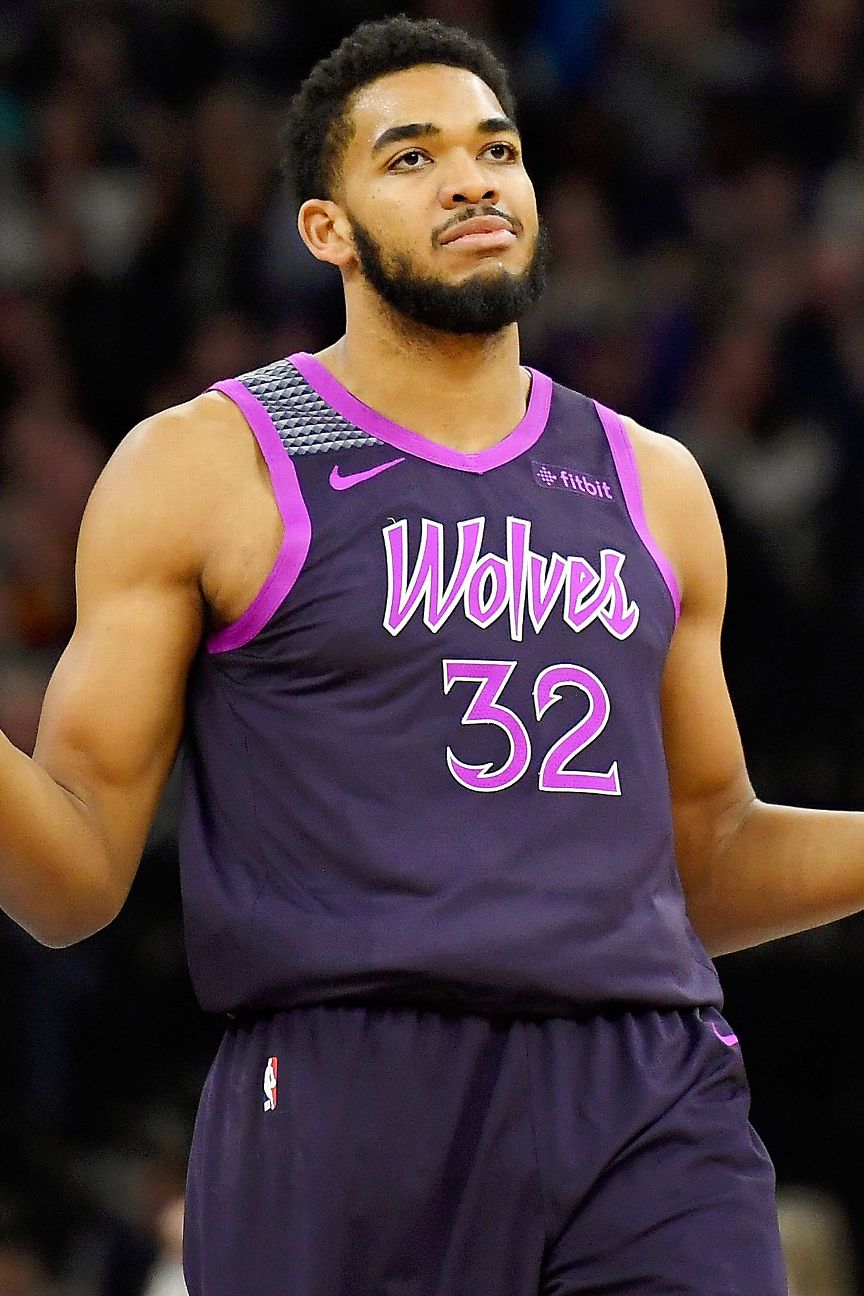 42. Minnesota Timberwolves ('Purple Rain')
Seasons worn: 2018-19
Notable players in this look: Karl-Anthony Towns, Andrew Wiggins, Jeff Teague, Taj Gibson
Never has a team used an alternate jersey to honor a person so well. The purple combo, in honor of Prince, was a hit in the Twin Cities. -- Friedell
---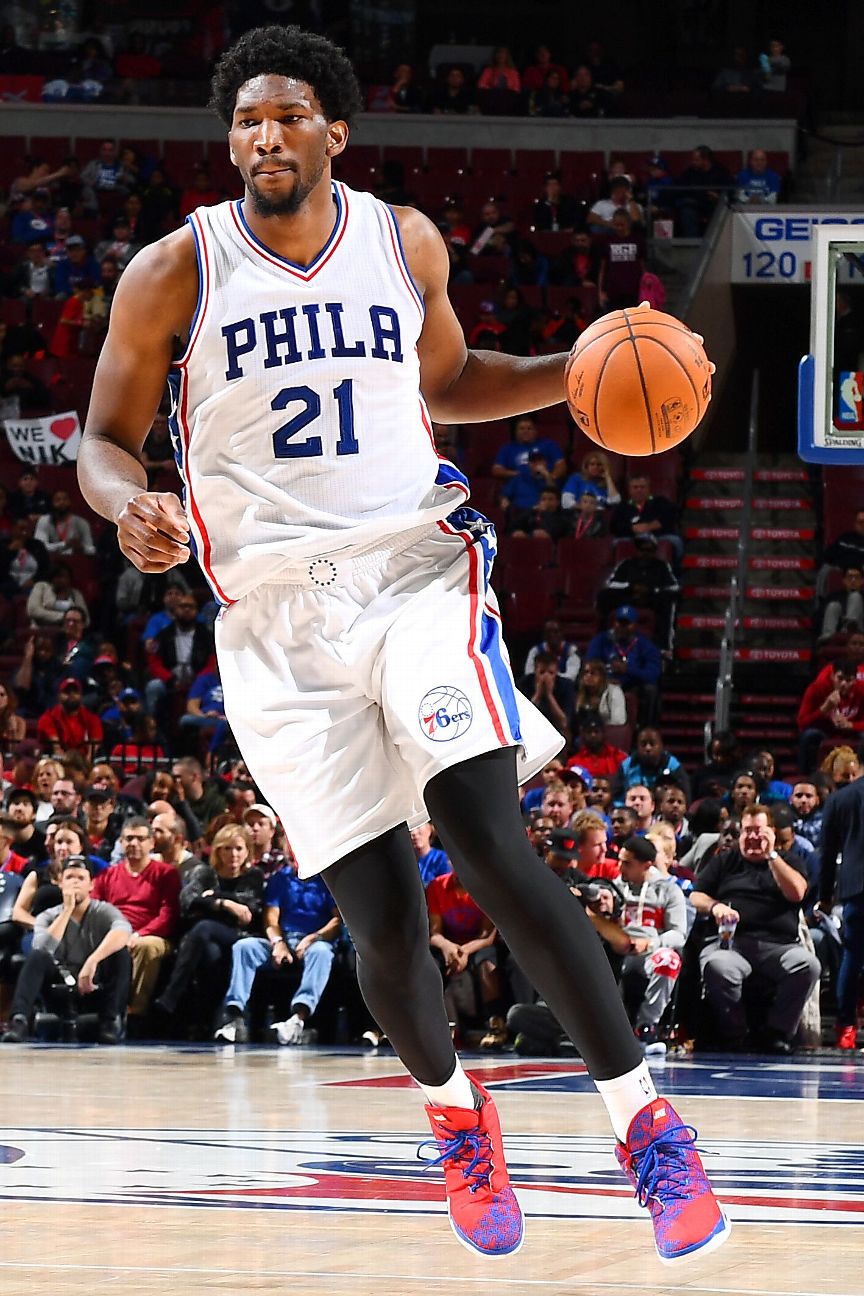 41. Philadelphia 76ers (Modern blue/white)
Seasons worn: 2015-present
Notable players in this look: Joel Embiid, Ben Simmons, Tobias Harris, JJ Redick
The minor tweaks made to this set over the ones from the previous six seasons amounted to a major upgrade, bringing back the "PHILA" wordmark, the side stars and blue as the primary road color. -- Reisinger
---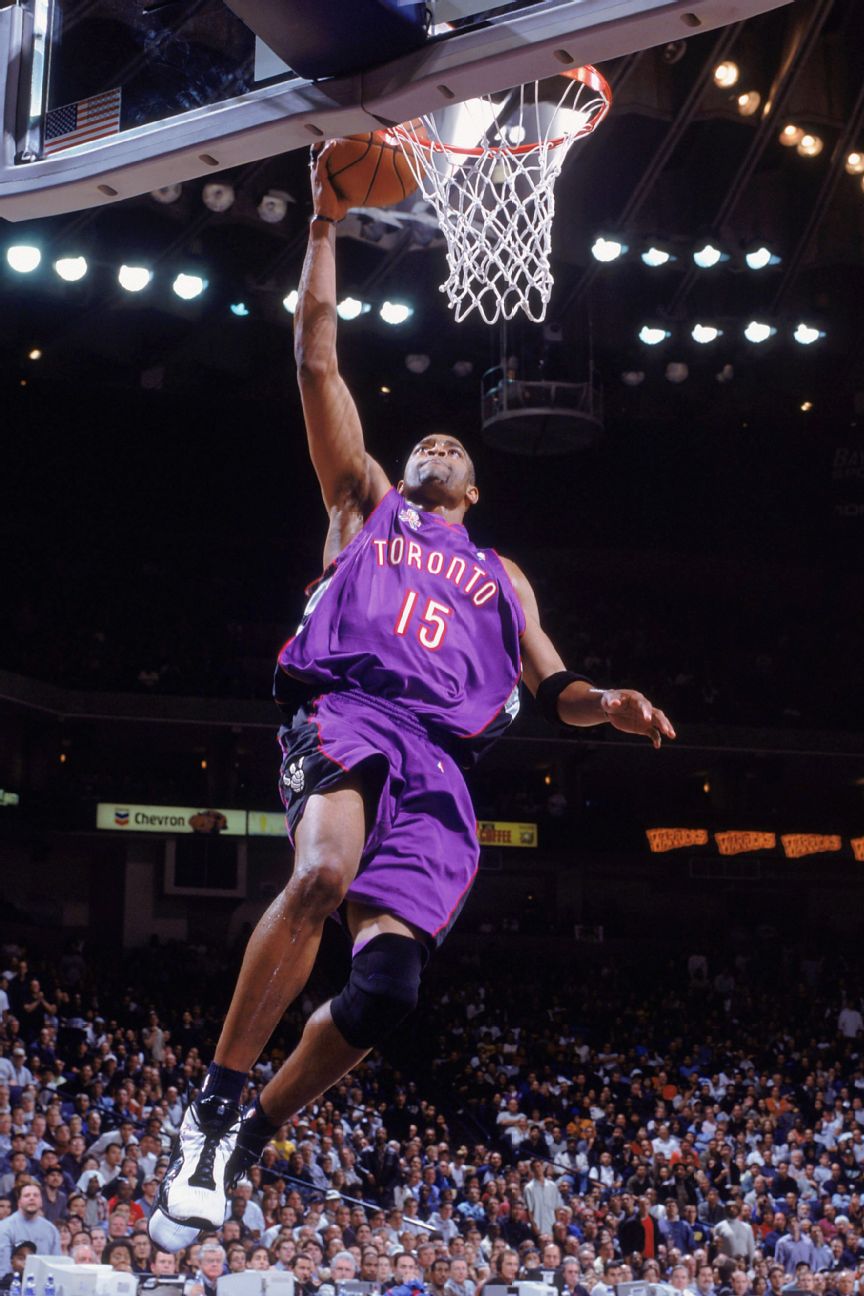 40. Toronto Raptors (Black and purple)
Seasons worn: 1999-2003
Notable players in this look: Vince Carter, Antonio Davis, Alvin Williams, Morris Peterson
To distance themselves from the cartoonish yet classic "Barney" dinosaur jerseys, the Raptors went with a more conservative look. But it still had its flair from the two-toned purple front and black back, to the tall and skinny font to the neat silver notches on the sides. -- McMenamin
---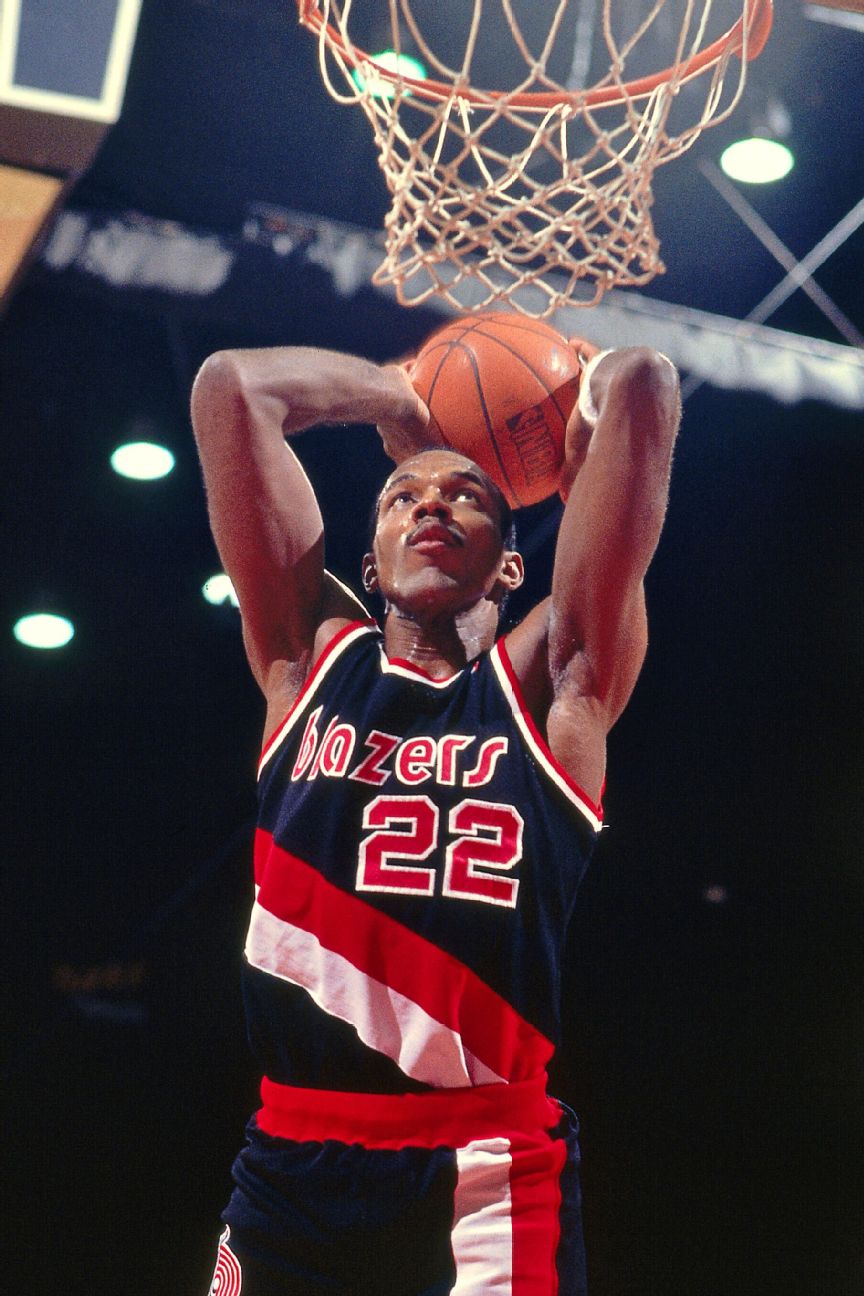 39. Portland Trail Blazers (Lowercase 'blazers')
Seasons worn: 1985-91
Notable players in this look: Clyde Drexler, Terry Porter, Jerome Kersey, Kevin Duckworth
Something about lowercase letters and Portland just seems to fit. Portland was perfectly weird with the lowercase "blazers" on the jersey, whether the lettering was vertical or horizontal. And the red on black just pops. -- Lopez
---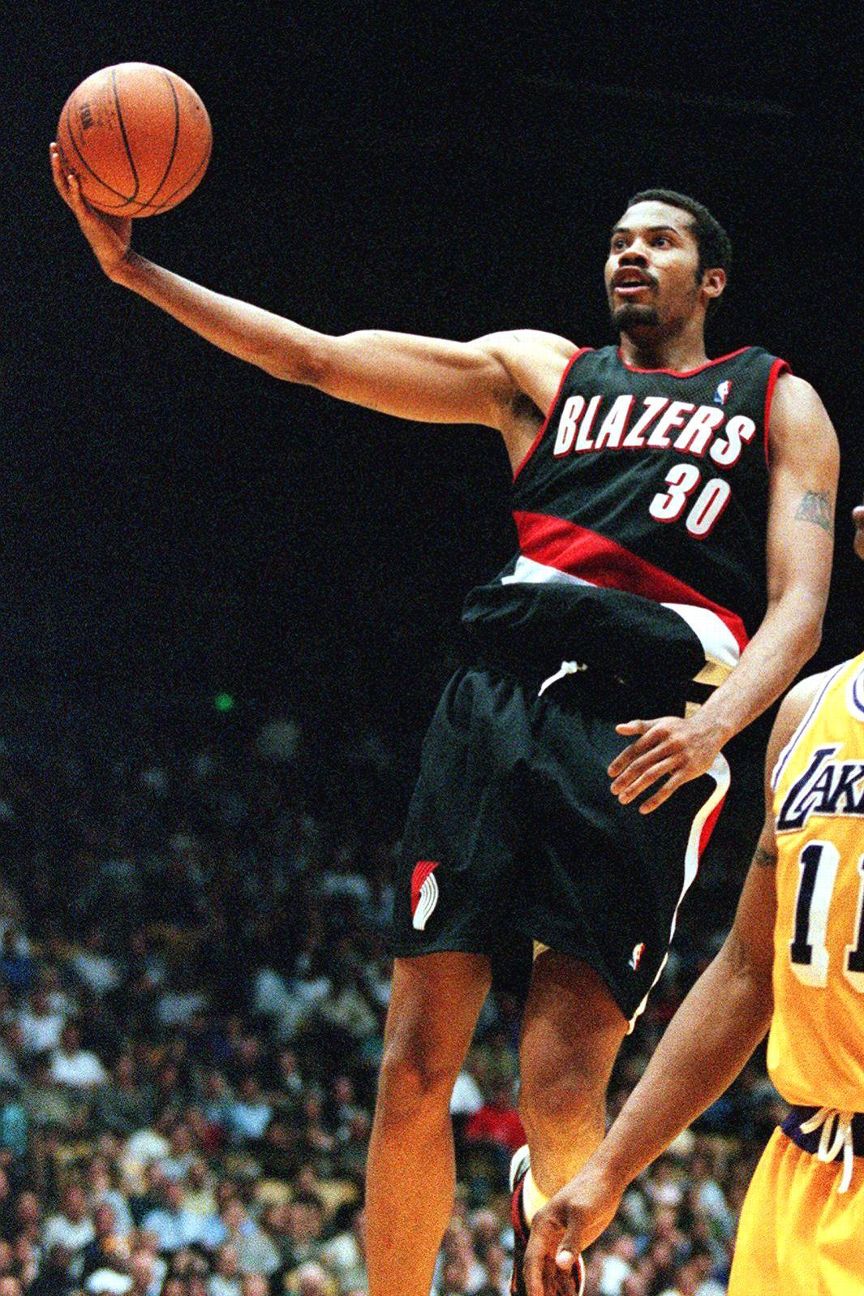 38. Portland Trail Blazers (Uppercase 'BLAZERS')
Seasons worn: 1991-2002
Notable players in this look: Rasheed Wallace, Arvydas Sabonis, Clifford Robinson, Clyde Drexler
Associated with the "Jail Blazers" era, Rasheed Wallace & Co. carried the Blazers' best edition of its trademark dual stripe-accented uniform, with simple red collar-accenting bands and the lack of the smaller silver stripe that was added in 2002. -- DePaula
---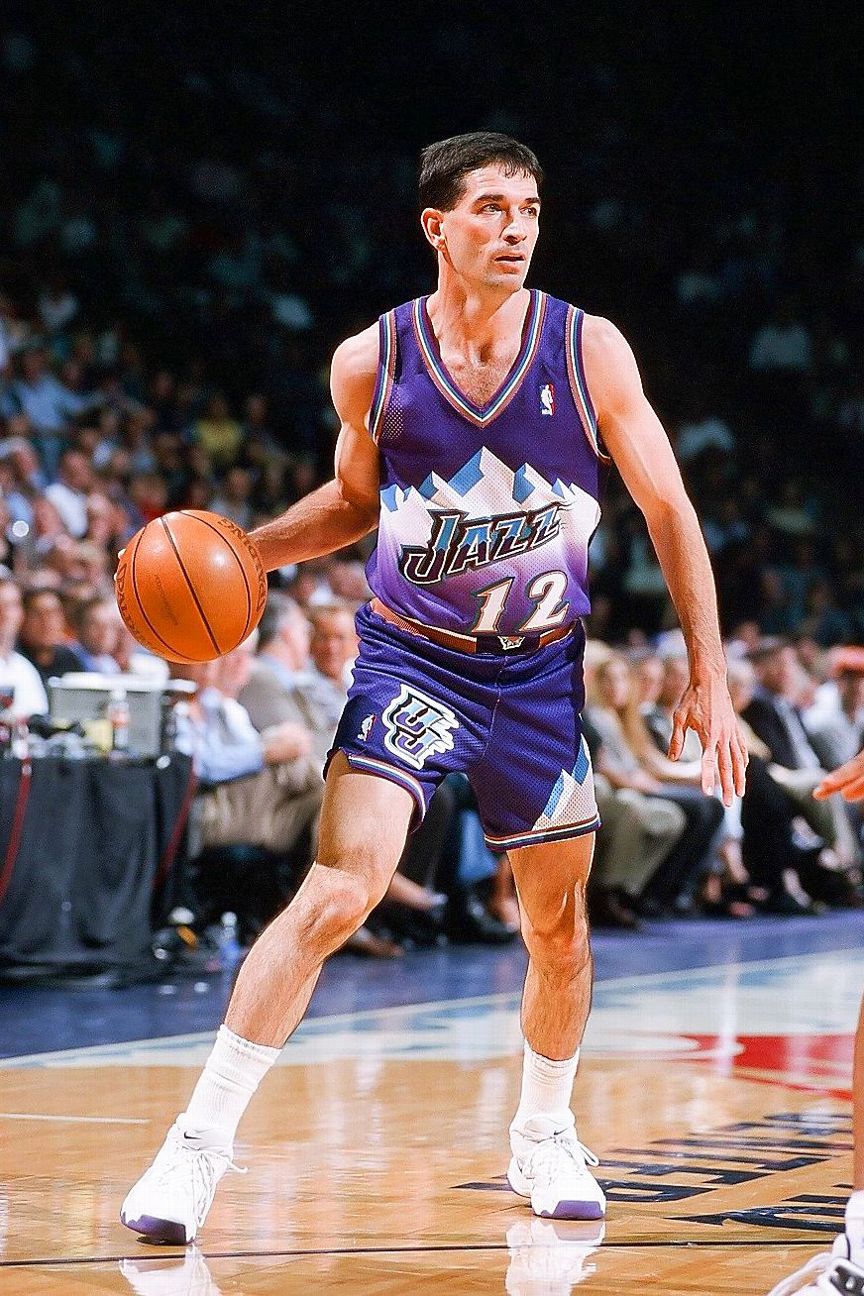 37. Utah Jazz (Purple mountains)
Seasons worn: 1995-2004
Notable players in this look: Karl Malone, John Stockton, Jeff Hornacek, Bryon Russell
Though the loud, oversized mountain graphics took some warming up to in contrast to Stockton and Malone's old-school game, they were worn during the franchise's only Finals appearances, and are now one of the most beloved classic looks leaguewide. -- DePaula
---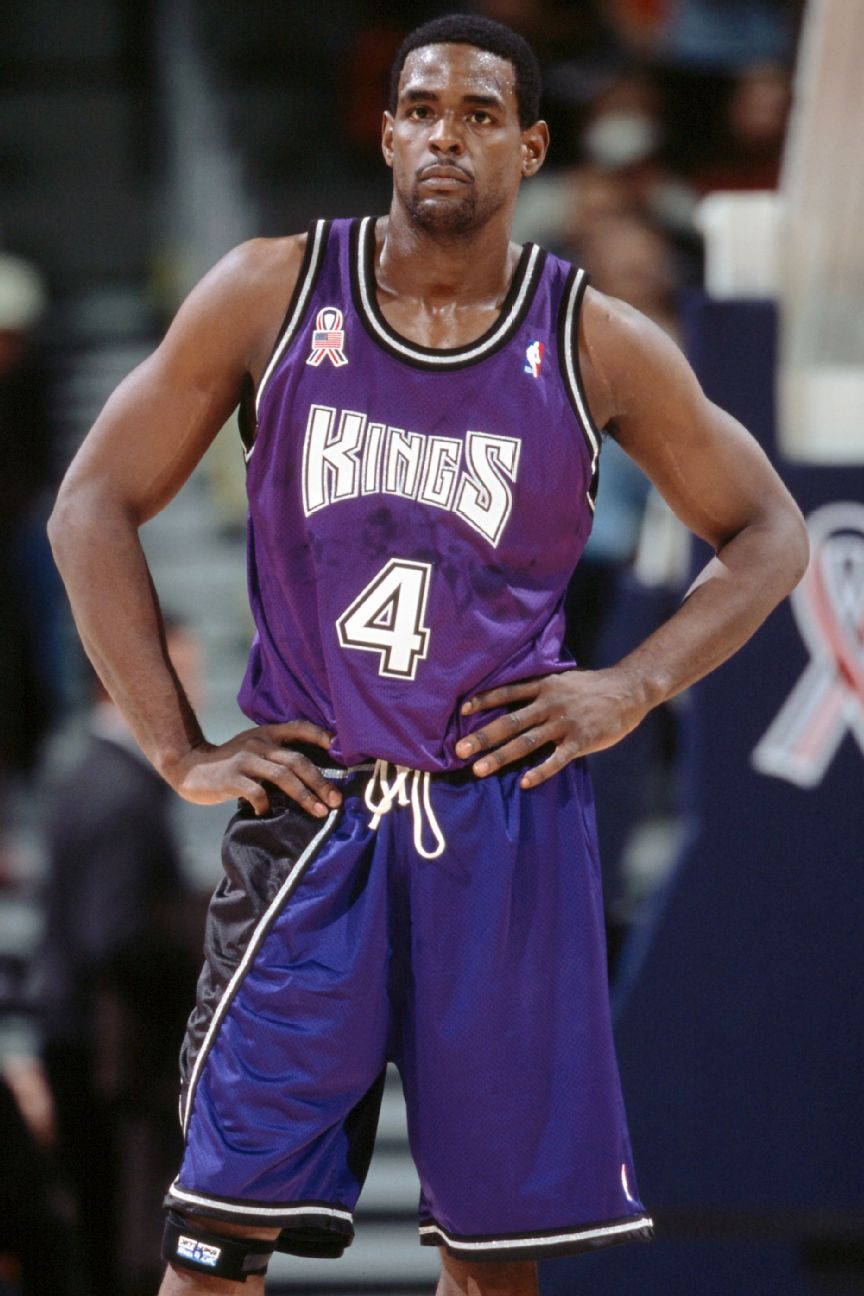 36. Sacramento Kings (Purple alternate)
Seasons worn: 1999-2004
Notable players in this look: Chris Webber, Peja Stojakovic, Vlade Divac, Mike Bibby
With a revamped roster coming out of the league's lockout, the Kings donned vibrant purple alternates with glittering silver neckline accents that lined up well with their newfound national attention on nightly highlight shows. -- DePaula
---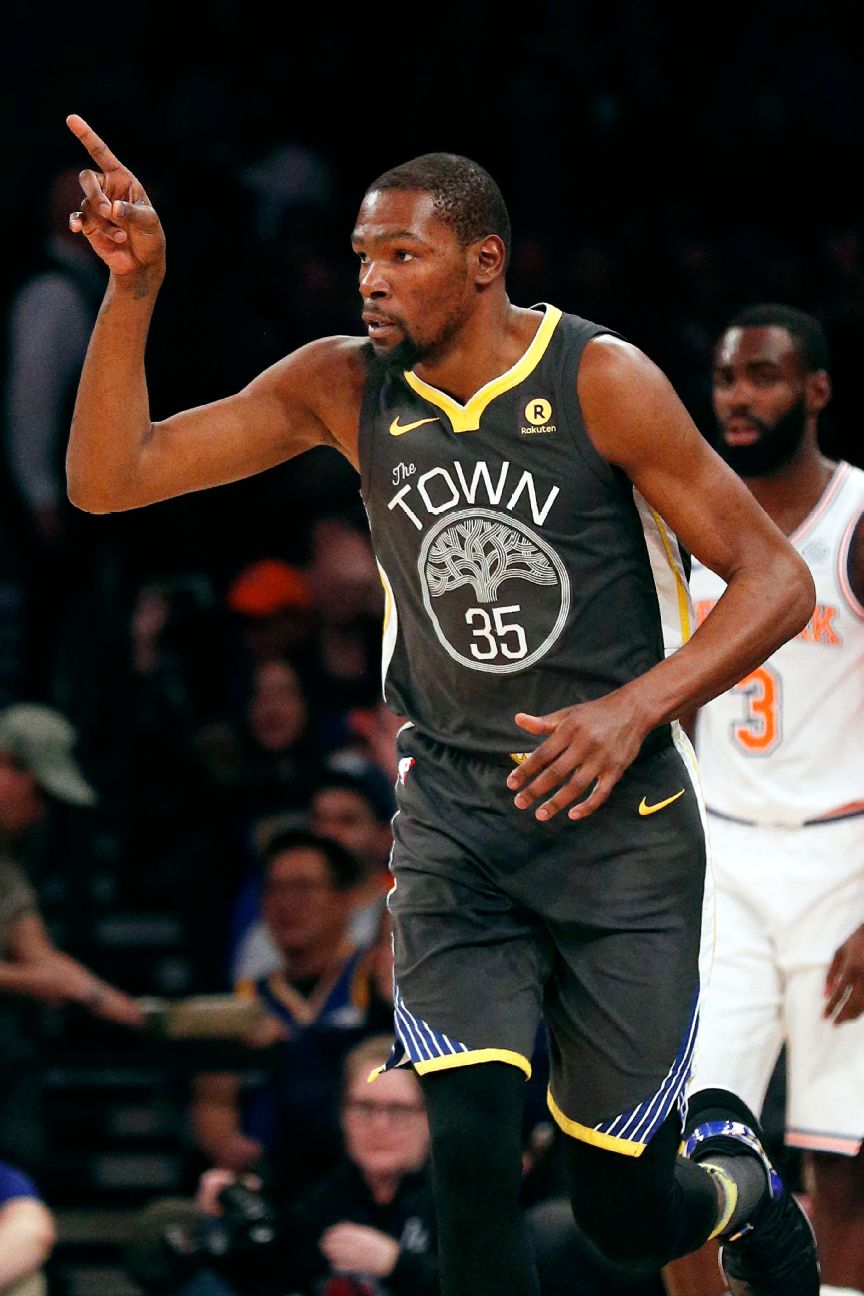 35. Golden State Warriors (The Town)
Seasons worn: 2017-18
Notable players in this look: Stephen Curry, Klay Thompson, Draymond Green, Kevin Durant
Oakland jerseys in the last days of Oracle were a dynamic combination for a team that always found a way to rise to the occasion when needed in the midst of winning a second straight title. -- Friedell
---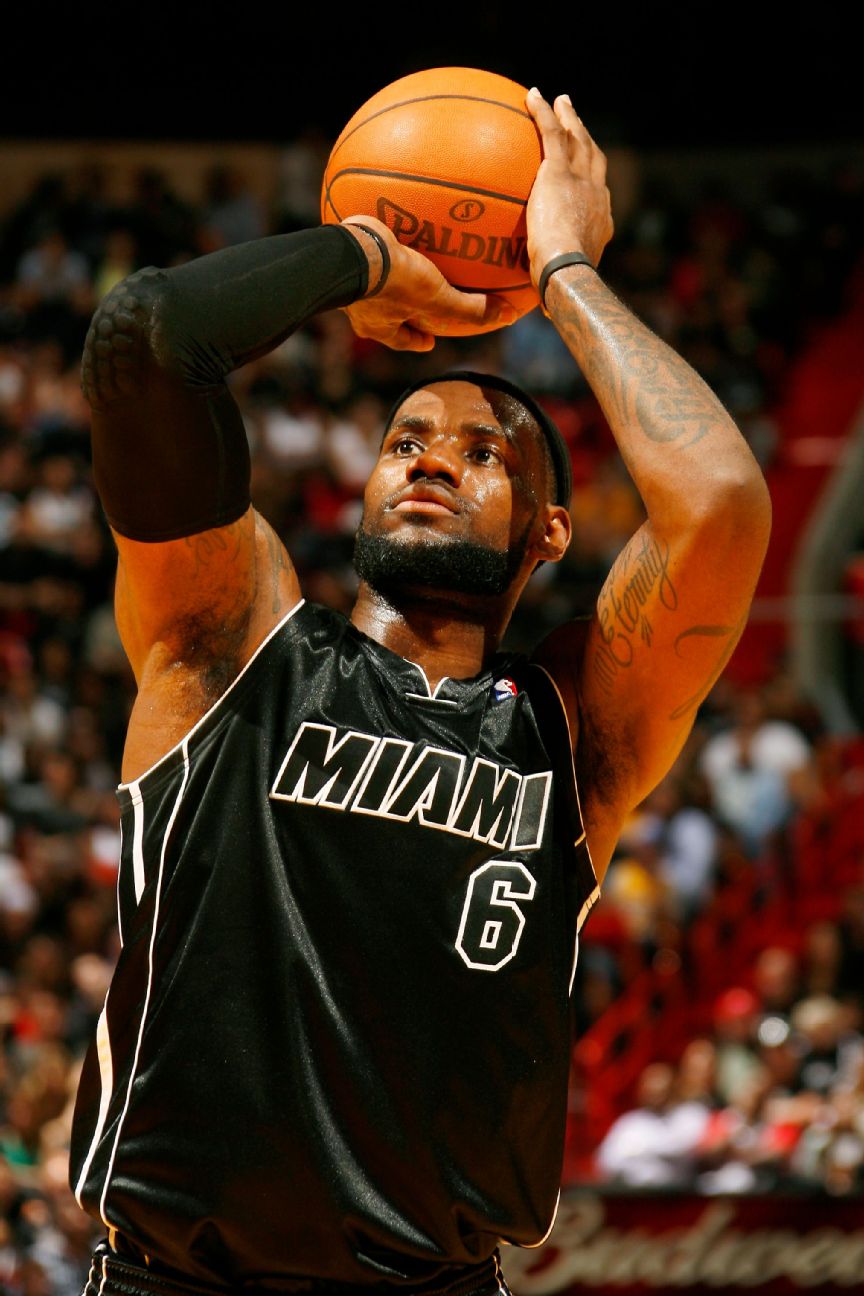 34. Miami Heat ('Back to Black')
Seasons worn: 2012-14
Notable players in this look: LeBron James, Dwyane Wade, Chris Bosh, Ray Allen
The Big Three Miami Heat debuted their "Back to Black" look in 2012, when the Lakers came to South Beach. Basically, it's the tuxedo of basketball uniforms, with black lettering and numbering, featuring white trim. -- Dodson
---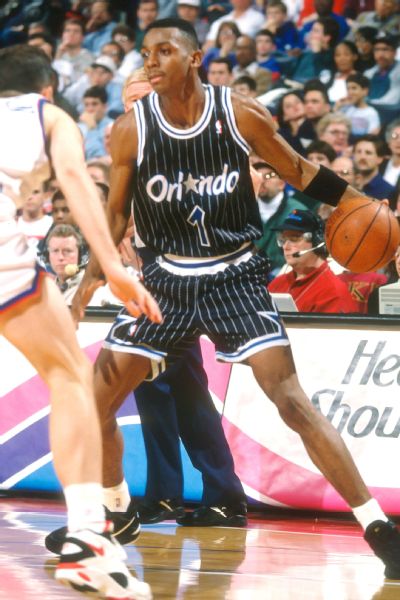 33. Orlando Magic (Road black)
Seasons worn: 1989-94
Notable players in this look: Shaquille O'Neal, Anfernee Hardaway, Nick Anderson, Dennis Scott
No NBA team has ever looked as good in pinstripes as the Orlando Magic. The franchise rocked black pinstripes on the road for five seasons before the uniform became an alternate in 1994. -- Dodson
---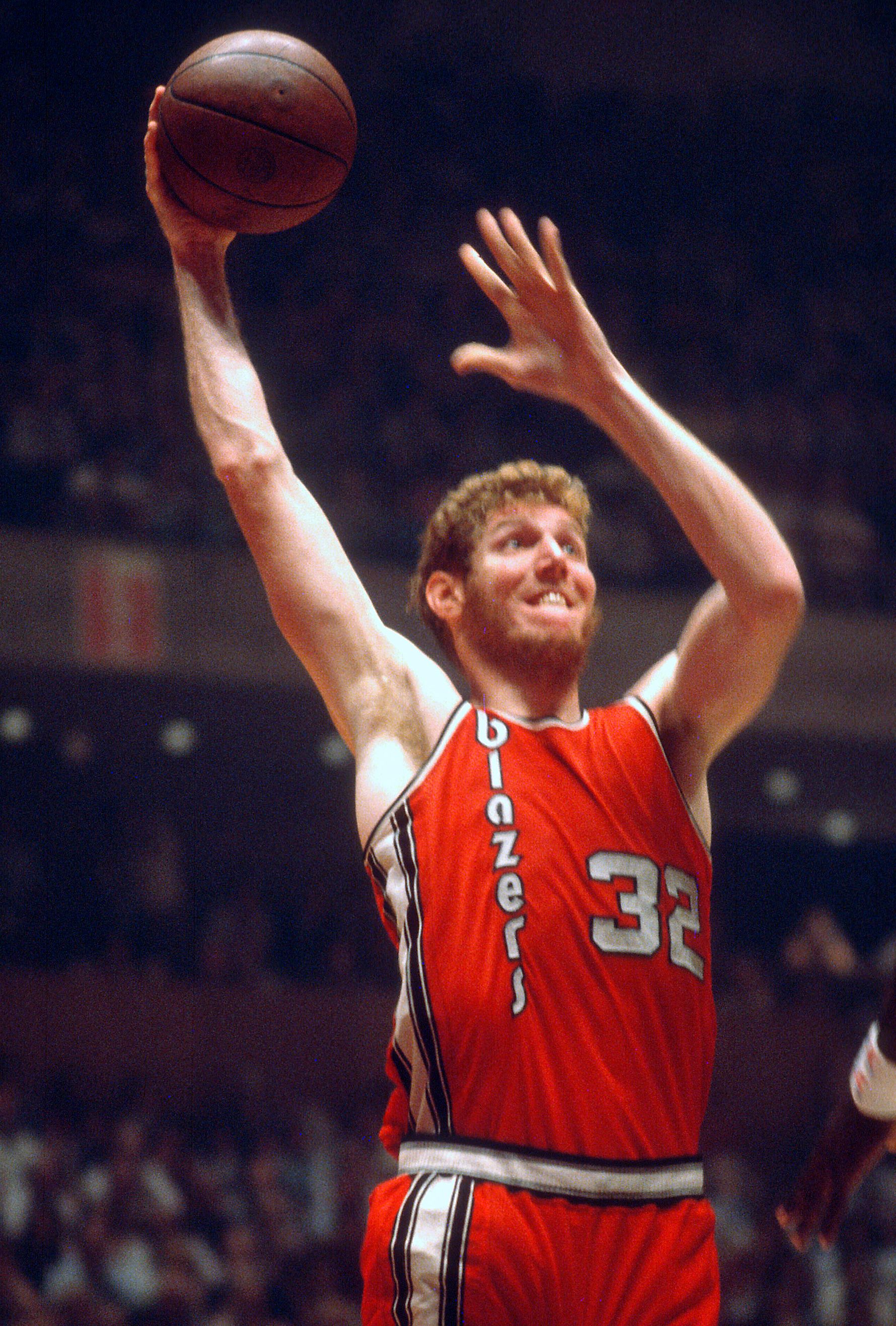 32. Portland Trail Blazers (Championship red)
Seasons worn: 1974-77
Notable players in this look: Bill Walton, Sidney Wicks, Larry Steele, Maurice Lucas
Redheads wearing red is usually a fashion don't, but don't tell that to Bill Walton, who looked legendary in leading Portland to its only NBA title in 1977 while wearing these classic jerseys. -- Reisinger
---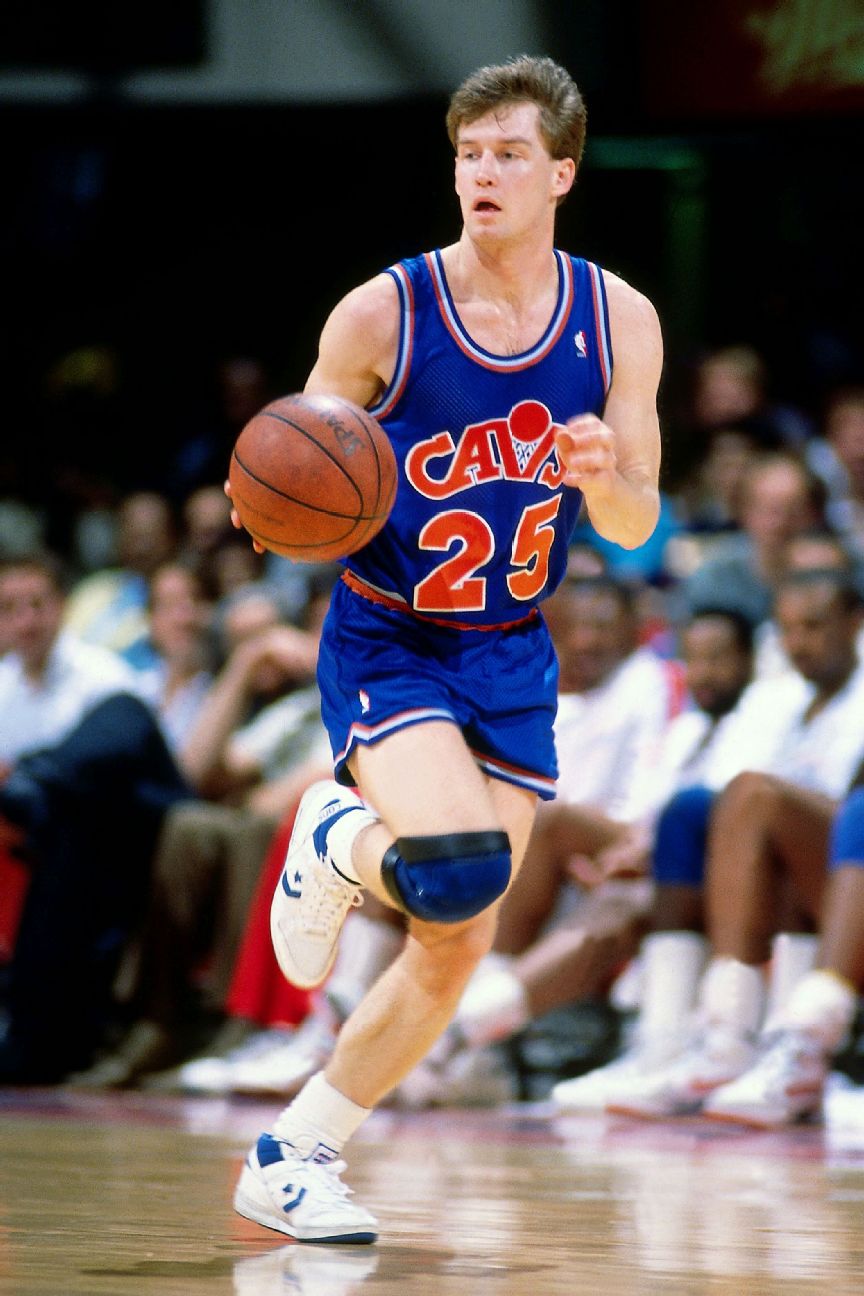 31. Cleveland Cavaliers (Blue CAVS)
Seasons worn: 1987-89
Notable players in this look: Mark Price, Brad Daugherty, Larry Nance, Ron Harper
For two seasons in the late 1980s, the Cleveland Cavaliers sported a royal blue road uniform with "CAVS" across the jersey's chest. Look closely, and you'll notice the "V" is a basketball dropping in a hoop. -- Dodson
---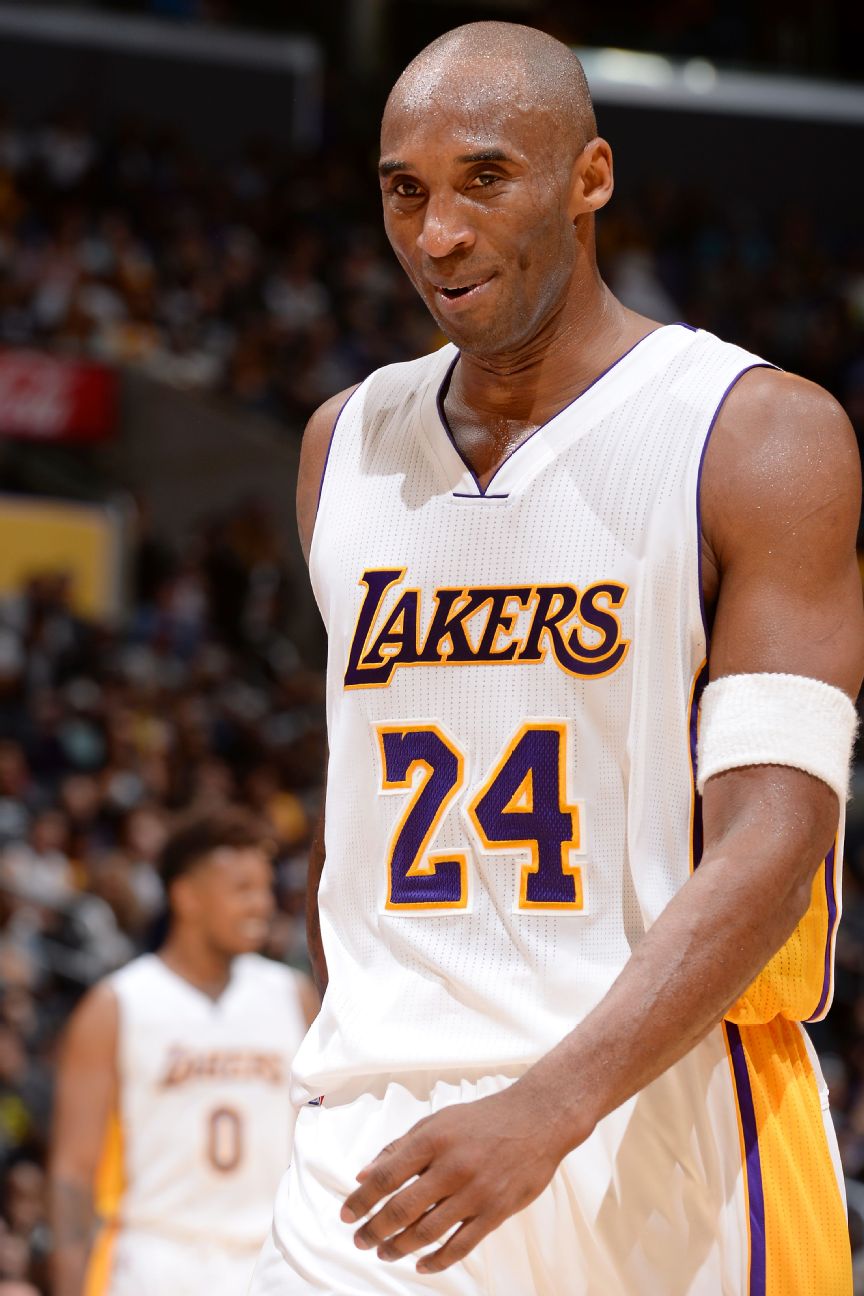 30. LA Lakers (Sunday whites)
Seasons worn: 2001-17
Notable players in this look: Kobe Bryant, Shaquille O'Neal, Pau Gasol, Lamar Odom
For decades, the Lakers were the lone franchise to not wear white at home. Not long into the "Sunday Whites" era of the 2000s, Kobe Bryant's 81-point game created an iconic moment for the jerseys to be remembered. -- DePaula
---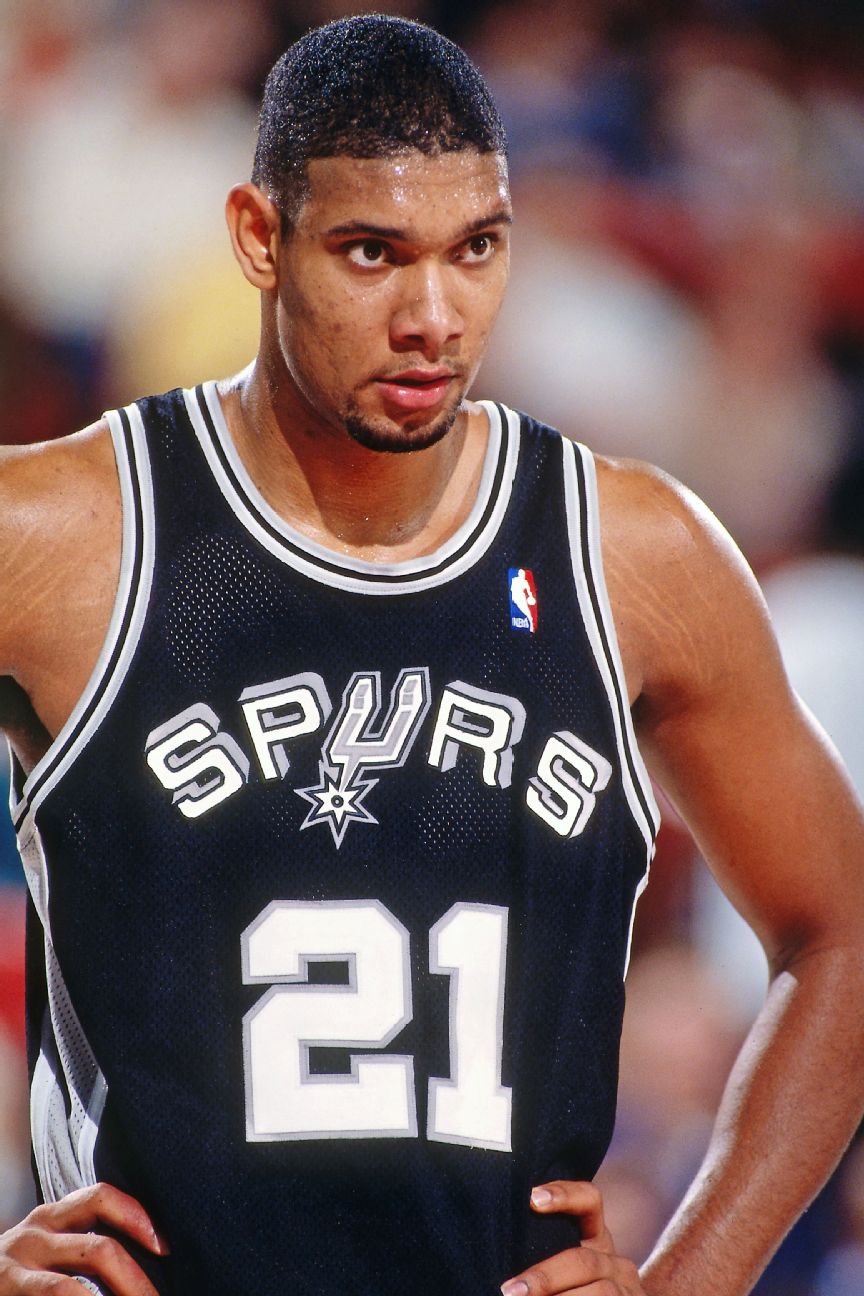 29. San Antonio Spurs (Black)
Seasons worn: 1989-present
Notable players in this look: Tim Duncan, David Robinson, Tony Parker, Manu Ginobili
While the team's "Fiesta" logo may have featured festive shades of teal, pink and orange, the main on-court jerseys have always stuck to a simple black and silver design, personifying the no-frills approach that the franchise has long been known for. -- DePaula
---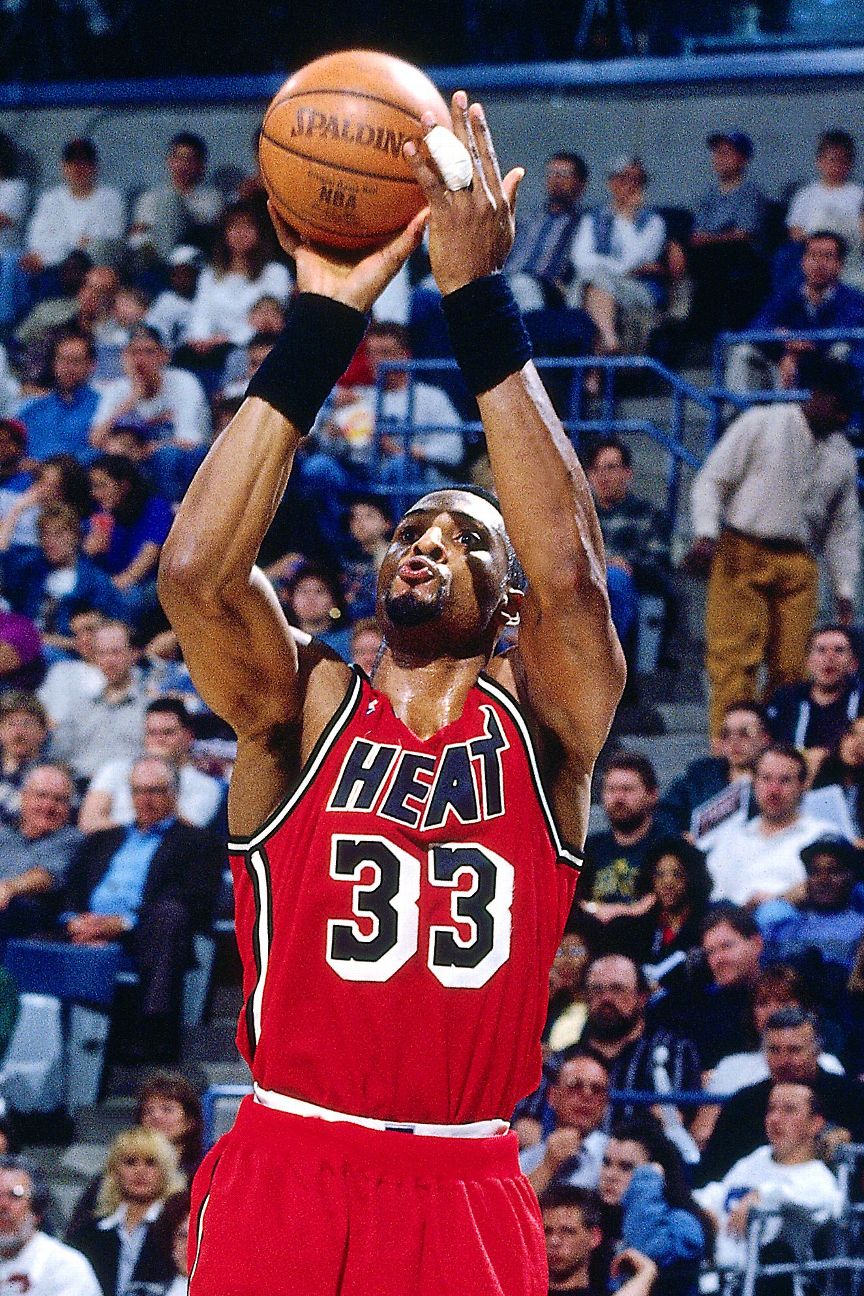 28. Miami Heat (Vintage red)
Seasons worn: 1995-99
Notable players in this look: Alonzo Mourning, Tim Hardaway, P.J. Brown, Jamal Mashburn
Alonzo Mourning and Tim Hardaway gave these jerseys an edge. That team played hard and tried to impose its will on the opponents every night with Pat Riley leading the way. The jerseys matched the mindset he wanted to instill on South Beach: toughness. -- Friedell
---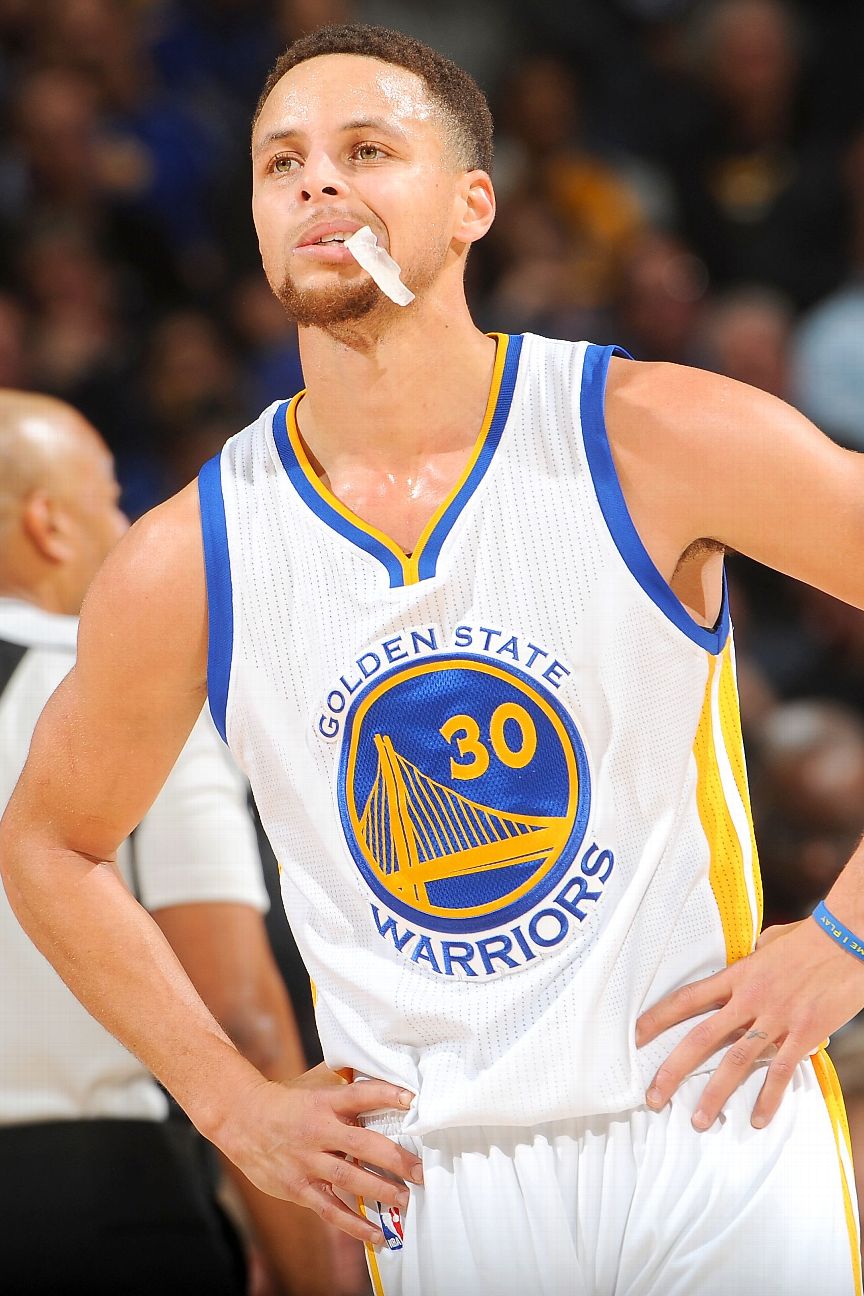 27. Golden State Warriors (Modern)
Seasons worn: 2010-present
Notable players in this look: Stephen Curry, Klay Thompson, Draymond Green, Andre Iguodala
The Splash Brothers era will always be defined by this look. Steph and Klay knocked down jumpers, Draymond provided the defensive engine, and it didn't hurt to throw Kevin Durant in a few years later, either. -- Friedell
---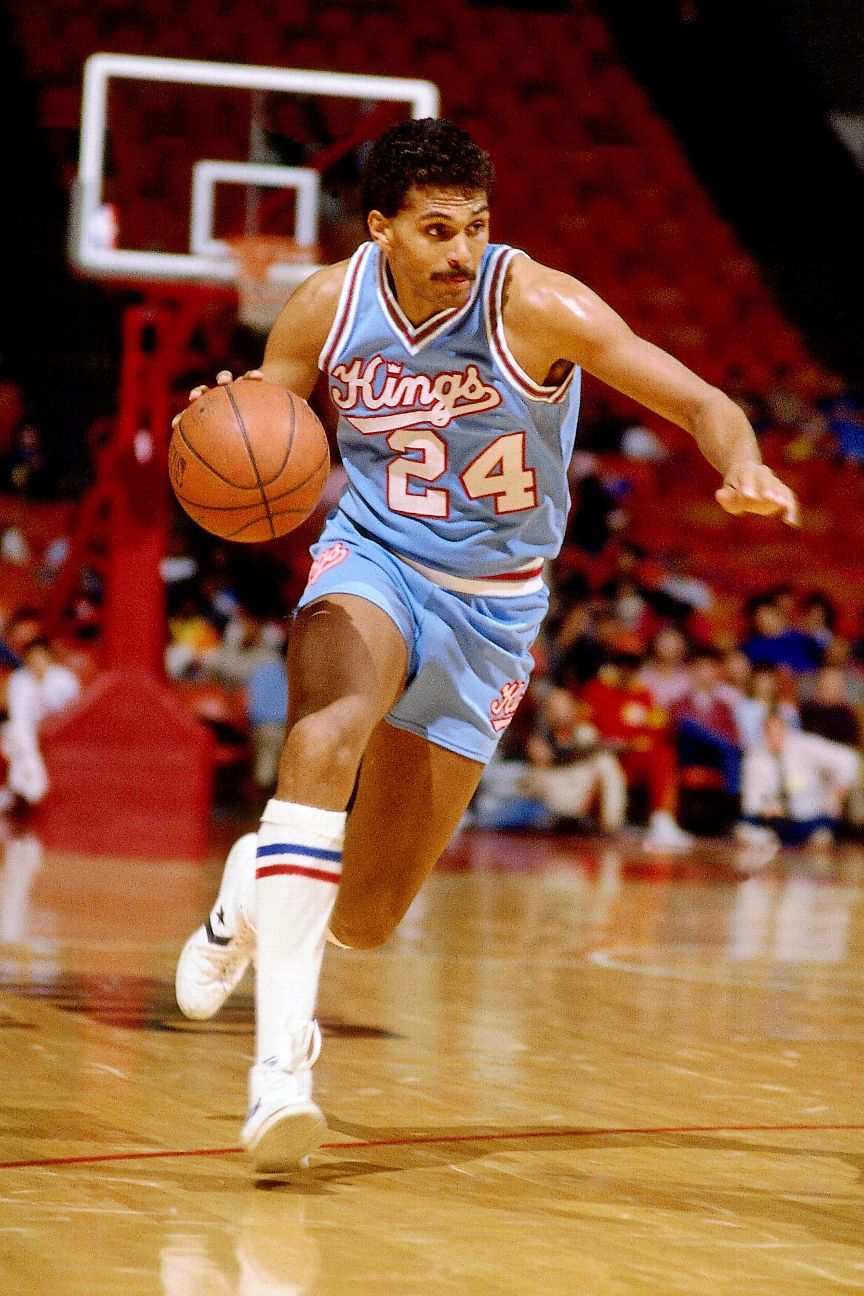 26. Sacramento Kings (Baby blue)
Seasons worn: 1985-90
Notable players in this look: Reggie Theus, Otis Thorpe, LaSalle Thompson, Wayman Tisdale
When the Kings relocated from Kansas City to Sacramento in 1985, the franchise switched up its swag, changing the team's primary color from royal to baby blue as a new canvas for the scripted "Kings" font. -- Dodson
---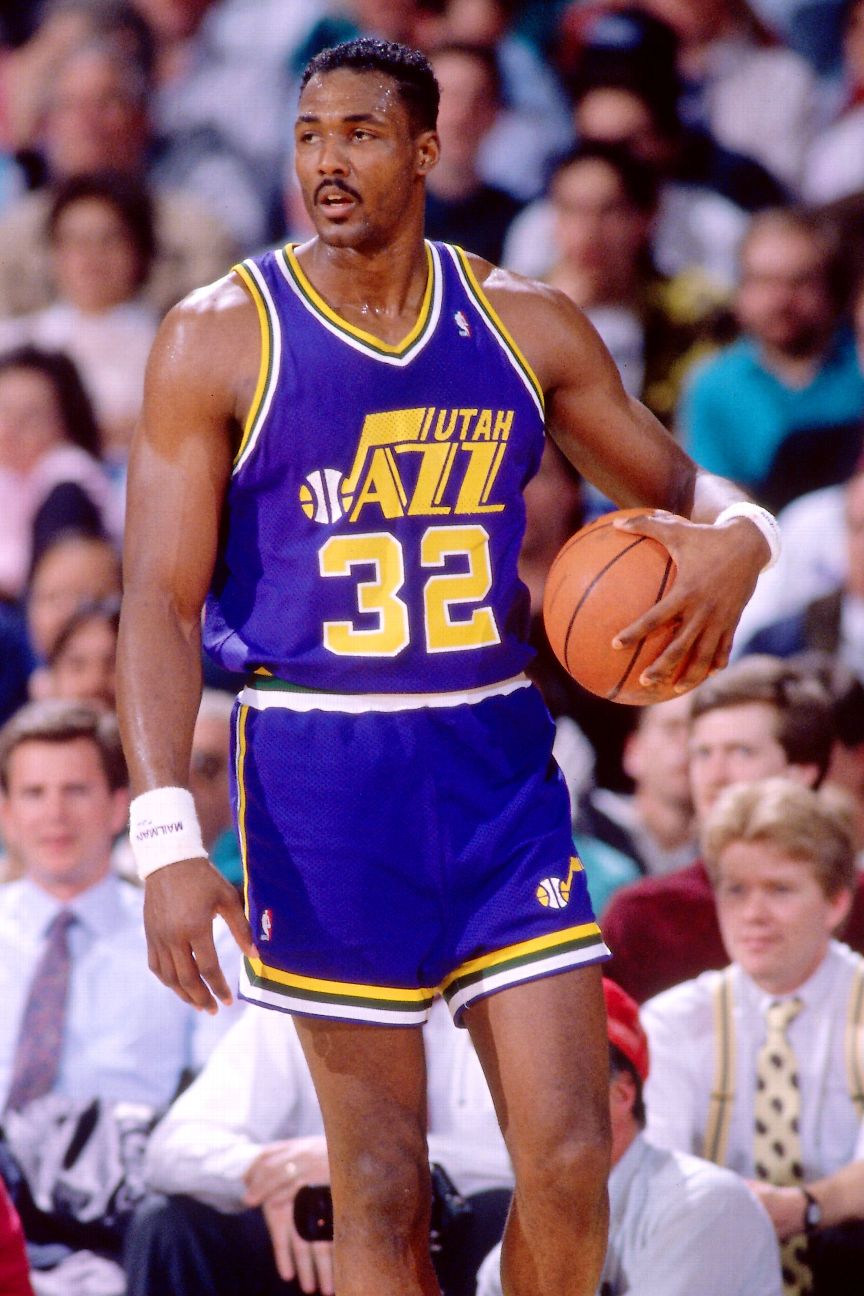 25. Utah Jazz (Purple Jazz note)
Seasons worn: 1984-96
Notable players in this look: Karl Malone, John Stockton, Mark Eaton, Thurl Bailey
When the Jazz moved to Utah, they switched from purple road jerseys to green. They switched back in 1984, became a Western Conference contender, and went back to a similar look for their current jersey set. -- Reisinger
---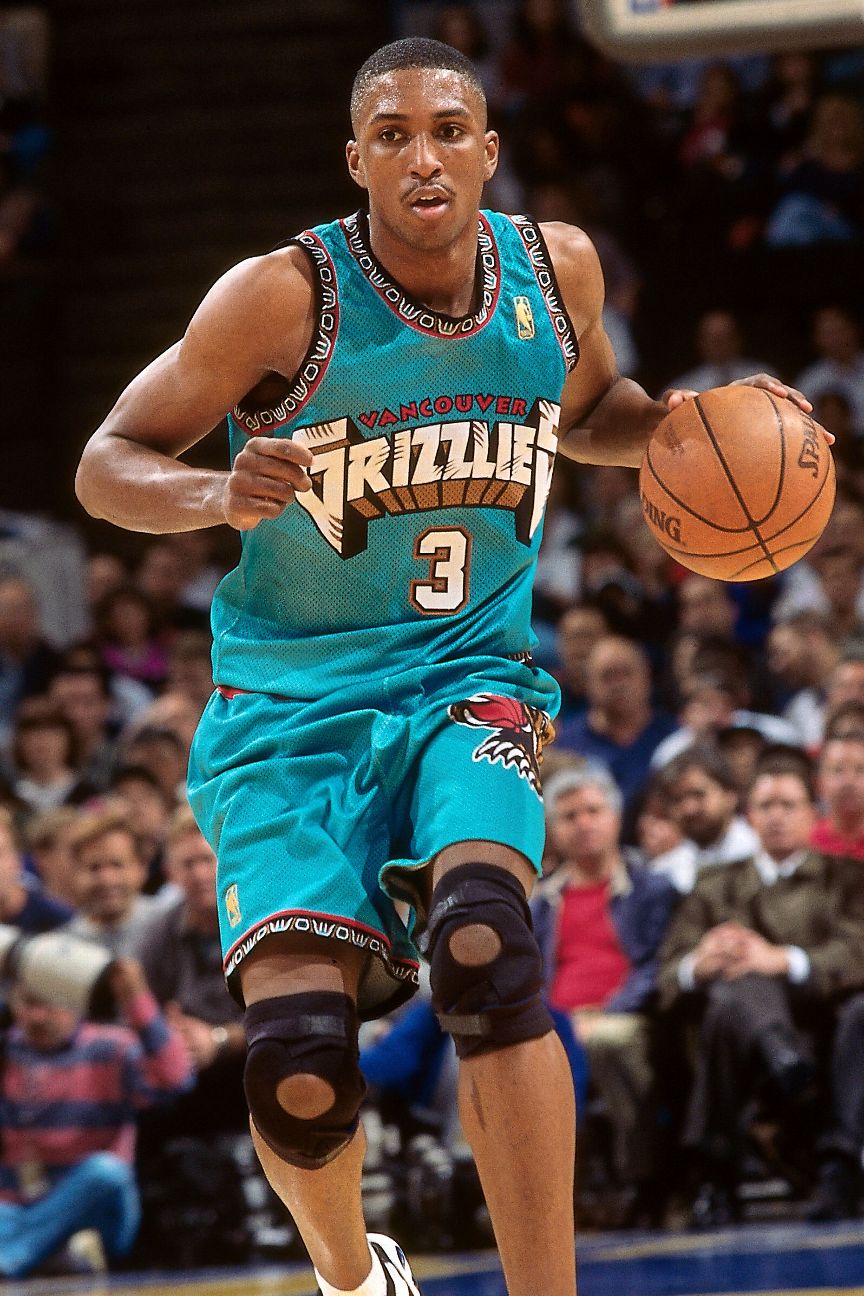 24. Vancouver Grizzlies (Original)
Seasons worn: 1995-2000
Notable players in this look: Shareef Abdur-Rahim, Bryant Reeves, Greg Anthony, Mike Bibby
With inspiration coming directly from Native Canadian community members -- the turquoise and brown represented the sky, heavens and local grizzly bears -- the expansion franchise burst onto the scene with one of the loudest and more creatively detailed designs in league history. -- DePaula
---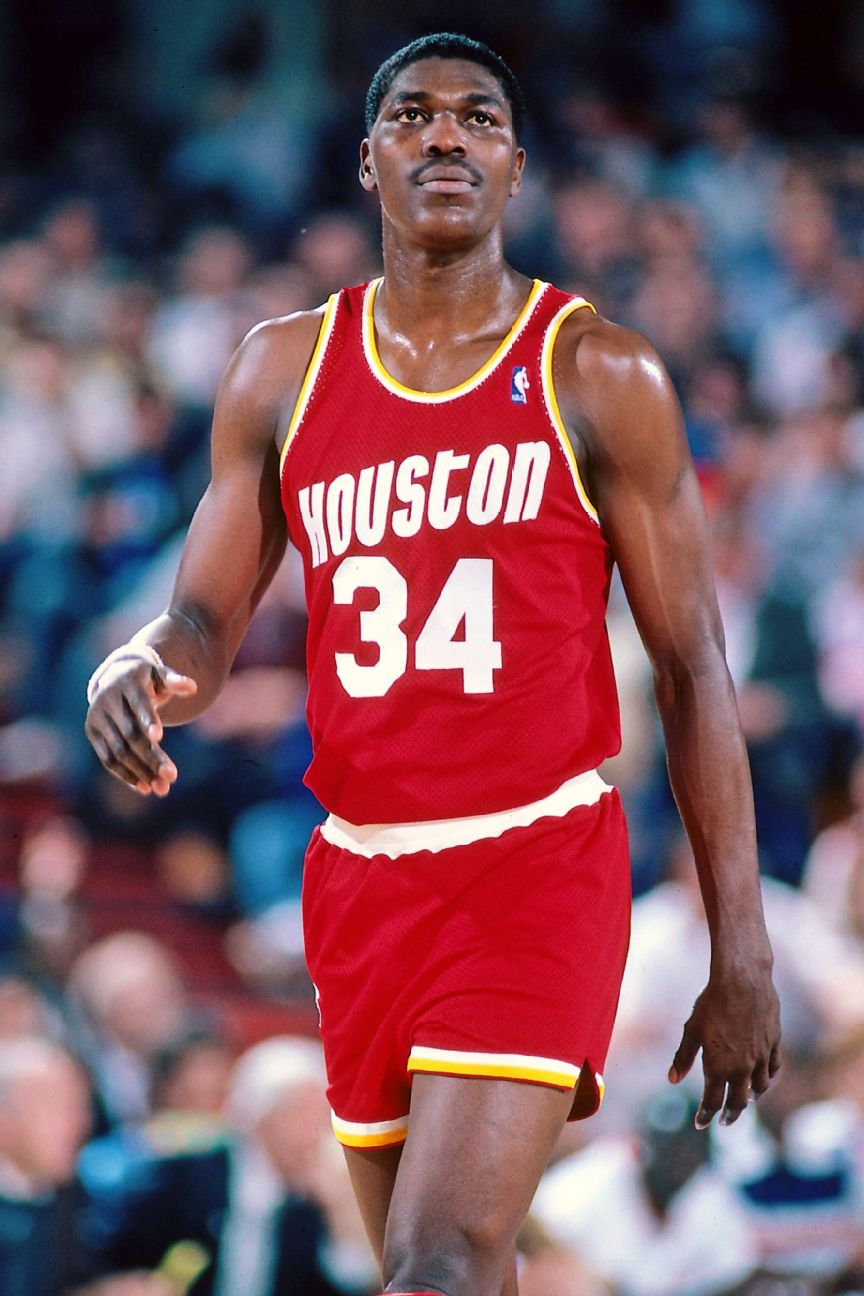 23. Houston Rockets (Red with yellow trim)
Seasons worn: 1976-95
Notable players in this look: Hakeem Olajuwon, Moses Malone, Otis Thorpe, Calvin Murphy
Never underestimate the heart of a champion, and never underrate a classic look. The Rockets won back-to-back titles in this one, but changed to a quintessentially '90s design a year later. It was definitely a mistake. -- Reisinger
---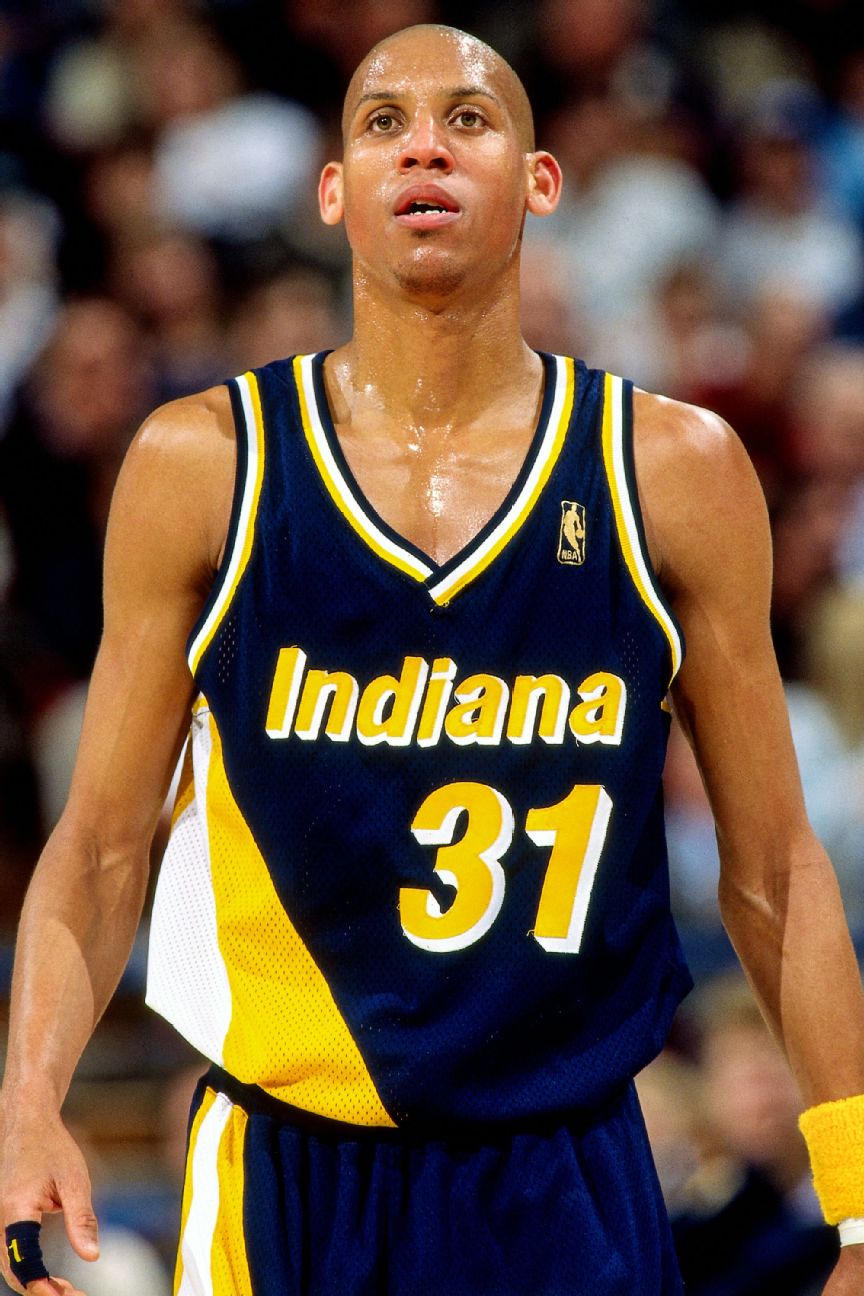 22. Indiana Pacers (Flo-Jo)
Seasons worn: 1990-97
Notable players in this look: Reggie Miller, Dale Davis, Rik Smits, Detlef Schrempf
Stemming from an intern's suggestion, 1988 Olympic gold medalist Florence Griffith Joyner was tapped to rebrand the Pacers, after earning praise for her own elaborate racing uniform designs. The vertically striped "Flo-Jo" jerseys have been considered the franchise's best ever since. -- DePaula
---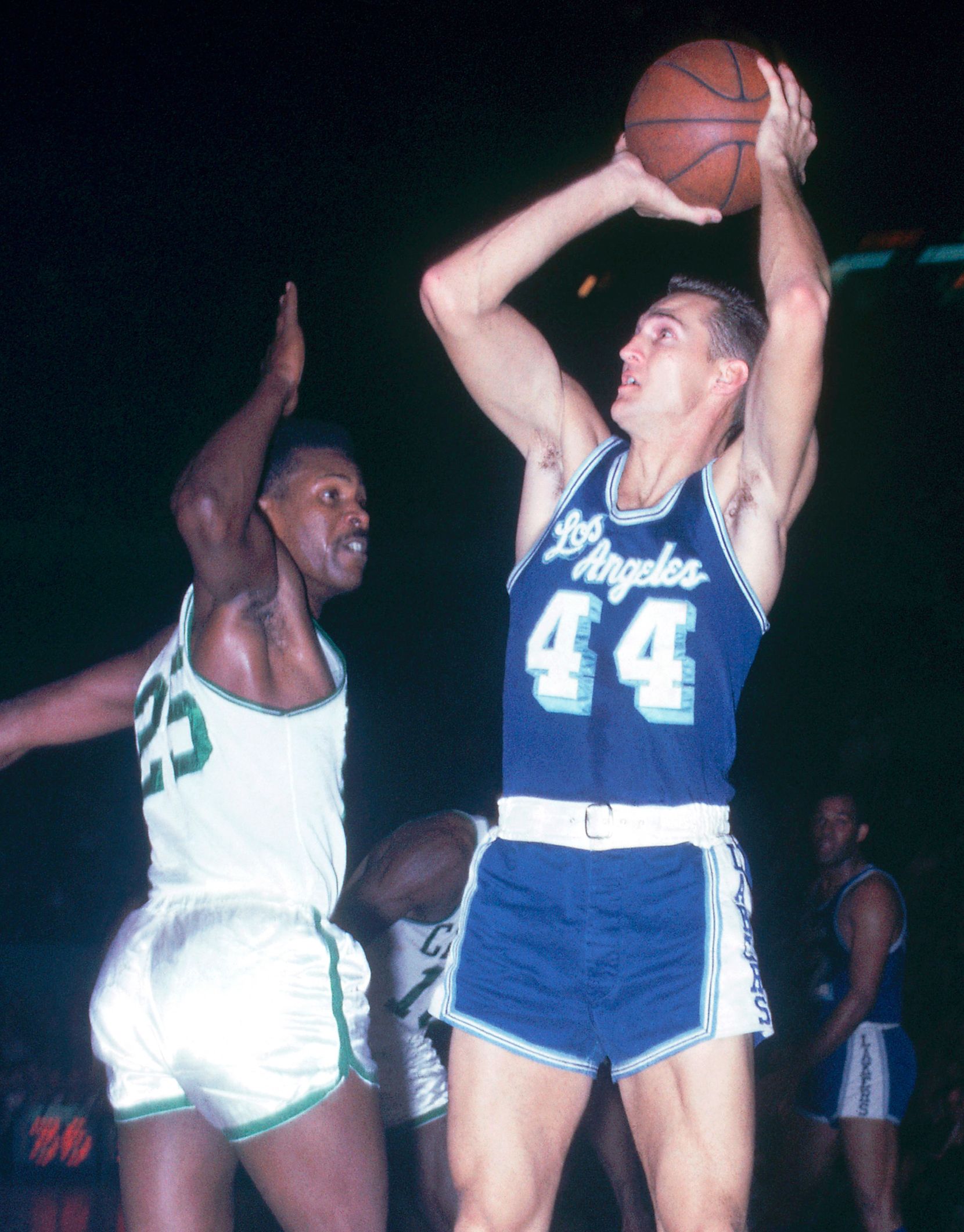 21. L.A. Lakers (L.A. baby blue)
Seasons worn: 1960-66
Notable players in this look: Jerry West, Elgin Baylor, Rudy LaRusso, Dick Barnett
With rookie Jerry West in tow for the franchise's move to Los Angeles, the blue and white cursive "Los Angeles" unis represented one of the last links to the Lakers' Minnesota roots, before the switch to the team's long-standing palette of purple and gold. -- DePaula
---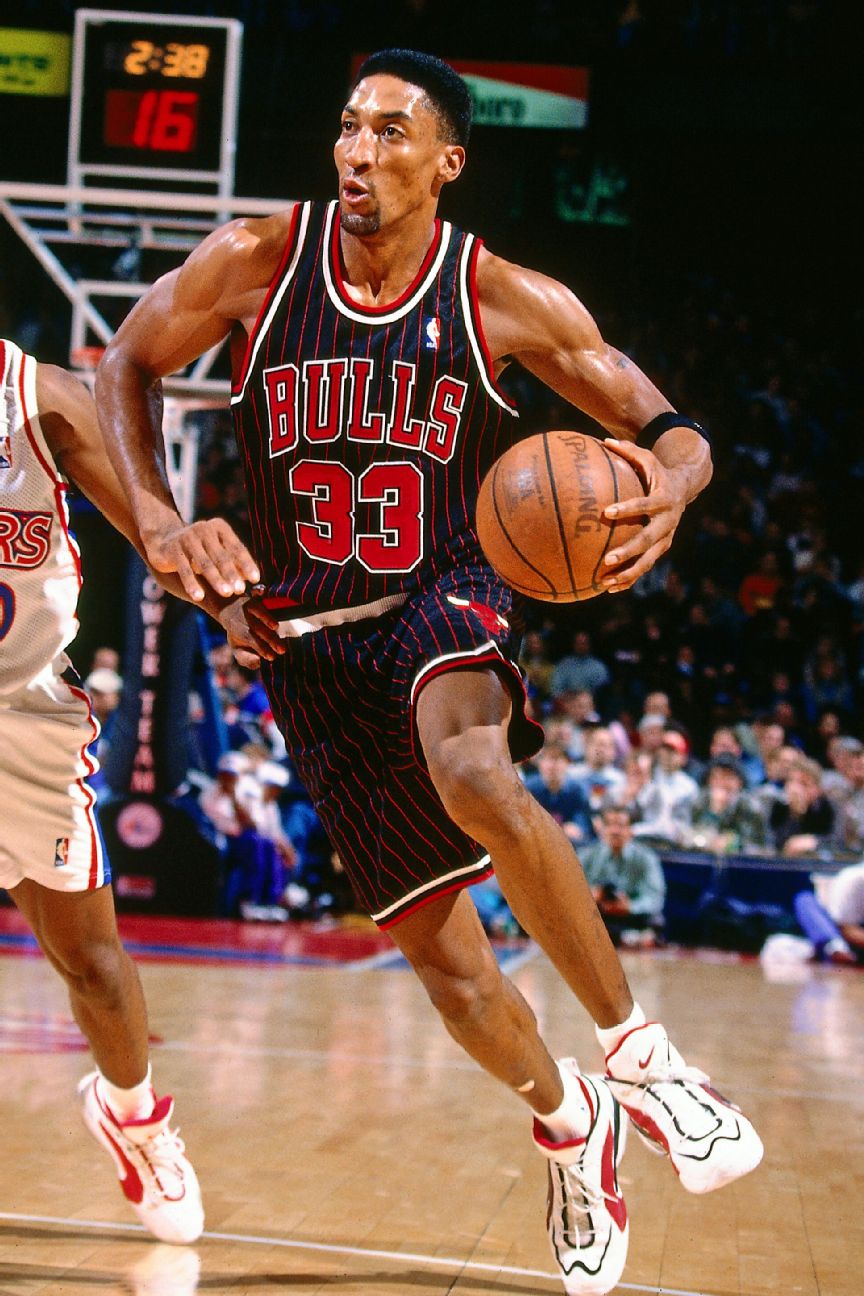 20. Chicago Bulls (Black pinstriped)
Seasons worn: 1995-96
Notable players in this look: Michael Jordan, Scottie Pippen, Dennis Rodman, Toni Kukoc
When you have an iconic regular set of jerseys, it's hard to add something that will also stick out. But that's just what the Bulls did with this jersey. Going with black made sense, but adding the pinstripes took it over the top. And red pinstripes at that? Brilliant. -- Lopez
---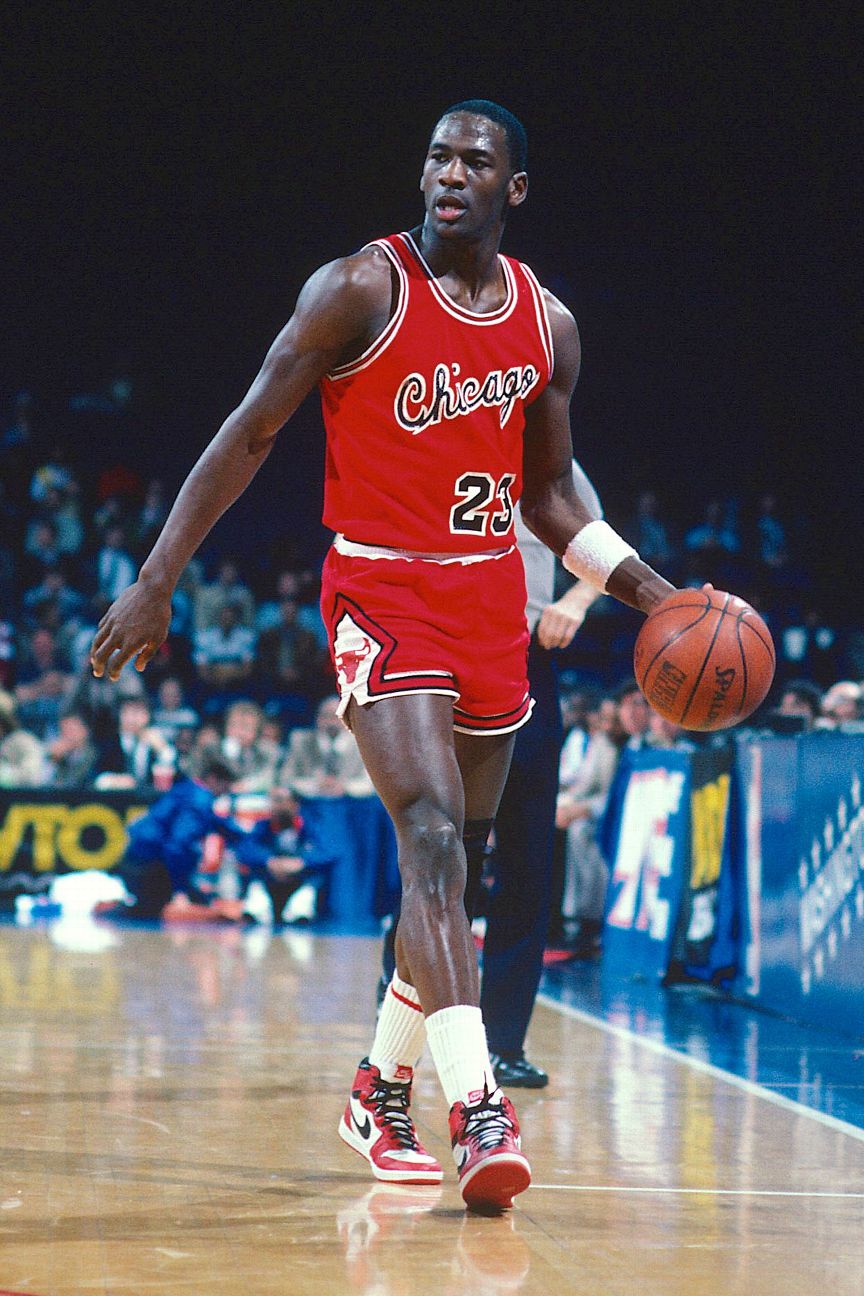 19. Chicago Bulls (Script Chicago)
Seasons worn: 1973-85
Notable players in this look: Michael Jordan, Artis Gilmore, Reggie Theus, Norm Van Lier
A young Michael Jordan wore this uniform for only one season, during his 1984-85 rookie year. But it's hard to forget the most iconic image of the red jersey: His Airness taking flight in the 1985 dunk contest with two gold chains dangling over the slanted "Chicago" cursive. -- Dodson
---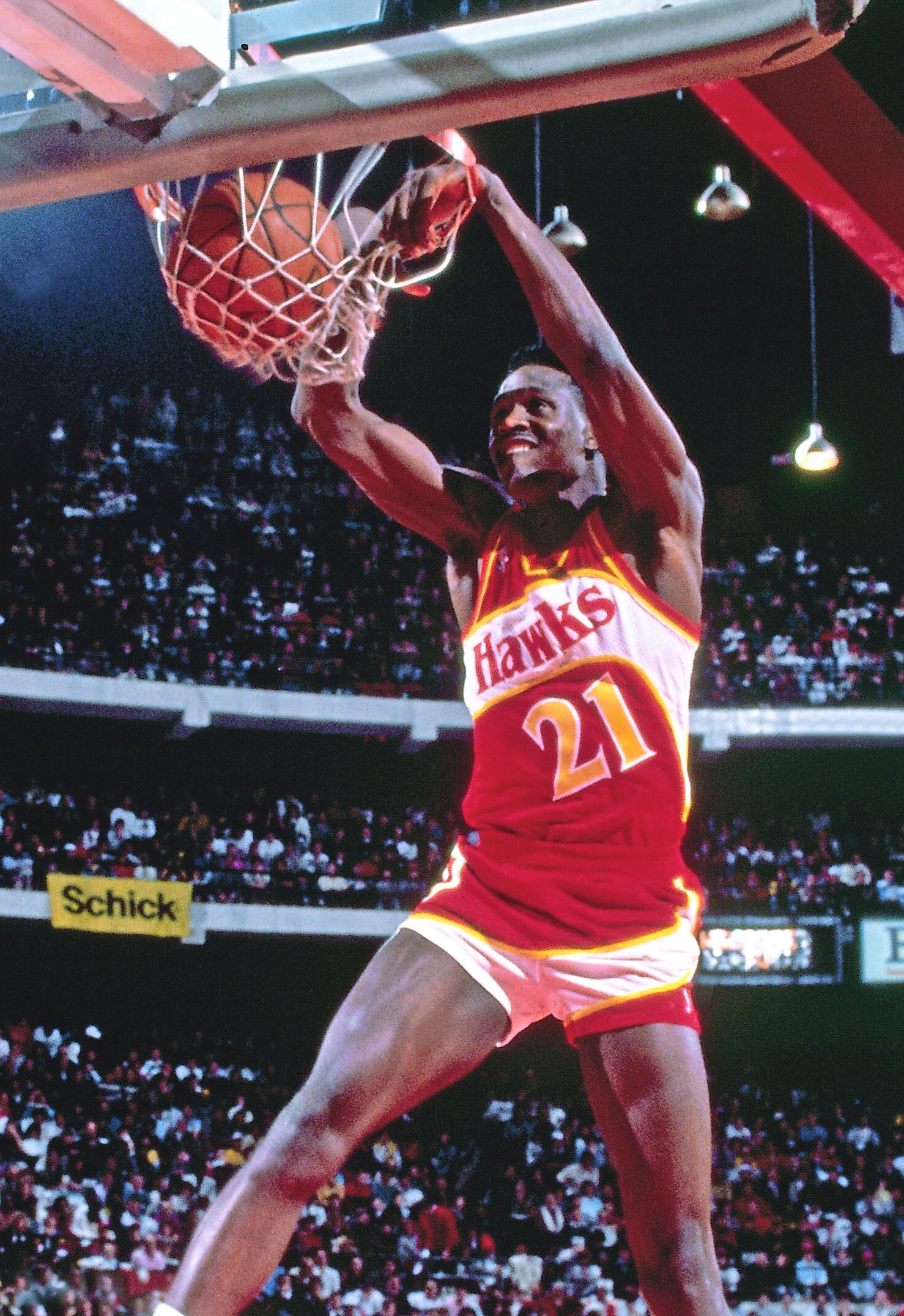 18. Atlanta Hawks ("Pac-Man" red)
Seasons worn: 1982-92
Notable players in this look: Dominique Wilkins, Doc Rivers, Kevin Willis, Spud Webb
Debuted during Dominique Wilkins' rookie season, this uniform became a Superman suit for the Atlanta Hawks. Wilkins is the only player to have remained with Atlanta during the entire near decade the team was outfitted in these threads, with "HAWKS" on the jersey in a white mesh cutout that reflects onto the shorts. -- Dodson
---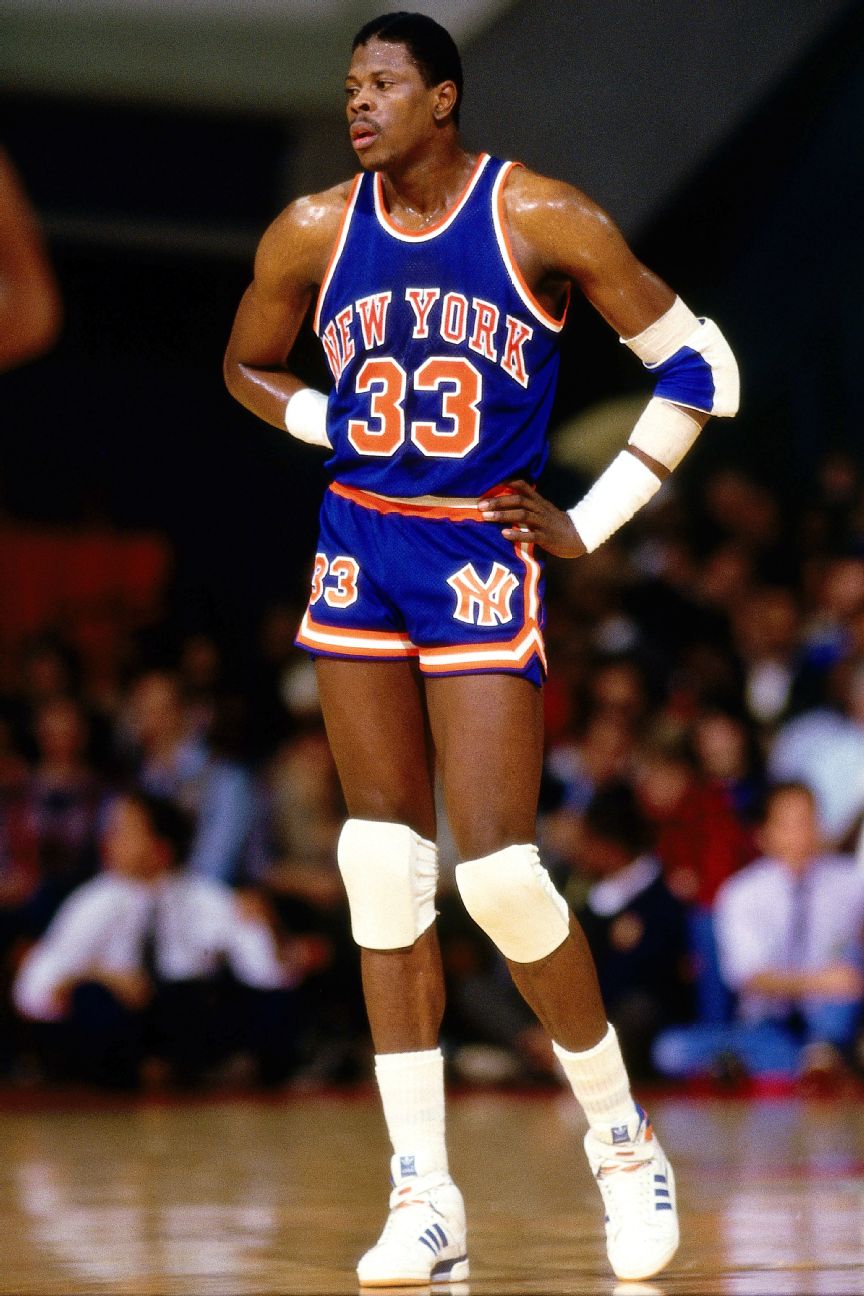 17. New York Knicks (Classic blue)
Seasons worn: 1968-79, 1983-97
Notable players in this look: Patrick Ewing, Walt Frazier, Earl Monroe, Charles Oakley
Outside of a drastically different look in the early '80s, this is how the Knicks took the floor for the better part of three decades. Black trim was added in the '90s (because it was the '90s) but this is the look that will always be associated with New York's most successful teams. -- Reisinger
---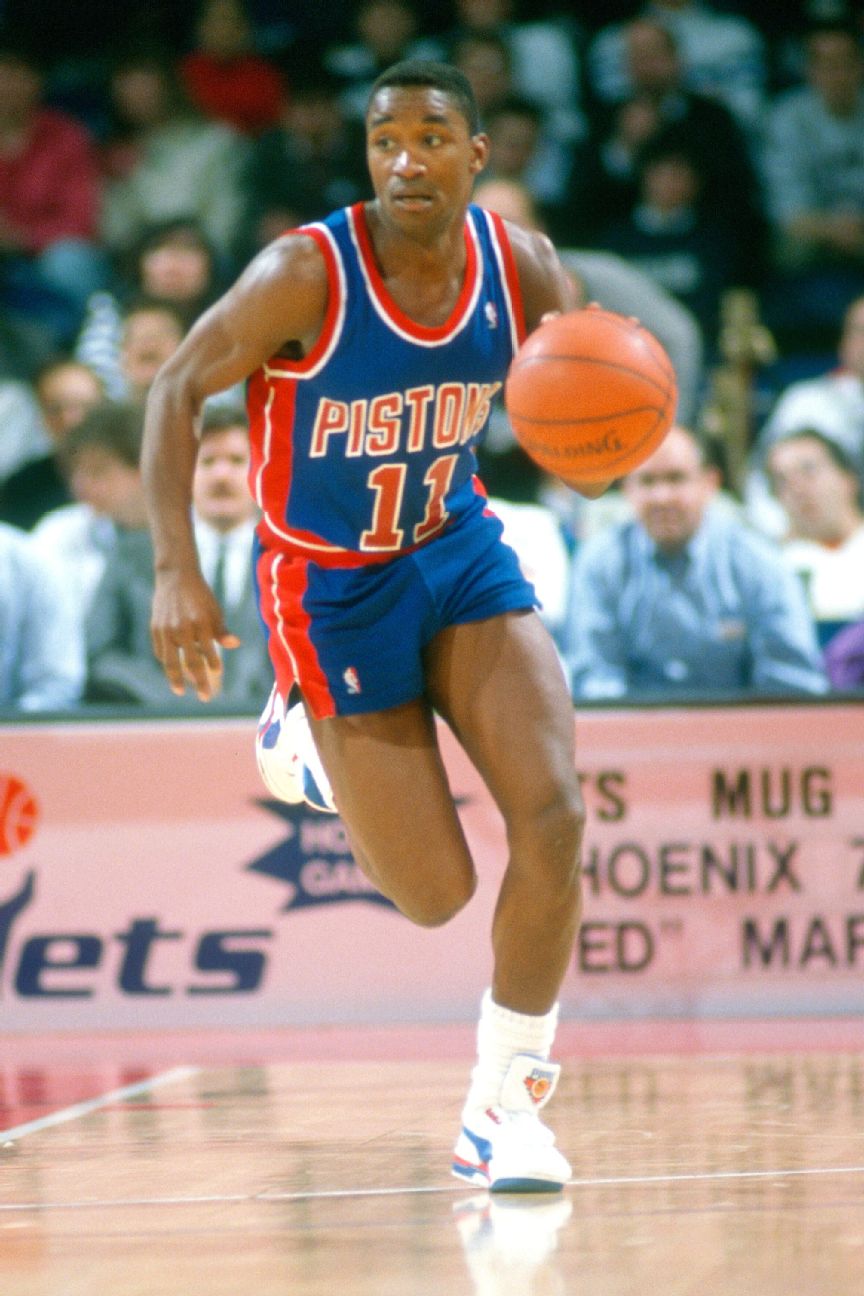 16. Detroit Pistons (Bad Boys blue)
Seasons worn: 1981-96
Notable players in this look: Isiah Thomas, Joe Dumars, Bill Laimbeer, Dennis Rodman
When someone says "Detroit Pistons jerseys," this is what comes to mind (unless you're at Coachella, where teal horses run free). The Bad Boys won in classic red, white and blue, and the team brought a similar look back in 2001, just in time for another championship run. -- Reisinger
---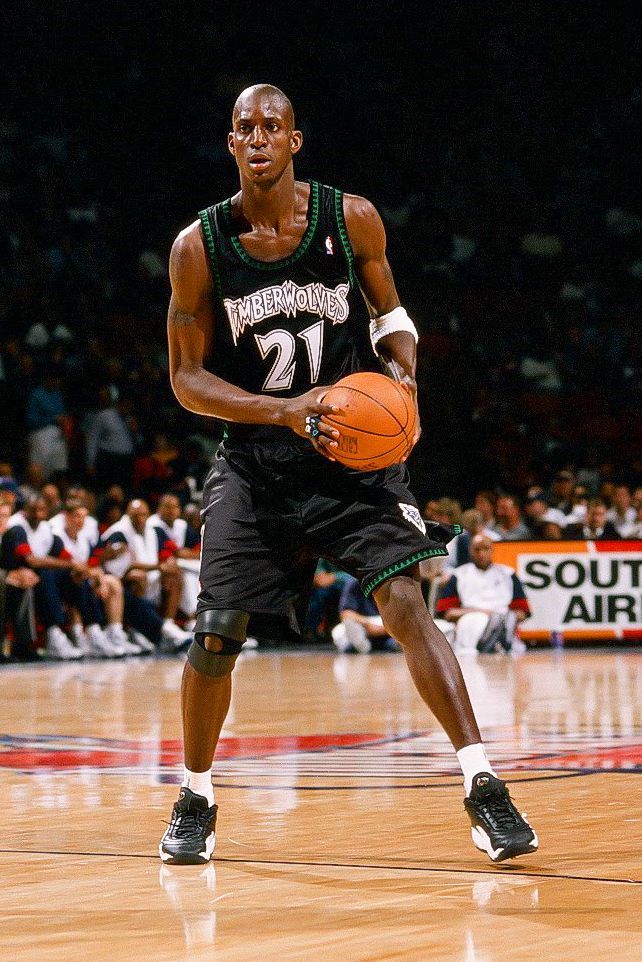 15. Minnesota Timberwolves (Black with tree trim)
Seasons worn: 1996-2008
Notable players in this look: Kevin Garnett, Terrell Brandon, Wally Szczerbiak, Sam Mitchell
Kevin Garnett made these what they were. He made the team successful and he made these jerseys tough, especially with the green tree trim around the sides. The best moments in franchise history came when Garnett & Co. were rocking these and racking up victories. -- Friedell
---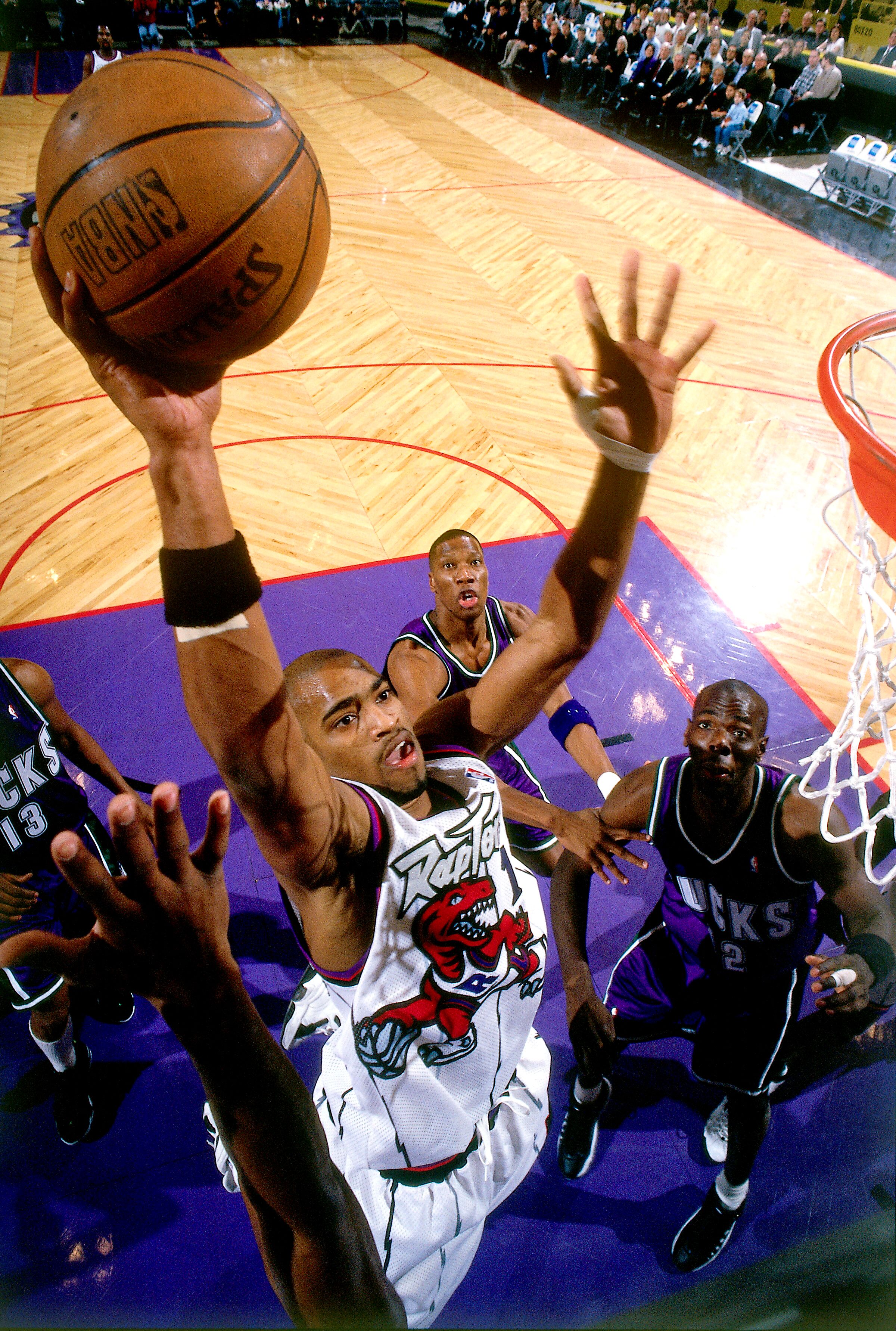 14. Toronto Raptors (Original Dino)
Seasons worn: 1995-99
Notable players in this look: Vince Carter, Tracy McGrady, Damon Stoudamire, Marcus Camby
Widely mocked at the time of their initial release, the Raptors' Dino sets slowly became one of the more beloved jerseys in the NBA. The large dinosaur logo on the chest with the pinstripes was a bit too much at first, but it's all love now. -- Lopez
---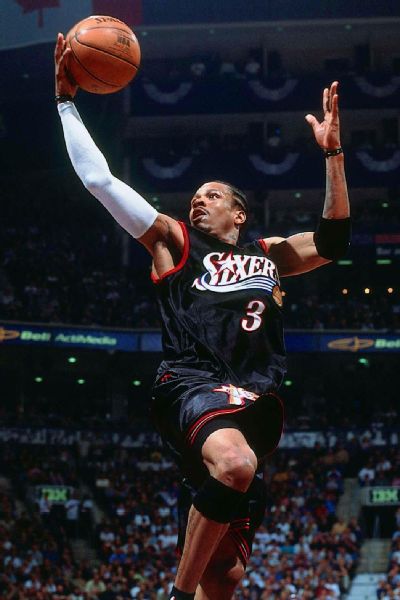 13. Philadelphia 76ers (2000s Dazzle)
Seasons worn: 2000-06
Notable players in this look: Allen Iverson, Dikembe Mutombo, Eric Snow, Aaron McKie
As if the star athlete wearing these uniforms wasn't rare enough, the "dazzle" fabric that the Sixers wore when few teams around the team were doing it only made Allen Iverson stand out more. The fact that he had it on for Game 1 of the 2001 Finals only cemented its appeal. -- McMenamin
---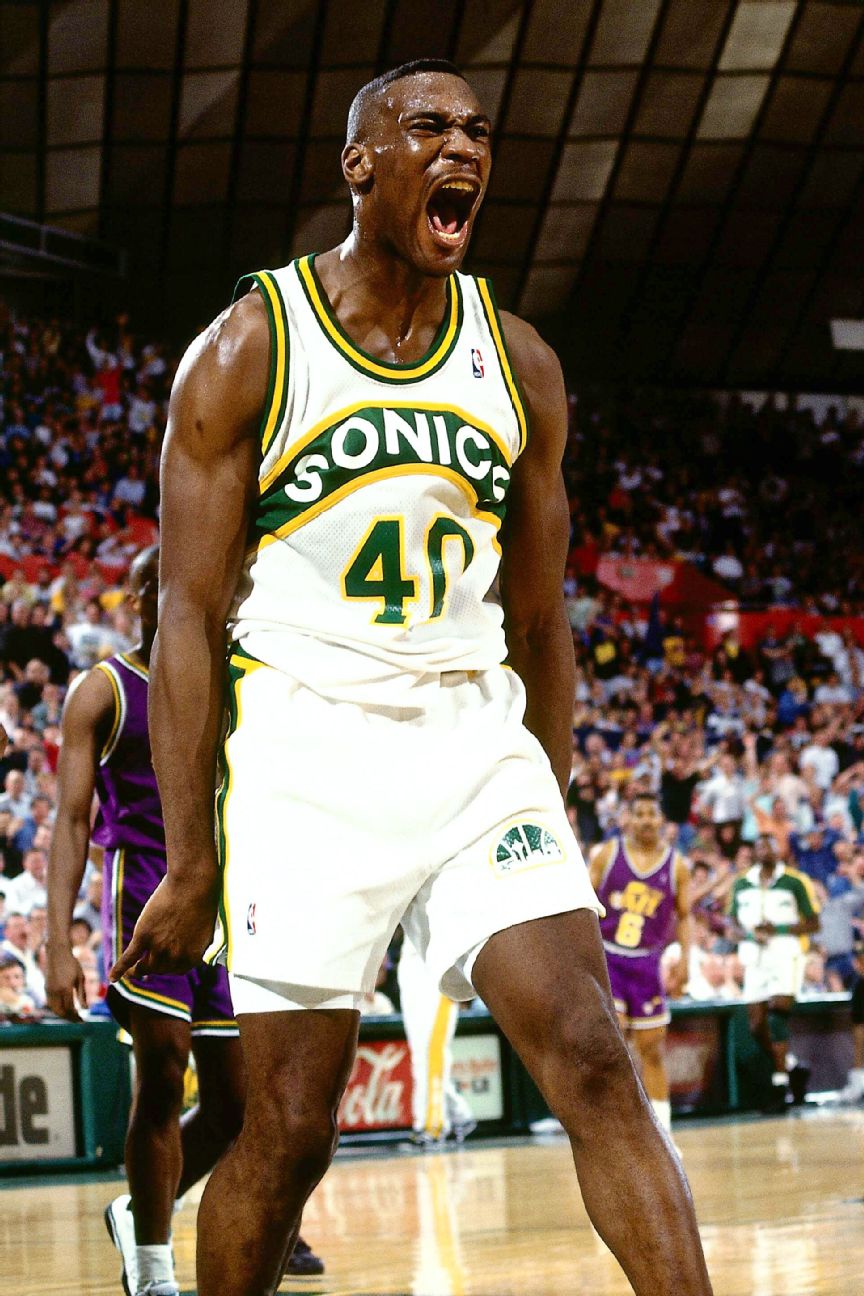 12. Seattle SuperSonics ('80s green and white)
Seasons worn: 1978-95
Notable players in this look: Jack Sikma, Nate McMillan, Shawn Kemp, Gary Payton
This look always represented the city of Seattle well. Stylish and different just the way they like it up in the Pacific Northwest. Gary Payton and Shawn Kemp putting together alley-oops in the classic green and whites? That was fun. -- Friedell
---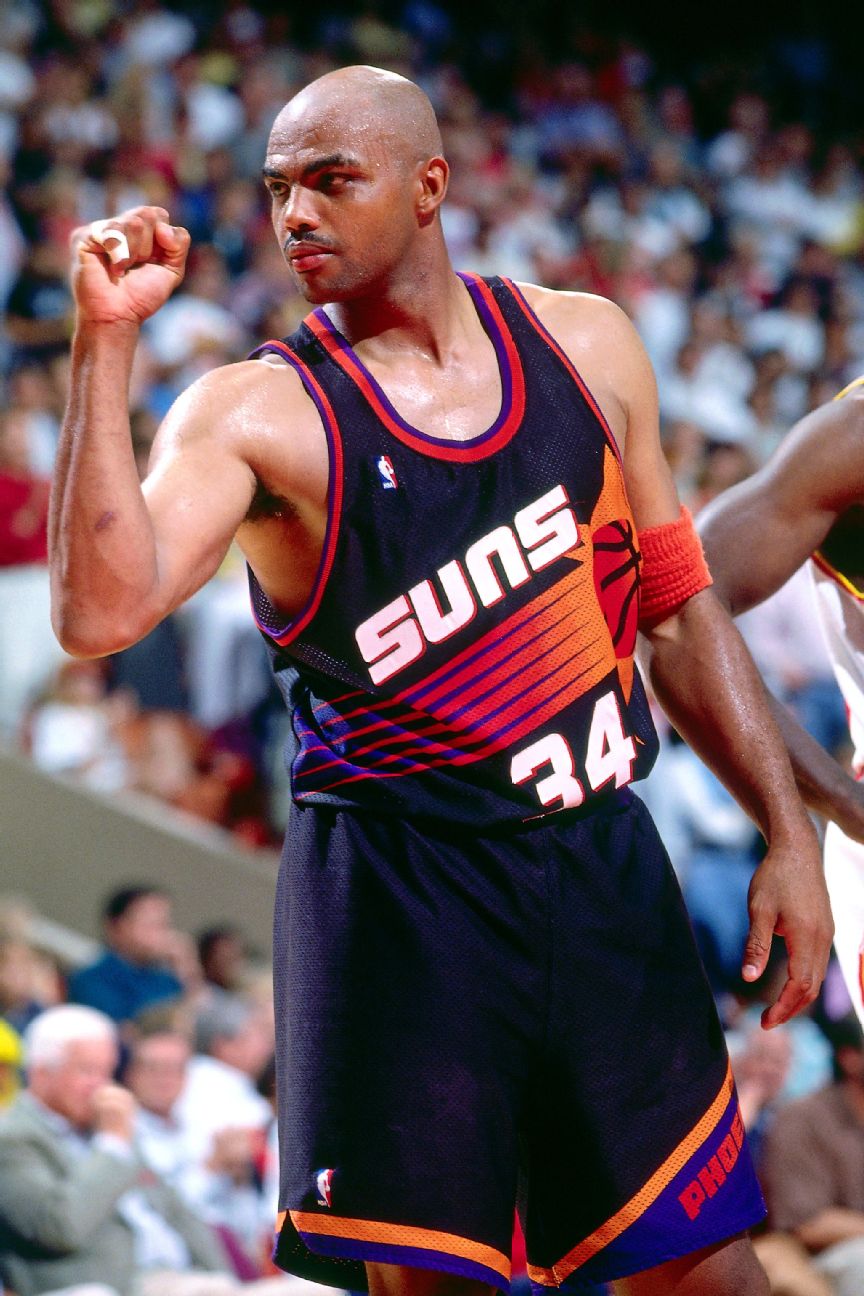 11. Phoenix Suns ('90s black)
Seasons worn: 1993-2001
Notable players in this look: Charles Barkley, Kevin Johnson, Dan Majerle, Jason Kidd
Black and orange can be a tricky color palette to paint with. Yet the Suns managed to sidestep any Halloween vibes (or Cincinnati Bengals likeness, for that matter) with their sunburst uniforms in the '90s. Bonus: "Suns" reads just the same if you look at the uniform upside down. A neat Easter egg created by the font choice. -- McMenamin
---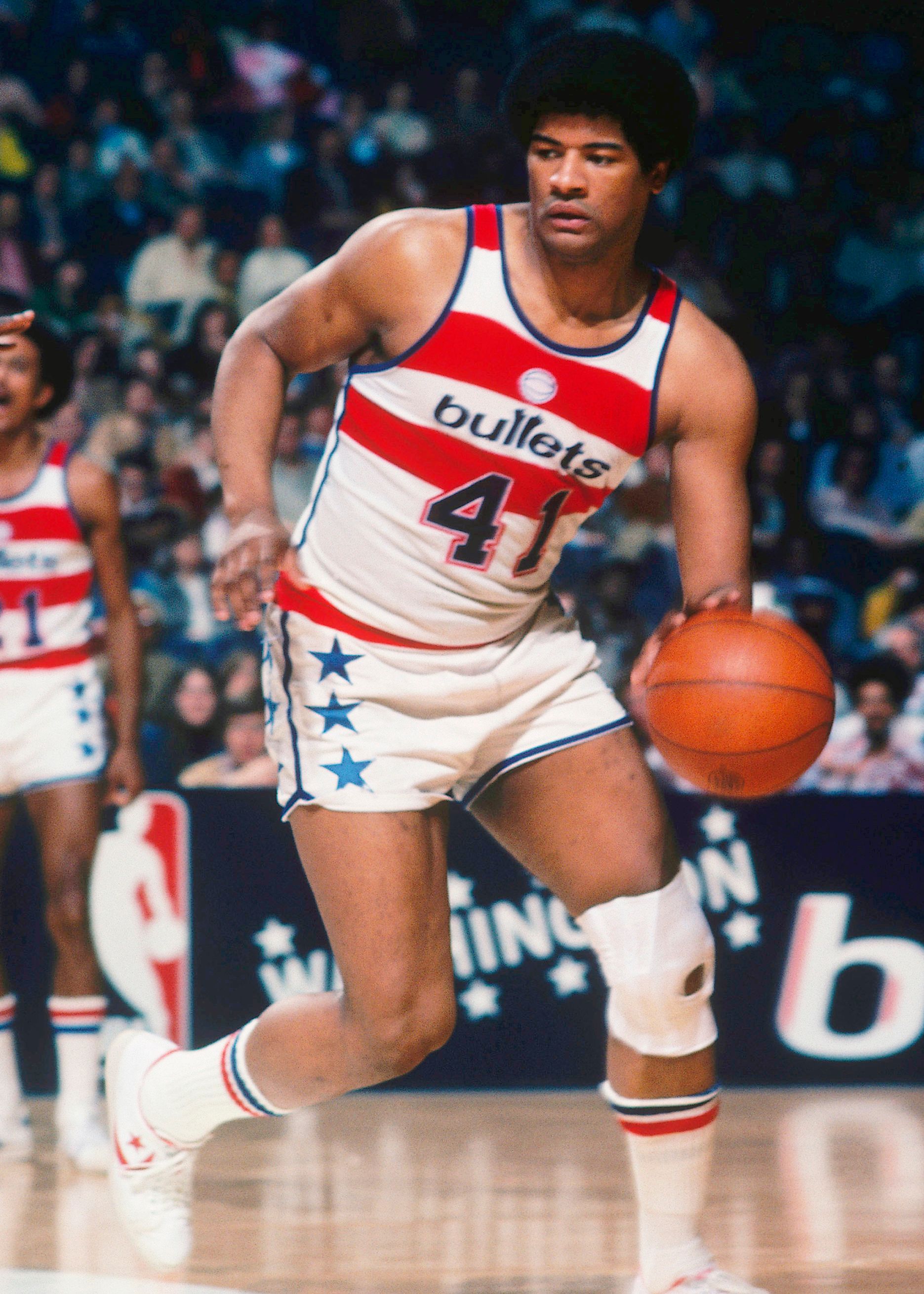 10. Washington Bullets (Red, white and blue)
Seasons worn: 1974-87
Notable players in this look: Elvin Hayes, Wes Unseld, Phil Chenier, Bob Dandridge
The red, white and blue stripes and the double-L forming hands reaching for a ball are so iconic that when the Wizards redesigned their jerseys a few years ago, they stuck as close to this design as possible (current NBA rules prevent teams from simply reusing old designs as their primary set). -- Reisinger
---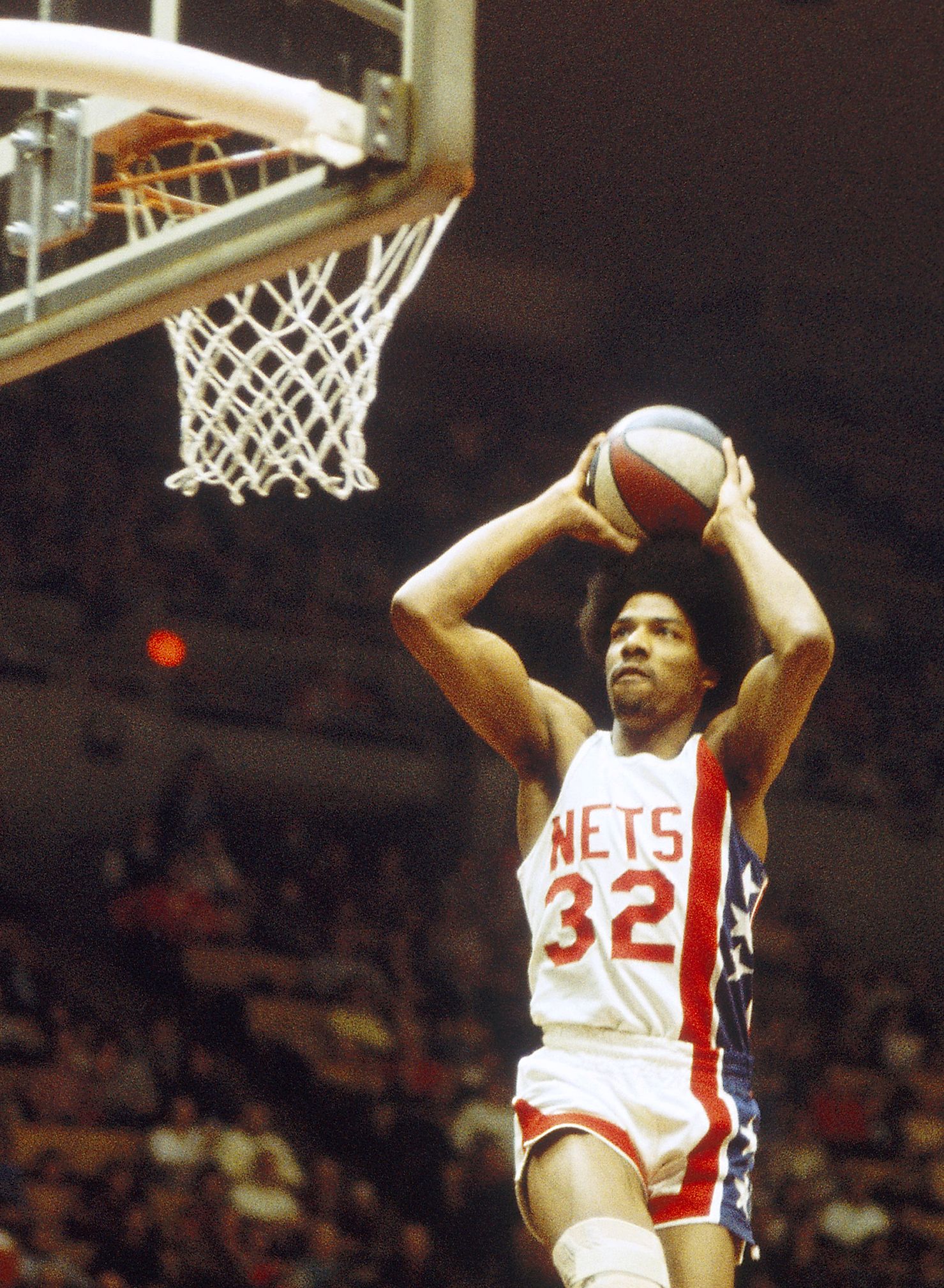 9. New Jersey Nets (Stars and Stripes)
Seasons worn: 1972-81
Notable players in this look: Julius Erving, John Williamson, Bernard King, Billy Paultz
Julius "Dr. J'' Erving might as well have been an Afro'd Uncle Sam in the 1970s, when he donned this stars-and-stripes uniform en route to two ABA championships. Founded in 1967 as the New Jersey Americans, the franchise kept its patriotic swag when it joined the NBA in 1976. -- Dodson
---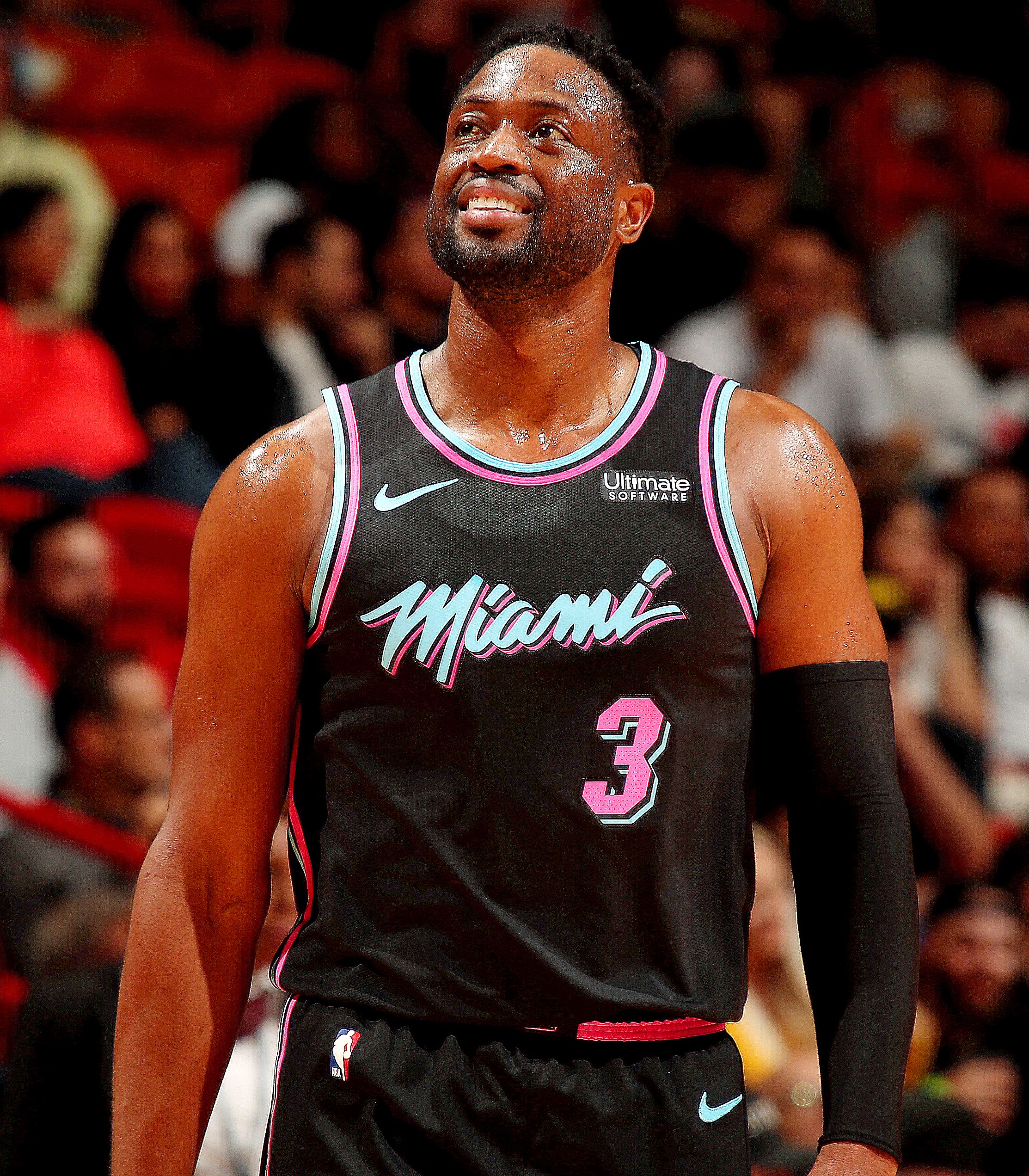 8. Miami Heat ('Vice' collection)
Seasons worn: 2017-present
Notable players in this look: Dwyane Wade, Udonis Haslem, Goran Dragic, Jimmy Butler
Now that Miami has unveiled four "Vice" jerseys -- black, pink, white and blue -- let's just say what needs to be said: These should be the permanent jersey set for the Heat moving forward. This look just oozes Miami culture. If the Heat switched, it would be the best look in the league. -- Lopez
---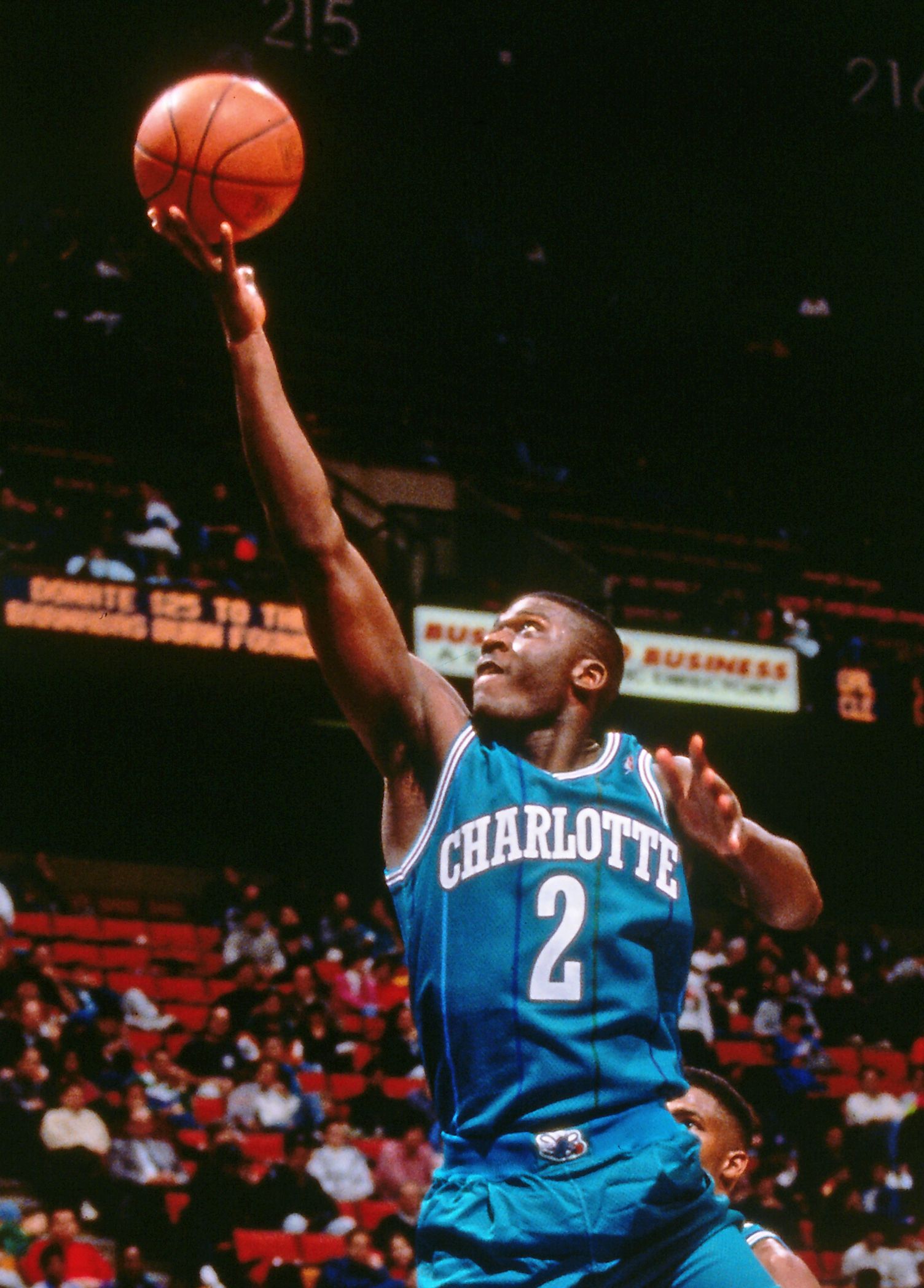 7. Charlotte Hornets (Teal pinstripes)
Seasons worn: 1989-96
Notable players in this look: Larry Johnson, Alonzo Mourning, Muggsy Bogues, Dell Curry
With only 10 playoff appearances in the 31 years since the league expanded in 1988 to welcome the Hornets -- and no postseason run past the second round -- it's not a stretch to say that this uniform is the best thing that's ever happened to the franchise. -- McMenamin
---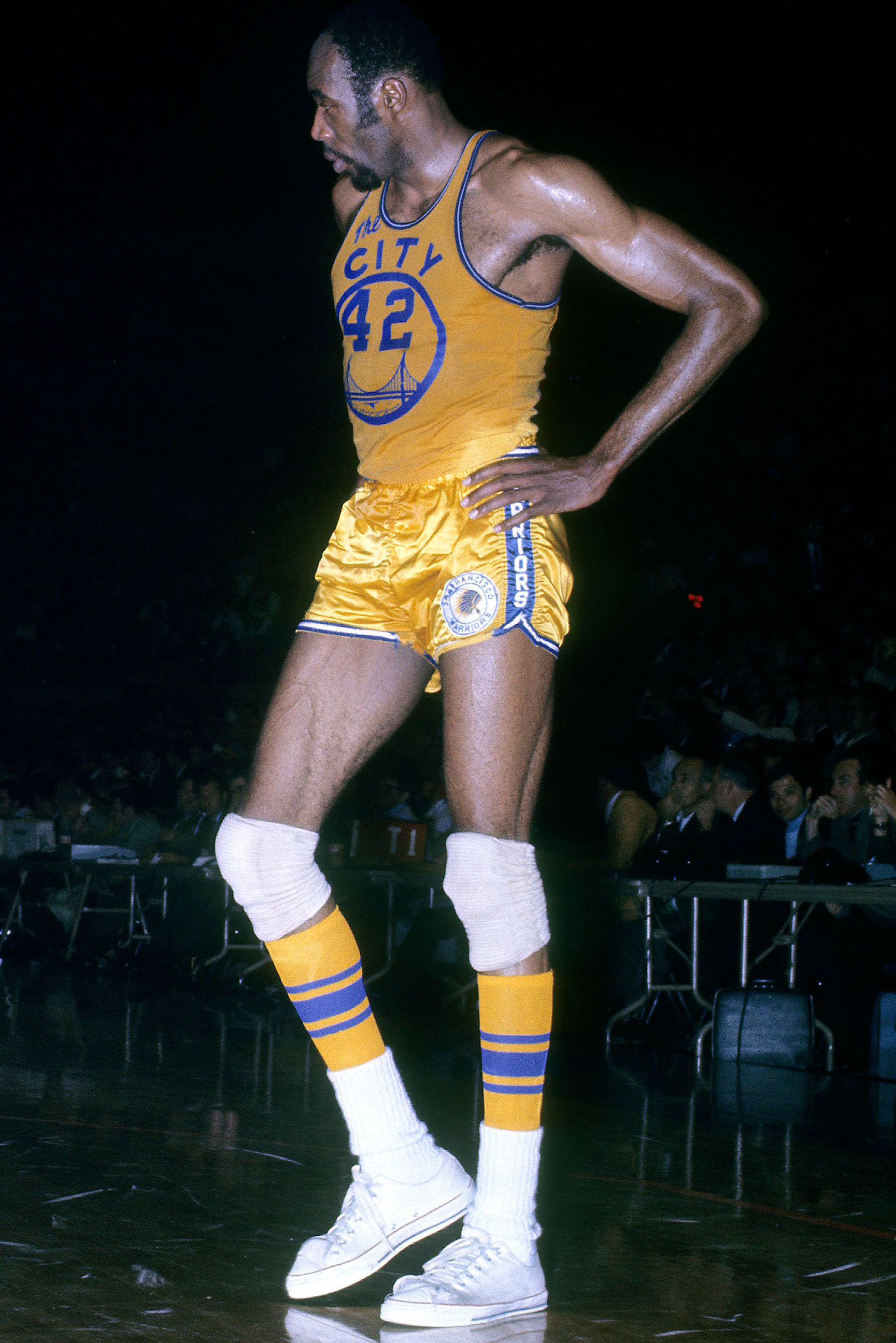 6. San Francisco Warriors (The City)
Seasons worn: 1966-71
Notable players in this look: Rick Barry, Al Attles, Nate Thurmond, Jeff Mullins
Pictures of Rick Barry and Al Attles in this jersey are a reminder of some fun up-and-down basketball in the Bay. These are so nice that the present-day Warriors still bring these back from time to time to pay homage. -- Friedell
---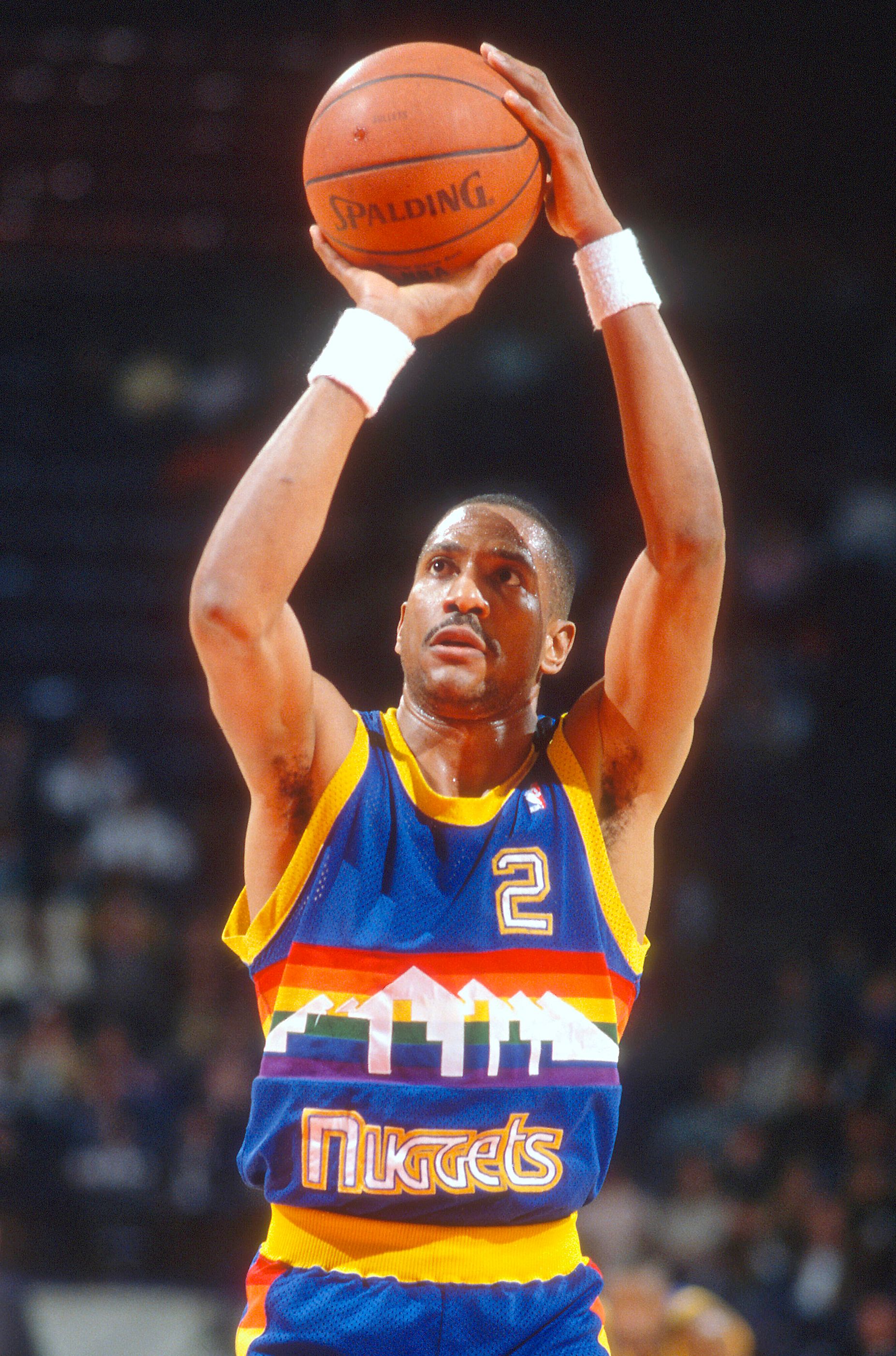 5. Denver Nuggets (Rainbow skyline)
Seasons worn: 1985-93
Notable players in this look: Alex English, Fat Lever, Michael Adams, Danny Schayes
In the 1980s, when the Denver Nuggets introduced new uniforms, they were statistically the fastest team in the NBA. High tempo defined Mile High Basketball, and the franchise even took on-court style to new heights with jerseys featuring a rainbow skyline theme. -- Dodson
---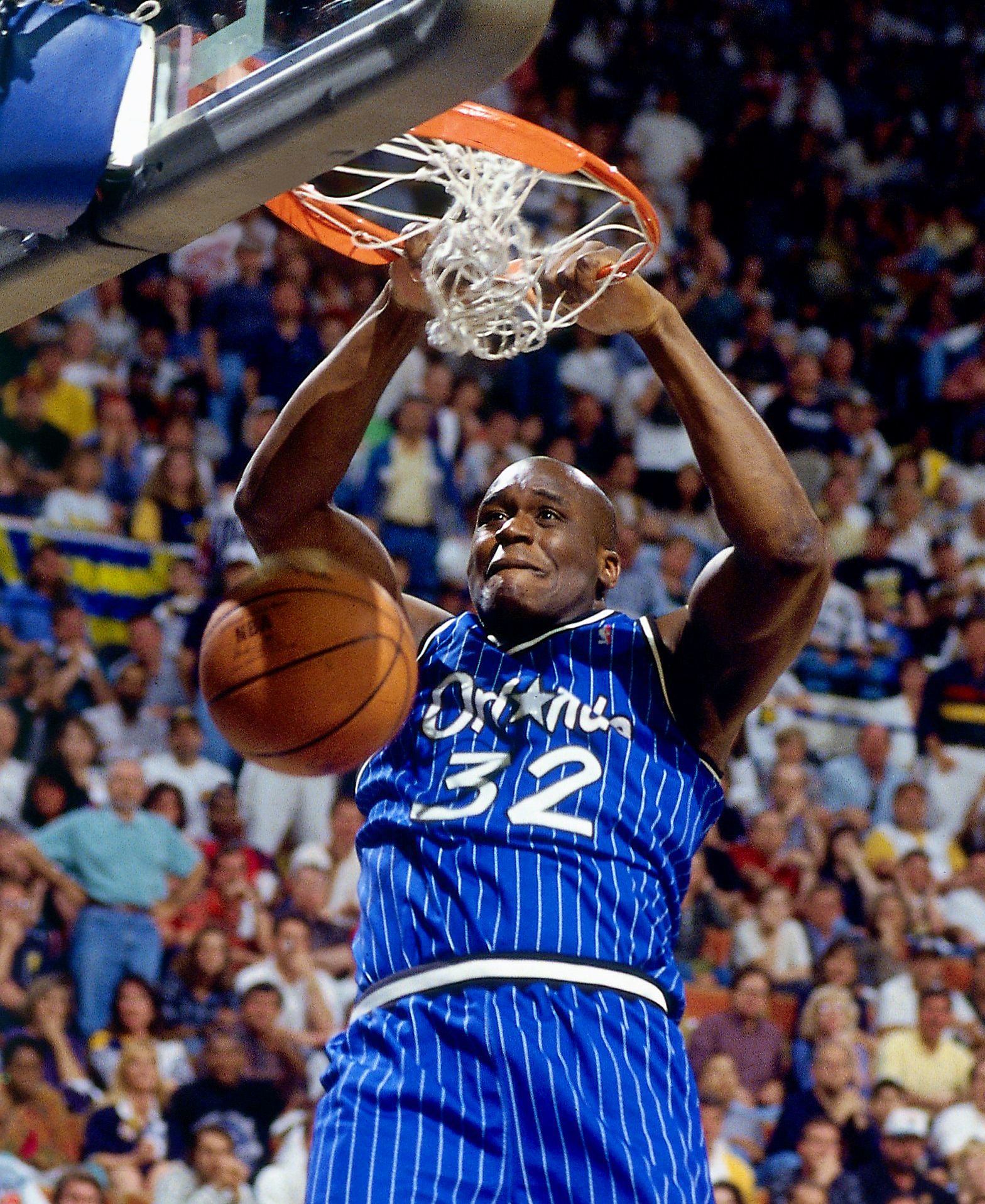 4. Orlando Magic (Electric blue)
Seasons worn: 1994-98
Notable players in this look: Shaquille O'Neal, Anfernee Hardaway, Horace Grant, Nick Anderson
The Magic took their first alternate jersey -- the electric blue version of their original look -- and made it their full-time road look in the mid-'90s. It had style and an air of coolness as Shaquille O'Neal and Penny Hardaway made these a winner in the franchise's heyday. Why did the organization ever go away from the pinstripes? -- Friedell
---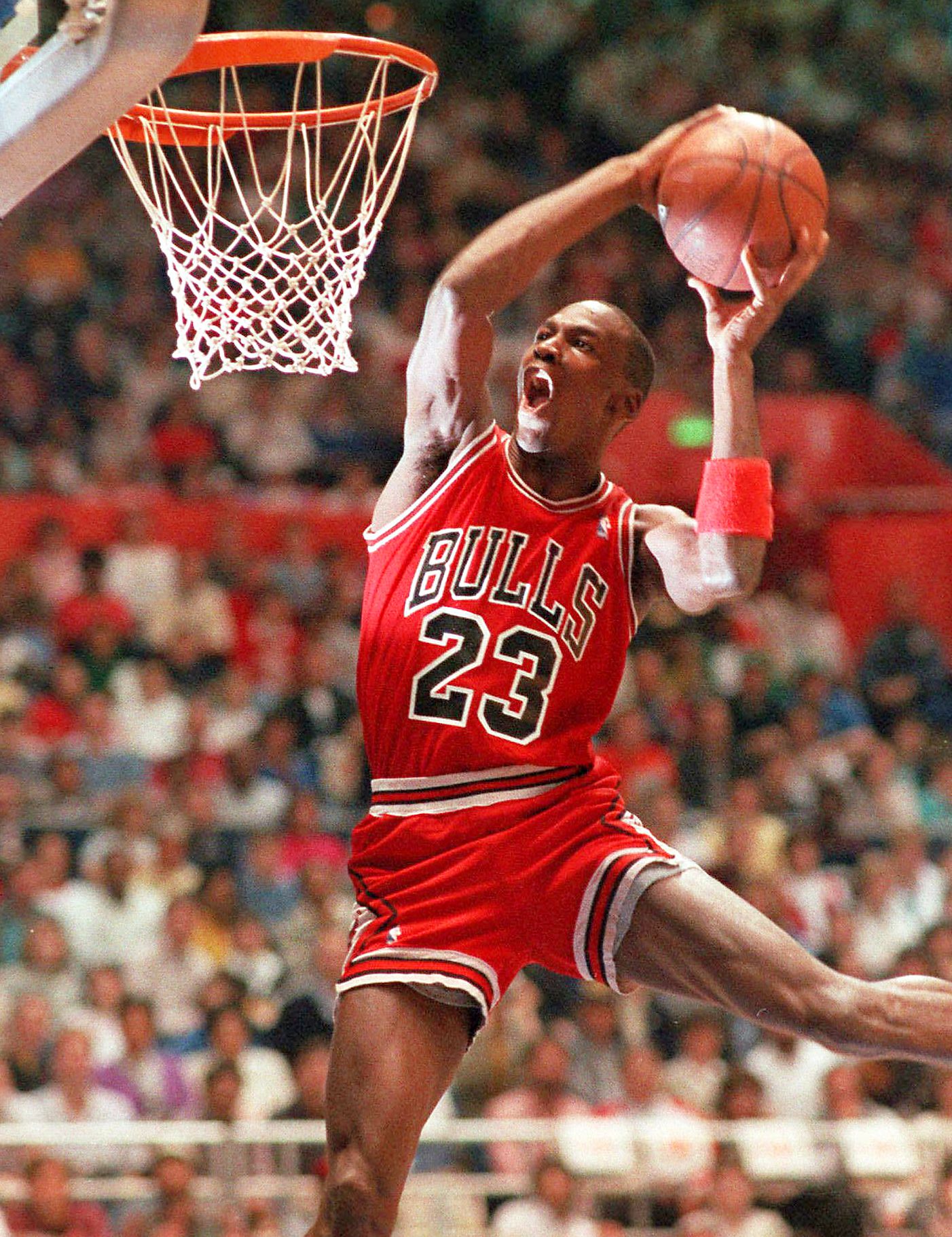 3. Chicago Bulls (Road red)
Seasons worn: 1985-present
Notable players in this look: Michael Jordan, Scottie Pippen, Horace Grant, Derrick Rose
When you think of Michael Jordan and the Bulls winning six championships, you think of these jerseys. The red stands out the most. The B-U-L-L-S across the chest. It's what Jordan wore when he dropped 63 at Boston Garden, when he hit the shot over Craig Ehlo and when he walked off against Utah in 1998. -- Lopez
---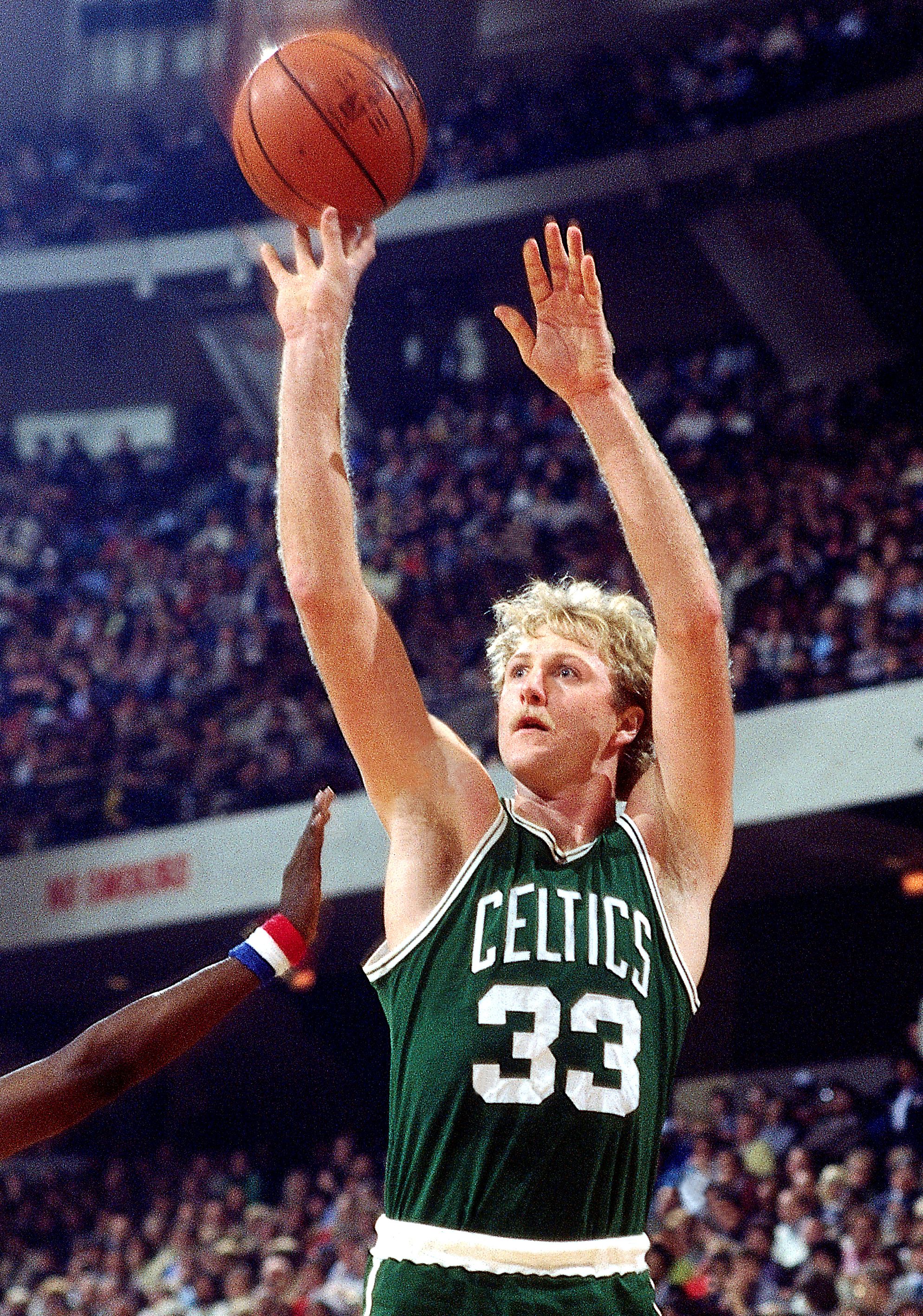 2. Boston Celtics (Classic green)
Seasons worn: 1972-2014
Notable players in this look: Larry Bird, Kevin McHale, Robert Parish, Paul Pierce
While several franchises undergo redesign cycles every decade, the Celtics' look is clearly here to stay. The original Celtics road jersey read "Boston" on the front, but was changed to "Celtics" in 1972, and remained that way until 2014, when the team switched back to "Boston." Aside from that, there have been only subtle shifts to the core design over time, with the simple styling remaining the team's trademark. -- DePaula
---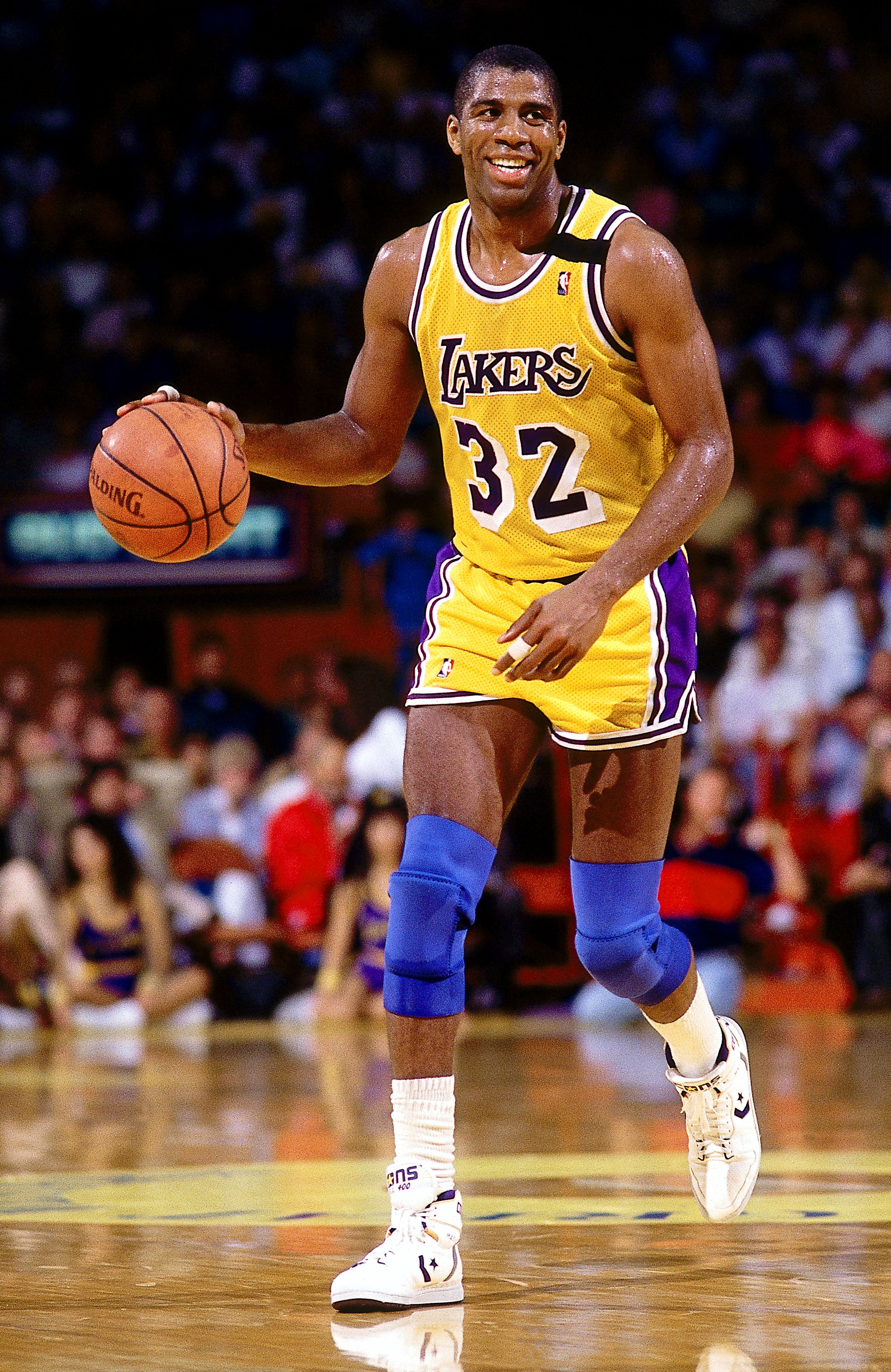 1. Los Angeles Lakers (Showtime gold)
Seasons worn: 1978-99
Notable players in this look: Magic Johnson, Kareem Abdul-Jabbar, James Worthy, Byron Scott
In 1978, the Lakers made a change to their gold home jerseys, reversing the colors of the number and drop shadow. The purple digits pop off the gold mesh, creating a look as flashy as the style of play of the "Showtime" team that wore it. And the white drop shadow gives the numbers on the jerseys a classic feel that fits the history that was made by the players wearing them. -- McMenamin