It has been nearly three months since the last NBA game was played. They say absence makes the heart grow fonder, and man, there's a lot to love about every team that's going to compete for the 2020 NBA championship in Orlando next month.
Now that the league's board of governors has officially approved a return-to-play plan -- featuring eight regular-season games, a potential play-in tournament and the postseason -- here's our early guide to all 22 teams and what we're most excited to watch when basketball tips off again.
---
Eastern Conference
1. Milwaukee Bucks: Giannis dunks
What's better than watching Giannis Antetokounmpo play basketball? At age 25, he might already be the best player in the world -- and the scary part is that he's still getting better. Giannis isn't just the reigning MVP or the most dominant statistical player in the game, he's also the best in-game dunker on planet Earth.
Before the shutdown, Giannis had 174 dunks in 54 games, by far more slammy jammies than any other player. (John Collins ranks second at 117). There's nothing quite like watching Giannis snake through the defense with those impossible strides before elevating and hammering down a big dunk.
The Sixers' offensive issues are not what you think
The common refrain when the 76ers' offense struggles is that Ben Simmons and Joel Embiid can't play together. Here's why that's incorrect.
2. Toronto Raptors: Nick Nurse's creativity
Folks, Nurse might be the best coach in the NBA right now. No, he doesn't have the résumé of Gregg Popovich, Steve Kerr or Erik Spoelstra, but has any coach gotten more from his roster the past two seasons than Nurse?
The Raptors somehow have a better winning percentage this year than last year despite the losses of Kawhi Leonard and Danny Green. Nurse and the Raptors are out here winning 70% of their games with incredible teamwork and the league's No. 2 defense.
Of course, the Raptors' players deserve a ton of a credit -- Pascal Siakam has made another leap, and Kyle Lowry has helped hold it all together -- but Nurse is becoming a star himself. Not only will he try anything in the postseason, including a weird box-and-one, but his facial expressions are consistently incredible.
Check out how Nikola Jokic has transformed the Nuggets' offense
Take a look back at some of Nuggets' big man Nikola Jokic's best highlights.
3. Boston Celtics: The Jayson Tatum leap
The Celtics are back, baby. This season, they replaced Kyrie Irving with Kemba Walker, who has been a better fit alongside budding star Jayson Tatum.
A year ago, Tatum's jump shot diet consisted of too many junky long 2s and not enough 3s. His developmental arc seemed to stall. This year, he's trimmed out a bunch of midrangers while ramping up both his drives to the rack and his triples. Now Tatum once again looks like one of the best young wings in the game.
4. Miami Heat: A scorching five-man lineup
Miami is led by Jimmy Butler, but it's bolstered by emergent young talent in Bam Adebayo, Kendrick Nunn and Duncan Robinson.
Miami's five-man lineup of Butler, Adebayo, Robinson, Nunn and Meyers Leonard is the best 3-point shooting group in the league. Out of 34 lineups that have logged at least 200 minutes together, they rank first in efficiency by converting a ridiculous 44.5% of their 3s. But these guys are more than just specialists from deep -- they have also posted a scorching net rating of plus-13.4 in 488 minutes on the court together.
Before the stoppage, Miami was 2-1 against the Bucks and 2-0 against the Raptors. This team is built to pull some upsets.
T-5. Indiana Pacers: The impressive roster development
Just a few years ago, Victor Oladipo, Domantas Sabonis and T.J. Warren were each struggling to find their NBA identities. Now they are the core of a solid playoff team.
The Pacers' leadership deserves some shine there, including GM Kevin Pritchard and head coach Nate McMillan. They've helped transition from the Paul George trade into a pair of young All-Stars in Oladipo and Sabonis. Watching this group continue to rise together in the East will be fascinating.
T-5. Philadelphia 76ers: Ben Simmons' playmaking
The roster construction in Philly has seen better days, but there's still a lot to love about this team -- namely Ben Simmons, who has become one of the best playmakers in the world on both ends of the court.
People who obsess over Simmons' inability to shoot from distance often overlook the fact that he is arguably the best young playmaker in the world. Simmons is among the most gifted passers in the league, and when he gets going downhill, he makes everyone around him better. He leads the NBA in 3-point assists, despite being surrounded by a relatively meager group of shooters. Imagine if the Sixers had surrounded him with actual deep specialists instead of a bunch of hulking on-ball cloggers.
Luka's smoothest step-backs of 2019-20
Check out some of Luka Doncic's best step-backs from the 2019-2020 NBA season.
7. Brooklyn Nets: ... is there any chance we see Kyrie or KD?
Update: Kevin Durant told The Undefeated that he will not return to play for the Nets this season.
The Nets won the 2019 offseason when they landed Kevin Durant and Kyrie Irving. At 31, Durant is one of the best scorers in the world. As soon as he returns from his torn Achilles, the Nets will immediately become title contenders.
KD has ruled out a return, and Irving underwent season-ending shoulder surgery before the shutdown, though he hasn't been officially ruled out for the league's July restart.
But if the Nets show up in Orlando with a healthy Irving in their starting lineup, they're suddenly a lot more dangerous in the East.
8. Orlando Magic: Markelle Fultz's breakout
The best redemption story in the NBA this year was already happening in Orlando before the league shutdown. Just read this sentence: Markelle Fultz is a starter on a potential playoff team.
Fultz started 59 of 64 games this year, and he has set career-highs in both scoring and shooting efficiency. Fultz, who was largely labeled a bust after his first two years in Philly, has improved tremendously. His not-great jumper is getting better, and he is still an athletic NBA prospect with major upside.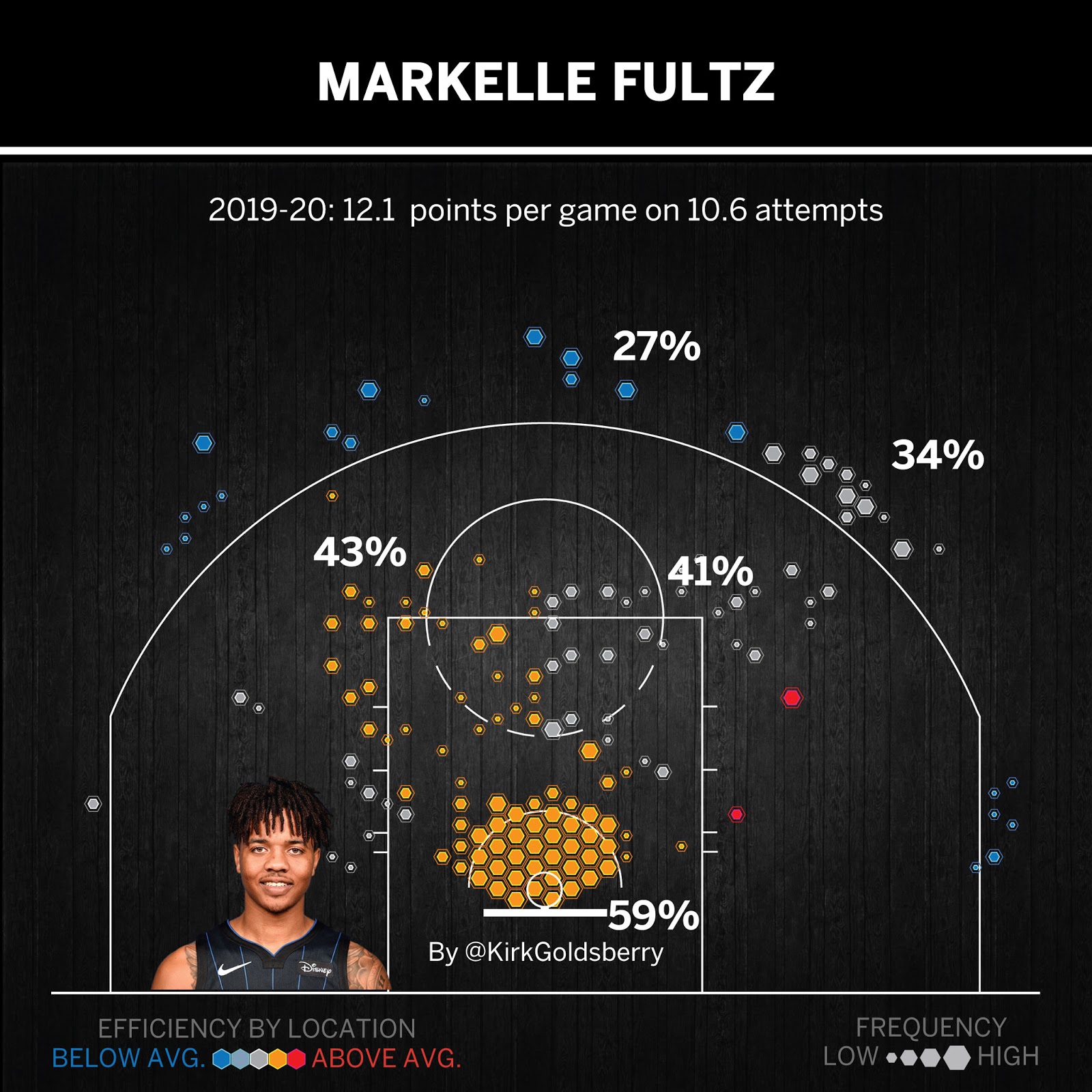 9. Washington Wizards: All the points
If you love points, you'll love watching the Wizards. They pair an above-average offense featuring an elite scorer with the worst defense in the NBA.
Bradley Beal trails only James Harden in scoring this season, averaging 30.5 points per game. Beal can and will score from everywhere ... but so will the Wizards' opponents, who are averaging 115 points per 100 possessions. Washington not only has the worst defensive rating in the league, but also one of the worst over the past decade. So get ready for some buckets.
---
Western Conference
1. Los Angeles Lakers: Another LeBron title push
Since 2003, LeBron James has captivated NBA audiences and become the biggest star in the league. Seventeen years into his career, he's still at the top of his game, finding new ways to win. He leads the NBA in assists (for the first time) and he has a legitimate case for MVP.
Who knows how long James will remain this good, but enjoy it while you can. If James somehow leads this Lakers group to a title, it will be one of the great triumphs for old dudes everywhere.
2. LA Clippers: Beverley's edge
When you think about the Clippers, you probably think about Kawhi Leonard and Paul George. I do too, but one of the best things about watching this team is Patrick Beverley. He is an exhilarating, trash-talking force on defense who saves his best trolling for the playoffs. In a league teeming with perimeter super-scorers, Beverley is one of the Clippers' biggest strengths as they launch their title chase.
Leonard and George make the Clippers a contender, but Beverley gives them an edge they wouldn't have otherwise. Whether LA faces James Harden, Russell Westbrook, Donovan Mitchell, Luka Doncic or LeBron, Beverley can disrupt their rhythm -- and it's entertaining as hell.
3. Denver Nuggets: The weird offense
Nobody plays like Denver. Nikola Jokic is the most unique star in the NBA, and it's his strange ways that give the Nuggets their unique feel. He's the only guy in the league leading his team in points, rebounds, assists and steals. As centers are becoming endangered species in the NBA, Jokic's all-around dominance is downright refreshing.
The Nuggets play through their 5 on offense, giving them a unique vibe. Jokic leads the NBA in handoffs by a mile, per Second Spectrum tracking, logging nearly 28 per 100 possessions. Nobody else in the league is averaging more than 18.
4. Utah Jazz: Gobert's commanding defense
The loss of Bojan Bogdanovic is a crushing blow. However, this team still has the potential to advance with Rudy Gobert anchoring one of the stingiest defenses in the NBA.
Gobert is a wonderful defensive player to watch. He's smart, he's long and he's as impactful as anyone in the NBA. If Utah can keep him on the court against smaller teams (and that's a big if), its defense will keep them in games.
T-5. Oklahoma City Thunder: The crunch-time lineup
The Thunder weren't supposed to be this good. You're not supposed to trade away your best players and get better. But what exactly is the secret sauce in OKC? Statistically speaking, the Thunder have one of the NBA's best crunch-time lineups.
Before the stoppage, 88 unique five-man lineups had played at least 100 minutes together, but none of them were as dominant as OKC's top group, which includes Chris Paul, Danilo Gallinari, Shai Gilgeous-Alexander, Dennis Schroder and Steven Adams. These guys have a net rating of plus-29.9.
They play great defense, holding opponents to just 98 points per 100 possessions, and their offense has been stellar. They are making more than 40% of their 3s, rebounding 34% of their misses and getting to the line more than twice as often as their opponents. Not all of that is sustainable, but this team is for real.
T-5. Houston Rockets: Is this a last stand?
Mike D'Antoni and James Harden are both among the most innovative offensive forces in recent NBA history. While their rinse-and-repeat isoball aesthetic may not be for everyone, you have to admit that it's unique and it's hard to stop. And we might never see it again.
With D'Antoni in the last year of his contract, this may be our very last chance to watch the D'Antoni-Harden step-back industrial complex launch an endless amount of 3s at their opponents. I can't believe I'm saying this, but man, if the Rockets change course, I'm going to miss this stuff.
7. Dallas Mavericks: Luka's playoff debut
This will be one of the highlights of the 2020 playoffs. Luka Doncic is just two years into his career, but it's evident he's here to stay. At age 21, he is destroying defenses in the best basketball league in the world.
Check this out: The 2019-20 Mavs have the most efficient offense on record at 115.8 points per 100 possessions. That's right, this Dallas squad is scoring more efficiently than even the best Warriors superteams.
8. Memphis Grizzlies: Ja & Jaren
To me, Ja Morant and Jaren Jackson Jr. are the most electrifying young duo to watch in the NBA.
Not only are both of these young players future All-Stars, but they also fit together perfectly. Morant is a phenomenal playmaker as both a scorer and a passer, while Jackson provides a terrifying off-ball threat near the rim and on the edges.
T-9. Portland Trail Blazers: Dame time
Looking at the group of potential play-in teams, it's hard to pick a winner. However, it's not hard to pick the player most likely to carry his team through the play-in round. That's Damian Lillard.
When games matter, Lillard becomes one of the scariest players in the league. Just ask the Rockets and the Thunder, who both know all too well just how deep Lillard's range goes. He gives Portland a fighting chance to sneak into the playoffs.
T-9. New Orleans Pelicans: Every Zion move
Even though he may not even win Rookie of the Year, Zion Williamson is clearly the best first-year player in the NBA. He's only played 19 games so far, but his numbers are startling. He's averaging 23.6 PPG while making 58.9% of his shots, largely because 76.7% of those looks come within 3 feet of the hoop.
Using an endless array of spin moves and power dribbles, Williamson somehow finds ways to the rim on a regular basis, and it's incredible to watch. He's one big reason the 22-team format will be more entertaining than going straight to the playoffs.
T-9. Sacramento Kings: Fox and Hield
The Kings are one of the biggest Western Conference dark horses in the race for the playoffs, but that doesn't mean they're not fun to watch. De'Aaron Fox and Buddy Hield form one of the most entertaining young backcourts in the league.
Fox might be the NBA's single fastest player, and he's a blast to watch race past defenders in the open floor. Meanwhile, Hield has become one of the league's best jump-shooters, ranking second in made 3s while hitting just a hair under 40% from downtown.
12. San Antonio Spurs: The streak
Gregg Popovich and the Spurs have made the playoffs for 22 consecutive seasons. If they get there this year, make that 23 and a new NBA record for the longest ever. If they don't, well, it's still an incredible achievement, especially considering San Antonio has done it in the deeper, tougher Western Conference for decades now.
13. Phoenix Suns: Baynes ... from deep
Aron Baynes shooting 3s is just a treat to watch.
That's right, the 33-year-old center has become one of the most surprisingly effective stretch-5s in the NBA this season. Baynes is suddenly taking four 3s per game and hitting them at a respectable 35% clip.