ESPN.com and the TrueHoop Network are ranking every NBA player -- and counting them down on Twitter (@NBAonESPN), from No. 500 to No. 1. As the rankings are announced, you can also find them here on the pages of ESPN.com.
We have already announced 401-500, 351-400, 301-350, 251-300, 201-250, 181-200 and 161-180, and will count down the rest one at a time, 10 per day, on Twitter, for several weeks.
What is #NBArank?
#NBArank is the Twitter hashtag to use if you want to get involved in the discussion or just follow along.
You can also follow along here: @NBAonESPN
How did we rank the players?
We asked 91 experts to rate each player on a 0-to-10 scale, in terms of "the current quality of each player."
Here is the full list of voters from ESPN.com, the TrueHoop Network, TrueHoop TV, Daily Dime Live, ESPN TV, ESPN Radio, ESPN Deportes, espnW, ESPN The Magazine, ESPN Insider, ESPN Fantasy, ESPN Games, ESPN Dallas, ESPN Los Angeles, ESPN Chicago, ESPN New York, ESPN Stats & Information, ESPN Topics and ESPN Analytics.
To decide which players to rank, we started with every player who played in the league last season, and then eliminated players who had signed overseas contracts that made them ineligible for the 2011-12 NBA season. Then we added the 60 members of the 2011 draft class, eliminating those not likely to play in the NBA by 2012. That left 500 players, according to our best information as of Aug. 15.
Schedule
• Tuesday, Sept. 20: Players 151 to 160 announced
• Wednesday, Sept. 21: Players 141 to 150 announced
4.97
@JustinVerrier: Dunleavy has averaged just 58 games a season since getting shipped to Indy in SJax trade. On the bright side, he hasn't punched anybody. #NBArank
142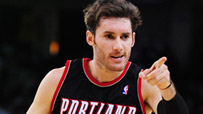 Rudy Fernandez
Dallas Mavericks | SG | Age: 26
@rudy5fernandez
4.97
@ESPN_Caplan: So, how does that translate in the ACB? RT @NBAonESPN: #NBArank 142.
@DashiellD: Bet Rudy can't wait to play alongside Dirk + Kidd after years of being stuck in a crowded backcourt with Miller and Roy. #NBArank
@TheNoLookPass: Rudy Fernandez has nice highlights. No, I'm not talking about the NBA; I'm talking about his hair. #NBARank
143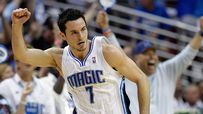 J.J. Redick
Orlando Magic | SG | Age: 27
@JJRedick47
4.96
@cfrone09: The 2 college co-POTY in 06 were on opposing teams in the 09 NBA Finals. JJ actually got to leave the bench. #NBArank
144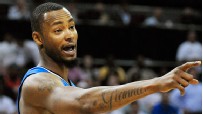 Rashard Lewis
Wash. Wizards | PF | Age: 32
4.96
@TheNoLookPass: Rashard Lewis. From big-time Finals contributor to ... only three spots above Andray Blatche? #NBArank
@Sandoval_G: The addition of Rashard Lewis ensures that the Wizards are dominant ... at locking up positions 150-141 on #NBArank
145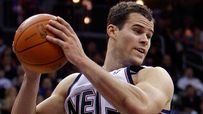 Kris Humphries
New Jersey Nets | PF | Age: 26
@KrisHumphries
4.95
@TheNoLookPass: The big deal about Kris Humphries is that he averaged a double-double last season. It's not like he married someone famous, right? #NBARank
146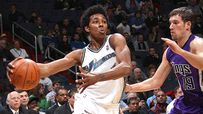 Nick Young
Wash. Wizards | SG | Age: 26
@NickSwagyPYoung
4.93
@noamschiller: Nick Young managing to pass 354 players on #NBArank is 354 passes more than I expected.
@Nickerbocker88: Nick Young would probably rather be ranked #360 to commemorate his top-10 play -- a spinning layup last year. #NBARank
147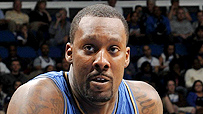 Andray Blatche
Wash. Wizards | PF | Age: 25
@drayblatche
4.91
@johnhollinger: Number 270 when he shows up out of shape in November, but number 27 by April. Averages out to about 147. #NBArank
148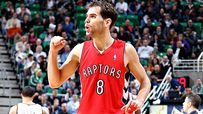 Jose Calderon
Toronto Raptors | PG | Age: 29
@josemcalderon8
4.90
@cfrone09: Calderon is very underrated given his FT percentage and AST/TO ratio. A quality PG who goes unnoticed because he plays in Toronto. #NBArank
149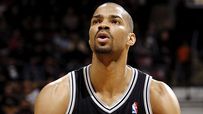 Gary Neal
San Antonio Spurs | PG | Age: 26
@GNeal14
4.85
@JustRod: He fell into the perfect system for him. Sometimes luck plays a major part.
@gregfield93: Gary Neal is only the second undrafted player to make the all-rookie first team. Not a bad pickup for the Spurs.
@ScottSchroeder: Wow. And to think no NBA fans knew him prior to Summer League last year.
150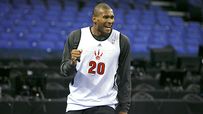 Leandro Barbosa
Toronto Raptors | SG | Age: 28
@TheReal_Barbosa
4.84
@pakdirect: #NBArank 150 is the speed in miles per hour that Leandro Barbosa used to play at when he was playing alongside Steve Nash ... in Toronto, not so much.
151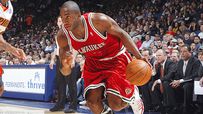 Luc Richard Mbah a Moute
Milwaukee Bucks | SF | Age: 25
@mbahamoute
4.82
@robdogg1017: #NBArank Luc Richard Mbah a Moute: the best NBA prince not named Tayshaun.
@Clintonite33: Definitely Mbetter than Mbenga.
@Ian_Segovia: Luc is an elite defender at 3 positions. How does he not crack the top 150? His jump shot! You gotta be kidding me. #NBArank
152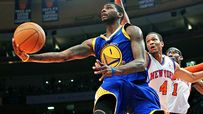 Dorell Wright
G.S. Warriors | SF | Age: 25
@DWRIGHTWAY1
4.81
@HadiC25: Dorell Wright in one season made more 3s than in all of his career combined. Pat Riley would love to have him back. #NBArank
@iamallantot: #NBArank 152 is the number of times Dorell Wright broke a play intended for either Curry or Ellis.
153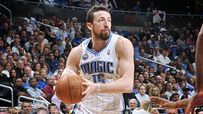 Hedo Turkoglu
Orlando Magic | SF | Age: 32
4.81
@sorokman: 153 is also the number of times Hedo Turkoglu regretted choosing Toronto over Portland. #NBArank
@DashiellD: 153 is also the average number of times a game Turkoglu calls off a set play to run his own iso. #NBArank
@HelloitsJacob: 153 is the number of times Otis regretted giving Hedo another shot in the only system that "worked" for him. #NBArank
154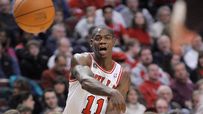 Ronnie Brewer
Chicago Bulls | SG | Age: 26
@RonnieBrewerJr
4.80
@patrick_hayes: Brewer ranks 101 spots higher than the man he backs up, Keith Bogans.
@Husam15: The number 154 is the amount of times Ronnie Brewer picked someones pocket for a steal. #NBArank
155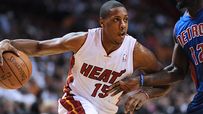 Mario Chalmers
Miami Heat | PG | Age: 25
@mchalmers15
4.80
@TheAkronHammer: Has to be the only player ranked 150+ spots higher than the guy he backed up (Bibby).
156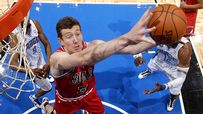 Omer Asik
Chicago Bulls | C | Age: 25
4.78
@adamosgp: Omer Asik. Another EuroBasket guy on the rise.
157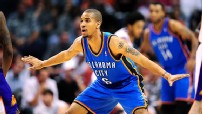 Eric Maynor
Okla. City Thunder | PG | Age: 24
@EMaynor3
4.78
@UBrettchya: Maynor could probably be the starting PG on a contender. Westbrook for Howard? #NBArank
@forumbluegold: I'd rather have the PG ranked two spots below him, Eric Maynor. RT @NBAonESPN #NBArank 155: Mario Chalmers.
158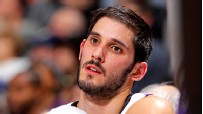 Omri Casspi
Cleveland Cavaliers | SF | Age: 23
@Casspi18
4.77
@DashiellD: 158 is also the number of times @STEIN_LINE_HQ has mentioned Omri Casspi in his power rankings. #NBArank
159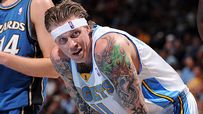 Chris Andersen
Denver Nuggets | C | Age: 33
4.76
@uuords: In honor of his #NBArank, Chris Andersen will now get "1-5-9" tattooed across his forehead.
@JustRod: #NBArank did you ever think you would see the day when Chris "Birdman" Andersen was ranked higher than Gilbert Arenas?
160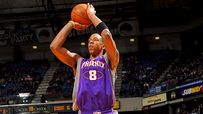 Channing Frye
Phoenix Suns | C | Age: 28
@Channing_Frye
4.75
@rkcerman: #NBArank Frye had made 20 3-pointers in his first four seasons, however, he has made 343 3-pointers these past two.
* Score: Tiebreakers are first based on percentage points; scores have been rounded off. The second tiebreaker is based on John Hollinger's Estimated Wins Added for the 2010-11 NBA season (rookies were given an EWA of zero).