ESPN.com and the TrueHoop Network are ranking every NBA player -- and counting them down on Twitter (@NBAonESPN), from No. 500 to No. 1. As the rankings are announced, you can also find them here on the pages of ESPN.com.
We have already announced 401-500, 351-400, 301-350, 251-300, 201-250, 181-200, 161-180 and 141-160 and will count down the rest one at a time on Twitter, for several weeks.
What is #NBArank?
#NBArank is the Twitter hashtag to use if you want to get involved in the discussion or just follow along.
You can also follow along here: @NBAonESPN
How did we rank the players?
We asked 91 experts to rate each player on a 0-to-10 scale, in terms of "the current quality of each player."
Here is the full list of voters from ESPN.com, the TrueHoop Network, TrueHoop TV, Daily Dime Live, ESPN TV, ESPN Radio, ESPN Deportes, espnW, ESPN The Magazine, ESPN Insider, ESPN Fantasy, ESPN Games, ESPN Dallas, ESPN Los Angeles, ESPN Chicago, ESPN New York, ESPN Stats & Information, ESPN Topics and ESPN Analytics.
To decide which players to rank, we started with every player who played in the league last season, and then eliminated players who had signed overseas contracts that made them ineligible for the 2011-12 NBA season. Then we added the 60 members of the 2011 draft class, eliminating those not likely to play in the NBA by 2012. That left 500 players, according to our best information as of Aug. 15.
Schedule
• Thursday, Sept. 22: Players 131 to 140 announced
• Friday, Sept. 23: Players 121 to 130 announced
5.21
@Husam15: Vince Carter led the league with a career high 121 gpg (grimaces per game).
@MichaelJR_NZ: Up in Toronto there's a fan celebrating that VC isn't in the top 100 while thinking of how they could still really use him right now. #NBArank
@Brady_Ford: Half man, half ... above average. #NBArank
122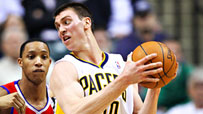 Tyler Hansbrough
Indiana Pacers | PF | Age: 25
@THANS50
5.20
@Clintonite33 Tyler Hansbrough's #NBArank is reflective of the number of times a game he's willing to go to the floor on a hustle play.
@Mr_Norof According to #NBARank, Tyler Hansbrough is better than Greg Monroe. I'm not so sure about that. #NBA #Pistons #Pacers.
@Patrick_Hake I didn't start watching the Pacers play til after the All-Star break, and I thought that @THANS50 was their No. 2 player. #nbarank #brightfuture
123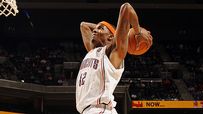 Tyrus Thomas
Charlotte Bobcats | PF | Age: 25
5.19
@QCsportscrave: Charlotte has declared Tyrus Thomas a big part of their future with the five-year contract they awarded him, his best days ARE ahead. #NBArank
@austinbh: 123 times the Bulls regret trading LaMarcus Aldrige for Tyrus Thomas. #NBArank
124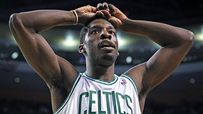 Jeff Green
Boston Celtics | F | Age: 25
@unclejeffgreen
5.19
@LarryCoon: That fact that there isn't a natural "P" or "S" to go in front of his position of "F" hurts Jeff Green's #NBARank.
@noamschiller: While #NBArank has Jeff Green at 124, disgruntled Celtic fans probably have him somewhere between a gazillion and "don't say that name."
125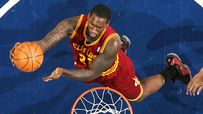 J.J. Hickson
Sacramento Kings | PF | Age: 23
@JJHickson21
5.18
@UpprBowlJazzFan: J.J. Hickson is 125 in #NBArank and the first "untouchable" player the Cavs gave up on and traded. That does not bode well for Anderson Varejao.
@xtomchaptersx: Hickson was almost traded to Phoenix last year, which would have inflated his #NBArank. Nash would have made his stats skyrocket.
126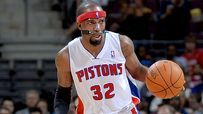 Richard Hamilton
Detroit Pistons | SG | Age: 33
@ripcityhamilton
5.18
@patrick_hayes: John Kuester clearly didn't have a vote. RT @NBAonESPN #NBArank 126: Richard Hamilton
127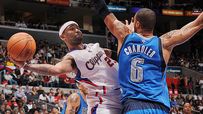 Mo Williams
LA Clippers | PG | Age: 28
@mogotti25
5.16
@cfrone09: Mo Williams, yet another example of LeBron making someone better. Just two years ago he was an All-Star. #NBArank
128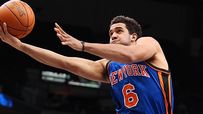 Landry Fields
New York Knicks | G | Age: 23
@landryfields
5.14
@NYKnicksPodcast: Landry Fields No. 1 at selling his own jersey at Modells.
129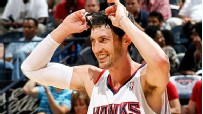 Kirk Hinrich
Atlanta Hawks | G | Age: 30
5.13
@sorokman: One day, Kirk Hinrich will tell his kids: I mentored the youngest MVP in history, but it still wasn't enough to be higher than 129 on #NBArank.
130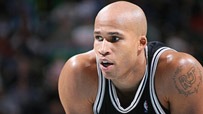 Richard Jefferson
San Antonio Spurs | SF | Age: 31
5.12
@jeffmulholland: #NBArank I'd take any of the 131-150 players over Richard Jefferson. It looks like too many hours spent playing NBA 2K8 for the voters.
131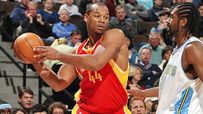 Chuck Hayes
Houston Rockets | C | Age: 28
5.08
@WillSevidalSDS: #NBARank Give Chuck Hayes credit. He's a 6'6 center and grabbing 8.1 RPG. Imagine if he had the height of a "true" center.
132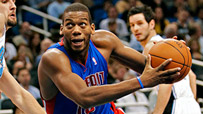 Greg Monroe
Detroit Pistons | C | Age: 21
@G_Monroe10
5.05
@MrConsistentVG: Greg Monroe was the lone bright spot in a tumultuous season for Detroit last year. This year he could be poised for a breakout. #NBArank
133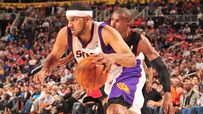 Jared Dudley
Phoenix Suns | SF | Age: 26
@JaredDudley619
5.04
@JaredDudley619: Yo #NBArank I wanna know which expert game me the lowest score lol It's an honor to be rank this high, I'll try an crack top 100 nxt yr!!
@ValleyoftheSuns: If Twitter skills were included in #NBArank, @JaredDudley619 would be ranked much higher.
134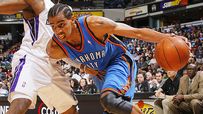 Thabo Sefolosha
Okla. City Thunder | SG | Age: 27
@ThaboSefolosha
5.04
@QCsportscrave: Move over Sefolosha, even being taller and an above average defender won't save your starting spot over James Harden anymore.
135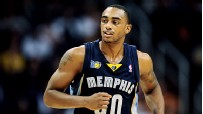 Darrell Arthur
Memphis Grizzlies | PF | Age: 23
5.03
@timmah4114: Darrell Arthur could be higher up if Zach Randolph didn't hog all his minutes ... and the ball.
136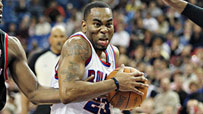 Marcus Thornton
Sacramento Kings | G | Age: 24
@OfficialMT23
5.01
@A_LaVern14: Marcus Thornton would be ranked way higher if he could get consistent minutes. Dude can hoop.
137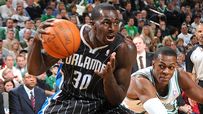 Brandon Bass
Orlando Magic | PF | Age: 26
5.00
@simonchun: Everytime I watch Brandon Bass, I can't help but wish he was four inches taller. Could be enough to make Dwight stay. #NBArank
@Clintonite33: A poor man's Paul Millsap and poor replacement for Gortat's minutes. RT @NBAonESPN #NBArank 137: Brandon Bass
138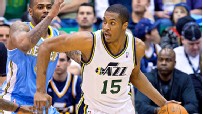 Derrick Favors
Utah Jazz | PF | Age: 20
@dfavors14
5.00
@Z_hoopsnation: The Jazz will not miss Boozer at all once Favors come into his own. #NBArank
@superior89indo: Is 138 Favors rank or the amount of times the Nets almost got Melo for him? #NBARank
139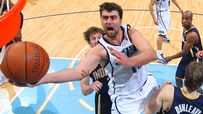 Mehmet Okur
Utah Jazz | C | Age: 32
5.00
@davidjsmith1232: Memo number139 on #NBArank. Not bad coming off an injury ... another sign that our big man depth could be huge.
@adamosgp: Mehmet Okur. Hedo's no longer the best Turk.
140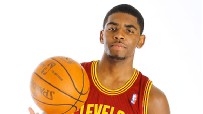 Kyrie Irving
Cleveland Cavaliers | G | Age: 19
@KyrieIrving
4.99
@tomhaberstroh: Kyrie Irving, 140th in #NBArank? Seems low, but try asking Roger Ebert to rate a movie after only seeing the trailer. In a foreign language.
@Nickerbocker88: Dan Gilbert is now writing an angry letter to Cavs fans about Irving's #NBArank, guaranteeing Irving wins an MVP before LeBron does again.
@MrConsistentVG: #NBArank Kyrie Irving might be the highest ranked player in the league with the smallest sample of proving himself.
* Score: Tiebreakers are first based on percentage points; scores have been rounded off. The second tiebreaker is based on John Hollinger's Estimated Wins Added for the 2010-11 NBA season (rookies were given an EWA of zero).