ESPN.com and the TrueHoop Network are ranking every NBA player -- and counting them down on Twitter (@NBAonESPN), from No. 500 to No. 1. As the rankings are announced, you can also find them here on the pages of ESPN.com.
We have already announced 401-500, 351-400, 301-350, 251-300, 201-250, 181-200, 161-180, 141-160 and 121-140 and will count down the rest one at a time on Twitter, for several weeks.
What is #NBArank?
#NBArank is the Twitter hashtag to use if you want to get involved in the discussion or just follow along.
You can also follow along here: @NBAonESPN
How did we rank the players?
We asked 91 experts to rate each player on a 0-to-10 scale, in terms of "the current quality of each player."
Here is the full list of voters from ESPN.com, the TrueHoop Network, TrueHoop TV, Daily Dime Live, ESPN TV, ESPN Radio, ESPN Deportes, espnW, ESPN The Magazine, ESPN Insider, ESPN Fantasy, ESPN Games, ESPN Dallas, ESPN Los Angeles, ESPN Chicago, ESPN New York, ESPN Stats & Information, ESPN Topics and ESPN Analytics.
To decide which players to rank, we started with every player who played in the league last season, and then eliminated players who had signed overseas contracts that made them ineligible for the 2011-12 NBA season. Then we added the 60 members of the 2011 draft class, eliminating those not likely to play in the NBA by 2012. That left 500 players, according to our best information as of Aug. 15.
Schedule
• Monday, Sept. 26: Players 111 to 120 announced
• Tuesday, Sept. 27: Players 101 to 110 announced
5.60
@DJAG88: I can think of a 101 reason why @DeMar_DeRozan will make a huge jump in #NBArank next year.
@itsNEALHERE: @DeMar_DeRozan did you dunk on the guys from NBA2k AND #NBArank or something? They rank you at "101" in the NBA. HATERS!
102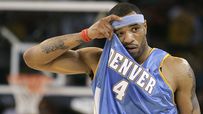 Kenyon Martin
Denver Nuggets | PF | Age: 33
@OakcliffBully
5.54
@sorokman: Oh, now the Xinjiang Guanghui are sure they made a great deal. #NBArank: Kenyon Martin, 102.
103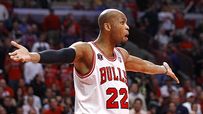 Taj Gibson
Chicago Bulls | F | Age: 26
@TajGibson22
5.54
@adamosgp: Amazing what some dunks can do.
@TheNewDBoiGC_20: #NBArank is right with this one. Taj Gibson displays hustle and determination on the court. He is due for a breakout season.
104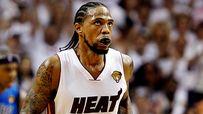 Udonis Haslem
Miami Heat | PF | Age: 31
@ThisIsUD
5.53
@Marco_Romo: Imagine if he was healthy all of last season.
@gwiss: Fact: 104 is the number of points Haslem scored last season. #NBArank
105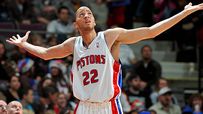 Tayshaun Prince
Detroit Pistons | SF | Age: 31
5.52
@tafokints: Being called underrated to the point he was overrated, Tayshaun is properly rated at #105? #nbarank
106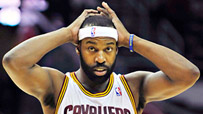 Baron Davis
Cleveland Cavaliers | PG | Age: 32
@Baron_Davis
5.47
@patrick_hayes: Baron Davis plans to mentor Kyrie Irving all the way from 140 to 106 in next year's #NBArank.
107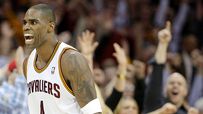 Antawn Jamison
Cleveland Cavaliers | PF | Age: 35
5.45
@talkhoops: There was a time in which many of us thought Jamison was the missing piece for a championship. What a difference a LeBron makes. #NBARank
@johnhollinger: Since nobody watched the Cavs, allow me to reiterate that Jamison completely, utterly mailed it on defense the entire season.
demeatloaf: @johnhollinger Jamison emailed it in last season. He didn't even bother using a stamp. #NBARank
108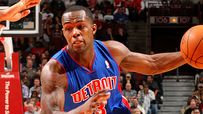 Rodney Stuckey
Detroit Pistons | PG | Age: 25
5.45
@superior89indo: NBArank is trippin. Rodney Stuckey is not better than Ben Gordon and Michael Beasley.
@JustRod: Rodney Stuckey will flourish once he no longer has to play point guard.
109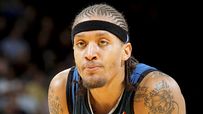 Michael Beasley
Minn. Timberwolves | PF | Age: 22
5.43
@DCthemayor: With a little hustle, Beasley could easily be Top 50!
@TheLightCeasar: There's 108 people better than Michael Beasley? Lol.
110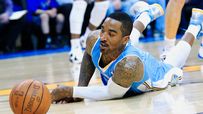 J.R. Smith
Denver Nuggets | SG | Age: 26
@1anonlyJRSmith

5.41
@TheAkronHammer: Also the number of FGA per game he'll average in China.
@DRod1226: J.R. is a perfect example of an all or nothing guy. He can score 40 just as easily as he can go scoreless.
111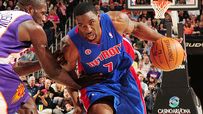 Ben Gordon

Detroit Pistons | SG | Age: 28
@BenGordon8

5.40
@SteveKays: This would be at least 60 spots higher 2 years ago.
112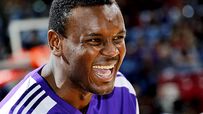 Samuel Dalembert
Sacramento Kings | C | Age: 30
5.32
@DRod1226: Dalembert should always be remembered for his contributions to not only basketball, but mainly Haiti. Class A guy. #NBArank
113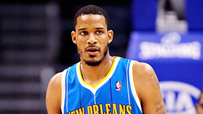 Trevor Ariza
N.O. Hornets | SF | Age: 26
@TrevorAriza
5.32
@sorokman: There used to be a time when Trevor Ariza was a factor in determining who'll win the NBA title. I wonder if he misses those days too. #NBArank
@johnhollinger: Trevor Ariza: No. 113 in #NBARank but No. 1 in #badshotselectionrank
114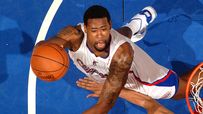 DeAndre Jordan
L.A. Clippers | C | Age: 23
@deandrejordan
5.32
@rkcerman: No. 114 in #NBArank, but No. 3 in Dunk-O-Meter with 158 dunks, trailing D12 and Blake.
115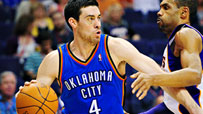 Nick Collision
Okla. City Thunder | PF | Age: 30
@nickcollison4
5.31
@MrConsistentVG: Nick Collision is a clear example of how numbers don't always determine the impact you have on a team. #NBArank
@Jubanator14: Upon hearing he came in at 115 in the #NBArank, Nick Collision took three charges and set a great screen.
@DRod1226: Nick Collision is one of those guys you don't appreciate unless you actually watch just him in a game. #NBArank
116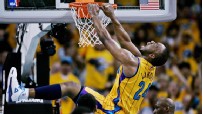 Carl Landry
New Orleans Hornets | F | Age: 28
5.31
@sorokman: Blair, Big Baby and now Carl Landry: Are we in "All-Undersized 10" today? #NBArank
@Boydicles: @NBAonESPN #NBArank Your ranking system is poor. Carl Landry is 116 ... wow.
117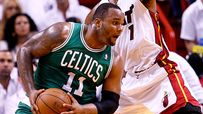 Glen Davis
Boston Celtics | PF | Age: 25
@iambigbaby11

5.24
@xtomchaptersx: Celtics fans complain about BBD's antics, but if he leaves as a free agent, Boston will miss him. #NBArank
118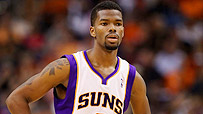 Aaron Brooks
Phoenix Suns | PG | Age: 26
@Thirty2zero
5.24
@Ace_tradamus: Aaron Brooks at 118? Whatever happened to that guy that won Most Improved Player in 2010? He can do better than that.
@patrick_hayes: The heir to Goran Dragic as the heir to Steve Nash. RT @NBAonESPN #NBArank 118: Aaron Brooks
119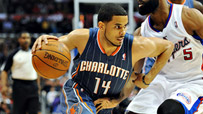 D.J. Augustin
Charlotte Bobcats | PG | Age: 23
5.23
@RealBobcatMatt: Augustin was re-born under Paul Silas. Deadly J and playmaking skills are getting better; Kemba in rear view though. #NBArank
@DashiellD: Augustin easily wins the NBA's best D.J. award, handily beating out Mbenga, White, and Strawberry. #NBArank
@QCsportscrave: Not sure about Augustin's future in this league as a PG, but with the arrival of Kemba, he will see more open shots and a scoring role.
120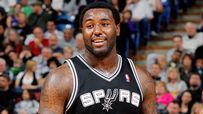 DeJuan Blair
San Antonio Spurs | F | Age: 22
@DeJuan45
5.23
@Jubanator14: DeJuan Blair's #NBArank of 120 is also the number of times per game the announcers mention he has no ACLs.
* Score: Tiebreakers are first based on percentage points; scores have been rounded off. The second tiebreaker is based on John Hollinger's Estimated Wins Added for the 2010-11 NBA season (rookies were given an EWA of zero).