ESPN.com and the TrueHoop Network are ranking every NBA player -- and counting them down on Twitter (@NBAonESPN), from No. 500 to No. 1. As the rankings are announced, you can also find them here on the pages of ESPN.com.
We have already announced 401-500, 351-400, 301-350, 251-300, 201-250, 181-200, 161-180, 141-160, 121-140, 101-120 and 91-100 and will count down the rest one at a time on Twitter, for several weeks.
What is #NBArank?
#NBArank is the Twitter hashtag to use if you want to get involved in the discussion or just follow along.
You can also follow along here: @NBAonESPN
How did we rank the players?
We asked 91 experts to rate each player on a 0-to-10 scale, in terms of "the current quality of each player."
Here is the full list of voters from ESPN.com, the TrueHoop Network, TrueHoop TV, Daily Dime Live, ESPN TV, ESPN Radio, ESPN Deportes, espnW, ESPN The Magazine, ESPN Insider, ESPN Fantasy, ESPN Games, ESPN Dallas, ESPN Los Angeles, ESPN Chicago, ESPN New York, ESPN Stats & Information, ESPN Topics and ESPN Analytics.
To decide which players to rank, we started with every player who played in the league last season, and then eliminated players who had signed overseas contracts that made them ineligible for the 2011-12 NBA season. Then we added the 60 members of the 2011 draft class, eliminating those not likely to play in the NBA by 2012. That left 500 players, according to our best information as of Aug. 15.
Schedule
• Wednesday, Sept. 28: Players 91 to 100 announced
• Thursday, Sept. 29: Players 81 to 90 announced
• Friday, Sept. 30: Players 71 to 80 announced
• Monday, Oct. 1: Players 61 to 70 announced
• Tuesday, Oct. 2: Players 51 to 60 announced
Former #1 overall pick Andrea Bargnani gets a courtesy nod into the top 100 of #NBARank. He's like Dirk if Dirk wasn't any good.Thu Sep 29 23:03:44 via TweetDeck
Beckley Mason
BeckleyMason
If Andrea Bargnani could rely on anything but his height to grab a rebound or block a shot, he should be 50 places higher. #NBArankThu Sep 29 23:07:42 via web
Eran Soroka
sorokman
82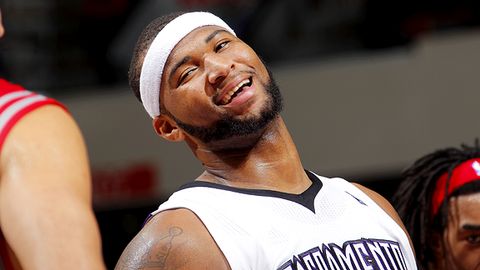 5.88
DeMarcus Cousins
Sacramento Kings | PF | Age: 21
Drafted: 5th in 2010 (by SAC)
DaMarcus Cousins #82 in #NBArank, Top 10 in potential both for big men and for technical fouls. Personality and game to match D12 one day?Thu Sep 29 22:21:42 via web
Dominic Hagedorn
Filipino_Blood
83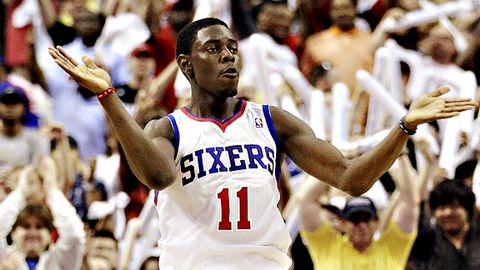 5.87
Jrue Holiday
Phila. 76ers | PG | Age: 21
Drafted: 17th in 2009 (by PHI)
How is @Jrue_Holiday11 only ranked 83rd best player in the league? #showyaluvThu Sep 29 22:55:31 via Twitter for iPhone
bob brake
phillybob17
#SHOWYALUV !!!! Thu Sep 29 21:15:54 via UberSocial for Android
Dre' Dreaming
iAmDreDennis
Rank
Player
Score
84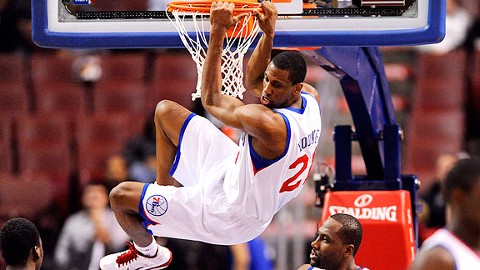 5.86
Thaddeus Young
Philadelphia 76ers | F | Age: 23
Drafted: 12th in 2007 (by PHI)
Thaddeus is Young but he has to break out of his shell if he wants to take the #76ers to the next stage. #NBArankThu Sep 29 20:19:02 via web
Joel Morse
MorseJoel
Rank
Player
Score
85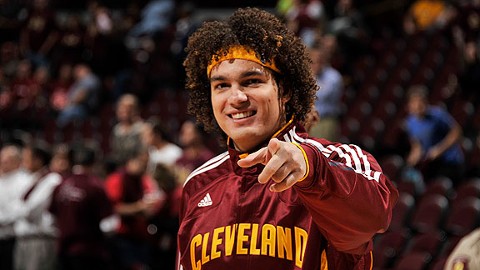 5.86
Anderson Varejao
Cleveland Cavs | PF | Age: 28
Drafted: 30th in 2004 (by ORL)
#NBArank Anderson Varejao is labeled "untouchable" by the Cavs and he's only ranked No. 85? No wonder LeBron left. Thu Sep 29 19:17:48 via web
Adrese LaVern
dresey_F
Who knew being the best flopper in the NBA could get you all the way up to No. 85. #NBArank Anderson VarejaoThu Sep 29 19:15:29 via web
Husam Saleh
Husam15
Rank
Player
Score
86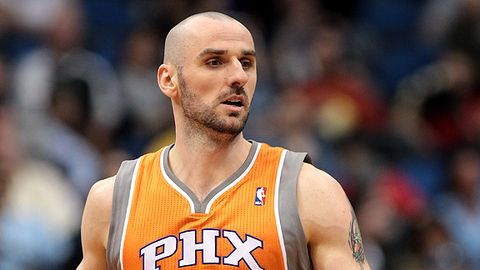 5.86
Marcin Gortat
Phoenix Suns | C | Age: 27
Drafted: 57th in 2005 (by PHX)
#NBArank Marcin Gortat #86 Out of the shadows of Dwight Howard and has shown us he can hold his own. I can see him becoming a regular starter. Thu Sep 29 18:49:03 via web
Kevin Francis
OKKFran
I guess Magic fans weren't crazy when they said Marcin Gortat was the best backup center in the league. #NBArankThu Sep 29 18:46:36 via web
Devin Black
the_devin_black
Rank
Player
Score
87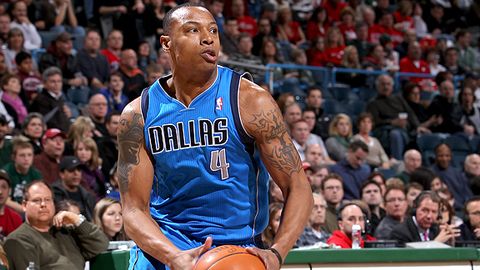 5.85
Caron Butler
Dallas Mavericks | SF | Age: 31
Drafted: 10th in 2002 (by MIA)
Headlines.... They say I fell off uh I needed thatFri Sep 30 11:55:03 via Twitter for BlackBerry®
Caron Butler
realtuffjuice
@NBAonESPN Butler's #NBArank is awfully high considering the Mavs were able to win the title with #248 Peja Stojakovic as his replacement. Thu Sep 29 17:37:24 via web
Dash Desloovere
DashiellD
Rank
Player
Score
88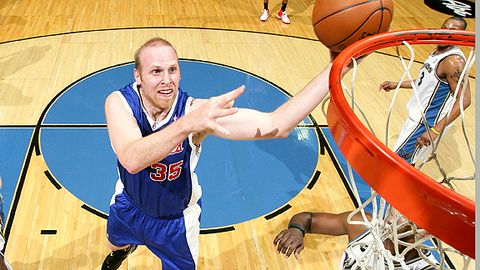 5.82
Chris Kaman
L.A. Clippers | C | Age: 29
Drafted: 6th in 2003 (by LAC)
Wasn't he an All-Star two years ago??? RT @NBAonESPN: #NBArank 88: Chris Kaman (@ChrisKaman). http://t.co/e2jPRKA1 (Rating: 5.82/10)Thu Sep 29 16:14:42 via twicca
Jason Joseph
swade909
#NBArank Chris Kaman is the only top 100 player to benefit from the NBA lockout. He finally got to go deer hunting! First time in 18 years!Thu Sep 29 16:30:03 via web
Sam DeHority
swd515
Rank
Player
Score
89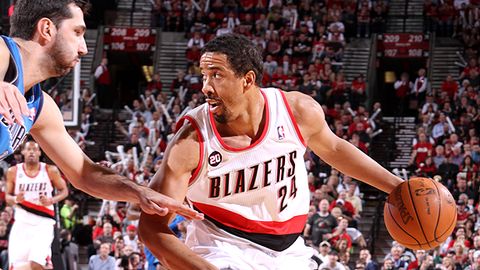 5.76
Andre Miller
Denver Nuggets | PG | Age: 35
Drafted: 8th in 1999 (by CLE)
It's gonna be interesting to see Andre Miller make the transition from starting PG to Ty Lawson's mentor. #NBArankThu Sep 29 15:16:51 via Twitter for iPhone
Hussein Kazzy
KazzyOfficial
Andre Miller turned 35 six months ago, but he's played like he was 35 for 12 years. Surprisingly, not a bad thing. #NBArankThu Sep 29 15:12:00 via web
Simon Chun
simonchun
Andre Miller is the best postup point guard of all time; he can run any team in the league. #NBArankThu Sep 29 15:48:58 via Twitter for iPhone
Dan Cuevas
dcuevas89
Rank
Player
Score
90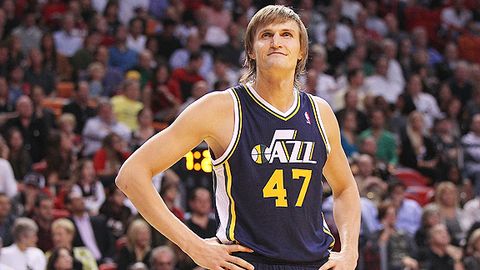 5.75
Andrei Kirilenko
Utah Jazz | SF | Age: 30
Drafted: 24th in 1999 (by UTH)
Kirilenko's energy and activity affected all facets of the game in his prime, and during Eurobasket he showed flashes of that again. #NBArankThu Sep 29 15:08:11 via web
Maximilian Specht
maxamilli
* Score: Tiebreakers are first based on percentage points; scores have been rounded off. The second tiebreaker is based on John Hollinger's Estimated Wins Added for the 2010-11 NBA season (rookies were given an EWA of zero).