ESPN.com and the TrueHoop Network are ranking every NBA player -- and counting them down on Twitter (@NBAonESPN), from No. 500 to No. 1. As the rankings are announced, you can also find them here on the pages of ESPN.com.
We have already announced 401-500, 351-400, 301-350, 251-300, 201-250, 181-200, 161-180, 141-160, 121-140, 101-120, 91-100 and 81-90 and will count down the rest one at a time on Twitter, for several weeks.
What is #NBArank?
#NBArank is the Twitter hashtag to use if you want to get involved in the discussion or just follow along.
You can also follow along here: @NBAonESPN
How did we rank the players?
We asked 91 experts to rate each player on a 0-to-10 scale, in terms of "the current quality of each player."
Here is the full list of voters from ESPN.com, the TrueHoop Network, TrueHoop TV, Daily Dime Live, ESPN TV, ESPN Radio, ESPN Deportes, espnW, ESPN The Magazine, ESPN Insider, ESPN Fantasy, ESPN Games, ESPN Dallas, ESPN Los Angeles, ESPN Chicago, ESPN New York, ESPN Stats & Information, ESPN Topics and ESPN Analytics.
To decide which players to rank, we started with every player who played in the league last season, and then eliminated players who had signed overseas contracts that made them ineligible for the 2011-12 NBA season. Then we added the 60 members of the 2011 draft class, eliminating those not likely to play in the NBA by 2012. That left 500 players, according to our best information as of Aug. 15.
Schedule
• Wednesday, Sept. 28: Players 91 to 100 announced
• Thursday, Sept. 29: Players 81 to 90 announced
• Friday, Sept. 30: Players 71 to 80 announced
• Monday, Oct. 1: Players 61 to 70 announced
• Tuesday, Oct. 2: Players 51 to 60 announced
I defy you to find someone with a better jump ball form than Emeka Okafor. DEFY YOU! #NBARankFri Sep 30 23:03:48 via TweetDeck
Zach Harper
talkhoops
Rank
Player
Score
72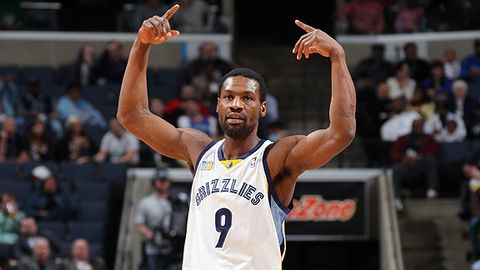 6.01
Tony Allen
Memphis Grizzlies | SG | Age: 29
Drafted: 25th in 2004 (by BOS)
href=" http://twitter.com/#!/aa000G9">@aa000G9
@NBAonESPN thas cool I'm top 100 but my heart!!! #1. S/o 2 @NBAonESPN. They know!Fri Sep 30 22:23:05 via Twitter for BlackBerry®
Tony Allen
aa000G9
Seventy-two is the number of regular-season games the Celtics wish they had Tony Allen for. #NBArankFri Sep 30 22:22:01 via web
Zachary A Bissett
ZachBissett
Tony Allen is a beast. He changed the culture of my Grizzlies! #NBArankFri Sep 30 22:15:26 via web
John Rogers
FivePassports
Rank
Player
Score
73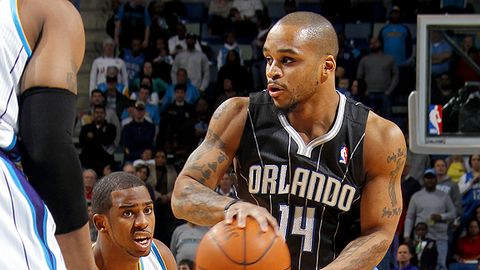 6.00
Jameer Nelson
Orlando Magic | PG | Age: 29
Drafted: 20th in 2004 (by DEN)
href=" http://twitter.com/#!/jameernelson">@jameernelson
Follow the discussion at #NBArank
Jameer Nelson #NBARank 73: also the amount of wins Jameer and the Magic must win to convince Dwight to stay.Fri Sep 30 21:15:41 via Twitter for iPad
Benjamin Park
ben25unc
Rank
Player
Score
74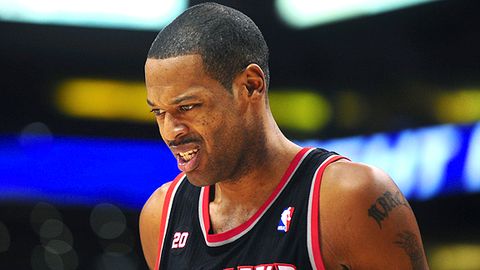 6.00
Marcus Camby
Por. Trail Blazers | PF | Age: 37
Drafted: 2nd in 1996 (by TOR)
href=" http://twitter.com/#!/MarcusCamby23">@MarcusCamby23
Apparently I'm the only person who saw Camby play last year. 7.2 points/40 min. 39.8% shooting. Yuck. #NBArankFri Sep 30 20:14:48 via web
John Hollinger
johnhollinger
Love him, but this is a bit high. Dude is bordering retirement. RT @NBAonESPN: #NBArank 74: Marcus Camby http://t.co/0mrhASUNFri Sep 30 20:14:42 via TweetDeck
Barbara Titus
BarbaraTitus
This isn't a joke. MT @noamschiller: His rank is only twice as much as his age. RT @NBAonESPN: #NBArank 74: Marcus Camby http://t.co/KNjb4UfbFri Sep 30 20:21:45 via Echofon
Atique Virani
AtweetVirani
Rank
Player
Score
75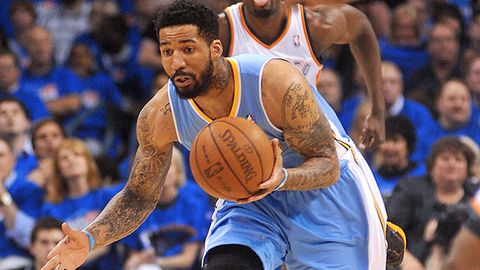 5.98
Wilson Chandler*
Denver Nuggets | SF | Age: 24
Drafted: 23rd in 2007 (by NYK)
As a NY fan I miss Wilson Chandler's ability to randomly take over games on Offense and D... and so will the Nuggets for a year. #NBARankFri Sep 30 19:41:22 via web
Nicholas Rotondi
Nickerbocker88
75 is the number of shots Wilson Chandler is going to average per game in China. #NBARankFri Sep 30 19:43:22 via web
blargcakes
blargcakes
#NBArank Wilson Chandler comes in at #75...the amount of guys traded with him from the Knicks to get Melo.Fri Sep 30 20:35:25 via web
William Vega
WillVega21
Rank
Player
Score
76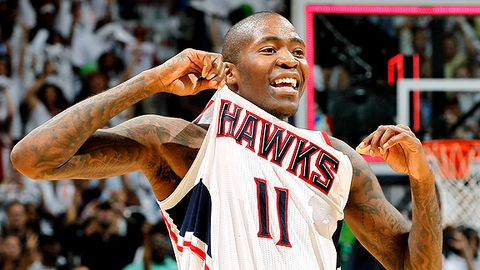 5.97
Jamal Crawford
Atlanta Hawks | G | Age: 31
Drafted: 8th in 2000 (by CLE)
@JCrossover Why'd you get put # 76 for the #nbarank ... you top 30 at least ? They trippin"-- I'll prove them wrong this year!Sun Oct 02 06:24:08 via Twitter for BlackBerry®
Jamal Crawford
JCrossover
Cut to Jamal celebrating with two pump fakes and a 30-footer. RT @NBAonESPN: #NBArank 76: Jamal Crawford http://t.co/lOo4kIUGFri Sep 30 18:01:29 via TweetDeck
Noam Schiller
noamschiller
Jamal Crawford is 76th according to #NBArank. That's also the number of dribbles he takes on each possession.Fri Sep 30 18:04:01 via web
Colin Zvosec
ColinZvosec
#NBArank Crawford's shake and bake is #1 on top moves EVER.Fri Sep 30 18:24:43 via Twitter for Android
Parth Goradia
PGchillinn
Rank
Player
Score
77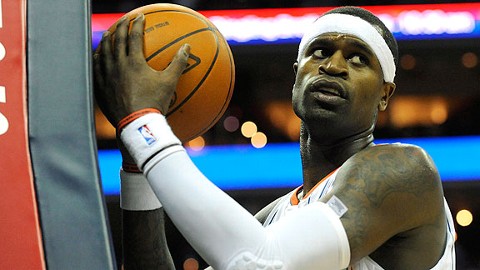 5.92
Stephen Jackson
Milwaukee Bucks | SG | Age: 33
Drafted: 43rd in 1997 (by PHX)
@NBAonESPN Everyone forgets Cap'n Jack was a starter on a championship team. Too bad he's only played for one good team since. #NBArankFri Sep 30 17:27:32 via web
Eric Cianfrone
cfrone09
I wouldn't wanna tell Stephen Jackson he's #77 at anything. #NBARankFri Sep 30 16:59:11 via web
Rey-Rey
TheNoLookPass
Rank
Player
Score
78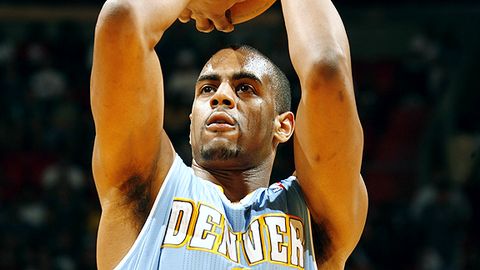 5.92
Arron Afflalo
Denver Nuggets | SG | Age: 25
Drafted: 27th in 2007 (by DET)
href=" http://twitter.com/#!/Arron_Afflalo">@Arron_Afflalo
77 to pass ..... old fashion pinky promise .... http://t.co/lMafMGLNFri Sep 30 23:35:03 via web
arron afflalo
Arron_Afflalo
Arron Afflalo comes in at No. 78 -- 27 spots higher than the highest-ranked Piston, the team that let him go for cap room. #NBArank #PistonsFri Sep 30 16:07:24 via web
Jacob Tucker
TuckerJacob
Arron Afflalo topping my #NBARank WAY underrated list so far. Would a good team rather have him or Monta?Fri Sep 30 16:17:58 via TweetDeck
Beckley Mason
BeckleyMason
Arron Afflalo is ranked No. 78 ... also the many times people have to spell check his name. Hence his nickname, Spell Check. #NBArankFri Sep 30 16:03:03 via web
Eddy Rivera
erivera7
Rank
Player
Score
79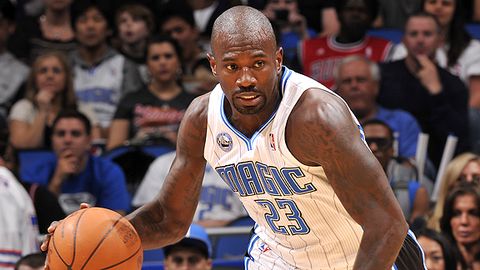 5.91
Jason Richardson
Orlando Magic | SG | Age: 30
Drafted: 5th in 2001 (by GS)
href=" http://twitter.com/#!/jrich23">@jrich23
@NBAonESPN @jrich23 #NBArank J-Rich, he's been a great player for a long time. Best play: Attempted 360 dunk that was blocked by LeBron.Fri Sep 30 15:12:03 via Twitter for BlackBerry®
KnowYourHistory
HistoryClothing
Rank
Player
Score
80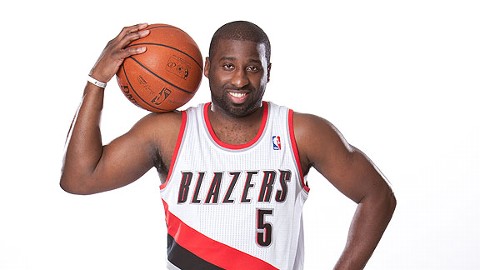 5.89
Raymond Felton
Por. Trail Blazers | PG | Age: 27
Drafted: 5th in 2005 (by CHA)
Felton at 80: Glad to see that one of the 2005 Tar Heels lottery picks (May, McCants, Marvin) is actually playing well in the NBA. #NBArankFri Sep 30 15:01:19 via web
Eran Soroka
sorokman
* Player committed to playing overseas in 2011-12
* Score: Tiebreakers are first based on percentage points; scores have been rounded off. The second tiebreaker is based on John Hollinger's Estimated Wins Added for the 2010-11 NBA season (rookies were given an EWA of zero).