ESPN.com and the TrueHoop Network are ranking every NBA player -- and counting them down on Twitter (@NBAonESPN), from No. 500 to No. 1. As the rankings are announced, you can also find them here on the pages of ESPN.com.
We have already announced 401-500, 351-400, 301-350, 251-300, 201-250, 181-200, 161-180, 141-160, 121-140, 101-120, 91-100, 81-90, 71-80 and 61-70 and will count down the rest one at a time on Twitter, for several weeks.
What is #NBArank?
#NBArank is the Twitter hashtag to use if you want to get involved in the discussion or just follow along.
You can also follow along here: @NBAonESPN
How did we rank the players?
We asked 91 experts to rate each player on a 0-to-10 scale, in terms of "the current quality of each player."
Here is the full list of voters from ESPN.com, the TrueHoop Network, TrueHoop TV, Daily Dime Live, ESPN TV, ESPN Radio, ESPN Deportes, espnW, ESPN The Magazine, ESPN Insider, ESPN Fantasy, ESPN Games, ESPN Dallas, ESPN Los Angeles, ESPN Chicago, ESPN New York, ESPN Stats & Information, ESPN Topics and ESPN Analytics.
To decide which players to rank, we started with every player who played in the league last season, and then eliminated players who had signed overseas contracts that made them ineligible for the 2011-12 NBA season. Then we added the 60 members of the 2011 draft class, eliminating those not likely to play in the NBA by 2012. That left 500 players, according to our best information as of Aug. 15.
Schedule
• Wednesday, Sept. 28: Players 91 to 100 announced
• Thursday, Sept. 29: Players 81 to 90 announced
• Friday, Sept. 30: Players 71 to 80 announced
• Monday, Oct. 3: Players 61 to 70 announced
• Tuesday, Oct. 4: Players 51 to 60 announced
@NBAonESPN Dear Mr. Lopez, You're 7-0, 23 years old, and have never been hurt. Why can't you grab a rebound? Sincerely, America. #NBArankTue Oct 04 23:17:58 via web
Zach Loesl
mmm9731
Rank
Player
Score
52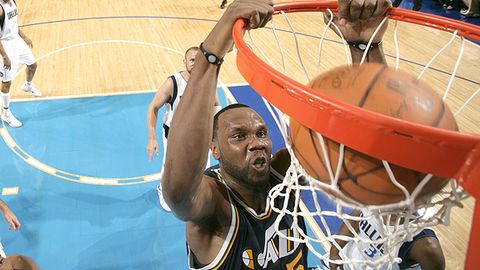 6.67
Al Jefferson
Utah Jazz | C | Age: 26
Drafted: 15th in 2004 (by BOS)
#NBArank Jefferson propelled himself to a 23-11 guy in Feb & Mar with new team and major changes; deserve way higher than No. 52. Tue Oct 04 23:07:54 via web
Edwin L
edwin_nba
Rank
Player
Score
53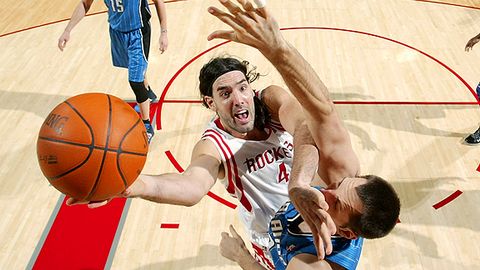 6.66
Luis Scola
Houston Rockets | PF | Age: 31
Drafted: 56th in 2002 (by SAS)
href=" http://twitter.com/#!/LScola4">@LScola4
If this was an offense only ranking, he would be so much higher. Tue Oct 04 21:05:16 via TweetDeck
Noam Schiller
noamschiller
Rank
Player
Score
54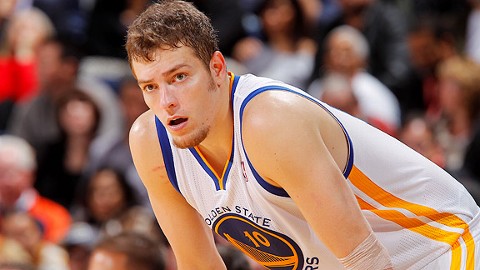 6.59
David Lee
G.S. Warriors | C | Age: 28
Drafted: 30th in 2005 (by NYK)
#NBArank David Lee at 54, he would've been higher if he didn't get bitten by Wilson Chandler. I guess he really missed him being a Knick.Tue Oct 04 20:23:53 via web
Saad Majid
SaadMajid
@NBAonESPN David Lee, like Elton Brand, is dogged by a bloated contract that devalues him. #NBArankTue Oct 04 20:11:53 via web
Aaron Burgin
SDUTAaronBurgin
Rank
Player
Score
55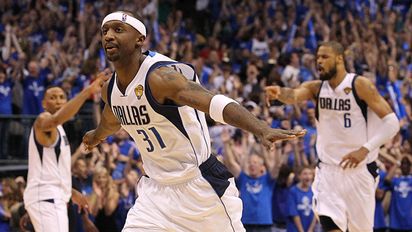 6.59
Jason Terry
Dallas Mavericks | SG | Age: 34
Drafted: 10th in 1999 (by ATL)
href="http://twitter.com/#!/jasonterry31">@jasonterry31
#NBArank Jason Terry #55. Correct me if I'm wrong, but does that mean he is better than STARTERS who are ranked below him? #SixthmanoftheyearTue Oct 04 20:09:50 via web
Kevin Francis
OKKFran
Jason Terry was the third best player in the Finals and outplayed LeBron, yet is only number 55 in #NBArank? Tue Oct 04 20:13:35 via web
blargcakes
blargcakes
Rank
Player
Score
56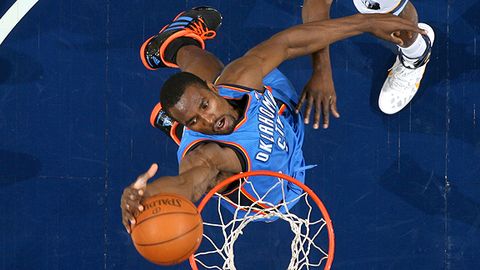 6.46
Serge Ibaka
OKC Thunder | PF | Age: 22
Drafted: 24th in 2008 (by SEA)
href="http://twitter.com/#!/sergeibaka9">@sergeibaka9
@NBAonESPN Not So Bold Prediction: Ibaka will jump more spots in the next #NBArank than any other player in the top-100. Tue Oct 04 18:41:29 via web
Dash Desloovere
DashiellD
Rank
Player
Score
57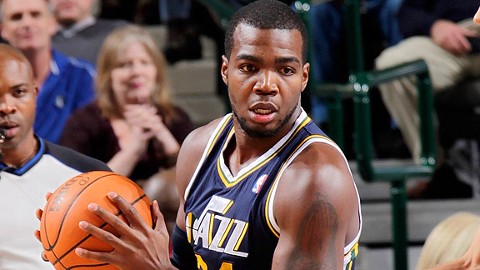 6.42
Paul Millsap
Utah Jazz | PF | Age: 26
Drafted: 47th in 2007 (by UTH)
@NBAonESPN Paul Millsap undersized in all gets the job done. Tue Oct 04 17:22:30 via web
Q.Thomas-Caldwell
YoungCapitalQ
Rank
Player
Score
58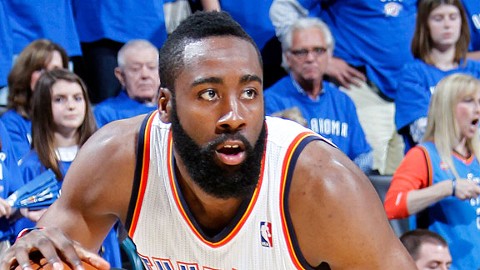 6.40
James Harden
OKC Thunder | SG | Age: 22
Drafted: 3rd in 2009 (by OKC)
href="http://twitter.com/#!/JHarden13">@JHarden13
C'mon @NBAonESPN, James Harden > Brandon Roy? I don't know about that one, but yeah you could argue the knee thing ... Tue Oct 04 16:14:03 via web
Devin Gray
devingray33
#NBArank James Harden at 58, easily number one in the weird beard category and not being respected. Tue Oct 04 16:54:27 via web
Josh Horne
JoshuaRHorne
Rank
Player
Score
59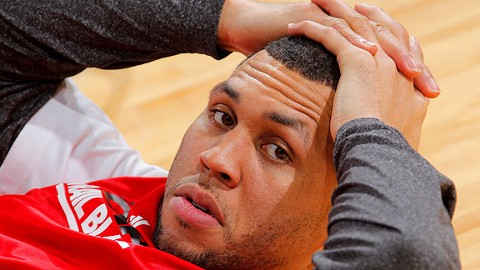 6.39
Brandon Roy
Por. Trail Blazers | SG | Age: 27
Drafted: 6th in 2006 (by MIN)
This makes me so sad. Knees are the worst. #BlazersTue Oct 04 15:14:43 via TweetDeck
Barbara Titus
BarbaraTitus
Like most everyone, seeing Brandon Roy at 59 in #NBArank just depresses me.Tue Oct 04 15:27:53 via Twitter for Android
Colin Zvosec
ColinZvosec
Rank
Player
Score
60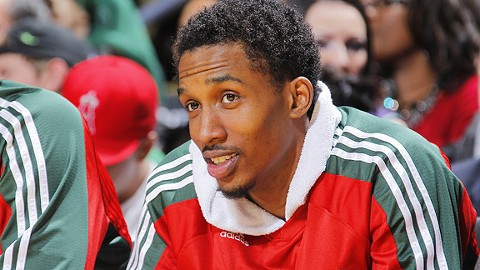 6.35
Brandon Jennings
Milwaukee Bucks | PG | Age: 22
Drafted: 10th in 2009 (by MIL)
href="http://twitter.com/#!/BRAND0NJENNINGS">@BRAND0NJENNINGS
Brandon Jennings' #NBArank (60) is only five points more than his career high that launched his rookie season. Tough to live up to that hype.Tue Oct 04 15:04:21 via web
Aaron Burgin
SDUTAaronBurgin
Bring back the Gumby haircut, Brandon Jennings. Guaranteed higher ranking! #NBArankTue Oct 04 14:07:26 via web
Rey-Rey
TheNoLookPass
* Player committed to playing overseas in 2011-12
* Score: Tiebreakers are first based on percentage points; scores have been rounded off. The second tiebreaker is based on John Hollinger's Estimated Wins Added for the 2010-11 NBA season (rookies were given an EWA of zero).