ESPN.com and the TrueHoop Network are ranking every NBA player -- and counting them down on Twitter (@NBAonESPN), from No. 500 to No. 1. As the rankings are announced, you can also find them here on the pages of ESPN.com.
What is #NBArank?
#NBArank is the Twitter hashtag to use if you want to get involved in the discussion or just follow along.
You can also follow along here: @NBAonESPN
How did we rank the players?
We asked 91 experts to rate each player on a 0-to-10 scale, in terms of "the current quality of each player."
Here is the full list of voters from ESPN.com, the TrueHoop Network, TrueHoop TV, Daily Dime Live, ESPN TV, ESPN Radio, ESPN Deportes, espnW, ESPN The Magazine, ESPN Insider, ESPN Fantasy, ESPN Games, ESPN Dallas, ESPN Los Angeles, ESPN Chicago, ESPN New York, ESPN Stats & Information, ESPN Topics and ESPN Analytics.
Pau Gasol at number 11? He is the most offensively skilled big man in the NBA right now, but he forgot to play against the Mavs in the playoffs. #NBArankFri Oct 14 22:18:00 via web
B. Yoo
byoobyoo
Wait, wait. Not only is Blake Griffin in the #NBArank Top 10, but he's also ahead of Pau Gasol?! Wow. Bad call there.Fri Oct 14 22:18:49 via Tweetlogix
Steve Kays
SteveKays
Pau Gasol at number 11 seems right. I feel like last season's playoffs was just an aberration. He'll come back strong next season. #NBARankFri Oct 14 23:16:54 via web
Rey-Rey
TheNoLookPass
@carmeloanthony number 12 and Pau Gasol at number 11 on #NBArank makes me sick. It's disrespectful to put Blake Griffin in front of them. We need a #recount. Sat Oct 15 00:05:41 via web
T Marcus
tmarcus15
Rank
Player
Score
12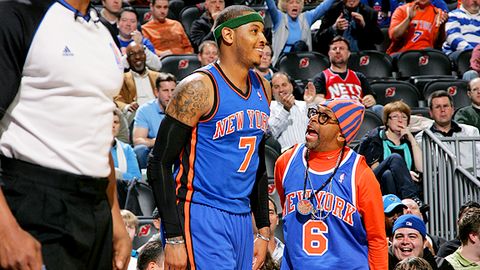 8.42
Carmelo Anthony
New York Knicks | SF | Age: 27
Drafted: 3rd in 2003 (by DEN)
I needed some motivation today, and I just received it. Thank you @NBAonESPN!!!!!!!!!Fri Oct 14 20:34:36 via web
Carmelo Anthony
carmeloanthony
#NBArank Melo at 12. If the game is on the line, I want Melo taking the final shot. He's the definition of clutch.Fri Oct 14 21:00:23 via UberSocial for BlackBerry
Justin ector
jmoney818
What do you get when you mix a top-10 offensive game and a bottom-10 defensive game? Melo with an overrated ranking at No. 12.Fri Oct 14 21:06:01 via Twitter for iPhone
Martell Bernard
TellyBernard
There are not 11 players better than Melo. Fri Oct 14 21:10:48 via Tweetlogix
RIO
ReallyRio
#NBArank People are killing Carmelo Anthony for not playing defense ... as if Dirk ever stopped anyone.Fri Oct 14 21:44:04 via web
L-Gee
LonGee3
Rank
Player
Score
13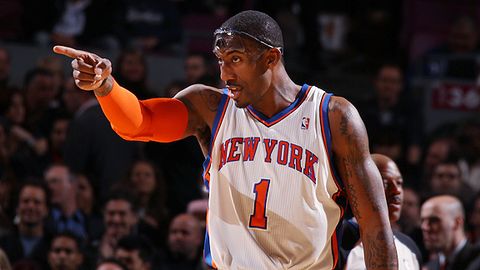 8.39
Amare Stoudemire
New York Knicks | PF | Age: 28
Drafted: 9th in 2002 (by PHX)
STAT made Knicks fans believers. He'd rank No. 1 if this were a list for NBA players who have recovered from microfracture surgeries. #NBArankFri Oct 14 19:17:03 via web
Baldur Halldórsson
Baldur_
Amare left PHX to prove he was a legit franchise player and as soon as he did he got overshadowed again by another franchise player. #NBArankFri Oct 14 18:10:23 via web
Vince Greer
MrConsistentVG
As good as Amare is, does anyone else feel like he's always leaving something on the table? Rebounds, defense, etc.? #nbarankFri Oct 14 18:41:31 via web
Pat Ryan
packeyryan
My question is would Amare be ranked higher than Nash if they were still on the same team? #NBArankFri Oct 14 19:02:53 via web
Robert Jacobs
RobBJacobs
Rank
Player
Score
14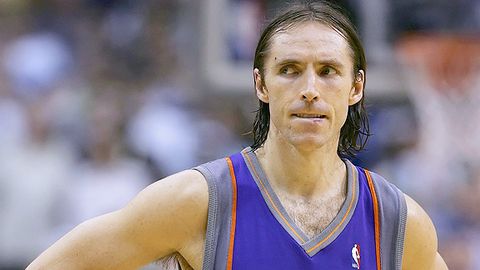 8.33
Steve Nash
Phoenix Suns | PG | Age: 37
Drafted: 15th in 1996 (by PHX)
@NBAonESPN #NBArank Not a lifetime achievement award. Nash legitimately had an MVP-type season last year with that weak Suns roster.Fri Oct 14 16:07:51 via web
rob
_rs
@NBAonESPN #NBArank Nash at 14 is as accurate as one of his no-look passes.Fri Oct 14 16:14:07 via web
Iceberg Slim
Iceberg5150
@NBAonESPN Nash is like fine wine ... gets better with age. Has one of the highest IQs of a point guard. And he represents Canada! #NBArankFri Oct 14 16:03:51 via web
Jonathan Joubran
JonathanJoubran
Steve Nash at No. 14 is as big of a joke as him being handed two MVP awards. #NBArankFri Oct 14 17:40:32 via web
Eddy Rivera
erivera7
Rank
Player
Score
15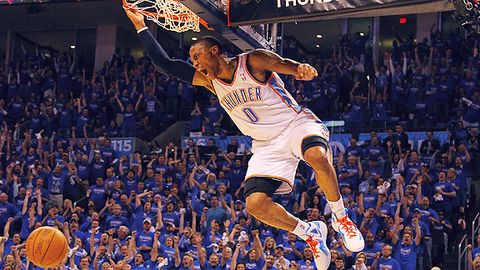 8.24
Russell Westbrook
OKC Thunder | PG | Age: 22
Drafted: 4th in 2008 (by SEA)
@NBAonESPN So Russell Westbrook is 15, despite the fact that he is statistically identical to Derrick Rose in almost EVERY way?? #NBARankFri Oct 14 14:36:11 via Twitter for BlackBerry®
Christian Baber
ChristianBaber
Russell Westbrook in front of Rondo ... I don't know about that one. #nbarankFri Oct 14 14:29:31 via Twitter for iPhone
JordanjsmoothSimpson
smoothdakid
#NBARank Russell Westbrook at 15, which is also the same amount of times he should pass instead of shoot during a game.Fri Oct 14 14:44:20 via web
Tyler Bresslin
tbrezz
Let Russell Westbrook's basketball IQ catch up to his talent and skills. He'll be top five in no time. #NBArankFri Oct 14 14:54:40 via web
John Choi
johnihchoi
#nbarank: Westbrook at 15?! Atrocious! How is he ranked so high if his coach can't even rely on him during the playoffs?Fri Oct 14 14:48:53 via web
ACheng
chenga91
* Score: Tiebreakers are first based on percentage points; scores have been rounded off. The second tiebreaker is based on John Hollinger's estimated wins added for the 2010-11 NBA season (rookies were given an EWA of zero).