J.A. Adande, who lives in L.A., and Israel Gutierrez, who lives in Miami, are teaming up this season for a look at the NBA from two perspectives.
If you could wait out the interminable introductions, adjust your eyes to the blinding array of shoe colors and manage to stay awake through the series of missed dunks, there was knowledge to be gained from All-Star weekend. And what did we learn about the buildup to this moment and what it means for the remainder of this season? Here's a look from a Western Conference perspective.
Durant the Man
Kevin Durant put up 24 shots. This isn't something new; it's the exact average of his field goal attempts in the previous two games. But it's good to see that he thinks of himself as the designated scorer even among the best players in the conference.
At times, he tries a little too hard to make sure his teammates stay involved. It's a noble goal, but sometimes the playoffs call for superstars to be selfish and take over games on their own. Shoot first, make the necessary accommodations later, as Michael Jordan once did by offering a postgame apology to Tex Winter for abandoning Winter's beloved offense: "Sorry about your triangle."
Last year, Durant played two NBA Finals games in which he attempted only 19 field goals. That's his regular-season average. The playoffs aren't about maintaining regular-season averages. In Durant's case, it should be about duplicating his All-Star numbers. In other words, playing up to the special attributes that got him to Houston in the first place.
---
Not the same old, same old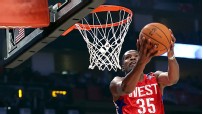 Durant, Russell Westbrook and James Harden wore the same uniform for the first time since the October trade that sent Harden to the Houston Rockets. Hearing their reactions made the heart beat slower.
"Playing with [Harden] today made me miss him a little bit," Durant said.
"I miss those guys as well," Harden said. "Just being with them every day, when you leave somewhere, you definitely are going to miss them."
Those might be the saddest quotes I've ever heard from an All-Star Game. The Thunder have successfully incorporated Kevin Martin into their rotation and are only one game off their 53-game record last season. Harden is flourishing in Houston, as indicated by his first All-Star appearance.
But hearing them get all nostalgic made me wonder if they'll miss that familiarity during the playoffs. That Durant-Westbrook-Harden core was together for the playoff evolution of the Thunder, from a first-round exit in 2010 to a trip to the NBA Finals last year. What makes every relationship special is shared experiences. There are a little less of those in the Thunder locker room this season.
---
CP3 MVP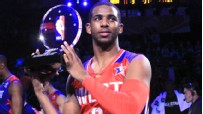 What's more impressive: elevating the Los Angeles Clippers into the championship-contender discussion or reducing a cast of All-Stars to the Los Angeles Clippers?
Chris Paul has done both, and even though it means "Clipper" is no longer a derogatory term, it's still no less remarkable to see a squad that included 2012 All-Star MVP Durant and four-time All-Star MVP Kobe Bryant watching Paul take over in crunch time as if it were just a Monday night at Staples Center.
This was going to be a down-to-the-wire finish until Paul decided it wasn't going to be. He made a layup and two 3-pointers in a span of two minutes, 16 seconds, and the West had an 11-point lead with two minutes remaining. Usually when he does this at the end of Clipper games, it's nearly 1 a.m. on the East Coast. At least this time it was on the right side of midnight. This hasn't changed what he does for the Clippers, but maybe it will change the way people think about it now that they've had a chance to see for themselves. Three decades of futility in Los Angeles make it difficult to envision Clipper postseason success. Watching that guy play, doesn't it seem a lot more plausible?
---
Kobe Bryant staying in the facilitating lane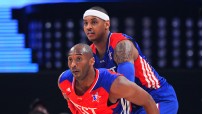 You would think that after slowing his offensive role in a sign of how desperate he is to get the Lakers back into the playoffs that he would indulge himself in the All-Star Game. Nope. He chose to once again go the Magic Johnson route. (And in sticking with the Lakers historical homages, he also paid tribute to Showtime Lakers defensive ace Michael Cooper with that D on LeBron James at the end).
Would you believe Luol Deng had more field goal attempts than Kobe, at 10 shots to nine, even though Kobe's 27 minutes were 10 more than Deng played? It was the first time Bryant has attempted less than 11 field goals in an All-Star Game. So maybe this really is his mindset.
The only bad thing for the Lakers? Kobe seemed to have a better connection going with Blake Griffin than he did with Dwight Howard. Bryant kept finding Griffin by the rim -- the location Howard has been begging to get the ball all season. Bryant assisted Griffin on three baskets. He had two assists to Howard, and one of those was on a 3-pointer -- the last shot the Lakers want to see Howard take in games that count.
Oh, and it probably wasn't a good sign that Bryant said it "doesn't matter" if the Lakers do or don't trade Howard.
---
Kenneth Faried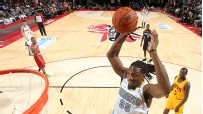 We all know there's more defense played in those halftime pee-wee games than there is at the Rising Stars Challenge. The impressive part of his 40-point performance in Houston on Friday night was that it was in Houston. Or anywhere but Denver.
Kenneth Faried is a dramatically different player at home than on the road. He's averaging 14.5 points, 59.5 percent field goal shooting and 69.8 free throw shooting at home. On the road, those numbers drop to 10.3 points, 52.9 percent field goal shooting and 51.7 percent free throw shooting. One theory is that so much of Faried's game is based on energy, and it's easier to be energetic when the home crowd provides a boost.
Perhaps the experience of generating his own energy and winning the most valuable player award on a neutral site, as he did in Houston, can help Faried later on, because if the playoffs started today, the Nuggets would be on the road (in Memphis).
Faried needs no help developing his pride in and willingness to speak on behalf of his mother and her lesbian partner and support of civil unions. For those who complain about athletes never taking a stand, here you go.
---
Sneaky Spurs
You probably didn't notice that Tony Parker had 13 points and five assists in 22 minutes. Just like you probably didn't notice the San Antonio Spurs were the hottest team in the West heading into the break, winning nine of their past 10 games.
So Spurs-like.