J.A. Adande, who lives in L.A., and Israel Gutierrez, who lives in Miami, are teaming up this season for a look at the NBA from two perspectives.
All-Star Weekend may not be the best predictor of things to come -- I mean, it's doubtful anyone will get two clean blocks on LeBron James, as Kobe Bryant did, for the rest of this season, much less in a big game -- but you can learn a few things. Such as who might be the next stars once the current crop fades, and why KG looked so happy on that bench.
Kyrie's the man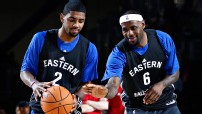 If anyone looked perfectly comfortable in Clutch City, it was Kyrie Irving, who might already have catapulted himself atop the list of "players you'd want taking the last shot in a game."
There weren't many people picking him to win the 3-point shootout, which was made up mostly of 3-point specialists who live for moments like that. But Irving went all Craig Hodges on the people, scoring 23 points in the final round and taking the drama out of the event.
And he didn't just make Brandon Knight look silly in the Rising Stars game, he fit right in with the megastars of the league in Sunday's game, dropping a cool 15 points and 4 assists in 25 minutes (that's more minutes than starter Chris Bosh, for those who were upset Erik Spoelstra picked his own big man to replace Rajon Rondo).
It was simply confirmation that Irving is one of the elite guards in the game right now, in only his second year, possibly right behind All-Star MVP Chris Paul as the best point guard in the league.
The primary concern for Irving as he continues his ascent is his distribution. Even on a bad team, you'd like to see a lead guard get more than 5.5 assists per game (as a rookie, Paul averaged nearly eight assists for a 38-win Hornets team). His scoring skills are extraordinary, but if he can't elevate his teammates, then he'll need to play with a point-forward type at some point in his career. Hmm, wonder if there are any quality point forwards who have a fondness for Northeast Ohio?
Why did I just do that?
---
Pacer potential
Irving wasn't the only young star on the East side to prove he's ready to elevate to superstar status.
Paul George was right there with him, playing in the grown-up game with zero timidity and a whole lot of ability.
The more you watch George, the more you realize he has every bit of athleticism and skill necessary to be a true superstar. He's not a 3-point specialist, as evidenced by his shootout performance, but he definitely has that in his arsenal. And while he doesn't fill out a uniform like LeBron James, he has the height and athleticism to hang in LeBron's neighborhood. Toss in some tricky ballhandling, and George looks like the answer to Indiana's superstar void.
He played in the All-Star Game like he fit right in, never hesitating and compiling what looked like an easy 17 points to lead all reserves. If that performance can inspire any additional confidence in George, it could mean great things for the Pacers. It would give them the go-to star they need to complement the rugged style that already causes the Miami Heat fits.
That would require George to shoot significantly better than his current 42 percent clip, but it would appear he's quite capable if he chooses to focus on his efficiency.
---
Going green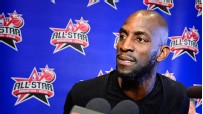 Kevin Garnett told everyone that this would be his last All-Star Game, and not because he plans on retiring. Well, you saw why. Garnett played only six minutes in Sunday's game, none in the second half, despite being voted in as a starter.
Garnett, at 36 years old in his 18th season, has no intention of wearing himself out in an exhibition, so there's really no point in voting him in these next couple of years. He played 47 minutes just a week earlier against the Nuggets, and his energized play since Rondo went down with an ACL tear is one of the main reasons the Celtics have rebounded so well and avoided a trade-deadline fire sale.
At this point, it doesn't look as though the Celtics can fall out of the playoff picture. And if the standings hold, it would mean another meeting with the Knicks in the first round. That would be nightmarish for the Knicks, who fancy themselves real contenders. So perhaps Garnett has the big picture in mind. Stay rested, stay healthy, and all of a sudden the Celtics could be looking at their most shocking postseason run yet -- which would be saying quite a bit.
---
Chris crossed
What is it about Chris Bosh that makes him such a target? I mean, to get nutmegged once in an All-Star Game is bad enough, but twice? That's just unfair -- especially when he was actually trying to play defense in a usually defense-free zone.
Then he accidentally catches a crotch to the face when Blake Griffin randomly grabbed the rim (just a reflex from Blake, I'm sure), and was caught staring longingly at the MVP trophy as CP3 accepted it.
It's a good thing the unrivaled Bosh is so secure in his abilities and his personality, because otherwise it would be tough to be picked on so thoroughly.
But Bosh is quietly using that "I'm happy being me" mentality and turning in his most effective season as a member of the Heat.
Even though he's still not getting the ball on the block as much as he'd like, he's finding a way to shoot a career-best 55.5 percent -- in large part because he's shooting 55 percent on shots from 16 to 23 feet, which is where he gets the majority of his shots when LeBron and Dwyane Wade are operating.
Truthfully, Bosh doesn't mind one bit what people think of him anymore, and he's one of the more entertaining guys in the league. So he won't let a little All-Star Weekend foolishness affect his strong season.
---
What dead arm?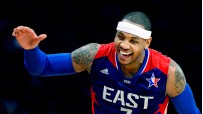 When Carmelo Anthony complained of a "dead arm" following his last game before the All-Star break, there were questions of whether he should even play in Houston. But if Knicks fans were concerned at all before the game, they shouldn't be anymore.
It wasn't just that he scored an East-leading 26 points on 14 shots, but he also grabbed a game-high 12 boards in a team-leading 31 minutes. It would seem his arm is just fine, which will be critical for the Knicks.
If New York is going to make a deep playoff run, it will require more from Anthony, particularly in the efficiency department. When the game slows down, and defenses don't allow as many good looks from 3-point range, the game will once again be in Anthony's hands.
Melo might want to spend the remainder of the season in LeBron mode, getting that shooting percentage up higher than 44.7 percent.
In his two postseasons with the Knicks, Anthony has shot just 85 of 212 (40.1 percent), which probably won't be good enough to do much damage this postseason, either. His arm may be alive, but he might want to be more selective before firing away with it.