After 19 NBA seasons full of "quotatious" one-liners and random acts of Shaqness, Shaquille O'Neal was a shoo-in to land in front of the camera, in some way or another, after his retirement from the NBA.

Thursday, he made it official, agreeing to a multiyear deal with Turner Sports to become its newest analyst.

Does this signal the end for any comeback campaigns? What should we call the Big Diesel now? Our crew thinks big, really big, for today's 5-on-5:
1. Based on a five-star system, rate Shaq's TV potential.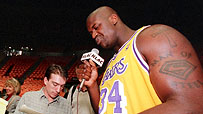 J.A. Adande, ESPN.com: Four stars. He's got to bring the A material every show, though. When he was playing, Shaq could go weeks without saying something memorable, then one day drop the quote of the year. So you always had to listen. If he doesn't bring it all the time in his new job, people will tune out.

Mathew Lewis, Queen City Hoops: Four stars. There's no doubt Shaq will bring entertainment value and comedic relief to the set. The question is, will he be able to pair it with meaningful analysis. We'll see. The guy I feel bad for is Chris Webber, who appears to be the odd man out.

Spencer Wellesley Percy, Queen City Hoops: Five stars without a question. How can you ask for a better personality on the set other than Shaq? I think that he will be worth all the hype and compete with Barkley right away for best reason to watch TNT (other than basketball of course).

Kyle Weidie, Truth About It: At least fours stars because of his popularity (even grandmas know who he is), quick quips and ability to ham it up for the camera. But he's got to get some inflection in his speech and learn when to be serious -- two things about which I have my doubts.

Royce Young, Daily Thunder: I don't see how it could be anything less than a five. Shaq is maybe one of the biggest and best personalities ever in any sport, so putting him on TV to talk about basketball could be amazing. But there's no guarantee. Shaq's like the flashy 19-year-old at the top of everyone's draft board: a ton of upside but still an unknown.
---
2. What should Shaq's new nickname be?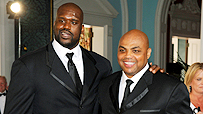 J.A. Adande, ESPN.com: "The Big Demographic." Because in TV it's all about hitting that target demographic.

Mathew Lewis, Queen City Hoops: The Big Analysis. Try to come up with a nickname for Shaq without using the word "big" -- I dare you. Whether the Big Analysis gets the nod or not, I'm sure we'll all be made well aware how to address Mr. O'Neal before he steps on set.

Spencer Wellesley Percy, Queen City Hoops: Super Heavy All-Around Quality Television. This ended up being a great exercise for my ninth grade English class and I thought they did a great job with it, so that's what I'm going with here.

Kyle Weidie, Truth About It: Does he always need a new nickname? Do we use any of the dozen (hundreds?) he has already? Or is this just the "thing" we do with Shaq? If that's the case, why not call him "Gone Fishin'," after the "Inside The NBA" routine, and make him literally take guys who get eliminated from the playoffs fishing?

Royce Young, Daily Thunder: The Big Telestrator. I guess it's standard practice to just throw "The Big" in front of a word and call it a nickname for Shaq. Kind of just adding a "y" to the end of a friend's name. But I see him as Mike Fratello's heir apparent as a master of the telestrator. I don't have a reason, though. I guess he needs some kind of role next to Kenny and Charles.
---
3. Will Shaq come back? (He says no.) Should he?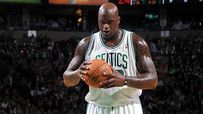 J.A. Adande, ESPN.com: No and no. When I saw him at his retirement party he was still in pain and he hadn't played in weeks. His body can't take it anymore. Time for him to spend game nights sitting in a chair.

Mathew Lewis, Queen City Hoops: No. Shaq is a guy with a lot of pride. Unless he believes he can come back and truly play at a relatively high level, I think he stays retired. Shaq was never one to play second or third fiddle, and I think now even he's realized his physical limitations.

Spencer Wellesley Percy, Queen City Hoops: Since the 2007-08 season Shaq played only an average of 43 games per season, which is about half the season. The question shouldn't be will Shaq play again, but why would any team want to bring him on board? He simply can't guarantee a healthy body at any time at this point in his career.

Kyle Weidie, Truth About It: It depends on how content he'll be with the spotlight in the studio, which is much smaller than the one on the hardwood. If there's a shortened season, and if Shaq keeps himself in shape (yeah, right), then his attention-seeking will reign supreme and he'll sign with a title contender.

Royce Young, Daily Thunder: No chance. Shaq wasn't the type of player that lived, breathed and slept basketball. He was never that ultimate competitor that couldn't function without the game. I'm sure basketball came first, but it wasn't everything. So I don't think he's going to get the itch to go back to having to run and, you know, stay in shape and all.
---
4. With Shaq gone, who's the best "personality" in the NBA?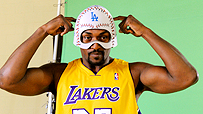 J.A. Adande, ESPN.com: Metta World Peace. That pretty much says it all right there. The best thing about Ron Artest is that as he grows older his antics grow more harmless. And his Twitter timeline is as random as it gets.

Mathew Lewis, Queen City Hoops: I like Jared Dudley a lot, but I think the league's best personality calls for a more prominent player. I'll say Kevin Love. He's a funny and interesting guy who's very active in the social media space, a median he's used effectively to display his personality and interact with fans. He also did a pretty good job alongside Blake Griffin in "Lockout Professionals" Wednesday night at the ESPYs.

Spencer Wellesley Percy, Queen City Hoops: I'm going with a dark horse here in Andray Blatche. If you are puzzled about this selection, I urge you to please go to YouTube and watch "Andray Blatche triple-double attempt." Priceless.

Kyle Weidie, Truth About It: Gilbert Arenas has personality in quantities, but his ways can sometimes leave a sinister tinge on the stomach. The untamed, loose nuts-and-bolts, humanistic innocence of Ron Artest is the best choice.

Royce Young, Daily Thunder: I imagine a lot of people might say Dwight Howard, but sometimes it feels like he's trying too hard. I think it has to be either Ron Artest or Gilbert Arenas. Right now, Arenas' Twitter account is about as much "personality" as you can get.
---
5. What's the funniest movie ever? (Shaq says "Horrible Bosses.")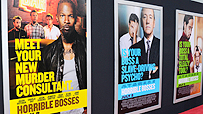 J.A. Adande, ESPN.com: "Anchorman." It's the only movie that ever had me in tears from laughing so hard.

Mathew Lewis, Queen City Hoops: At least Shaq didn't say "Kazaam." I have a lot of favorites, but I'll go with "Strange Brew." Although somewhat of a cult film here in the States, I'm sure Raptors fans are a bit more familiar with the adventures of Bob and Doug McKenzie.

Spencer Wellesley Percy, Queen City Hoops: "Super Troopers," "Saving Silverman" and, for the sake of the Shaq theme, "Kazaam" will be my three finalists. My winner is an easy decision, though, "Super Troopers." Why is it no matter where you are everyone seems to pull out a "Super Troopers" quote at some point? "These snozberries taste like snozberries!"

Kyle Weidie, Truth About It: Good for Shaq and his possible product placement, but I'm endorsing these for free: "Anchorman," "Friday," "Half Baked," something with Bill Murray, "Coming to America" and "Kingpin."

Royce Young, Daily Thunder: Some may not like it, but my favorite funny movie has always been "The Three Amigos." The first time I saw it, I laughed some. The eighth time, I laughed a lot.


ESPN.com and the TrueHoop Network
J.A. Adande is a senior NBA writer for ESPN.com. Mathew Lewis, Spencer Wellesley Percy, Kyle Weidie and Royce Young write for the TrueHoop Network.
• Follow ESPN's NBA coverage on Twitter | On Facebook