After eight memorable NBA seasons, Yao Ming officially hung up his hightops for good at a news conference early Wednesday in Shanghai, China, where his long basketball journey first began.

Last week, we looked at whether Yao and other international stars were Hall of Famers. But if injures hadn't sapped the second half of Yao's career, would we be having a different debate on the center's NBA legacy? Also, what role will the Chinese icon play in basketball now?

Our five-man crew tackles the big questions about the big man:
1. If not for injuries, Yao Ming would have been ...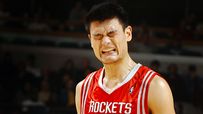 Joe Gerrity, Hornets 24/7: Choose one -- A sure fire Hall of Famer, a transcendent talent that advanced international basketball like none before him, a bridge between cultures, a unifier of nations, the greatest human in history. Let's be real -- nobody knows what would have come of Yao Ming had his body held up, but we can all agree it would have been judged in degrees of legendary.

Beckley Mason, Hoop Speak: The best center of his generation. Yao vs. Howard would be a great contrast in styles with the hyper-skilled-though-lead-of-foot Yao against the explosive-but-stone-handed Howard. Both are flawed players, but there's a real chance a healthy Yao could have dominated his position over the past five years.

Rashad Mobley, Truth About It: A great player who needed more help. Maybe Kevin Martin or Luis Scola could have emerged as threats with Yao on the court and maybe a healthy Tracy McGrady or a motivated Steve Francis would have done the same. But even in Yao's healthy moments, you never felt like Houston had enough weapons to complement him.

Rob Peterson, Hardwood Paroxysm: A top-10 center in NBA history. His numbers for his first three seasons were pedestrian (16.4 ppg, 8.5 rpg), but in the next three abbreviated seasons, he averaged 23 and 10. Yao's tireless work ethic helped him develop into a force. It's a shame he couldn't stay healthy, we could have been treated to greatness.

Noam Schiller, Hardwood Paroxysm: An NBA MVP. Yao was the best center in the league for a solid three-year stretch between Shaq and Dwight, and didn't really relinquish the spot as much as his feet took him out of the competition. A look at his 2006-07 season (26.6 ppg, 10 rpg, 26.5 player efficiency rating) shows MVP potential.
---
2. Which was bigger: Yao on the court or Yao off the court?
Joe Gerrity, Hornets 24/7: Yao off the court far surpassed Yao on the court, but only because his body didn't hold up. As I tried to imply in answering the previous question, there isn't much in terms of basketball he couldn't have accomplished otherwise. Plus his restaurant is frickin' amazing.

Beckley Mason, Hoop Speak: Yao off the court by a long, long ways. He was a fixture as center of the Western Conference All-Stars through the healthy seasons when he deserved it and in those sadly spoiled by injury, illustrating how much of his impact should be measured by his historical place as the game's first great Asian player.

Rashad Mobley, Truth About It: Off the court. Before Yao entered the NBA, only an injury or a lockout kept Shaq from starting at center for the West in the All-Star Game. Yao's rookie numbers were pedestrian, but that season the Chinese voters helped him start -- and Shaq was coming off three straight NBA Finals MVP awards. That's power.

Rob Peterson, Hardwood Paroxysm: Because he couldn't stay on the court, his impact off it was far bigger. His being in the league opened the Chinese market for the NBA and its players, who continue to score huge marketing deals in Asia. That, combined with the NBA's expansion into the continent with its numerous Internet deals, helped make the NBA a true global brand. Yao was the catalyst.

Noam Schiller, Hardwood Paroxysm: Nobody post-Jordan was bigger on the court than Yao was off it. Single-handedly bringing more than a billion new fans to the game while sporting a unique warmness and sense of humor is unparalleled.
---
3. If Houston could go back to 2002, would it draft Yao or Amare?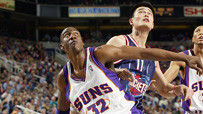 Joe Gerrity, Hornets 24/7: Yao Ming, then Yao Ming, and then once more Yao Ming. Nobody will remember Amare Stoudemire as anything more than a borderline great player 10, 50 or 100 years from now, but Yao Ming will live on forever as the Rocket who inspired a nation to pick up a basketball.

Beckley Mason, Hoop Speak: The on-court production figures aren't that close. Stoudemire has played in 100 more games and added 10 more win shares over his career than Yao has. Off the court, does Yao add as much as we think? He certainly raises the profile of an organization, but proceeds from those jerseys sold in China don't go to the Rockets.

Then again, there are few opportunities to draft a signature player like Yao, and Amare's comeback career was no sure thing. It's not what I'd do, but I can't see the Rockets choosing to skip the Yao experience.

Rashad Mobley, Truth About It: The Rockets would still draft Yao Ming, just like Portland would still draft Greg Oden. The potential of a young, dominant center is way more seductive than a 6-foot-10 forward who can jump out of the gym. Throw in Yao's off-court influence, and you have a once-in-a-lifetime pick.

Rob Peterson, Hardwood Paroxysm: Yao, because who knows … Stoudemire still could have ended up in New York. He may not have led the Rockets to the NBA Finals, but Yao, in terms of off-court cultural impact, meant nearly as much to that franchise as Hakeem Olajuwon and Moses Malone once did. He was the right choice then and would be the right choice again.

Noam Schiller, Hardwood Paroxysm: Call me a hopeless romantic, but still Yao. Stoudemire was never nearly as good a two-way player, and has injury concerns of his own. If Amare contributes at a high level for another 3-4 years, this may be retroactively changed.
---
4. Would you advise a team to use the No. 1 pick on a 7-foot-6 center?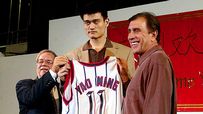 Joe Gerrity, Hornets 24/7: That depends entirely on talent. There are certainly a few 7-6 guys who can't play worth a damn, but if you can find one like Yao Ming then that's a gamble you have to take. In my mind huge players can change games in ways that 6-0 guys like CP3 can't, and that's why they will always be more worth the risk.

Beckley Mason, Hoop Speak: Didn't John Hollinger already prove that it was a terrible idea? When Yao as a dominant player for a few years before his injuries crippled his franchise's financial standing and ability to contend is the best-case scenario, that's not a very good scenario.

Rashad Mobley, Truth About It: There's nothing wrong with taking a talented player as the No. 1 draft pick as long as intelligent scouting has been done, injury history has been closely examined, and there's a GM who can surround him with talent to give that player a chance at success. If that player is a 7-6 center, that's a plus not a detriment.

Rob Peterson, Hardwood Paroxysm: The track record isn't good, so … no. The guys at that size -- Manute Bol, Gheorge Muresan, Shawn Bradley -- had one physical skill (height) and one basketball skill (blocking shots). Considering Yao could score with either hand around the hoop and hit free throws at an 83 percent clip, he was an exception rather than the rule.

Noam Schiller, Hardwood Paroxysm: No, but this is history's fault more than it is Yao's. Other 7-6 guys weren't nearly as good as Yao was, settling in as role players such as Manute Bol and Shawn Bradley. If another 7-6 guy with actual skills, such as Yao, shows up, then sure, take him.
---
5. What role would you like to see Yao play in the future?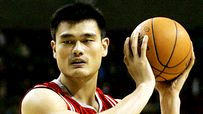 Joe Gerrity, Hornets 24/7: It would be nice to see him remain involved with the NBA as well as with the international basketball community. Hopefully, he uses his position to advance the game in China. Also I'd like to to see him be voted an All-Star starter for the next decade.

Beckley Mason, Hoop Speak: I'd like: Man on the street reporter. Crocodile wrestler. Tiny violin player. Shaq's sidekick on a prank show. Playing the roles of himself, his father and his mother, Klump style, in "Giant Giant: The Yao Ming Story."

Rashad Mobley, Truth About It: Yao and former Rockets center Hakeem Olajuwon should form a big man camp a la Pete Newell. Yao was a big man who played big and passed well, and so was Hakeem (plus he's already helped Kobe Bryant and Dwight Howard). Together they would teach prospective and current NBA big men, and maybe resurrect the dying center position.

Rob Peterson, Hardwood Paroxysm: He's done quite well as an ambassador for basketball across the globe, it would be unfortunate if he doesn't continue in that role for the NBA and for China. He's an engaging personality and the game would be lesser in his absence. So, it's either that or he can teach Dwight Howard how to shoot free throws.

Noam Schiller, Hardwood Paroxysm: I want Yao to be the league's lead spokesman in Asia, helping develop the game, funneling talent from a faraway region, and most importantly, preventing the Chinese national team from running future prospects into the ground with international play.


ESPN.com and the TrueHoop Network
Joe Gerrity, Beckley Mason, Rashad Mobley, Rob Peterson and Noam Schiller write for the TrueHoop Network.
• Follow ESPN's NBA coverage on Twitter | On Facebook