From the mouth of someone with a regional accent like UConn coach Jim Calhoun, you might think they are "point gods."

Point guards aren't quite that important, but they do run the show. And when they're done being coaches on the floor, they often become the coach on the sideline. (Mark Jackson is the latest from their ranks to take the sideline reins.)

Each weekday this week, our 5-on-5 crews and ESPN Insider are making their picks for the best ballers at each position. Chris Palmer ranked his top five points. Now our crew of minor deities give their takes:
1. Who's the best point guard in the NBA today?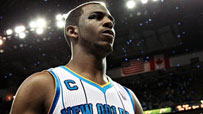 Jovan Buha, ClipperBlog: Chris Paul. When healthy, there's no denying Paul's stature, especially after his brilliant display against the Lakers this postseason. His combination of vision, patience, grace, tenacity and selflessness allows him to dismantle the league's best defenses, dominate his opponents and execute plays that seem impossible.

Rob Mahoney, The Two Man Game: I may be in denial (or simply ignorant of the impact of his oddly frequent no-show performances), but I still lean toward Chris Paul. His court sense is absolutely impeccable, and the ease with which he scores somehow still flies under the radar. Package that dominant offensive skill set with good anticipatory D and innate leadership ability, and even the rest of the point guard elite can't quite keep pace.

Beckley Mason, HoopSpeak: Chris Paul's the best point guard in the NBA because he's an elite 3-point shooter who scores and assists efficiently while captaining a suspect cast to impressive offensive efficiency in clutch moments -- and because he can still turn your ankles to powder (ask Drew Bynum). Paul combines all that skill with supreme moxie and an inspirational leadership style.

Rob Peterson, Hardwood Paroxysm: Derrick Rose. No less an authority than Kobe Bryant called Rose a bad mutha. Rose proved it by winning the '11 MVP. Rose may be five inches shorter than LeBron James, but he has LeBron's all-around skill set and is a fiercer competitor. If he can develop a consistent jumper, Rose, already dangerous, could be unstoppable.

Royce Young, Daily Thunder: It's the ever-changing answer depending on who's hot at the time. After a big assist night, it's Rajon Rondo. After a crazy fourth-quarter takeover, it's Deron Williams. After an MVP, it's Derrick Rose. But there's one constant, one guy that's always good. And that's Chris Paul. Still the best, no doubt.
---
2. Who's the most underrated point guard in the NBA?
Jovan Buha, ClipperBlog: Deron Williams. Analysts and experts alike seem to develop amnesia when discussing the league's best point guards, as Williams never seems to garner sufficient recognition. It's difficult to be "overrated" as a perennial All-Star and franchise player, but Williams' low profile and lack of flash cause many to overlook his greatness.

Rob Mahoney, The Two Man Game: Russell Westbrook gets an unbelievably bad rap for a legitimate star. It's true that many of the Thunder's demons are in some way related to Westbrook's performance, but he still brings an incredible level of production in a wide variety of ways. He may not be as controlled or deliberate as some other guards, but his explosiveness holds its own virtues and, contrary to common perception, its own incredible success.

Beckley Mason, HoopSpeak: The point guard debate has been so well-documented that most PGs, I believe, are properly rated. Yet Devin Harris has been lost in all these debates because he's not quite elite and has played for putrid teams. But he's still better than half the league's starters.

Rob Peterson, Hardwood Paroxysm: Stephen Curry, for the mere fact that most people still think of him as a shooter and not a point guard. Kid can still shoot (.595 total shooting percentage), but he's become a solid point guard for the Dubs. He won't dazzle as a distributor, but he's decent on defense and he's willing to learn the position.

Royce Young, Daily Thunder: He's almost become so underrated that he's overrated, but I'm going with Kyle Lowry. An elite defender, an absolute bulldog of a competitor and a guy completely capable of leading a winning team.
---
3. Who's the most overrated point guard in the NBA?
Jovan Buha, ClipperBlog: Rajon Rondo. Though he's one of the league's elite passers and defenders, Rondo's inability to develop a reliable jump shot, improve his free throw shooting or consistently attack the rim has hindered his claim as "the best point guard in the NBA." Put kindly, he is an offensive liability and overvalued by fans.

Rob Mahoney, The Two Man Game: It's almost a cliché at this point, but it has to be Derrick Rose. The fact that Rose took home the league's MVP award without even being the top player at his position makes his revered standing more than a bit curious. He's a tremendous player and a nice guy, but goodwill has taken Rose a bit too far up the point guard food chain.

Beckley Mason, HoopSpeak: There's a good chance Jose Juan Barea will be wildly overpaid when there's a new CBA. This is an example of perception versus production. Watching Barea carve up elite teams in the playoffs was impressive, but what about those ugly off games, those bricked layups and smothered possessions? He's not a starter, but he'll be valued as one come free agency.

Rob Peterson, Hardwood Paroxysm: Russell Westbrook, for the simple reason that there was something about his decision-making against Dallas this postseason that left me wondering about his lack of self-control. Westbrook is talented and competitive, but throughout that series, he let his emotions get the best of him. He needs his maturity to match his talent level.

Royce Young, Daily Thunder: Derrick Rose? Nah, I'm not ready to go there. I'm playing it safe and saying Chauncey Billups. He built a reputation as Mr. Big Shot based on one great series, and he's never really run a team that excellently. He's a fine point man, but not as good as his reputation says.
---
4. Who's the most promising point guard in the NBA?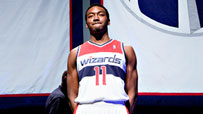 Jovan Buha, ClipperBlog: John Wall. He has the makings of a great point guard: length, elite athleticism (quickness and speed included), court vision, defensive anticipation, an uncanny finishing ability and an eagerness to improve. It's tough to gauge his ceiling, but if he improves his shooting range and learns to play under control, he could become the league's best floor general.

Rob Mahoney, The Two Man Game: John Wall has the vision, the athleticism and the willingness to make mistakes that any team would want in the initiator of its offense, and he has yet to celebrate his 21st birthday. Wall finished in the top 10 in assists last season as a rookie with 8.3 per game despite the Wizards' wonky offense, which is just the first of his many impressive statistical marks to come. Wall's an easy choice here, but only because he's an incredibly valid one.

Beckley Mason, HoopSpeak: In John Wall I trust. He had a historic rookie season -- only one player (does naming Stephon Marbury kill my cause?) has averaged more assists per game at such a young age. Wall is a vocal leader with uncanny vision and unholy quickness. He'll soon be pressing the limits of the Rose, Westbrook, Paul, Williams class.

Rob Peterson, Hardwood Paroxysm: Ricky Rubio. He hasn't played a game in the NBA yet, but his reputation precedes him. We have seen his transcendent skills in international competition and on YouTube (set to "Freebird," for goodness' sake). But can Rubio hold his own, especially on defense, against the best in the world? Time will tell, but he could be a great one.

Royce Young, Daily Thunder: Point guard in the NBA today is what shortstop was in the American League 10 years ago -- absolutely loaded. So many terrifically talented young players. Rose, John Wall, Kyrie Irving -- all great. But I've got Russell Westbrook. He's got the chance to have a total package almost unlike anyone else before him.
---
5. Who's the best point guard of all time?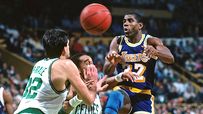 Jovan Buha, ClipperBlog: Magic Johnson. His ability to make everyone else around him better is unmatched by any other player in NBA history. A threat to get a triple-double every night, Johnson was a rare talent whose all-around game will likely never be seen again (sorry, LeBron).

Rob Mahoney, The Two Man Game: They just don't get any better than Magic. He puts contemporary point guards to shame with his astounding versatility; Magic spent his career hovering around 20 point-per-game scoring while still grabbing an insane number of boards and putting up assist marks that rank with the NBA's all-time leaders. By virtually any criterion Johnson takes the cake, even though he's undoubtedly the most positionally ambiguous player to receive consideration.

Beckley Mason, Hoop Speak: I'm going with Magic, even though I have a hard time shaking John Stockton's obscene assist totals. I'd give Stockton the nod for pure point-guardiness, but it's an incredible luxury to have a player who excels at a few skills while also offering above-average capability as a forward or center in a pinch.

Rob Peterson, Hardwood Paroxysm: Magic Johnson. Few have played with as much joy, and no one at the position was a better leader or distributor. At 6-foot-9, Magic didn't change the position as much as he transcended it. Then again, we need to give love to Oscar Robertson, who showed that big (the Big O was 6-foot-6) guys could play the position. His 181 triple-doubles make even Magic jealous.

Royce Young, Daily Thunder: That's like asking a mother who her favorite child is. Cousy, Isiah, Stockton, Oscar Robertson -- I mean, try to pick one from that list. Even with those great ones, give me Magic. He had everything -- size, speed, vision, feel and a flair that made him one of the most exciting players ever.


ESPN.com and the TrueHoop Network
Jovan Buha, Rob Mahoney, Beckley Mason, Rob Peterson and Royce Young contribute to ESPN.com's TrueHoop Network.
• Follow ESPN's NBA coverage on Twitter | On Facebook