In the NBA world AM (After Mike), the debate about the league's best shooting guard isn't so clear-cut.

Kobe Bryant's got the rings and an MVP, but Dwyane Wade is beloved by the stats geeks (and has one blinged-out finger himself). And what about Ray Allen, the all-time 3-point leader? Or Manu Ginobili and Monta Ellis, two cat-quick guards who can fill it up with ease?

Monday, we looked at the top point guards on the NBA scene, and ESPN Insider's Chris Palmer ranked his top five. Second up on our position-by-position 5-on-5s this week are, appropriately, the 2-guards. Palmer made his picks. Now here's ours, featuring your responses sent in via Facebook and Twitter:
1. Who's the best shooting guard in the NBA today?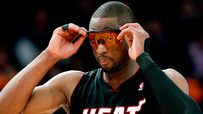 Kevin P. Boudreau, via Twitter: D-Wade. Who else produces on the court and recruits two of the game's best players to come play with him?

Hayes Davenport, Celtics Hub: Dwyane Wade. The argument for Kobe Bryant is, like Kobe himself, losing its effectiveness. Wade's a slightly better scorer, a hugely superior rebounder and a marginally better passer and defender. It's not a huge surprise that he'd surpass Kobe at this point in their respective careers. What is a huge surprise is that Kobe has somehow become the more likable one.

Ryan DeGama, Celtics Hub: Wade gets the slightest of nods over Kobe, because he does more of his damage in the kill zone these days, while Bryant lingers on the perimeter. Wade's also more consistently capable on defense simply because he's got fewer miles on his odometer.

Dan Feldman, Piston Powered: Wade. He earns the slight edge over 15-year veteran Kobe Bryant, who no longer has the energy to defend at an elite level or play as much as Wade does. When you're among the best in the game, minutes played matter. Kobe spends too much time on the bench, which hurts the Lakers, so Wade takes the top spot.

Noam Schiller, Hardwood Paroxysm: From a purely statistical standpoint, Wade leapfrogged Kobe for the SG lead back in the 2008-09 season. In the two seasons since, Kobe's body has done nothing but deteriorate and his game has sagged out to the perimeter. As great as Bryant is, he can no longer match the physical force that is Wade on both ends of the floor.
---
2. Who's the most underrated shooting guard in the NBA?
Tyler Harford, via Facebook: Easy: Manu Ginobili. He has a few rings on his fingers and still possesses the explosion to the hoop he's always had, but Manu is still left off many people's basketball radar.

Hayes Davenport, Celtics Hub: Now that Kevin Martin is very famous for being underrated, Tony Allen takes his spot here. Not even for his defense, which is gradually being recognized as league-best for a guard. What's underrated is Allen's offense: His shot selection has sufficiently improved to make him a high-efficiency scorer, and that's a rare find for a superb perimeter defender.

Ryan DeGama, Celtics Hub: Manu Ginobili. It's not that we don't appreciate him, it's that we don't appreciate him enough. He's still a dangerous scorer from all over the floor, his defense remains a plus, and he played a career-best 80 games at age 33. Plus, he's one the league's best ugly-game players.

Dan Feldman, Piston Powered: Eric Gordon. If he weren't playing with the NBA's breakout superstar, Blake Griffin, maybe Gordon would've gotten more credit. I guess averaging 22.3 points, 4.4 assists and 2.9 rebounds per game, mixed with stellar defense, isn't enough, though. If Gordon keeps producing like this, people will eventually notice. They definitely will if he improves, which very well could happen.

Noam Schiller, Hardwood Paroxysm: Kevin Martin has a reputation as a lottery-team dweller, a stat chaser and a terrible defender. I think even he would concede the latter, but the first two are neither reasonable nor reality-based. Mini-Mart is one of the best scorers in the game, capable of scoring from literally anywhere, and should be treated as such.
---
3. Who's the most overrated shooting guard in the NBA?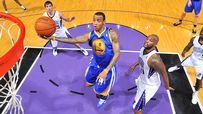 Reece Whitaker, via Facebook: Monta Ellis. He averaged 24 points per game, but by taking 1,611 shots from the field. The offense he plays in helps pad his offensive stats and he does not play any defense.

Hayes Davenport, Celtics Hub: At a position rife with bloated contracts and empty scoring, Joe Johnson still remains the least deservingly rated. He made the All-Star team, but by season's end he probably wasn't a top-10 shooting guard. Low shooting percentages and his team's highest usage rate, even with two better options on the floor.

Ryan DeGama, Celtics Hub: Monta Ellis. He's 11th in the league in usage rate, but only 43rd in player efficiency rating. The undersized Ellis is nobody's idea of a defensive stopper and still makes $11 million a year. Good luck Mark Jackson (or Doug Collins or whoever else ends up with him).

Dan Feldman, Piston Powered: Richard Hamilton. Hamilton's production began slipping a few years ago, but his reputation hasn't yet. He's a malcontent off the court and only plays well on it when he's completely focused. That doesn't happen enough anymore. Bulls and Celtics fans, calm down. Hamilton isn't the answer to your prayers.

Noam Schiller, Hardwood Paroxysm: Monta Ellis' raw numbers seem impressive, but he takes way too many shots to score the points he scores, and his pace-adjusted, per-minute numbers are mediocre across the board. If he's your go-to-guy all night long, your offense will not do well. I'd rather see him in a sixth-man role, and he's certainly nowhere near All-Star candidacy.
---
4. Who's the most promising shooting guard in the NBA?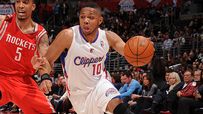 Mark A. Conn II, via Facebook: Paul George. He's 6-foot-8, is extremely athletic, has range, can take you off the dribble and his defense on D-Rose in the playoffs was probably second to only LeBron. He has got tremendous potential. You could see him in a dunk contest and/or a 3-point shootout very soon.

Hayes Davenport, Celtics Hub: Eric Gordon. Maybe he's been in the league too long to be up-and-coming, but he's still only 22: less than three months older than Blake Griffin. Gordon's going to be a great scorer for a long time, and his defense continues to improve. There's also the fact that shooting guard is the weakest position for young players in the game.

Ryan DeGama, Celtics Hub: Eric Gordon. Injuries and Blake Griffin dunks overshadowed the continued improvement of Gordon, who is going to be an elite scorer in this league sooner or later. The questions are around whether the rest of his game will rise to that level.

Dan Feldman, Piston Powered: Eric Gordon. Not only is Gordon the NBA's most underrated shooting guard, he has the potential to get much better. He's improved each year he's been in the league, and it's only a matter of time until all his skills -- outside shooting, penetrating, defending and passing -- come together at once.

Noam Schiller, Hardwood Paroxysm: Despite my affection for 2010 draftees Evan Turner and Paul George, your man here is Eric Gordon. EG was one of many players to make huge strides after his Team USA experience last summer, and he complements his extraordinary inside-outside scoring game with an aggressive defensive mentality, solid court vision and an adorable baby face.
---
5. Who's the best shooting guard of all time?
Drew Lazor, via Twitter: Is this an experiment to see how many people incredulously respond that there is no option other than MJ? If so, count me as one of them!

Hayes Davenport, Celtics Hub: I spent a lot of time on this question because when you look back on the history of the league, there are some pretty strong candidates: Jerry West, John Havlicek, Kendall Gill. But at the end of the day, I asked myself, "Which of these guys would I want on my team?" So I'm going to say Michael Jordan.

Ryan DeGama, Celtics Hub:
Michael Jordan. If he had come of age in the 'oughts, instead of the dynasty-dense 1980s, MJ might have run off 10 titles. If you had to put your life in the hands of one guy, in one game, would you pick anyone but Jordan as your proxy?

Dan Feldman, Piston Powered: Michael Jordan. ESPN's editors allow me 60 words to explain my choice, but I think I'll stop here. If you don't understand this one, you've stumbled to the wrong web page.

Noam Schiller, Hardwood Paroxysm: Unlike my answer to best current shooting guard, I have to assume this one goes relatively smoothly with all parties, with the best player of all-time conveniently being a shooting guard. As is the case most of the time, Michael Jeffery Jordan takes this round.


ESPN.com and the TrueHoop Network
Hayes Davenport, Ryan DeGama, Dan Feldman and Noam Schiller contribute to ESPN.com's TrueHoop Network.
• Follow ESPN's NBA coverage on Twitter | On Facebook