When it comes to discussing small forwards in the game today, the names LeBron James, Kevin Durant and Carmelo Anthony rise to the top of conversations. The star-studded trio finished 1-2-3 in player efficiency rating in 2010-11, and were the only three SFs who finished with a rating better than 20 in John Hollinger's metric.

But who's the best? Thankfully, you helped us sort it out.

After breaking down the top point guards and shooting guards earlier in the week, our panel -- including your responses, sent in via Facebook and Twitter -- takes aim at the the frontcourt, starting with the small forwards.
1. Who's the best small forward in the NBA today?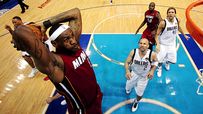 Joshua Wiedmann, via Twitter: LeBron James. He may not have a ring so far, but can anybody really question LeBron's greatness? He has the playmaking talent and vision of a Jason Kidd, the athleticism and jumping ability of Vince Carter (the younger version) and the power and strength of a smaller version of Dwight Howard.

Durant is a great scorer -- maybe the best in the league -- but LBJ is one of the greatest all-around talents the NBA has ever seen.

Tim Donahue, Eight Points, Nine Seconds: LeBron James. There's no reason to add anything to that, but I never give a two-word answer when I can write a full sentence (or more).

Patrick Hayes, Piston Powered: LeBron James by a wide margin. Save the lectures about the NBA Finals. There is still no player at this position who impacts a game in as many different ways as James. There's simply no way to defend a motivated LeBron.

Brendan Jackson, Celtics Hub: Anyone who picks against LeBron James has to be a hater, right? The man has the highest PER and win shares among his peers. Someone could make a case for Kevin Durant, but it would be a weak one. Bottom line: No one does more on both ends of the floor than James.

Kyle Weidie, Truth About It: How many different ways can we answer LeBron? Here's one: Kevin Durant. Despite James' unusual distaste for post offense, I can't, in good faith, dub him as "small." Durant has the perimeter dazzle one would traditionally want at the 3 with more appealing budding moxie to take big shots.
---
2. Who's the most underrated small forward in the NBA?
Daniel Harris, via Facebook: Andre Iguodala. He's a Scottie Pippen type stuck playing an MJ role. If he goes to a team where there's a legitimate go-to-scorer, Iggy would thrive as a No. 2 option and defensive stopper.

Tim Donahue, Eight Points, Nine Seconds: Luol Deng. He's in a role that suits him perfectly, which is too often overlooked in evaluating a player. When a player is asked to do too much, he's only known for what he isn't. That still lingers over Deng's early years, obscuring his value at both ends.

Patrick Hayes, Piston Powered: Luol Deng. He is what he is offensively -- a solid complementary player who has improved his range since he entered the league. But he's quietly become one of the league's top defensive players. It wasn't noticed much because the Bulls are so good defensively as a unit, but Deng is a lock-down defender.

Brendan Jackson, Celtics Hub: Some consider Paul Pierce over the hill. Celtics fans think he's better than LeBron. The truth is that he's somewhere in between. Consistently underrated throughout his career, Pierce is still performing at a high level despite being nearly 34. He's top five in PER among similar small forwards and leads that group in true shooting percentage.

Kyle Weidie, Truth About It: Many a GM has tried to pry Nicolas Batum away from Portland. No such luck. He's defense first with earnest promise to boost his offense. He embraces whatever role he's given while working to improve. He's just 22. Batum may never be a household name, but one day teams will be fighting for his services.
---
3. Who's the most overrated small forward in the NBA?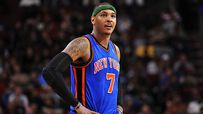 Isaac Ramirez, via Twitter: Carmelo Anthony. He terrible on defense and doesn't play hard all the time. He's not nearly as efficient as Durant, and is much worse on defense, but there are still people who rank him as No. 2 among SFs.

Tim Donahue, Eight Points, Nine Seconds: This is difficult, but it's probably Carmelo Anthony. He's a great scorer, and one of the best late-game options in the league, but too many people reflexively put him top 5-10 in the league, when top 20-25 is more accurate. And, yes, there is that big of a gap between top 5 and top 25.

Patrick Hayes, Piston Powered: I don't want to pile on Carmelo Anthony, a player I generally love to watch work on offense. But the problem is, to this point of his career, 'Melo impacts the game only at one end. That puts him a notch below superstars like James, Wade and Bryant, who all became great defensive players as well as offensive forces.

Brendan Jackson, Celtics Hub: Somewhere between Los Angeles and Houston, Trevor Ariza was made to be a "go-to" small forward. While his contributions on the defensive end are well documented, his offensive numbers are nowhere near good enough to be a third banana on a playoff team.

Kyle Weidie, Truth About It: When George Karl questions your defensive focus, I imagine, despite all the supreme clientele scoring ability (as perhaps the most complete bucket-dropper in the NBA), your DNA for winning basketball is not wired like the Kobes and Jordans of history. Being in N.Y. will only increase Carmelo Anthony's overrated hype.
---
4. Who's the most promising small forward in the NBA?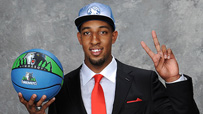 Andrew Graham, via Facebook: The easy answer here is Kevin Durant. If you watched his performance in these playoffs you saw his abilities to take over late in games and as a leader. He is already a fabulous shooter and scorer, and if he adds more to his game (which he will), he may eventually take over the title of NBA's best player.

Tim Donahue, Eight Points, Nine Seconds: Kevin Durant could be the one, because as tough as he is now, he could still make a jump to the level where Dirk Nowitzki played this postseason. Rudy Gay was becoming a more complete player before his injury. If you want to the most untapped potential, perhaps Danilo Gallinari fills the bill.

Patrick Hayes, Piston Powered: We haven't even seen him play a minute of NBA basketball yet, but I'll go with Derrick Williams. He rebounds with the aggression of a power forward, has the ability to finish ferociously in traffic and has a soft touch on his outside shot. If he truly is a small forward as he insists, his skill set could redefine the position.

Brendan Jackson, Celtics Hub: I wish I could give Wolves fans a reason to be pumped about Wes Johnson, but it's not his time. The only answer is Kevin Durant. He's a perennial MVP candidate and he's still just 22 years old with plenty of room to grow.

Kyle Weidie, Truth About It: I'll go with a guy who hasn't played an NBA minute, and who regrets he even entered the draft: Derrick Williams. Why? Because he insists he's a small forward (not power). His talent on display in the NCAA tournament was enough to make me a believer.
---
5. Who's the best small forward of all time?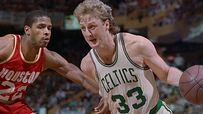 The Basketball Blog, via Facebook: Scottie Pippen. He's the greatest perimeter defender of all-time, a Hall of Famer with six championships and two gold medals, multiple All-Star selections (plus an All-Star MVP), and was named one of the top 50 in NBA history. Easily the second best player in the league for years alongside Michael Jordan. Who else could it be?

Brendan Jackson, Celtics Hub: When you think of the best NBA small forward of all time and your mind doesn't immediately go to Larry Bird, there must be some pretty hefty extenuating circumstances. Bird dominated the game in so many different areas: he scored, he rebounded, he defended, and most importantly he won: three NBA championships and three MVP awards by the age of 29.

Tim Donahue, Eight Points, Nine Seconds: I'm going to have to go with Larry Bird. LeBron will catch him, but today it's still Bird. Is it the Indiana thing? Is it the 50 Greatest Bird Moments I just watched? Is it because of the only argument I need, Sean? Not sure. Tip o' the hat to Julius Erving, James Worthy, Scottie Pippen and Elgin Baylor.

Patrick Hayes, Piston Powered: It might already be LeBron James, but I'd like him to finish his body of work before making that pronouncement. So I'll go with Julius Erving, not only for his statistical accomplishments, but for his cultural impact, pioneering the artistry and athleticism the small forward position is known for today.

Kyle Weidie, Truth About It: I so want to answer Elgin Baylor instead of Larry Bird, if anything to not pigeonhole Bird into the SF position just because of who he happened to play alongside more than not. Nonetheless, Bird's game was more 3 than 4 and his height would certainly give him the nod over Baylor in today's NBA. Larry Legend it is.

• More fan responses: On Facebook | On Twitter


ESPN.com and the TrueHoop Network
Tim Donahue, Patrick Hayes, Brendan Jackson and Kyle Weidie contribute to ESPN.com's TrueHoop Network.
• Follow ESPN's NBA coverage on Twitter | On Facebook