Dirk Nowitzki's impossible-to-guard, wrong-footed jumpers. Zach Randolph's double-rainbow daggers. Blake Griffin's Richter-scale jams.

When it comes to the great power forward moves out there today, there's a lot to like.

Chris Palmer ranked his top five. Now here's what our 5-on-5 crew likes (and dislikes) about the 4s operating out there in the game, aided and abetted once again by the wisdom of followers on Facebook and Twitter:
1. Who's the best power forward in the NBA today?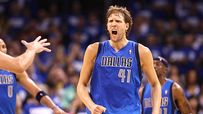 Marlon Elliott, via Facebook: The best 4 in the league is Dirk Nowitzki for reasons all on display during the playoffs. Shooting touch? Check. Ability to get to the foul line AND make free throws? Check. Rebounding? Check. Controlling a game from the midrange (a must for the modern 4)? Check. Lastly, and most surprisingly for him, defense? Check. Yep, it's Dirk.

Henry Abbott, TrueHoop: Dirk, if he is a power forward. Honestly, I'm not even sure what the word means anymore -- gone are the days of Buck Williams. But of those who are not post-playing 7-footers, nor dashing wing athletes, it's impossible, right now, to pick against one of the great playoff runs in NBA history.

Justin DeFeo, Nets Are Scorching: With his performance in the 2011 playoffs, Dirk Nowitzki solidified himself on top of the power forward food chain. His height, shooting ability and unorthodox array of fallaways and one-legged pull-up shots make him as tough a cover as we have in the league. Plus, if you foul him, he's nearly automatic from the foul line.

Rahat Huq, Red94: In carrying a young Grizzlies team to uncharted waters, Zach Randolph defined himself as the game's best power forward. The former Jail Blazer has grown up; already one of the league's most supremely gifted pivotmen, he is now taking on a leadership-mentor role. The young quartet of Gasol-Mayo-Conley-Gay is impressive, but Memphis' window hinges on Z-Bo's age.

Bret LaGree, Hoopinion: Dirk Nowitzki didn't need the 2010-11 playoffs to get him in the conversation for best power forward in the NBA, but his playoff performance effectively ended the conversation. Dirk might not be the best power forward a year from now, but today, no one can touch him.
---
2. Who's the most underrated power forward in the NBA?
Kawika Nacion, via Facebook: Did Zach Randolph really put up 20 and 12 (sharing the frontcourt with another talented big man in Marc Gasol, by the way) and not get All-Star recognition, then completely outplayed the guy that took his All-Star spot in the first round of the playoffs? I question how he isn't in the same conversations as Blake Griffin and Kevin Love.

Henry Abbott, TrueHoop: Kevin Love is not just a kid to keep your eye on, he's nipping at Dirk's heels right now. He's arguably the best rebounder in the NBA and legendary at that for his age (22). But he can also shoot the 3 and everything else. Incredible. Also, Reggie Evans is the rebounding monster everybody forgot.

Justin DeFeo, Nets Are Scorching: LaMarcus Aldridge quietly posted one of the best seasons for a power forward in 2010-11. His player efficiency rating was seventh highest among power forwards, and, with the decline of Brandon Roy, Aldridge carried the Trail Blazers to the playoffs and gave the NBA champion Dallas Mavericks one of their toughest series.

Rahat Huq, Red94: Kevin Love is offhandedly appreciated as some sort of rebounding freak, but the extent of his prowess is not quite recognized. The Timberwolf leads all power forward regulars in PER, win shares and total rebounding rate and is among the tops in a host of other categories. I don't think I'm alone in hoping to find Love in another city.

Bret LaGree, Hoopinion: Ryan Anderson is accurately defined as a role player, a stretch-4 largely reliant on Dwight Howard's presence to get his shots, but Anderson, unlike almost every other stretch-4, makes a significant contribution on the glass. His 38 percent shooting on a couple hundred attempts from beyond the arc isn't often paired with grabbing 10 percent of your team's potential offensive rebounds.
---
3. Who's the most overrated power forward in the NBA?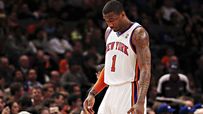 Nikko Tan, via Facebook: Unless all you care about is fantasy basketball, the answer here has to be Amare. He scores, but what else can he do? For a guy with major hops (of which he showed a few years back in the slam dunk contest), he does not rebound nearly enough and plays pillow-soft defense.

Henry Abbott, TrueHoop: Shout-outs to Drew Gooden and Charlie Villanueva, but I'm giving Amare Stoudemire this prize, not because of his play but because of the hyperbole of the Big Apple. New York acted as if it was the big winner of last summer's free agency. Give me a break. He's a very special scorer, and his leadership was tremendous before Carmelo Anthony showed up. But calling his top-20-level play top-five does him no favors.

Justin DeFeo, Nets Are Scorching: Last summer, Carlos Boozer was being talked about as one of the top free agents of the class, but his production this past season left a lot to be desired and got worse in the postseason. He might have been battling injuries, but Boozer has a lot to prove to Bulls fans this season in order to justify the huge contract he was given.

Rahat Huq, Red94: Replacing injured Luis Scola with rookie Patrick Patterson took the Rockets' starting lineup down to .88 points per possession allowed, by far the team's stingiest defensive five-man unit; Houston also didn't miss a beat in the W-L column. Scola is good, but overrated after continual "underratedness"' mentions and a contract the team should look to unload.

Bret LaGree, Hoopinion: Defense and rebounding and not turning the ball over matter, too. Even though he's a very good scorer and an eminently useful power forward, Amare Stoudemire shouldn't be in the conversation for best power forward in the age of Nowitzki, Kevin Garnett, Pau Gasol and Griffin.
---
4. Who's the most promising power forward in the NBA?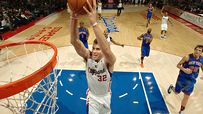 Steve Quiroz, via Facebook: It has to be Serge "ima block ya" Ibaka! Led playoffs in total blocked shots, has good range on his jump shot, humble and team-first kind of guy, not to mention his outstanding community service work all over the world! Now that he is a Spanish citizen expect his game to evolve!

Henry Abbott, TrueHoop: Blake Griffin and LaMarcus Aldridge are leading a pack that includes all kinds of potential in the likes of Derrick Favors, Thaddeus Young, Michael Beasley, Derrick Williams and Bismack Biyombo.

Justin DeFeo, Nets Are Scorching: In his rookie season, Blake Griffin proved he is a lot more than just a human highlight film. He showed his blend of athleticism and power were simply too much for opposing forwards to deal with. He averaged a double-double this past season and still has yet to add different dimensions to his game.

Rahat Huq, Red94: All that stands in the way of young Blake Griffin and ultimate greatness is the Krispy Kreme curse to which his 1990s Seattle-based forebearer fell victim.

Bret LaGree, Hoopinion: There's essentially no level of accomplishment Blake Griffin could achieve that would surprise me. Already, he can score, rebound and pass at an elite level. Should his defense and free throw shooting improve to anywhere north of average, he'll have an argument to be the best player in the NBA.
---
5. Who's the best power forward of all time?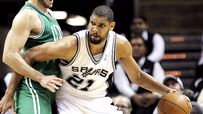 Brian Godfrey, via Facebook: Karl Malone. What is the name of the position? POWER forward. I doubt any player in the history of the NBA kept himself in better shape and had more power than The Mailman. He dominated with the "hammer dunk" and is the second all-time scorer in the history of the league.

Henry Abbott, TrueHoop: Tim Duncan. But I feel a tiny bit dirty. If Kevin Garnett had played alongside David Robinson and under Gregg Popovich and owner Peter Holt, maybe Garnett would be the one with the better jewelry collection. As for the legends in this conversation (Kevin McHale, Bob Pettit, Charles Barkley, Dave DeBusschere, Karl Malone, Elvin Hayes), to my eyes, Duncan and Garnett are just longer, stronger, faster and better.

Justin DeFeo, Nets Are Scorching: I'm choosing Tim Duncan as the best PF of all time. At his best, he could do everything on the basketball court, but it's his humbleness and willingness to be coached that allowed his San Antonio Spurs team to be one of the best, if not the best, in the past decade.

Rahat Huq, Red94: Tim Duncan -- you can't argue against results. Still, few have been greeted by greener pastures than Duncan in San Antonio in '97 and that veteran, ready-made bunch. One wonders upon which course history might have embarked had Timmy gone to a true lotto club or at least one without management so capable of restocking the cupboard.

Bret LaGree, Hoopinion: Bob Pettit might have a peak argument, but Karl Malone had a two-MVP peak, as well, and no power forward's career can match Malone in averaging 25 and 10 (and 3½ assists) over 19 seasons.


ESPN.com and the TrueHoop Network
Henry Abbott writes the TrueHoop blog on ESPN.com. Justin DeFeo, Rahat Huq and Bret LaGree contribute to the TrueHoop Network.
• Follow ESPN's NBA coverage on Twitter | On Facebook