Pity the big man. Many assume that sprouting to a 7-foot height alone should guarantee a career as an NBA journeyman at the very least.

Well, being tall isn't the half of it. Coordination, strength, dexterity, judgment, experience, work ethic and quality coaching are pretty important prerequisites to becoming even an average NBA center. And don't forget having the good fortune of having teammates talented enough to prevent opponents from sending three players to cover the standout big.

It might just be the toughest position at which to become one of the game's best. With that in mind, our crew went 5-on-5, aided once again by the sharp tacks following along on Twitter:
1. Who's the best center in the NBA today?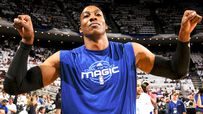 David Pino, via Twitter: Dwight Howard. Size, strength, athleticism, defensive ability, dangerous off pick-and-rolls and a rising post game.

Jordan Heimer, ClipperBlog: Dwight Howard. People who criticize him for the Magic's perennially disappointing playoff runs have it backward -- without Howard, Orlando's roster is among the league's worst. Stop harping on what he lacks in post moves. He'll never move like Hakeem in the paint, but he's a three-time defensive player of the year who manages to foul out entire teams on offense.

Spencer Wellesley Percy, Queen City Hoops: Without a question, Dwight Howard. There is no other big man in the league today who can dominate a game like this guy. Howard will go down as one of the best centers of all time, statistically, and maybe the best of all time in general if he changes his mindset to winning championships.

Jonathan Santiago, Cowbell Kingdom: By default, Dwight Howard. Not to take anything away from the Magic superstar, but there's really no other player at the position close to being his equal right now.

John Converse Townsend, Truth About It: Dwight Howard, and it's not even close. This MVP candidate is simply too much to handle for most teams. Howard is a titan on the court, imposing his will on offense and dominating on defense. The only thing that can stop Dwight Howard is, well, Dwight Howard -- and the free throw line.
---
2. Who's the most underrated center in the NBA?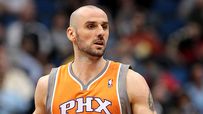 Andrew Feingold, via Twitter: Marcin Gortat. Gortat is not only tough and physical, but he can also score. In 14 total starts for the Suns and Magic last season, he averaged 14 points, 10.8 rebounds and 1.3 blocks per game.

Jordan Heimer, ClipperBlog: Pau Gasol. Yes, my "underrated" pick is a max-contract, four-time All-Star. Despite evidence that Pau was bothered by lingering injuries and off-court "distractions" during his subpar playoff performance, local sports-talk hosts spent most of May declaring the "new assertive" Pau dead, body-snatched by "old passive" Pau. Calm down. In November we'll all act surprised that Pau is still clearly the league's second-best center.

Spencer Wellesley Percy, Queen City Hoops: Nene Hilario. He's got a great touch around the rim, is extremely athletic for a man of his size and protects the rim with the best of them in the league. Nene had career numbers in just about every category last season in Denver. This guy is definitely in the prime of his career.

Jonathan Santiago, Cowbell Kingdom: Though his rebounding is a concern, Brook Lopez has improved his scoring in each of his first three seasons. In 2010-11, he ranked seventh in player efficiency rating among centers. Give him a chance to get better acclimated to Deron Williams and his value can continue to rise, considering how thin in talent the position is right now.

John Converse Townsend, Truth About It: JaVale McGee. He's hardly rated at all, and best known for losing a popularity contest to Blake Griffin. However, McGee isn't just a punchline anymore. He has quickly become Washington's most productive player (suggest most basketball sabermetrics, from win shares to player efficiency rating). The Wizards might be John Wall's team, but JaVale McGee runs D.C.
---
3. Who's the most overrated center in the NBA?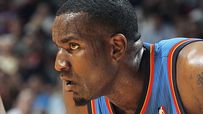 Simon Chun, via Twitter: Kendrick Perkins. Playing in Boston overrated him, then the trade and the subsequent Celtics "collapse" helped further the legend of a center who has averaged just 6.4 points and 6.1 rebounds a game.

Jordan Heimer, ClipperBlog: Roy Hibbert.
First he was good, then bad, then good enough down the stretch that Pacers president Larry Bird recently called him untradeable. But for a guy who stands 7-foot-2, Hibbert doesn't bring much to the table when his shot isn't falling. He's an average defender and a below-average rebounder -- hardly ideal for a guy being treated like a franchise center.

Spencer Wellesley Percy, Queen City Hoops: For a guy valued as highly as Kendrick Perkins is, and someone brought in to be OKC's big man of the future, I think this one is easy. Perkins has zero offensive ability and is more interested in complaining to the officials, rather than playing hard and being the physical force everyone wants to give him credit for being.

Jonathan Santiago, Cowbell Kingdom: Tyson Chandler. He's the perfect complementary piece on a great team, but he'll probably be overpaid when a new CBA is agreed upon because of this offseason's paltry free-agent crop.

John Converse Townsend, Truth About It: Andrew Bynum. Put down your pitchforks and torches, Lakers fans; there is no need to burn down the Internets. Bynum is one of the better talents in the NBA … when healthy. But frankly, he's bench-ridden far too often to be considered an elite talent -- Bynum has missed 160 games over his six-year career.
---
4. Who's the most promising center in the NBA?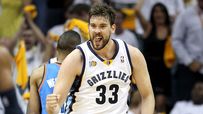 Clint Peterson, via Twitter: Marc Gasol. No longer the "Lesser Gasol," Marc dominated big bro Pau last season. He's the whole package and is poised to succeed from here on out.

Jordan Heimer, ClipperBlog: DeMarcus Cousins.
Contrary to popular belief, it's better to have a headcase with extraordinary talent than a blue-collar hustler without it. Cousins looked like a legitimate star for much of the second half, piling up 18 double-doubles from February onward, second only to Blake Griffin among rookies. Just wait until he learns how to stay on the court.

Spencer Wellesley Percy, Queen City Hoops: When talking about "most promising," I look to the age category. Brook Lopez. He's only 23 years old, and is the building block of New Jersey's future. This guy has boosted his average point total per game every season, and is just a few free-agent signings away in N.J. from being a serious threat in the league.

Jonathan Santiago, Cowbell Kingdom: DeMarcus Cousins. He can score with his back to the basket when he chooses to, and he also has great passing ability and vision. Factor in his size (6-11, 270 pounds) and he has all the attributes you want in a big man. He needs to improve his decision-making and attitude. But if Zach Randolph can mature, there's hope for Cousins, right?

John Converse Townsend, Truth About It: Marc Gasol. Gasol's giant paw prints were all over the Grizzlies' 2011 playoff run, where he averaged 15 points, 11.3 rebounds and 2.2 blocks per game. He is a physical presence entering the prime of his career and will continue to be a big contributor in Memphis.
---
5. Who's the best center of all time?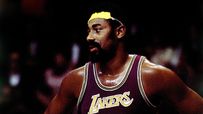 Austin Almaguer, via Twitter: Wilt Chamberlain: 31,419 points, 23,924 rebounds, scored 100 in a game, four MVPS, two rings … and he was a Globetrotter.

Jordan Heimer, ClipperBlog: Shaq.
I know Wilt was great, but I never saw him play. Shaq I saw; in his prime, there was nothing like him. During the Lakers' three-peat run, Shaq averaged 30 points and 14.5 rebounds per playoff game. Averaged! Only Portland could kinda sorta slow him down, and it took three elite defenders -- Scottie Pippen, Rasheed Wallace and fellow giant Arvydas Sabonis.

Spencer Wellesley Percy, Queen City Hoops: Wilt has the better numbers, but when Bill Russell and Wilt Chamberlain went against each other head-to-head, it was Russell's court. Russell nearly always walked away with the rings, winning 11 in his career. A champion is always more superior in my book.

Jonathan Santiago, Cowbell Kingdom: With 11 championships to his name, Bill Russell. To quote Jason Segel from "Bad Teacher": "It's the only argument I need!"

John Converse Townsend, Truth About It: Kareem Abdul-Jabbar, one of basketball's most accomplished and decorated superstars. The NBA's all-time leading scorer has six championships and a record six MVP awards under his belt, and is the only modern-era player to have led the league in points, rebounds, blocks, minutes, field goal percentage and PER. And if that doesn't sell you, I have one word: skyhook.


ESPN.com and the TrueHoop Network
Jordan Heimer, Spencer Wellesley Percy, Jonathan Santiago and John Converse Townsend contribute to the TrueHoop Network.
• Follow ESPN's NBA coverage on Twitter | On Facebook