Despite persistent doubts about their ability to defy Father Time (yet again), the Spurs surged past the reigning champion Lakers in the regular season to finish with the best record in the West. But their hourglass must have run out in April.

San Antonio lasted but one round in the postseason, becoming the second No. 1 seed ever to lose to a No. 8 in a best-of-seven format by losing to the upset-minded Memphis Grizzlies in six games.

So … now what?

For the next six weeks, our 5-on-5 games are taking aim at a new team each weekday. The 2010-11 champion Mavericks appropriately tipped things off Monday. Now, we continue our look at the Southwest Division by sizing up the Spurs with a six-man squad:
1. Fact or Fiction: The Spurs' title window has closed.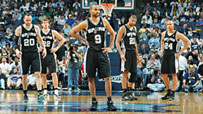 Jesse Blanchard, 48 Minutes of Hell: Fact. NBA championships are built around elite players, and the Spurs' aspirations were always tied to Tim Duncan's ability to provide dominant play on both ends. Their roster is littered with role players who make sense around such a player. But with Duncan in his twilight, slim thoughts of contention revolve around Manu Ginobili's occasional, too inconsistent flirtations with MVP-quality play.

Graydon Gordian, 48 Minutes of Hell: Fact. The offense is still a well-oiled combination of effective penetration and consistent outside shooting, but Duncan's decline, although slightly overstated, has been significant enough that the Spurs should no longer be considered contenders. He no longer draws the double-team effectively and lacks the movement necessary to be the otherworldly defensive presence he was for nearly a dozen years.

Zach Harper, Daily Dime Live: Fact? It's hard to be definitive about this after what we just saw the Dallas Mavericks do. We thought their window was completely closed, and through great veteran play and unmatched coaching, they persevered.

San Antonio has the components to do the same if Duncan can undergo a mini-renaissance next season. If anybody can get the Spurs back to title aspirations, it's Gregg Popovich.

Andrew McNeil, 48 Minutes of Hell: Fiction. I don't expect the Spurs to win another title with Tim Duncan & Co., but that doesn't necessarily mean the window has closed. I assumed the Spurs had a better shot to win an NBA title than the Dallas Mavericks this past season, so it's hard to say it's completely closed.

Darius Soriano, Forum Blue and Gold: Fact. The Spurs have morphed into the type of team they used to destroy in the playoffs on their way to championships. They're no longer a strong defensive team, and they rely too much on outside shooting to generate offense. It's practically impossible to win four playoff rounds with that formula.

Timothy Varner, 48 Minutes of Hell: Fiction. If the lockout forces a shortened NBA season, the Spurs have an outside chance at the title. Teams such as San Antonio -- veteran-led, low turnovers, system-strict -- should thrive under a reduced scheduled that won't exploit their greatest weakness: age. Think 1999, but with less Will Perdue.
---
2. What's San Antonio's biggest problem heading into 2011-12?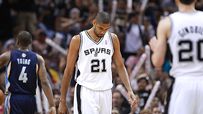 Jesse Blanchard, 48 Minutes of Hell: A lack of impact players. The Spurs have quality players who fit their system. They take advantage of the opportunities given to them on offense and know where to be on defense. But with Duncan no longer Duncan and with a roster that lacks elite athleticism, the Spurs rely more on perfect execution than can be reasonably expected.

Graydon Gordian, 48 Minutes of Hell: The lack of a lockdown perimeter defender. In the wake of Bruce Bowen's retirement, it's become increasingly clear how integral a true perimeter stopper was to the Spurs' defensive system. They have yet to find a sufficient replacement, and the Spurs' ability to limit elite wings will be limited until they do.

Zach Harper, Daily Dime Live: Interior presence. Although Duncan couldn't be vintage Timmy last season, he was still a pretty formidable presence in the paint. But he can't do it alone. The Spurs don't really have anybody to provide help inside on both ends unless Tiago Splitter improves drastically this offseason. Get Tim a big man to deter inside shots, and you can stop with the Matt Bonner charade.

Andrew McNeil, 48 Minutes of Hell: Talent. San Antonio has plenty of decent role players, but the top-tier talent the Spurs possess isn't what it used to be. It's going to be very tough -- practically impossible, really -- for the Spurs to improve that talent anytime soon.

Darius Soriano, Forum Blue and Gold: The fact that Duncan continues to decline with no other player stepping up to be "the man" night in and night out. To win a championship, you need a player who can anchor your sets on both sides of the ball. Neither Tony Parker nor Ginobili, for all their skill, is that player, and, sadly, Duncan no longer is, either.

Timothy Varner, 48 Minutes of Hell: The loss of George Hill leaves San Antonio bare at point during those 15 minutes Tony Parker is not on the floor. But San Antonio's most desperate need is another big man who can contribute scoring and defense in the post. Tiago Splitter should help, but he won't be enough.
---
3. Fact or Fiction: The Spurs have enough inside.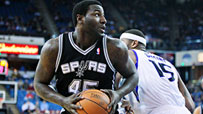 Jesse Blanchard, 48 Minutes of Hell: Fiction. Duncan is solid, but he's no longer mobile enough to cover for everyone. Outside of Duncan, each member of the big man rotation is a solid complement to the player Duncan used to be. Right now, Tiago Splitter might be an ideal third big man in a three-man rotation with Matt Bonner or DeJuan Blair used in favorable situations. Unfortunately, that's not the case.

Graydon Gordian, 48 Minutes of Hell: Fact … I hope. The answer depends on the progress Splitter and Blair make next season. Splitter only began to see the meaningful minutes fans had hoped for at the tail end of San Antonio's first-round playoff exit. If he sees more court time and comes closer to fulfilling his potential, the Spurs' frontcourt will be fine.

Zach Harper, Daily Dime Live: Fiction. This is where they need Blair and Splitter to make huge leaps next season. Splitter showed the potential of being a good inside presence at times, but his awareness is so inconsistent. Blair is such an atrocious defender that you can't really keep him on the court. Both need to vastly improve if they want Pop to play them more.

Andrew McNeil, 48 Minutes of Hell: Fiction. The Spurs need another big man who can defend not just horizontally but vertically. Tiago Splitter is excellent defending from side to side, but San Antonio lacks a 7-footer with long arms who can alter shots and go up and get rebounds.

Darius Soriano, Forum Blue and Gold: Fiction. Even though Tiago Splitter likely will give the Spurs more in his second season, their big man rotation still consists of Bonner and Blair -- two limited defensive players with one-dimensional skill sets on offense. With Duncan's minutes continuing to dwindle, their size doesn't add up to what other contenders can offer.

Timothy Varner, 48 Minutes of Hell: Fiction. Tim Duncan is old but reliable. DeJuan Blair is nice in spurts but remains four inches short of being an effective defender. Matt Bonner's great skill is creating matchup problems for defenses -- a skill that applies to opponents and to the Spurs. Antonio McDyess is in his twilight. Splitter is unproven. The Spurs need help inside.
---
4. Is Duncan-Ginobili-Parker the most accomplished big three ever?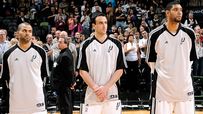 Jesse Blanchard, 48 Minutes of Hell: They're up there. They're easily the most accomplished trio of their time. Better than Boston's. And the Miami Heat's trio would have to meet the standards set by Duncan-Ginobili-Parker -- multiple titles, individual success and rare chemistry from having spent the majority of their careers together -- to be considered a success.

Graydon Gordian, 48 Minutes of Hell: Between the three titles the group has won and the consistency it has displayed, I say yes. They are not the most talented big three ever, but given how long they've played together, it's realistic to call them the most accomplished.

Zach Harper, Daily Dime Live: They are not. Magic-Kareem-Worthy did more than them. Jordan-Pippen-Grant and Jordan-Pippen-Rodman had shorter runs but arguably more success packed into those runs. Parker and Manu weren't around for the first title, and Manu wasn't a big contributor until the third title. They're a great all-time trio but not the trio.

Andrew McNeil, 48 Minutes of Hell: I don't know whether I can honestly call them the most accomplished big three ever, but I can say they're easily ahead of my generation's groups of three. The disappointing thing about the Spurs' big three is that we've never seen all three at their peak at the same time.

Darius Soriano, Forum Blue and Gold: No. Magic, Kareem and Worthy or Bird, McHale and Parish were far superior. Remember, Parker has three rings, but he split time with Speedy Claxton in his first championship season, and Manu, though a great talent, has not been as dependable as players such as Kareem or McHale. Duncan props this group up, but the others don't compare to other all-timers.

Timothy Varner, 48 Minutes of Hell: Yes. In their time together, Duncan-Ginobili-Parker have won three championships and amassed the highest winning percentage in all of professional sports. The zombie jokes say it all. Professional teams rarely compete at such a high level for such a long time.
---
5. Fact or Fiction: Kawhi Leonard will make an impact as a rookie.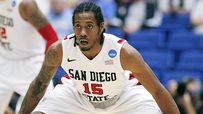 Jesse Blanchard, 48 Minutes of Hell: Fact. If only because Leonard should get every opportunity to. You don't trade away a valuable rotation piece in George Hill for a player you don't expect to contribute immediately when a guy like Tim Duncan has just one or two years left.

Graydon Gordian, 48 Minutes of Hell: Fact. Gregg Popovich has a reputation for distrusting young players, but if Leonard shows the commitment on the defensive end that Pop demands, Leonard has a great opportunity to steal minutes from Richard Jefferson. As long as Kawhi sees the court, his energy and length ensure he'll make an impact.

Zach Harper, Daily Dime Live: Fact. Kawhi isn't going to have a lot of sexy numbers as a rookie, but his defense and rebounding will win Pop over for playing time. With Gary Neal swinging from the wing to more of a backup point guard, there will be minutes available for Kawhi to earn. His effort on the defensive end of the floor will make Richard Jefferson look like a sloth.

Andrew McNeil, 48 Minutes of Hell: Fact. I fully expect Leonard to make an impact as a rookie. Gregg Popovich doesn't seem like he's ready to abandon small ball anytime soon, and Leonard will be a significant upgrade over Richard Jefferson in those lineups. Leonard is also the freak athlete Pop can find creative ways to deploy.

Darius Soriano, Forum Blue and Gold: Fact. I envision Leonard contributing above-average defense by using his length to disrupt opposing offenses on the ball and in passing lanes. He'll also use his athleticism to get out and run with Parker and Ginobili on the break and as a slasher in the half court. The Spurs might have found another steal in the draft.

Timothy Varner, 48 Minutes of Hell: Fact. The Spurs traded George Hill, Gregg Popovich's "favorite player," for an opportunity to improve their wing defense. The Spurs don't need Leonard to become Bruce Bowen. They just need a committed defender to play behind Richard Jefferson. If that's all the Spurs ask, I expect Leonard to earn meaningful minutes right away.


ESPN.com and the TrueHoop Network
Zach Harper is the host of the Daily Dime Live on ESPN.com. Jesse Blanchard, Graydon Gordian, Andrew McNeil, Darius Soriano and Timothy Varner contribute to the TrueHoop Network.