Rick Adelman has been replaced as Houston's head coach by Kevin McHale. Injuries forced Yao Ming to hang up his sneakers. The Rockets have missed the playoffs for two straight seasons. What does this mean for the future of the Rockets?
Our five-man team has the answers in the fifth and final stop in the Southwest Division:
1. Fact or Fiction: The Rockets will make the playoffs in 2011-12.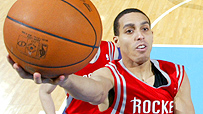 Rahat Huq, Red94: Fact. After a 22-27 start, the Rockets closed the season going 21-12, fueled by what was at one point the league's best offense (they finished ranked fourth in overall efficiency). Next season, they'll have stability from the start, not needing to deal with the uncertainty of Yao or a disgruntled Aaron Brooks.
Jonathan Santiago, Cowbell Kingdom: Fiction. Rick Adelman's departure will cause this team to take a step backwards. And unless they can acquire another legitimate game-changing player to pair with Kevin Martin, they won't be as good as they were last year. You can't rely on Luis Scola, now 31, to exceed or even match the career-high 18.3 points per game he averaged last season.
Noam Schiller, Hardwood Paroxysm: Fiction. Of the current squads out West, I see only the Hornets as clear candidates for slippage, while the Clippers and Warriors should be poised for big leaps. Unless Daryl Morey finally makes good on his long-held plan of flipping assets for a superstar, I think Houston will find itself in the way-too-familiar ninth place again.
Michael Schwartz, Valley Of The Suns: Fiction. The Rockets once again will be on the doorstep of the postseason, but the West is too good for Houston to sneak in with a team long on youth and role players.
Royce Webb, ESPN.com: Fact. The Rockets' expected W-L was 48-34 last season, putting them ahead of the Blazers and Hornets statistically. That says to me they have a great shot at edging out one of those teams, likely New Orleans.
---
2. Who is Houston's most promising young player?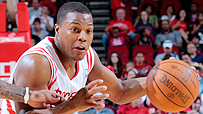 Rahat Huq, Red94: It's easy to forget that Kyle Lowry is still just 25. This bulldog is the Rockets' best player; where he goes, the team follows. He's one of the best point guard defenders and always among the leaders in production. If Lowry can maintain last year's shooting touch, he'll vault up the ranks at his position, just outside the very elite.
Jonathan Santiago, Cowbell Kingdom: I don't see any of Houston's youngsters developing into NBA All-Stars. But if I had to bet on one guy becoming a solid starter, my money would be on Goran Dragic. His per 36 minutes stats (16.2 ppg, 5.2 apg) indicate that with consistent playing time, he deserves a starting nod somewhere in this league.
Noam Schiller, Hardwood Paroxysm: Patrick Patterson saw limited minutes in a stacked frontcourt last season, but he put up very solid per-minute numbers, shot the ball well and didn't make too many mistakes. I think his minutes should jump from 16 to 25 a night this season, and two to three years down the road he can be really good.
Michael Schwartz, Valley Of The Suns: With his combination of hops and long-range shooting, Chase Budinger provides exactly what teams want at the small forward spot. There's a reason the Rockets were better with Budinger on the floor last season. If only he were a bit better laterally on defense the UA product would be a prototypical NBA small forward.
Royce Webb, ESPN.com: Patrick Patterson, with apologies to Kyle Lowry. P-squared put up a 17 PER at age 21 and shows signs of being a double-double machine for the next decade.
---
3. Which recent Rockets acquisition made the least sense, if any?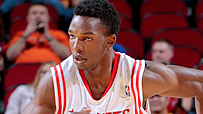 Rahat Huq, Red94: They all made sense. Houston's approach is not to target on need; the Rockets search for gems in an inefficient market, extracting value where it is overlooked in hopes of a later payoff. Unconventional, yes, but what seems to be madness has a real method.
Jonathan Santiago, Cowbell Kingdom: Hasheem Thabeet is too easy to pick on, so I'll go with Jonny Flynn. He's a low-risk, high-reward acquisition. But why trade for another young point guard when you already have a commodity who's proven himself in Goran Dragic?
Noam Schiller, Hardwood Paroxysm: The Thabeet trade. I know we never truly lose hope for tall guys who don't do well in the league right away, but Thabeet was another level of incompetent. Shane Battier was worth more in the open market. Drafting Donatas Motiejunas instead of waiting out Nikola Mirotic's Real Madrid contract will come back to haunt Houston too.
Michael Schwartz, Valley Of The Suns: I don't get why the Rockets acquired Jonny Flynn, unless they are trying to hoard all the 2009 draft busts. Houston already has a pair of quality 25-year-old point guards in Kyle Lowry and Goran Dragic, and for a team as obsessed with analytics as the Rockets, I don't see where the former Orangeman fits in.
Royce Webb, ESPN.com: On the surface, trading first-round picks for the likes of Terrence Williams and Jonny Flynn doesn't make a lot of sense. But it does make sense to take chances on talented young players, and the Rockets can probably buy or trade for future firsts as desired.
---
4. Bigger key for Houston: Player development or a major trade?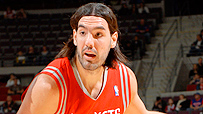 Rahat Huq, Red94: A title requires a star. Without tanking, a star can only come through trade. To have enough for a trade, young assets must develop. In Houston, links in a chain hold equal weight before the ultimate prize.
Jonathan Santiago, Cowbell Kingdom: No doubt it's a major trade. They're a deep team with solid players who can be packaged in a blockbuster deal for a difference-maker. Dwight Howard should be at the top of their list. But realistically, they'd probably be able to pry away a Paul Millsap or Al Jefferson away from Utah.
Noam Schiller, Hardwood Paroxysm: Major trade. Houston has so many young assets that no matter what trade goes down, they will still have plenty of youngsters left over to mold and groom. Without that trade, though, the roster still goes nowhere soon, as none of those youngsters has superstar potential.
Michael Schwartz, Valley Of The Suns: The NBA is a player's league, and you need stars to make deep playoff runs. The Rockets have as many quality young assets as any team in the league, but until they pull off a blockbuster they won't be better than a bottom-tier West playoff team. If Morey makes that happen, these Rockets would be scary.
Royce Webb, ESPN.com: The front office clearly thinks it's a major trade, and certainly Daryl Morey's staff has done its homework on this topic. After tough breaks with superstars T-Mac and Yao, the Rockets need to reload with another player of their caliber. Still, they might escape mediocrity and win 50 anyway, given the amount of young talent on the roster.
---
5. What will you remember most about Yao Ming's NBA career?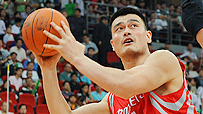 Rahat Huq, Red94: The opening minutes of Yao-Shaq I when the nation gasped in shock and an entire city dared to dream of unthinkable possibilities. The titan had been slain; a passing of the torch seemed imminent.
Jonathan Santiago, Cowbell Kingdom: Sadly, it'll be the injuries, with the exclamation point being the 2009 playoff series against the Los Angeles Lakers. Houston managed to push the Lakers to seven following the big man's departure in Game 3. Oh, what could have been?
Noam Schiller, Hardwood Paroxysm: Putting up 33, 10 and 5 in Game 7 of the 2005 Dallas series as his team collapsed. Houston was up 2-0 and 3-2 in that series, and just couldn't pull it off, losing Game 7 by a ridiculous 40 points as Yao was the only one who fought until the end, and was probably the best player on the court in that game, for good measure.
Michael Schwartz, Valley Of The Suns: The way he brought the NBA to China. Yao was truly an international superstar in every sense, and his presence as a dominant NBA player made an entire nation learn to love this game (and to stuff the ballot box to ensure that he was a perennial All-Star). He really seemed to embrace this responsibility as well.
Royce Webb, ESPN.com: Yao was all class. He always put his team (or his country) first, he was gracious and humble and he retired without raking in the millions more he could have grabbed by rehabbing on someone's payroll. We're lucky to have had him as a model for how to succeed … win or lose.


ESPN.com and the TrueHoop Network
Royce Webb is an editor for ESPN.com. Rahat Huq, Jonathan Santiago, Noam Schiller and Michael Schwartz contribute to the TrueHoop Network.