Last week, we broke down the Southwest Division. Today, we begin our journey through the Southeast Division, starting with the Atlanta Hawks, who lost in the conference semifinals for the third straight season. Will they finally breakthrough in 2011-12? Have they peaked? Are they in for big changes with the sale of the franchise?
Our 5-on-5 crew takes on all things Atlanta:
1. Fact or Fiction: Atlanta is the second-best team in the Southeast.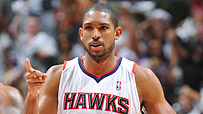 Maurice Brooks, ESPN.com: Fiction. Sure, Atlanta had its way with Orlando during the playoffs, but it's a safe bet that Dwight Howard and the Magic will win at least 50 games (depending on the length of the lockout, of course), while the same can't be guaranteed for the Hawks.
Bret LaGree, Hoopinion: Fiction. The Hawks matched up well against the Magic in the playoffs, but Orlando's won more games than the Hawks in each of the last seven seasons. I'd love to see the Hawks pass the Magic but recognize that will necessitate the Magic backing up as well as the Hawks progressing.
Ian Levy, The Two Man Game: It's a toss-up between Atlanta and Orlando. However, neither team seems to be headed on an upward trajectory. There is still a vast chasm between Miami and the rest of the division. Charlotte and Washington may be improved, but still not enough to catch even a slipping Orlando or Atlanta.
Rashad Mobley, Truth About It: Fact. Charlotte and Washington haven't done enough to be in the conversation. And in the 2011 playoffs, the Hawks demonstrated that without a yeoman effort from Dwight Howard, the Magic can be beaten rather handily. The Hawks cannot beat Miami, Boston or Chicago, but they can find solace in being the second-best in the Southeast.
Jeremy Schmidt, Bucksketball: Fiction. So long as Dwight Howard is around you can pencil Orlando in for a minimum of 50 wins, even if they are only surrounding him with role players. With Joe Johnson as the closest thing the Hawks have to a superstar, Atlanta is a mid-40-win team at best.
---
2. Fact or Fiction: Re-signing Joe Johnson was the right move.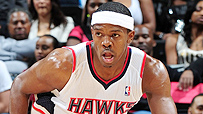 Maurice Brooks, ESPN.com: Fact. Joe Johnson has played six productive years in Atlanta, and last season was his worst in a Hawks uniform. He's an All-Star, and a case can be made that he is a top-five shooting guard in the league. But is he worth over $20 million a season? No way.
Bret LaGree, Hoopinion: Fiction. Even people critical of the deal when it was signed last summer acknowledged that it would probably be a couple of seasons before the Hawks fully regretted Johnson's contract. Oops. Johnson played hurt through most of his age-29 season and struggled to score as a result, giving the Hawks limited return on the smallest annual investment (just $16 million!) due him.
Ian Levy, The Two Man Game: Fiction. The Johnson contract robbed the Hawks of financial and roster flexibility for the next several seasons. They've locked themselves into a team with the potential to be consistently good, but a slim chance at being great. As bad as the deal looks now, it will only look worse as Johnson continues to age and his yearly salary steadily increases.
Rashad Mobley, Truth About It: Fiction. During the 2010 playoffs, Johnson averaged 12.7 points and shot 30 percent from the field as the Magic swept the Hawks. When the Hawks were ousted in six games by the Bulls this year, Johnson averaged 29 points in their two wins, and just 15 points in four losses. Johnson makes All-Star money, but up to this point, his play in big games has been pedestrian.
Jeremy Schmidt, Bucksketball: We're left with little else besides our memories of the NBA right now so long as this lockout continues. Some of those memories are amazing -- Hawks fans can look at tape of Dominique Wilkins for days, I'm sure. Some memories seemed like a bad dream when they happened and only get worse. That's my explanation of Joe Johnson's contract.
---
3. Fact or Fiction: Jeff Teague should start at point guard.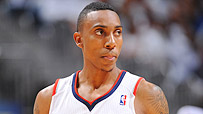 Maurice Brooks, ESPN.com: Fact. At the very least, by making league MVP Derrick Rose work on both ends of the court during the Hawks-Bulls series, Teague has earned the right to get the keys to the car in Atlanta.
Bret LaGree, Hoopinion: Fact. With no cap space, few players under contract and no first-round pick from either 2010 or 2011 on the roster, the Hawks, if they're going to improve, have to do so from within. Teague's the only real candidate to provide that. I mean, Marvin Williams might stop taking jump shots with his heels on the 3-point line, but I wouldn't bet on it.
Ian Levy, The Two Man Game: Fact. From the outside, it seems the Hawks may have peaked in terms of what they can accomplish with this group of players. The one possibility for dramatic improvement, without roster changes, would be the development of Jeff Teague. If the Hawks hope to become more than they currently are, Teague should be starting, playing big minutes and given every opportunity to grow into an impact player.
Rashad Mobley, Truth About It: Fact. When you're in a playoff series against league MVP Derrick Rose, play 37 minutes a game, average one turnover, score over 20 points three times and help everyone forget how important Kirk Hinrich is, you deserve to start. Hinrich can come off the bench, play strong defense and occasionally play shooting guard.
Jeremy Schmidt, Bucksketball: Fact. Eventually the training wheels have to come off and you have to see if you're really ready to ride that bike. Either Jeff Teague is ready to play or the Hawks need to start looking elsewhere for a point guard of the future. This is the season they get to find out.
---
4. Fact or Fiction: The Hawks should trade Josh Smith.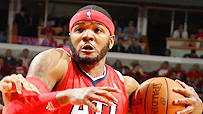 Maurice Brooks, ESPN.com: Fiction. He puts fans in the seats, plays defense, rebounds and scores. If only someone could get him to stop channeling his inner Larry Bird by firing up so many jumpers. Still, it will be hard to get fair market value for Smith in a trade.
Bret LaGree, Hoopinion: Fiction. The Hawks should trade Josh Smith if trading him brings back greater value. Same goes for Al Horford or any other player on the roster. The Hawks simply don't have enough good players that they can trade one of them because he's frustrating. Even when taking an obscene number of jump shots, Smith's a very good player.
Ian Levy, The Two Man Game: Fact. If the Hawks feel that they can't win with the current roster, moving Smith is the only way to accomplish wholesale changes. The problem is, a deal that is reasonable and significantly improves the Hawks is difficult to envision. Rebuilding on the fly may require moving Smith for below market value. A more fundamental rebuild will be difficult, especially owing Joe Johnson 17 zillion dollars over the next half-decade. The third option is to keep Smith and hope that his mental and emotional abilities catch up with his remarkable physical abilities -- three choices, none particularly appealing or certain of success.
Rashad Mobley, Truth About It: Fact. The Hawks cannot beat the Heat, the Celtics or the Bulls in a seven-game series with their current personnel. Josh Smith is not just the ultimate player in fantasy basketball; he's a talented forward who presents matchup problems for opposing teams. Trading Smith could bring in two or three players who could help them over the hump.
Jeremy Schmidt, Bucksketball: Fact. For the sake of making a move, it would be silly to trade off an asset like Smith. But if Atlanta can get something of real value, a couple of prospects for example, shipping out Smith may make sense. They need something different; they don't need to stand still. But they could stand pat and make the playoffs once again.
---
5. Fact or Fiction: Atlanta should re-sign Jamal Crawford.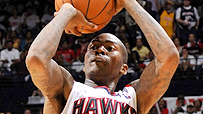 Maurice Brooks, ESPN.com: Fact. He's willing to take big shots, he's a solid playmaker and he has shaken the label that teams can't win with him on the roster. Is he the perfect player? No, but he has shown he helps Atlanta win games.
Bret LaGree, Hoopinion: Fiction. The Hawks got as much out of two seasons of Jamal Crawford as possible. They should be proud and grateful for that and move on. Crawford will turn 31 during the 2011-12 season (if applicable) and his strengths and weaknesses largely overlap with those of Joe Johnson. Let's see if a little more diversity of skills in the backcourt can improve the team.
Ian Levy, The Two Man Game: Fiction. The temptation will be there, as he scored a lot of points for the Hawks over the past two seasons. Unfortunately, putting points on the board was about the extent of his contributions. Inefficient volume scoring from a backcourt player can be had for a much cheaper price than Crawford will command.
Rashad Mobley, Truth About It: Fact. Having Jamal Crawford on your team is like having a crazy friend in your entourage. Some days he can get you in trouble, but on other days he can bail you out of tight situations. Crawford is one of the few Hawks who is willing to take the big shots in the big games, and he should be re-signed.
Jeremy Schmidt, Bucksketball:
Fact. Atlanta doesn't have many playmakers. On Atlanta's roster, only Teague and Kirk Hinrich can count themselves as firm point guards. Crawford gives them another creator, and one who can score in bunches at that. So long as he'll come fairly cheap, and I'm assuming we're losing a season precisely so guys like Crawford can come cheap, he still fits.
---
BONUS: Do you expect the sale of the Hawks to affect the franchise?
Maurice Brooks, ESPN.com: Alex Meruelo said, "I'm a person who doesn't give up. I want to bring a championship to the city of Atlanta." The current model is not title-ready, so expect a lot of changes with the Hawks.
Bret LaGree, Hoopinion: Alex Meruelo has two great opportunities to improve upon the stewardship of his new minority partners: (1) allow basketball people to make basketball decisions, and (2) better overcome the genuine demographic and logistical barriers to filling Philips Arena on a regular basis. The former should be an obvious decision, and getting that right could very well make a difference with the latter.
Ian Levy, The Two Man Game: As with any change in ownership, this sale raises questions about the future. However, any issues that arise in the front office will likely be dwarfed by the issues that the Hawks must deal with on the basketball court.
Rashad Mobley, Truth About It: Given that Alex Meruelo has gone from owning a bridal and tuxedo business to possibly owning the Hawks, I would not underestimate his ability to bring change. But unless he can pull a Mark Cuban and totally revamp the reputation of the Hawks' franchise, he'll have a difficult time making a difference.
Jeremy Schmidt, Bucksketball: As far as people outside Atlanta know, the Hawks haven't had a real owner since 2005. So long as the Pizza Man keeps the team in Atlanta, it should be a great thing for the team to finally have one true owner committed to the team. So long as they aren't upping the team, new owners typically work out well.


ESPN.com and the TrueHoop Network
Maurice Brooks is an editor for ESPN.com. Bret LaGree, Ian Levy, Rashad Mobley and Jeremy Schmidt contribute to the TrueHoop Network.