The Wizards won only 23 games last season, finishing 13th in the Eastern Conference, but with a young core led by sophomore point guard John Wall, things are looking up.

Our 5-on-5 crew stops in Washington as the tour of the Southeast Division continues.
1. Fact or Fiction: John Wall is the next Derrick Rose.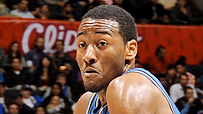 Chad Ford, ESPN.com: Fiction. It's tough to compare a rookie point guard to the reigning MVP. Rose has an elite combination of power and speed. Wall plays faster with the ball, but he lacks Rose's power. Still, with Wall's ability to pass the basketball, I think he'll be an All-Star for the next decade.

Devin Kharpertian, Nets Are Scorching: Fiction. Rose is more adept at scoring through contact and controlling the ball, while Wall has a more natural instinct for passing and help defense. If Wall puts his newly added muscle to good use, he could make a Rose-like leap.

Beckley Mason, HoopSpeak: Fiction. Although both are incredible athletes, their games are distinct. Wall is not as dynamic a scorer as Rose but has better defensive instincts and is a more natural distributor. Wall won't ever average 25 points, but he'll likely average above double-digit assists for most of his career.

Rashad Mobley, Truth About It: Fiction. The Bulls need Rose to score and any playmaking he does is a plus. The Wizards need Wall to be a playmaker and if he scores, that's a bonus. In two years, their roles could easily be reversed depending on how their supporting casts evolve.

Kyle Weidie, Truth About It: Fiction. He is the next himself. The construction project around Wall is aimed at making him the conductor of equal opportunity, not simply an amazing engine pulling the load. Ideally, Wall will never be in Rose's situation. No, not contending for MVP, but rather heavily depended upon to put the ball through the net himself.
---
2. Fact or Fiction: Jan Vesely will make the All-Rookie team.
Chad Ford, ESPN.com: Fact. Vesely is one of the most NBA-ready players from the 2011 draft thanks to several years of playing high-level ball in the Euroleague. His ability to run the floor and finish in transition is a perfect fit next to Wall.

Devin Kharpertian, Nets Are Scorching: Fact. Right now, he's known more for his girlfriend than his game, but that should change soon. Vesely's athleticism and dunking ability put him a step ahead in this relatively weak class. If he secures a starting role, voters won't leave him off.

Beckley Mason, HoopSpeak: Fact! He'll get time on the Wizards' abhorrent front line, and he is sure to have a nice portfolio of highlight-reel dunks. In this rookie class, I'm not sure he'll need much more to be deemed one of the 10 best.

Rashad Mobley, Truth About It: Fact. Vesely will be playing with a gifted point guard by the name of John Wall. All he has to do is ask JaVale McGee, Nick Young and Trevor Booker how good Wall can make his teammates look when they hustle down the floor. That adds up to quite a rookie highlight reel, which equals an All-Rookie team selection.

Kyle Weidie, Truth About It: Fact. Seal it with a kiss. Vesely was drafted because he attacks with rabid instinct. When his résumé goes from foreign YouTube dunk highlights to "SportsCenter" in HD, it will be like an opiate intoxicating the masses of envious coaches into giving their vote to him.
---
3. Fact or Fiction: Washington should re-sign Nick Young.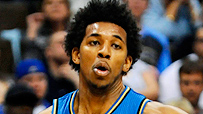 Chad Ford, ESPN.com: Fiction. Young is coming off an impressive season, but he's pretty one-dimensional. Given the dearth of attractive free agents on the market this year, the last thing the Wizards need to do is overpay for a slightly above-average 2-guard.

Devin Kharpertian, Nets Are Scorching: Fiction. He scores a lot with average efficiency and doesn't do anything else. The Wizards are going to have a boatload of cap room once Rashard Lewis' contract expires in 2013, and they should preserve it for players that deserve it long-term. Young isn't one of them.

Beckley Mason, HoopSpeak: Fiction. Young is growing as a player, and athletic 6-foot-7 shooting guards don't grow on trees, but he's still not worth starter money. With Jordan Crawford as the prototypical backup combo guard, I'm not sure how Young fits in the backcourt. He's the kind of almost-good-enough player you have to be very careful not to overpay *cough* Andray Blatche! *cough.*

Rashad Mobley, Truth About It: Fact. Earlier this week, I said the Hawks should re-sign Jamal Crawford because he's a threat to score 30 every night. Young has that same capability, but he's a better defender than Crawford ever will be. The Wizards should re-sign him, make him the sixth man and turn him loose.

Kyle Weidie, Truth About It: Fact. Being a restricted FA under any type of new CBA will belittle Young's monetary hopes. The Bulls could use him, but a pitch from Chicago's expectant frugal management probably won't be enough to discourage the Wizards from matching. The LA native has made significant strides under Flip Saunders, and for that, Washington is intent on keeping him East.
---
4. Fact or Fiction: The Wizards will make the playoffs in 2012 or 2013.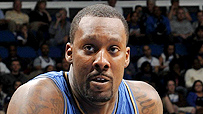 Chad Ford, ESPN.com: Fiction if you're talking about the 2012 season. There are just too many solid teams in the East. 2013? I could see it. By then, Wall and Vesely will have had a chance to play together for a full season, and hopefully McGee will finally live up to his promise on a nightly basis.

Devin Kharpertian, Nets Are Scorching: Fact, with the right moves. By 2013, John Wall will be entering the prime of his destructive force, Jan Vesely will still have Griffin hops and the rest of their young roster will be growing. They're still a few steps away -- they need another shooter, and Andray Blatche isn't the answer at power forward -- but their window is opening.

Beckley Mason, HoopSpeak: Fiction. I believe in John Wall, but this roster suffers from a lack of talent and an overabundance of knuckleheads. It seems team management is committed to Blatche and McGee, and I'm not optimistic that this gruesome twosome will make the humongous strides in their defensive effort and general focus necessary for Washington to rise in the ever-strengthening East.

Rashad Mobley, Truth About It: Fact. There will probably be an abbreviated season in 2012, and veteran teams will thrive. Young teams like the Wizards will still be learning how to win, and they will fall just short of clinching the eighth seed. In 2013, led by Wall's first 20-and-10 season, the Wizards will clinch the sixth seed in the East

Kyle Weidie, Truth About It: Fact (but not likely according to science). Between McGee, Blatche and the rest of the Wiz Kids, Washington has zilch in terms of tough post presence and leadership. They either need to grow up faster than feasible, or Ernie Grunfeld must make a move to exert more control over an immature vessel. If so, they'll sniff the postseason in 2013.
---
5. Fact or Fiction: Washington's new uniforms are nice!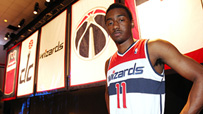 Chad Ford, ESPN.com: Fact. I think the Wizards now have some of the coolest unis in the league. The only thing that could've been better was to ditch the bearded Dumbledore wannabe altogether.

Devin Kharpertian, Nets Are Scorching: Fact. The simple, clean look is nice. It reminds me of Golden State's recent uniform change. That said, my wardrobe is jeans and faded shirts. So what do I know?

Beckley Mason, HoopSpeak: Emphatic fact. The teal look went out with the last millennium, and the fresh duds have clean patterns, classic colors and a logo that actually bears relation to the city. What's more, it paves the way for a welcome name change. Get ready for your 2013 Washington Monuments! (Named after owner Ted Leonsis' Monumental Sports & Entertainment.)

Rashad Mobley, Truth About It: Fact. These new Wizards uniforms aren't just nice, they represent a return to the red, white and blue colors the 1978 team wore en route to an NBA title. Now if Ted Leonsis could just be convinced to get rid of the "Wizards" name in favor of the "Bullets."

Kyle Weidie, Truth About It: Fact. The long-overdue change is only a temporary salve distracting from one of the more horrendous city-nickname associations in sports. That being said, the design team absolutely nailed a look and feel that encapsulates sleek, modern and retro all into one, while sensibly using colors that best represent a pro sports team in the nation's capital.


ESPN.com and the TrueHoop Network
Chad Ford is a senior writer for ESPN Insider. Devin Kharpertian, Beckley Mason, Rashad Mobley and Kyle Weidie contribute to the TrueHoop Network.