Derrick Rose has his MVP trophy, but can he bring a championship trophy back to Chicago? Do the Bulls have the pieces in place to get past LeBron James and the Heat in the East?

We kick off our Central Division tour with a look at the team with the league's best record in 2010-11. Here are six writers weighing in on the six-time champion Bulls.
1. Fact or Fiction: Derrick Rose will repeat as MVP.
James Ham, Cowbell Kingdom: Fiction. Rose had the benefit of being a one-man show in Chicago last season. Neither the Bulls nor Rose will be a surprise next season, so he will have to exceed his own gaudy numbers from a year ago. There are just too many stars to expect this kid to win back-to-back MVPs this early in his career.

Patrick Hayes, PistonPowered: Fiction. It's possible, even likely, that Rose takes another leap next season. Rose and the Bulls provided a great story last season, and the narrative factors into voting. With deserving, MVP-less stars like Dwight Howard, Kevin Durant, Chris Paul and Dwyane Wade, along with LeBron James and Kobe Bryant looking to prove critics wrong, someone else will win.

Nick Friedell, ESPN Chicago: Fiction. Rose is going to be better this season -- but with a healthy Carlos Boozer and Joakim Noah on the floor together, he won't have to do as much. His numbers won't be as high as they were last year.

Matt McHale, By The Horns: Probably fiction. It's extremely difficult to repeat as MVP. There are so many factors involved. Rose would need to improve statistically and the Bulls would probably need to be more overpowering than they were last season. It's going to be hard for the Bulls to replicate their 61-win season, which will hurt Derrick's chances of an MVP repeat.

Braedan Ritter, By The Horns: Fiction. One of the reasons D-Rose won the MVP last season was because he was the "new guy." I don't see Rose repeating as MVP unless he makes an even larger jump in his game than he did in the 2010-11 season, which will be very hard. It seems like there are too many deserving players for Rose to repeat. Cut to Kevin Durant nodding in the corner of the room.

John Converse Townsend, Truth About It: Fiction. Rose is a great player primed to play great basketball for the next decade. However, the MVP is not awarded in an absolute meritocracy -- a reality that allowed Rose to take home the trophy in the first place -- and I'm not sure an improved jumper or a post-up game will be enough to defend his regular-season prize.
---
2. Fact or Fiction: Rose should shoot less.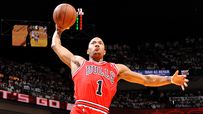 James Ham, Cowbell Kingdom: Fiction. Rose can shoot the ball 20 times per game, but what he can't do is average 7.4 assists per 36 minutes played. He needs to get his teammates easier shots, which shouldn't be hard with his ability to get to the rack. Injuries necessitated that Rose take 20 shots per game in 2010-11, but skill will continue that trend going forward.

Patrick Hayes, PistonPowered: Fiction. Until the Bulls add another capable secondary scorer, Rose dominating the ball and scoring a lot is their best offensive option. Now, he could certainly become a more efficient shooter by continuing to improve his range, but he's the only guy they have who creates his own offense, so he should keep firing.

Nick Friedell, ESPN Chicago: Fiction. A team never wants its point guard to put up more than 20 shots like Rose did last season, but did you see the other offensive weapons the Bulls had last year? Rose was really the only player on the team who could consistently get his own shot. Unless something changes, there will still be times in a game where he puts up a lot of shots … and that's OK.

Matt McHale, By The Horns: Fiction. I mean, Rose won the MVP and took the Bulls to the Eastern Conference finals by taking all those shots. It ain't broke, so don't fix it. However, his shot selection could stand to be tweaked. Specifically, Rose could benefit from taking more efficient, higher-percentage shots.

Braedan Ritter, By The Horns: Fiction. Rose should take what he can get in the flow of the game. He is the Bulls' best scorer, and they need him to get points, as that opens up opportunities for his teammates. But I'd be lying if I said I didn't cringe on some of his 3s. Perhaps he should shoot fewer 3-pointers and keep getting to the hoop.

John Converse Townsend, Truth About It: Fiction. The popular clamor that Rose should shoot less is an incomplete request, for demanding that Rose take less shots is a concurrent directive for his teammates -- a (sometimes) overpaid and overrated lump of glue -- to take more of them. I challenge you to find me the crowd that wants that. It will be tough; they're quiet.
---
3. Fact or Fiction: Chicago would like a do-over on the Boozer acquisition.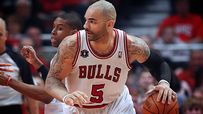 James Ham, Cowbell Kingdom: Fact. The Bulls have lacked a true post presence since trading Elton Brand in 2001. It's understandable why they chased Boozer, but they should have done a better job selling Chris Bosh or Amare Stoudemire on being a Bull. Instead, they paid $75 million for a player who averages only 63 games played per season during his career.

Patrick Hayes, PistonPowered: Fact. Boozer isn't what I would consider a terrible signing. He was an important piece for the team last season. But he's an aging, limited, albeit talented power forward who isn't an elite defensive player. Investing long-term in a player like that wasn't prudent.

Nick Friedell, ESPN Chicago: Fact. Boozer was a very bad defensive player last season and lived up to the hype as being injury-prone. The problem for the Bulls was that he was the best low-post player on the market after they had been turned down by LeBron James, Dwyane Wade and Chris Bosh. Still, that contract is only going to get worse as the years roll by.

Matt McHale, By The Horns: Possibly fact. Or possibly fiction. Coaches, management and players all came out in support of Boozer after the season ended. However, poor playoff numbers and fourth quarter benchings in the Eastern Conference finals don't jibe with the money they're paying him. The team would probably prefer he play up to his abilities more than they want a do-over.

Braedan Ritter, By The Horns: Fiction. I might be crazy, but I am not all that down on Boozer. His season wasn't deserving of his contract, but he was still solid for much of the season. Except for the playoffs and the injuries, Boozer was a quality player. But I'm sure the Bulls wish they could have gotten a healthier Boozington for fewer dollars.

John Converse Townsend, Truth About It: Fact. The Bulls owe Carlos Boozer $60 million over the next four years, which is money the franchise would love to invest elsewhere. Looking outside the checkbook doesn't do Boozer any favors, either. He is a liability on defense, is regularly slowed by injuries, and his second-rate disappearing act has made him a constant target for rotten tomatoes. What a mess!
---
4. Fact or Fiction: Chicago can win a ring with Keith Bogans starting at SG.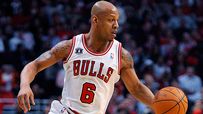 James Ham, Cowbell Kingdom: Fiction. Someone is going to make the DeShawn Stevenson argument on this one, but the Bulls don't have Jason Terry or J.J. Barea coming off the bench to light it up like Dallas does. The Bulls swung and missed last season in free agency, choosing quantity over quality. This season, rookie Jimmy Butler will be asked to step up quickly.

Patrick Hayes, PistonPowered: Fact, if they acquire a more capable backup, someone like Rip Hamilton if he's ever freed by the Pistons via buyout or trade. Bogans starts because he's a tone-setting defensive player. That's fine. Just bring in a more capable offensive player like Hamilton, who isn't a slouch defensively, to play the bulk of the minutes. Then plan the championship parade.

Nick Friedell, ESPN Chicago: Fiction. Bogans is a nice role player -- but that's it. If you like Keith Bogans as your starting 2-guard, you also like watching the NBA Finals on your couch.

Matt McHale, By The Horns: Fiction. Unless he starts, plays one minute, and then a much better SG comes off the bench.

Braedan Ritter, By The Horns: Fiction. Bogans just does not bring nearly enough to the court on the offensive side of the ball. If D-Rose is the only player who can create his own shot, the defense can just sag off of everyone else. Chicago needs to get a quality scorer at the 2 who is also competent on defense if they truly want to have a chance.

John Converse Townsend, Truth About It: Fiction. There comes a point where -- as much as you'd like them to -- honorable qualities like veteran savvy and a selfless dedication to defense don't make up for glaring inefficiencies elsewhere. Bogans is past that point and around the block.
---
5. Fact or Fiction: The Bulls will win the Eastern Conference.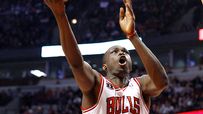 James Ham, Cowbell Kingdom: Fiction. The Bulls don't have the answer for the three-headed monster in Miami. They also don't have the cap space to add the pieces they need. The combination of Kyle Korver, C.J. Watson and Ronnie Brewer will make $13 million this season. I'm guessing the Bulls wish they had some of that money back right about now.

Patrick Hayes, PistonPowered: Fiction. The Bulls don't match up well with the Heat. I would expect a Bulls-Heat rematch to be more competitive solely based on the growth I believe Rose will continue to show, but Miami has great defenders to throw at Rose to make things hard on him and three guys who can get their own shot against any defense.

Nick Friedell, ESPN Chicago: Fiction. Unless they find a 2-guard who can take some offensive pressure off Rose, they still won't be able to get past Miami.

Matt McHale, By The Horns: Could be fact or fiction. As presently constructed, the Bulls probably can't beat the Heat. Miami's defense put the clamps on Rose because no one else on the team could create offense. Until that problem is addressed -- hopefully in the form of a shooting guard upgrade -- I don't see the Bulls winning the East.

Braedan Ritter, By The Horns: Fact. Chicago may have lost in the Eastern Conference finals 4-1, but the series was a lot closer than that. The Bulls, and specifically Derrick Rose, seem hungrier than most other teams, so it is possible that the Bulls win both the regular season and conference finals. Miami and Chicago should have some great battles for the East in the years to come.

John Converse Townsend, Truth About It: Fiction. Odds are that the Chicago Bulls will again contend with the Miami Heat in the Eastern Conference finals, but the result will mirror last year's engagement; the Bulls lack the men and the might to overthrow the South Beach triumvirate.


ESPN.com and the TrueHoop Network
Nick Friedell writes for ESPN Chicago. James Ham, Patrick Hayes, Matt McHale, Braedan Ritter and John Converse Townsend contribute to the TrueHoop Network.