The Milwaukee Bucks, a team our panel of experts tabbed for no worse than seventh in the East last season, stumbled badly behind a laundry list of injury issues.

The Bucks finished 37-45 and out of the playoffs, with new addition Corey Maggette's once-steady production taking a tumble too. Now he's gone, with Stephen Jackson stepping in with hopes of returning Milwaukee to the promising path it seemed to be on two seasons ago.

With a spring in its step that would make Bango proud, our panel goes 5-on-5.
1. Fact or Fiction: Brandon Jennings is on his way to stardom.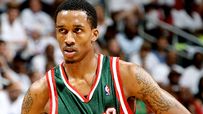 Henry Abbott, ESPN.com: They sometimes say that young players need touches and shots to get better. If that's what it takes, there's no chance he won't be huge.

But for now, the reality is that, compared to the best players at his position, Jennings is inefficient and shot-happy, which is not a disaster for a player with his skills, but it is something he'll have to address if he's going to star on a really good team.

Zach Harper, Daily Dime Live: Fact. We just have to figure out what this stardom means. He can
easily become an iconic current NBA player with being at the forefront
of Under Armour marketing and continuing to create a cult following
among NBA fans. People will know him and like him just for his style
on and off the court. In terms of stardom due to his play, he has the
potential for it. He just has to start making some shots.

Jacob Mustafa, Red94: Should be factual. From jump street, the Kid's oozed stardom; from the flattop fade to the inimitable passing to the gall necessary to start his career overseas, he's never resembled orthodox. Unfortunately for his NBA career, this has meant unorthodox (read: poor) shooting form and decision-making. Jennings' cup runneth over with NBA-ready skills; for the Kid, it's all about growing up.

Jeremy Schmidt, Bucksketball.com: Fiction. Stardom? That's a little ambitious for a guy who has been extra ordinary more than extraordinary. If you define stardom as being above average and occasionally thrilling to watch, Jennings seems like he's on the way. But if stardom means All-Star appearances and top five rankings, that seems out of his reach.

Ryan DeGama, Celtics Hub.com:
Fiction. It's a high bar at the PG position and Jennings may not be able to clear it in terms of shot creation or defense. If he improves his shooting, he could become a consistently dangerous offensive weapon. Just not the kind you can build a franchise around.
---
2. Fact or Fiction: The Stephen Jackson trade made sense.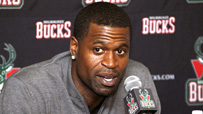 Henry Abbott, ESPN.com: I expect they'll be improved thanks to the presence of Jackson, and the other assets in the deal come with some potential. They also got rid of some nasty contracts, which was great. All that said, in the event Bismack Biyombo actually reaches his potential, in five years when Jackson is no longer an issue and Biyombo is anchoring a team in the conference finals, we may all say can you believe the Bucks (who got the seventh pick from Sacramento, then traded it to Charlotte) traded that guy for the worst years of Stephen Jackson's career?

Zach Harper, Daily Dime Live: Fact. Stephen Jackson is the best player involved in this trade and he
can help bring some focus and leadership on the court if he wants to.
They shed a lot of long-term salary by dumping John Salmons onto the
Kings and they now have legitimate backup point guards. Let's just
hope Scott Skiles and Jackson don't ever disagree on anything.

Jacob Mustafa, Red94: Fact. Last season's Bucks offense revealed a couple of things: Bogut's hand functions as if repaired mostly with duct tape and hope, and Milwaukee needs scoring oh so badly. Though taking the ball out of Jennings' hands might stunt his growth, Jackson's particular brand of point-forward-iness should open up an offense that needs ball movement and shooting as badly as any.

Ryan DeGama, Celtics Hub.com: Fact. The immutable laws of NBA physics state that anytime you divest yourself of Corey Maggette and John Salmons, you win the trade. Jackson's volatile, but assuming Skiles can harness that atom instead of eliciting a meltdown, the Bucks could become the latest version of last season's Grizzlies: the feisty, cocky underdog that nobody wants to play.

Jeremy Schmidt, Bucksketball.com:
Fact. Everyone knows the Bucks didn't score enough points last season, but the reason was less obvious. Shot creation was the root of Milwaukee's failure. Not only is Jackson a capable slasher, but he's created for his teammates throughout his career much more than he's given credit for.
---
3. Fact or Fiction: Andrew Bogut will play in an All-Star Game.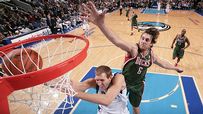 Henry Abbott, ESPN.com: Fact. He is a good enough player right now. Just needs to find himself high in the standings around the time the coaches vote. The law of averages suggest that'll happen at some point.

Zach Harper, Daily Dime Live: Fact. Andrew Bogut is too good on defense for an all-around player
like himself to not make at least one. The key is being healthy enough
to start a season in good form and to be in peak physical condition during
the first three months of the season to start hot. If Jamaal Magloire
can make one, Andrew Bogut can definitely get in.

Jacob Mustafa, Red94: Fiction. There was a point at which this was a foregone conclusion, but thanks to the ugliest fall to the hardwood this side of Shaun Livingston, Bogut's unlikely to ever return to his 2009-10 form as one of the league's top three centers. His defensive presence still means a lot to Milwaukee down low, but not to the fickle All-Star voters.

Ryan DeGama, Celtics Hub.com: Fact. I love Bogut's old school inclinations to clear the defensive glass and anchor a defense. But I also worry his career is heading down the old school trajectory of the oft-injured Bill Walton. A healthy Bogut should make a couple of All-Star teams before he's done. Let's hope that's what we see next season.

Jeremy Schmidt, Bucksketball.com:
Fact. If it weren't for Dwight Howard, Bogut would annually win Defensive Player of the Year and we would have seen him make two All-Star appearances already. If he's healthy coming into the season, his offensive numbers will rebound and he'll get the credit he's so deserved for two incredible defensive seasons. He's clearly the second-best center in the East.
---
4. Fact or Fiction: Milwaukee's future SF and PF are on the roster.
Henry Abbott, ESPN.com: I'm a huge Luc Richard Mbah a Moute fan, and Carlos Delfino has played well. People speak highly of Larry Sanders. In Tobias Harris and Jon Leuer the Bucks drafted the big men that John Hollinger's draft rater suggests were third and fourth available in the draft, behind only Derrick Williams and Tristan Thompson.

Zach Harper, Daily Dime Live: Fiction. Tobias Harris has the ability and potential to be a long-term
starter for this team. Larry Sanders has the ability and potential to
be the long-term starter for this team. I just don't know that I feel
comfortable assuming they're locks to help round out the foundation of
this franchise. Unless you meant Corey Maggette and Jon Brockman ...

Ryan DeGama, Celtics Hub.com:
Fiction. Even favorable projections leave the Bucks wanting at these two positions. Finding a great scorer at either would solve a lot of their problems but the long-term solution isn't on the roster yet.

Jacob Mustafa, Red94:
As fun as this roster can be (if Scott Skiles ever takes a game off, watch a Stephen Jackson/Brandon Jennings/Earl Boykins/Drew Gooden combo gun away), there's not much room for growth. Chris Douglas-Roberts and Larry Sanders constitute this squad's youth movement, meaning Sanders needs to become the 85-tool player he was touted as last preseason, or there needs to be a lot of draft picks in Milwaukee soon.

Jeremy Schmidt, Bucksketball.com:
Fiction. Jackson is 32 and already a bit on edge about his contract that runs just through next season. It's hard to believe Milwaukee will want to commit to him past that. Power forward Tobias Harris was a first-round pick and seems to be brimming with potential, but at 19, it's tough to tell what he'll end up being. Question marks abound outside the point guard and center positions in Milwaukee.
---
5. Fact or Fiction: This will be a bounce-back season for the Bucks.

Henry Abbott, ESPN.com: It is very hard to go from 35 to 50 wins, and they're not going to do that. But with some health, Jennings' development, the presence of Jackson and the ongoing strong play of Bogut, I would expect the Bucks to make the playoffs, where they'll have a small, but real, chance of being the 2012 version of this spring's playoff Grizzlies.

Zach Harper, Daily Dime Live: Fact-ish. The Bucks' team defense is too good for them to have another
disappointing season like last year. But where is the consistent
offense going to come from? I think if everything goes right, they'll
be around the .500 mark and challenging for a final spot in the
playoffs. I wouldn't be foolish enough to pick them to win the Central,
though.

Jacob Mustafa, Red94: Considering last season's unmitigated failure, little could be done this year to muck it all up quite so badly. Still, unless Jennings finds his way the moment the lockout ends, I wouldn't expect too much in terms of actual growth for this team. Maybe another short playoff run is in the works for these guys, but that's the ceiling.

Ryan DeGama, Celtics Hub.com: Can't say I have much appreciation for Milwaukee's approach, which seems to involve overpaying for mediocre guys and anchoring the team's fortunes to non-elite stars. But the Bucks' 2010-11 season was undercut by injuries so they should land somewhere in the lower half of the Eastern Conference playoff bracket in 2012. That constitutes success, I suppose.

Jeremy Schmidt, Bucksketball.com:
Fact. Fifteen Bucks missed 267 games due to injury last season. So long as Milwaukee is relatively healthy it should be able to sneak into the playoffs. But the organization thinks this is a much better team than that. If Bogut is healthy, Jennings has developed and Jackson is a plus, this could be a fifth- or sixth-best team in the East.


ESPN.com and the TrueHoop Network
Henry Abbott writes for ESPN.com's TrueHoop. Ryan DeGama, Jacob Mustafa, Zach Harper and Jeremy Schmidt contribute to the TrueHoop Network.