The time seems at hand for the Cleveland Cavaliers to move forward. Will the jilted Quickens Loans regulars resist the urge to circle the two LeBron James games on the home calendar?

Could be tough. Circling helps ensure the creation of winning fan signs such as "We should have drafted Darko."
OK, maybe one last circling -- Nov. 18 and Feb. 17.

In the meantime, promising rookies could speed the rebuilding process of a team consisting of once-complementary LeBron parts that last season slouched to a 19-63 record, which would have been the NBA's most terrible if not for the Minnesota Timberwolves.
The Cavs thus avoided going from first to worst in terms of regular-season record.

Breaking down a team looking to rise once again, our 5-on-5 panel hits Cleveland:
1. Who should start at PG for the Cavs?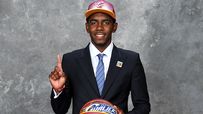 Nate Drexler, Magic Basketball: Baron Davis. No question. BD is the veteran and the leader, and while Kyrie Irving is a logical "scoring guard" option, he will be more effective reacting to the offense Davis creates. It's just a shame Baron has no one to throw alley-oops to.

Mathew Lewis, Queen City Hoops:
Irving. No question. Some may hesitate to turn over the franchise to the 19-year-old for fear of damaging his confidence or forming bad habits running a wayward Cavaliers lineup. However, I think Kyrie has both the mental stability and toughness to benefit from the inevitable adversity he's sure to experience his first year in the league.

Keith Lipscomb, ESPN Fantasy: I'm always a fan of putting your best players on the court, so I would start both Davis and Irving and run the offense to play to their strengths. Although they'd be putting themselves in a defensive hole against bigger backcourts, the Cavs don't have enough firepower to leave either of them on the bench.


Noam Schiller, Hardwood Paroxysm: Ramon Sessions and Daniel Gibson are both somewhere between situational backups and key reserves, while Davis' best days are far behind him. Only one point guard on Cleveland's roster provides substantial room for growth -- and as the future of the franchise, Irving should be the present as well.


Royce Young, Daily Thunder: Irving. If you're going to commit to rebuilding and put all your eggs in one basket with a couple of kids, you can't go halfway. There are no half measures when it comes to rebuilding. Every second Irving plays, he'll get better, even if he's playing badly. The future of the franchise doesn't rest with Davis, Gibson or Sessions. The keys have been handed to Irving, but you can't just stick him in the backseat.
---
2. Who should start at SF and PF for the Cavs?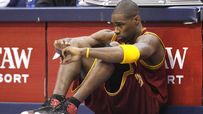 Nate Drexler, Magic Basketball: As far as I'm concerned, Anderson Varejao is as close to a team captain as you can be, and an NBA Finals veteran to boot. As for SF, I'd start Omri Casspi. The young Israeli will fit well in the perimeter-based system, and might find himself in a great gig battling the boards and not worrying much about his offense.

Mathew Lewis, Queen City Hoops: Antawn Jamison and Tristan Thompson. Jamison is probably the only veteran I trust on this team to display some sort of leadership the likes of Irving and Thompson can learn from. Bringing Varejao off the bench may hurt his trade value and cost you a few wins, but the Cavs aren't going anywhere regardless. Put Thompson in and let him take his lumps.

Keith Lipscomb, ESPN Fantasy: As the roster currently stands, I would give Omri Casspi the first shot at the small forward job, provided his recent knee injury is not serious. With a smaller backcourt, I like his 6-foot-9 frame, toughness and perimeter skills at the 3. Power forward is easy, as Antawn Jamison is a veteran who will be asked to shoulder a good portion of the scoring load once again.


Noam Schiller, Hardwood Paroxysm: With virtually no competition on the current roster, SF is Omri Casspi's to lose. PF is trickier, with fourth overall pick Thompson lurking behind former All-Star Jamison. I'd start Jamison, both to up his trade value and to force Thompson to earn his place, but I'd accept going the other way too.


Royce Young, Daily Thunder: Umm. Uhh. Hmm. What are my choices again? Either position is in an ideal situation, but at least with power forward you can slot rookie Thompson in there to play alongside Varejao. That's a nod to the future, which is good. At small forward? How about one lucky fan a night gets to put on No. 23 and pretend to be LeBron? Maybe it'll give the team a mental boost, if anything.
---
3. J.J. Hickson for Omri Casspi and a draft pick: Good trade or bad?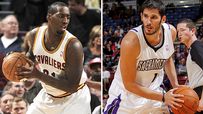 Nate Drexler, Magic Basketball: I like the trade because once you start stacking first-round picks, you have a bright future to look forward to, and that is what Cleveland needs. J.J. Hickson doesn't give you a quick fix or a long-term solution. All eyes to 2012 for the Cavs.

Mathew Lewis, Queen City Hoops: Bad trade. Remember when Cleveland was hesitant to include Hickson in a potential deal for Amare Stoudemire? Things certainly changed. I understand what Cleveland was trying to do in moving what most believed to be its best trade piece in exchange for assets that will help the Cavs in the future, but they sold low when they previously had the chance to reap a much greater return.

Keith Lipscomb, ESPN Fantasy: The Hickson-Byron Scott relationship was rocky and the Cavs made the deal to put an end to that mess. Hickson may put up better numbers, but Casspi should help improve Cleveland's pitiful perimeter defense (last in 3-point field goals allowed and 3-point field goal percentage).


Noam Schiller, Hardwood Paroxysm: Good trade. Hickson was loaded with potential, but he displayed a troublesome attitude, frequently clashed with coach Byron Scott and wouldn't have been able to co-exist with Thompson. Casspi had his ups and downs in Sacramento, but a fresh start and a guaranteed starting spot will do wonders for a player who has plenty of talent himself.

Royce Young, Daily Thunder: It was a good trade, but not because Casspi is going to be some integral piece. It's more about clearing the way for Thompson to have an opportunity to get all the minutes he can stand. Casspi is a solid player -- good shooter, high IQ, decent passer -- but he doesn't have the talent, or the upside, that Hickson has. Still, it's more about making sure your new young players have a chance to develop, and someone can't be standing in their position already if that's going to happen.
---
4. Are the Cavs on the right track or the wrong track?
Nate Drexler, Magic Basketball: The Cavs are on the only track they can be on, and it's not so bad. Irving is not a savior, but a building block. Compounding the Irving pick with a 2012 first-round pick will largely reshape things in Cleveland, and provide something of a clean slate for Byron Scott.

Mathew Lewis, Queen City Hoops: Right track. They had two of the first four picks in the draft. Not every team attempting to rebuild is fortunate enough to be trade partners with the Los Angeles Clippers, from whom they acquired the first pick. If Baron Davis arrives at camp less than 300 pounds, is he tradable?

Keith Lipscomb, ESPN Fantasy: By drafting a talent like Irving, the Cavs can only be heading in a more positive direction. And I like Byron Scott as the team's head coach. But this team is lacking so much, there's still a very long way to go before the words "playoff contender" should be uttered.

Noam Schiller, Hardwood Paroxysm: On the right track, but at the very beginning of it. Rebuilding starts with unloading veterans and building through the draft. Irving and Thompson are a solid start, but Davis and Jamison have to go, and Anderson Varejao has much more value as a trade asset than as a role player on a 20-win team.

Royce Young, Daily Thunder: Absolutely the right track. It's not exactly the same building plan that the Thunder used, but think back to what Sam Presti did in 2007. He grabbed an extra top-five pick (Jeff Green) to pair with his new franchise player (Kevin Durant), and then the next season added another top-five guy (Russell Westbrook). At the same time he was clearing cap space and picking up quality role pieces. It's really the same idea Chris Grant has going in Cleveland. It just has yet to be seen whether Irving can have a Durant-like impact.
---
5. Can we talk about the Cavs without talking about LeBron James?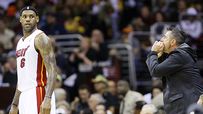 Nate Drexler, Magic Basketball: The moment LeBron wins a championship will be the moment we separate him from the Cavs. He currently casts a shadow, but his legacy is yet to be seen. Right now, we're forced to tread in the waters of middle ground. I, for one, would love to see the Cavs reload and hasten the process. Meanwhile, it won't hurt for LeBron to get a ring.

Mathew Lewis, Queen City Hoops: Yes. I think the ushering in of Irving and Thompson will expedite the healing process for Clevelanders. Is either LeBron? No. But they will offer hope and a glimpse of what's to come for years ahead in Cleveland.

Keith Lipscomb, ESPN Fantasy: We can, but it's a different story for many of the fans in Cleveland. Once the Cavs return to winning games and having success in the playoffs, Cleveland fans will have something positive to talk about. But until then, LeBron's "Decision" will still be a sore spot for them.

Noam Schiller, Hardwood Paroxysm: It doesn't matter if we can ignore LeBron -- can the Cavs? In order to truly rebuild, Cleveland's ownership, team and fan base must be able to accept this squad for who they are without leering at Miami's No. 6. As long as the ultimate goal is beating LeBron, Cleveland will go absolutely nowhere.

Royce Young, Daily Thunder: At this point? No chance. At least not until either Irving or Thompson gives anyone a reason to forget. Right now the Cavs are known for two things: (1) being horrible, and (2) being the team LeBron ditched. I know the first thing that comes to my mind when you say "Cleveland Cavaliers" is an empty No. 23 jersey, on fire.


ESPN.com and the TrueHoop Network
Keith Lipscomb writes for ESPN.com Fantasy. Nate Drexler, Mathew Lewis, Noam Schiller and Royce Young contribute to the TrueHoop Network.