With Kevin Durant leading the way, the Thunder advanced to the Western Conference finals, where they were sent packing by the eventual NBA champion Mavericks.

With another season under their belt, will the Thunder be able to take the next step and reach the NBA Finals?
1. Fact or Fiction: The Thunder should explore trading Russell Westbrook.
Joe Gerrity, Hornets 24/7: Fact. The only untouchable on the Thunder is and should be Durant. Russell Westbrook is certainly one of the better point guards in the league, but if the opportunity is there to deal him for a guy like Chris Paul, for example, the Thunder would be foolish not to fully explore it.

Beckley Mason, HoopSpeak: Fiction. Privately, the Thunder should be open to trading Westbrook, but I don't like the idea of them actively exploring the trade. There are only a few players in the league, guys like Chris Paul or Dwight Howard, that they should even consider in exchange for Westbrook, so there's no sense in putting him on the open market.

Spencer Percy, Queen City Hoops: Fact. I'm convinced by watching Westbrook play for three seasons in the league that he's the type of guy that will continuously take bad shots and simply never quite understand what a point guard's role should be on a team with a player like Durant.

Marc Stein, ESPN.com: Fact. And here's the peace-of-mind disclaimer that should hearten any Thunder diehard who finds this idea totally disrespectful to Westbrook's fast development/copious production to date and is screaming fiction: OKC probably won't need to do much exploring. Given the amount of discussion generated already around the league about the way Westbrook fits long-term as Durant's top sidekick, calls from other teams to gauge what it would take to get Westbrook are going to come in whether the Thunder want to field them or not. Something tells me that Thunder GM Sam Presti already has a fair idea of what he can and can't get for Westbrook.

Royce Young, Daily Thunder: Fiction. More fiction than Harry Potter. The way the world turned on Westbrook during the postseason was more jarring than last week's earthquake. He's 22. He just made it to the All-Star Game and was second-team All-NBA. He averaged 22 points and eight assists in his third year. The list of good things about Westbrook go on and on and on and yet all anyone can focus on is some manufactured, made-up rivalry between him and Kevin Durant. Trading Westbrook would be the anti-Presti move. Meaning, it would be dumb.
---
2. Fact or Fiction: It's time for James Harden to start at the 2.
Joe Gerrity, Hornets 24/7: Fact. James Harden has proved he is a capable defender, and that means that he's ready to make the jump into the starting lineup. Thabo Sefolosha shot 27 percent from beyond the arc last season, and the team gave up more points per possession when he was on the floor than when he was riding the pine.

Beckley Mason, HoopSpeak:
Fiction. Harden will be a top shooting guard for the next decade, but Manu Ginobili has proved you don't have to start to shine. Harden provides versatility, scoring and a preternaturally mature presence/beard in any role. Whether he's on the floor for the tip-off doesn't matter if he's getting 30-plus minutes of run every night.

Spencer Percy, Queen City Hoops: Fact. I don't think that there is a guy in this league that fits better alongside Durant than Harden. I know that Sefolosha is a great defender, but across the board Harden is more important to have on the court. He gets to the rim and draws fouls constantly, and let's face it, Harden is a cornerstone to this team's future.

Marc Stein, ESPN.com: Fiction. As long as Harden gets starters' minutes, it's a non-issue. Let him finish games, get him into the 30s minutes-wise and it's all good. I don't even know that starting is something Harden himself worries about much. Surely he sees that he's the Thunder's answer to Ginobili or Jason Terry. Sometimes those guys start ... but often they don't for the good of the team. If Scotty Brooks thinks it's better for OKC's first-half patterns to keep Harden in a sixth-man role, so he has something to serve up after Durant's hot starts and subsequent rests, I buy that.

Royce Young, Daily Thunder: Fact. The Thunder appreciate and value defense. That was the idea in starting Sefolosha all last season. But Harden's defense has caught up enough to Sefolosha's and on the other end, it's not even close. Plus, Harden's presence as an extra scorer really relaxes some of the scoring tension between Westbrook and Durant. OKC's a much more dangerous team with Harden's beard on the floor than with it just looking awesome on the bench.
---
3. Fact or Fiction: Kevin Durant will become the best player in the NBA.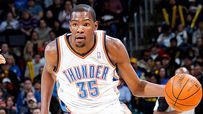 Joe Gerrity, Hornets 24/7: Fact. Considering that at the tender age of 22 he's unstoppable on offense and above average defensively, I think at some point we will be debating whether or not he will reach the level of Magic and Bird.

Beckley Mason, HoopSpeak: Fiction. I'm not ready to go here yet. LeBron James is just now entering his prime, and I don't see Durant surpassing James' peak all-around impact. Can Durant lead the league in PER and be the game's most versatile defender? I love KD like KD loves torso tats, but he may have to settle for sure-fire Hall of Famer.

Spencer Percy, Queen City Hoops: Fact. I believe that Durant may already be the best player in the league. Answer me this: Who can score from anywhere on the court at a higher rate than Durant? Not to mention that his length will always make him an above-par defender. If his team doesn't handicap him, he'll be the best player in the NBA in two seasons.

Marc Stein, ESPN.com: Fact. He had some rough moments in the Western Conference finals against Dallas, but then you remember that Durant is a mere 22. As much as I like Derrick Rose, I don't see anyone in the NBA's next-gen superstar class with a ceiling as high as KD's. Experience is all he needs. Experience and strength. Don't forget that he's still developing both while winning scoring titles.

Royce Young, Daily Thunder: Fiction. Not as long as LeBron keeps playing. Evaluating Durant next to LeBron has never been fair. LeBron is a complete basketball player and while Durant is certainly a top-level talent, he just doesn't have the all-around gifts LeBron does. And it's no slight to Durant to just be second to LeBron. With as much talent as there is in today's NBA, I'd say that would be quite the honor.
---
4. Fact or Fiction: The Thunder have solved the 4 and 5 positions.
Joe Gerrity, Hornets 24/7: Fact. Kendrick Perkins is exactly what they need down low and Serge Ibaka makes me jealous of OKC fans. If that's not an answer, then I'm not sure what is. Despite what Sam Presti may lead you to believe, it's really hard to acquire All-Stars at every position.

Beckley Mason, HoopSpeak: Fact. Ibaka's growth suggests he'll be a terrifying help defender and reliable midrange shooter. Combined with a healthy Perkins -- something the Thunder didn't get in last season's playoffs -- they will have enough. Captain Hook has softer hands than Perkins, but with three lights-out scorers orbiting the scowling center, all Perk has to do is catch and dunk.

Spencer Percy, Queen City Hoops: Fiction. Ibaka is young, a force on the glass and a defensive specimen. He even showed improved shooting range last season, so he's a part of the OKC future in my eyes, but if you think that you're going to win a championship with Kendrick Perkins as your starting center, uh, well, think again. Most overrated player in the league.

Marc Stein, ESPN.com: Fiction. Not ready to go there yet. Not when Ibaka and especially Perkins are so limited offensively, but mostly because of Perkins' knees. Perk was clearly playing well short of capacity in the playoffs and is going to have to show us he's a lot healthier before any such declarations.

Royce Young, Daily Thunder: Fact. It took trading Jeff Green to finally open the door for Serge Ibaka to show what a force he can be. That's really what the Perkins trade was more about. Ibaka now has the starting 4 spot all to himself, and to make it better, he has a rugged big man next to him so he can patrol the lane like a ball-hawking safety.
---
5. Fact or Fiction: The Thunder will win the West.

Joe Gerrity, Hornets 24/7: Fiction. When they fell 4-1 to Dallas last May their youth and inexperience really stood out to me. There are lot of older dogs in the Western Conference, and I just don't think Durant has the teeth yet to lead OKC to the Finals.

Beckley Mason, HoopSpeak: Fact, but maybe not next year. Since 1999, only three teams have represented the West in the Finals. As Duncan, Kobe and Dirk continue to age, OKC is perfectly positioned to take up the mantle of best in the West. You know, just like the Heat were definitely going to crush the Mavs last June ...

Spencer Percy, Queen City Hoops: Fiction, but I say that reluctantly. I really believe this team is ready to win the West, but the center position bothers me. For an organization that drafted so well and built this team essentially from the ground up, I'll always be baffled about the trade for Perkins.

Marc Stein, ESPN.com: Fiction. I'd like to see the Thunder mix in some veteran know-how -- and some low-post scoring if I can be a little greedy -- before picking them to get to the Finals. Especially after Dallas just slammed home the reminder that young doesn't prosper in the NBA. But ask me again after the lockout ends and we actually see what rosters look like going into training camp. As September arrives and uncertainty reigns out West thanks to the freeze on player movement, who can really pinpoint a favorite?

Royce Young, Daily Thunder: Fiction. That expectation is certainly there and it's hard not to see it coming, especially with the way the young group has been trending. From 23 wins to 50 to 55 and a Western Conference finals visit. But don't forget: This team still starts four guys under the age of 24 (assuming Harden gets the nod next season). It's coming eventually, but the keys to the West haven't completely been handed to Oklahoma City quite yet.


ESPN.com and the TrueHoop Network
Marc Stein writes for ESPN.com. Joe Gerrity, Beckley Mason, Spencer Percy and Royce Young contribute to the TrueHoop Network.