Six months after the Utah Jazz shipped their franchise player out of town, which tune are fans singing?

After dealing Deron Williams at the trade deadline last season, Utah now has a wealth of young talent at its disposal. But with big-money veterans already entrenched in the starting lineup, who should it turn to next season?

Our 5-on-5 crew taps the Rockies in our next stop on our overview of the Northwest Division.
1. Fact or Fiction: Dealing Deron Williams was the right move.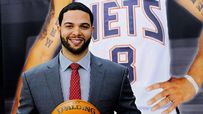 Brett Koremenos, HoopSpeak: Fact. The trails blazed by LeBron James, Carmelo Anthony and Chris Bosh made shipping Williams the right choice. Two of those players' previous franchises were left with nothing when their stars bolted last offseason, and the drama Denver dealt with weighed down the entire organization until Anthony was finally traded. And it's hardly like Derrick Favors is a prospect lacking considerable upside.

Spencer Ryan Hall, Salt City Hoops: Fiction. Until last weekend, I was convinced that moving D-Will was the best move for the Jazz, even though I wasn't thrilled with the new pieces. Seeing him in Utah for his charity dodge ball event, however, slapped me back to reality: The Jazz gave up a top two point guard in his prime for pennies on the dollar.

Noam Schiller, Hardwood Paroxysm: Factish. Dealing a superstar is never the "right" move. But Deron was disgruntled in Utah, and losing him for nothing in 2012 would have destroyed the franchise. Instead, Utah got a former All-Star in Devin Harris, a hopeful future All-Star in Derrick Favors and multiple draft picks.

Darius Soriano, Forum Blue And Gold: Fiction. Williams, when healthy, rivals Chris Paul as the best PG in the game and is a top-15 player in the league. Utah should have been looking to trade one of its many power forwards for a true center or a better wing player to better complement Williams and convince him to stay, not dump him.

David Thorpe, Scouts Inc.: Fact, in that any team that pulls a "Cleveland" or "Toronto" just has not been paying attention. Could they have gotten more had they been more open that he was available? Probably. But there was risk in waiting, so hindsight still treats them well.
---
2. Fact or Fiction: It's time to say goodbye to Andrei Kirilenko.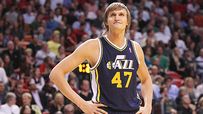 Brett Koremenos, HoopSpeak: Fact. Besides being on the wrong side of 30, Andrei Kirilenko isn't a piece that makes any sense for a team loaded with young prospects who need to play, such as Gordon Hayward, Alec Burks and even Jeremy Evans to some degree. And it's not as though AK-47 has a reputation of being the most stable of personalities in the locker room.

Spencer Ryan Hall, Salt City Hoops: Fiction. At $84 million, Kirilenko was far too expensive as a role player. But an affordable Kirilenko is a nice asset. All indications point to AK re-signing with the Jazz for a hometown discount, and I'm looking forward to a reinvigorated, newly tatted AK-47 3.0.

Noam Schiller, Hardwood Paroxysm: Fact. AK-47 had a great run in Utah, but a 30-year-old has no place on a rebuilding squad, especially one in which his natural power forward position is crammed with young talent. It's time to move on.

Darius Soriano, Forum Blue And Gold: Fact. Kirilenko is best suited as a small-ball power forward so that he can use his range and quickness to be a disruptive force on both ends of the floor. On this Jazz team he's forced to play small forward, limiting his effectiveness to the point that he and Utah are better off apart.

David Thorpe, Scouts Inc.: Fiction. AK still has value to either the Jazz or another team, but it's at a much lower rate than where he's been. That's how we have to look at all players -- are they worth their price tag, or can they grow into that kind of value over time (can you say Mike Conley)? At a very low price, AK can help.
---
3. Who should start in the Jazz frontcourt?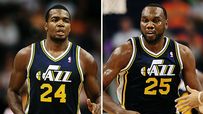 Brett Koremenos, HoopSpeak: Barring a trade, the answer is fairly straightforward. Give Hayward the opportunity to start at the SF spot while Millsap and Jefferson retain their roles at the PF and C. Favors is just 20 and Enes Kanter only 19, so there is no rush to throw them in the starting lineup, especially with productive players in front of them.

Spencer Ryan Hall, Salt City Hoops: Young lottery picks Gordon Hayward and Derrick Favors were the only exciting parts of last season's second half, while incoming rookie Enes Kanter is super raw. I'd continue with AK, Jefferson and Millsap as starters, but give quality time to the youngsters.

Noam Schiller, Hardwood Paroxysm: PF and C should definitely be Paul Millsap and Al Jefferson, who are at this point the team's two best players. SF is much trickier -- if Kirilenko leaves, the team is left without a true starting-caliber 3. Hopefully Utah can address this in free agency, or Gordon Hayward will win by default.

Darius Soriano, Forum Blue And Gold: Gordon Hayward, Al Jefferson and Enes Kanter should be the starters. This group offers a nice blend of scoring, playmaking ability, rebounding and defense that will limit positional and skill-set overlap. The bigger question is who closes games, and that's where Ty Corbin will really have issues in choosing between Millsap, Jefferson and Derrick Favors.

David Thorpe, Scouts Inc.: Assuming they want to see if the playoffs are possible, I'd like to see them mix their vets and youngsters together. Throw out Jefferson with Favors in one group, then follow with Millsap and Kanter, with Okur replacing Kanter when the rookie picks up his second foul in the third minute. Force the young guys to get quality minutes, and play Millsap with either veteran big in the fourth quarter. By February, the young guns will be ready to be big contributors.

At the wing, play Miles and Hayward equal minutes and see who's better. I think, ultimately, Hayward will be a 2 long term.
---
4. Fact or Fiction: Alec Burks will be better than Jimmer Fredette.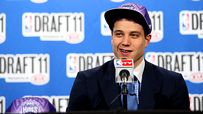 Brett Koremenos, HoopSpeak: Fact. But that's definitely not an emphatic proclamation. I haven't watched nearly enough film of Burks, but if he can carry over that ability to get to the free throw line at this level, he'll give himself a good chance of being a productive player.

Spencer Ryan Hall, Salt City Hoops: Fact. Though some in the Salt City Hoops house are Jimmer Fredette haters, I'm convinced he'll stick in the league and have a nice (but not All-Star) career. But Alec Burks has the talent to be next in a long line of overachievers with the Jazz (Wesley Matthews, Shandon Anderson, Bryon Russell, Ronnie Brewer, etc.). Not bad company at all.

Noam Schiller, Hardwood Paroxysm: Fact. Burks lacks Jimmer's infinite shooting range, but should develop to be a strong scorer even without it. Meanwhile, Alec has an athletic build that could eventually make him an elite defender, something that Jimmer can only dream of.

Darius Soriano, Forum Blue And Gold: Fact. Burks has better size, more athleticism, defends better and is one of the best rebounding wings in his draft class. Like Jimmer, he can play both guard spots and shows good court vision and passing acumen. But overall, he's a more well-rounded player and will be the better pro.

David Thorpe, Scouts Inc.: To quote the gangster from "Johnny Dangerously," that's a fargin' trick question. In a vacuum, perhaps Burks has slightly more upside. But this is the NBA, where coaching, system, opportunity and health make a huge difference. The Jazz currently have slashers in Harris and Millsap and need 3-point shooting from their perimeter players, so Hayward may get more looks at the 2 over Burks because he's a better shooter. Fredette will need to dramatically change his game or he'll never see the floor (and he may have to ward off an attack from a few teammates ... for playing time). I think Jimmer will make the adjustment faster than Burks will learn to shoot, so advantage Jimmer early on.
---
5. Fact or Fiction: Utah has the brightest future of any lottery team.
Brett Koremenos, HoopSpeak: Fact. With a foursome of Kanter, Favors, Hayward and Burks, the Jazz are stocked with 21-and-under talent. On top of it, they can still add to their cadre of young studs if they are able to find solid deals for veterans such as Millsap, Jefferson, Harris and Okur whenever this offseason/season finally happens. Lots of potential for Utah going forward.

Spencer Ryan Hall, Salt City Hoops: Fact. Despite the greatest turmoil since the origins of the franchise, I still think the Jazz will be competing for a playoff spot in April. Unfortunately, it may not be April 2012. Only the Clippers have more individual pieces, but they're still the Clippers.

Noam Schiller, Hardwood Paroxysm: Fiction. Utah has a wide array of talented youngsters, but lacks a bona fide superstar, even if you are insanely optimistic about Favors and Enes Kanter. Among non-playoff teams, superstars such as those exist only in Clipperland (Blake Griffin) and the capital (John Wall).

Darius Soriano, Forum Blue And Gold: Fiction. I'd take the Clippers' future over the Jazz's right now. Blake Griffin is the best player from either team, and I'd also take Eric Gordon over any player on Utah's roster. Utah has a lot of work to do to balance its roster, while the Clips look better built for next season and beyond.

David Thorpe, Scouts Inc.: Fiction. I think Houston is a solid rebounding/defensive center away from 50-plus wins. (Can McHale get Hasheem Thabeet's awesome potential to that level?) And the Clips have the assets to do some interesting things, as does Minnesota (especially if it hires Adelman). My guess is Utah will enter full rebuilding mode sooner than most people expect.


ESPN.com and the TrueHoop Network
David Thorpe is an NBA analyst for Scouts Inc. Brett Koremenos, Spencer Ryan Hall, Darius Soriano and Noam Schiller write for the TrueHoop Network.