The Minnesota Timberwolves might turn to Rick Adelman as their next coach, a veteran basketball mind they hope can mold a collection of young talent into something formidable.

Not much formidable went on last season. Kevin Love's double-double streak of 53 games was a rare positive during a slouch into the cellar with an ill-fitting triangle offense.

Now, it'll likely be less triangle, and more cowbell. Or just better harmony. Love's musician uncle, Mike Love, turned in notable work found on the Beach Boys album "Endless Summer." So far for Minnesota under the reign of GM David Kahn, it's just been an endless bummer.

Will that change? We take a look ahead to a brighter Target Center future, 5-on-5 style:
1. Fact or Fiction: Ricky Rubio will be a star.
Zach Harper, Daily Dime Live: Fact. Whether he's going to be the next Magic Johnson or the next Jason Williams, Ricky Rubio is definitely going to be a star in some way. His passing and creativity will put him all over YouTube and on SportsCenter's top-10 list most nights. Whether he turns that stardom into being a perennial All-Star is an entirely different question.

Bret LaGree, Hoopinion: Fiction. Star is subjective. Best I can tell, Rubio's upside is Jason Kidd and it's a fair question if Kidd was ever truly a star. I'd love for Rubio to be a fascinating addition to the NBA but the vast majority of great passing, poor shooting point guards don't turn out to be Jason Kidd.

Mathew Lewis, Queen City Hoops: Fiction. We all fell in love with Rubio after he burst on the scene at the 2008 Summer Olympics. The problem is he hasn't done much since to remind us of his play in Beijing.

Benjamin Polk, A Wolf Among Wolves: Basically fact. He will not be Chris Paul. He will not be Steve Nash. But he will revel in the speed and space of the NBA game. He will do miraculous things in the open floor. He will be seriously disruptive on defense. Of course, he'll also turn it over with abandon and miss a whole lot of layups.

Ethan Sherwood Strauss, HoopSpeak: Fiction. His 2010-11 Euro field goal percentage makes Brandon Jennings look like William Tell. Let's tamp down expectations: Will Rubio survive a Minnesota winter?
---
2. Fact or Fiction: Rick Adelman should be the Wolves' next coach.
Zach Harper, Daily Dime Live: Infinite fact. Adelman is the best coach available and it's not even close. Give him two years with having a say in how the roster is constructed and putting the current workable parts into a proven system and he'll have them back in playoff contention. Sam Mitchell and Bernie Bickerstaff are intriguing, and Don Nelson would be a hilarious punchline for the DDL, but Adelman should be the only real choice.

Bret LaGree, Hoopinion: Fact. Rick Adelman is a good coach. The Timberwolves haven't had one of those in four-and-a-half seasons. Granted, hiring a good coach might risk exposing the front office and the owner, so there may be an inherent should/could tension at work.

Mathew Lewis, Queen City Hoops: Fact. Adelman is the type of coach this young Timberwolves roster needs: tough, experienced and respected. He should be able to get Kevin Love to buy in, with the rest of the team following suit.

Benjamin Polk, A Wolf Among Wolves: Fact. Terry Porter and Sam Mitchell are probably too conservative for David Kahn's liking. And at this point, Don Nelson's magnificent chaos is the last thing the Wolves need. To me, Adelman is the only candidate creative and competent enough to manage the Wolves' strange brew of talent.

Ethan Sherwood Strauss, HoopSpeak: Fiction. If the Wolves are to amuse me on League Pass, then whimsical Don Nelson is the obvious selection. Sure, Adelman is the best coaching choice available. But would he play Rubio at center? That's an important question.
---
3. Fact or Fiction: Derrick Williams should start.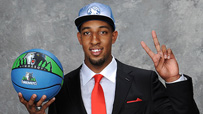 Zach Harper, Daily Dime Live: Fact. I don't know that Derrick Williams is the answer at SF, but he's definitely not going to be a potentially destructive presence. Use his athleticism, see if his shooting translates to the NBA, and give him a chance to be a defender. It allows Randolph to play more inside and Webster and Wes to be athletes on the wings. Versatility could be key for them figuring out roles.

Bret LaGree, Hoopinion: Fact. Starting Williams doesn't mean the Timberwolves have to give up on Michael Beasley or Anthony Randolph. This is not a good team. They should, for one season at least, play as high possession a game as reasonably possible to evaluate all the intriguing, yet not obviously functional, talent David Kahn has acquired.

Mathew Lewis, Queen City Hoops: Fact. Although David Kahn and the rest of the organization is oft criticized for rostering too many point guards, they may have more of a glut at the forward position. Regardless, I think you have to stick Derrick Williams in at the 3 from the start and see how he responds.

Benjamin Polk, A Wolf Among Wolves: Probably, but the Wolves' frontcourt is a puzzle. The team's new coach will have to have real flexibility in his idea of positionality. Kevin Love, for instance, might have to play a lot of five. Still, Williams already looks like a more efficient version of Mike Beasley (both are undersized scoring 4s), so I'm thinking Beas is the odd-man out.

Ethan Sherwood Strauss, HoopSpeak: Fact. Play the (relatively) young guy! The Wolves are long on long-limbed tweeners, but none have proven themselves -- save for Kevin Love, who should have started from Day 1 in the league. Plant Williams at the 3, with Wes Johnson as a backup.
---
4. Fact or Fiction: Michael Beasley has a bright future in Minnesota.
Zach Harper, Daily Dime Live: Fiction. Michael Beasley may end up being successful in this league some day, but he isn't even close to being mature enough to harness his potential. The Wolves should attempt to pawn him off to a team in need of a potential star and wash their hands of this situation. The Wolves have enough options at his position to not deal with the headache.

Bret LaGree, Hoopinion: Fiction. Until he stops settling for jump shots, Beasley doesn't have a bright future anywhere in the NBA. Even then, he might just go on confirming the lesson learned from Ike Diogu: that gaudy NCAA rebounding stats might have more to do with your teammates than your own innate gifts.

Mathew Lewis, Queen City Hoops: Fiction. I would be very surprised if Michael Beasley ended the 2011-2012 season a member of the Timberwolves. It's not a question of talent, but how his personality fits in with a young and impressionable squad. My take: not well.

Benjamin Polk, A Wolf Among Wolves: Fiction, sad to say. He just has so, so much to learn: how to add dimensions to his shallow offensive game; how to actually attend to defense; how to regulate his emotions. I mean, did he seriously just facewash a fan at a streetball game?

Ethan Sherwood Strauss, HoopSpeak: Fiction. Unless the Coen Brothers feature him in a movie (fingers crossed), I see no bright Minnesota future for Beasley. This has more to do with his track record, and less to do with the Twin Cities.
---
5. Fact or Fiction: Minny makes the playoffs while K-Love is still there.
Zach Harper, Daily Dime Live: Fact. Unless Rubio becomes the next great PG in the next season or two, it would be a horrible business decision to not lock Love into an extension. He's not only their best player by far, but he's also extremely marketable for this team. Give Adelman the keys to the Brinks truck, get Rubio pushing this team and allow Love to help them make it back to the playoffs.

Bret LaGree, Hoopinion: Fiction. It's probably a fair bet that nobody on this roster will be on the next Timberwolves playoff team. This isn't the Eastern Conference, where 37 wins can get you in the playoffs (not to mention that Minnesota has needed 181 games to win their last 37) in the right season.

Mathew Lewis, Queen City Hoops: Fiction. Love has one year left on his contract before Minnesota is required to tender him a qualifying offer, which undoubtedly it will. But will he sign past the 2012-2013 season? I think the team will improve but still fall short of reaching the postseason, so I say no.

Benjamin Polk, A Wolf Among Wolves: Fact! Let's be really optimistic and say they land Adelman and that Williams and Rubio bring enough talent and positive vibes to persuade K-Love to sign an extension. If all that happens and David Kahn makes some good decisions in fleshing out the team around them (again with the optimism), I think they've got a chance.

Ethan Sherwood Strauss, HoopSpeak:
Fiction. Unless the new CBA somehow better-rewards consistent mediocrity, I see only future failure. Minny would need to hit a homer in the next two lotteries.


ESPN.com and the TrueHoop Network
Zach Harper moderates the Daily Dime Live chat on ESPN.com. Bret LaGree, Mathew Lewis, Benjamin Polk, Ethan Sherwood Strauss contribute to the TrueHoop Network.