The Boston Celtics look ahead to the coming season with that tick-tock sound growing ever louder, looking less like a team for the ages and more like one for the aged: Ray Allen is 36, Kevin Garnett 35, Paul Pierce 34.

Spring chickens, they ain't. But the champs of 2008 likely will still have a spring in their step with Rajon Rondo running the show. Even with Rondo at his best, though, will the C's have enough to hang with the fresh legs of the Miami Heat and Chicago Bulls?

So many questions. Our experts tackle them, 5-on-5 style.
1. Fact or Fiction: Rajon Rondo's up-and-down play is a concern.
Hayes Davenport, Celtics Hub: Fact. Yes, Rondo was an MVP candidate this past November, but his assist rate dipped in the second half and his defense has actually been in decline since 2009. Fans are also beginning to give up on his ever developing a jump shot. Rondo's floor vision is still excellent, but it's unclear how close he might be to his ceiling.

Ryan DeGama, Celtics Hub: Fact. One of the perils of NBA team building is misidentifying a star player as a franchise player and building your team around someone who can't carry you to a title. That description might fit Rondo, who remains valuable and cost-effective but who might never be better than a No. 3 guy on a championship team.

Chris Forsberg, ESPN Boston: Fiction, but only if President Barack Obama says so. Are there troubling portions of Rondo's 2010-11 season? Of course (attempts at rim down more than a shot per game, career-low free throw percentage). But he's still the straw that stirs the Big Three drink.

Brendan Jackson, Celtics Hub: Fact. Rondo represents the future of the Boston Celtics. That "future" could be with the team or as part of a trade, and playing inconsistently does not help the Celtics in either scenario. That being said, I don't believe Rondo's inconsistent play last season will be indicative of his future performance.

Brian Robb, Celtics Hub: Fact. Rondo may not be the best player on the C's, but the team is reliant on his energy and offense, especially against elite defenses. The major knock on the point guard throughout his career has been consistency, and he has not done enough to quiet those concerns despite back-to-back All-Star seasons.
---
2. Fact or Fiction: The Celtics should consider trading Ray Allen.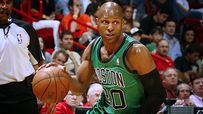 Hayes Davenport, Celtics Hub: Fiction. Consider everyone, but the Celtics should leave open the possibility that Ray would re-sign for a year if they land a big free agent next offseason. With a Dwight Howard type underneath, he'd be a nightmare on the wing. Physical conditioning isn't a concern: Allen is cut like American entitlement programs. Let's wait and see how far he can go.

Ryan DeGama, Celtics Hub: Fiction. Allen gives Boston great floor spacing, routinely knocks down the league's most emotionally devastating 3 balls and has a great contract that expires right in time for the 2012 free-agent class. He's too valuable to unload for anything but the kind of player Ainge can't get for him to begin with.

Chris Forsberg, ESPN Boston: Fiction. Basketball players -- especially jump shooters -- are supposed to be declining at age 36, but Allen is ageless and posted career highs for field goal (49.1) and 3-point (44.4) percentages last season, the latter of which was a franchise record.

Brendan Jackson, Celtics Hub: Fiction. Aside from the strategic implications of losing the Celtics' biggest 3-point threat, his contract makes it pretty hard to get equal value in return. Trading Allen also likely will signify the end of the Celtics' current title run. A hard pill for Celtics Nation to swallow.

Brian Robb, Celtics Hub: Fiction. Trading Allen, who set a franchise record in 3-point shooting percentage last season, would be foolish. The shooting guard is still one of the top 10 players at his position. Boston's offense is dependent on spacing and shooting, and getting rid of Allen for what likely would be an uneven return would close the door on Boston's championship prospects.
---
3. Fact or Fiction: Boston should bring back Jeff Green and Glen Davis.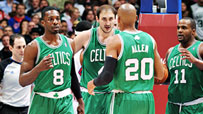 Hayes Davenport, Celtics Hub: Superfiction. Undersize forwards who can't rebound or defend their position? Not much use for them on this team, especially if the C's are serious about opening up roster space. Jeff Green's more likely to return, but he's also set to earn a payday way above his actual value. Let somebody else overpay for them.

Ryan DeGama, Celtics Hub: Fiction. Both of these tweeners were major disappointments last season, and neither one of them can/will rebound. Celtics president Danny Ainge might bring them back if they're open to one-year deals, but they'll probably find more money on the open market and end up irritating fans in some other city next season.

Chris Forsberg, ESPN Boston: Fact. Expectations need to be lowered with Green, who was simply Jeff Green last season (and that wasn't enough for some). His numbers will look better with more minutes. Glen Davis' mouth gets him in trouble at times, but he's quite valuable off the bench.

Brendan Jackson, Celtics Hub:
Fact. The next salary cap most likely will retain a mechanism that allows teams to go over the cap to re-sign their own players. Both Davis and Green have their flaws, but it comes down to the concept of equal value. It's doubtful the Celtics will be able get the same caliber players with the cap space left from Davis and Green's departures.

Brian Robb, Celtics Hub: Fact. I'd much rather Ainge bring back Davis before Green (Big Baby gets a bad rap because of his horrendous final two months in 2010-11), but both players' return will be necessary for this team to contend next season. Why? A lack of alternatives as well as giving the C's the continuity they lacked last season.
---
4. Fact or Fiction: The C's will go as far as Kevin Garnett takes them.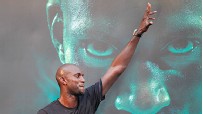 Hayes Davenport, Celtics Hub: Fiction. Garnett's still a force on defense, in the locker room and from 16-23 feet. But he's probably not going to stick around beyond next season, and next season isn't really relevant to the team's future. The franchise truly rests on Rajon Rondo's freaky spherical shoulders.

Ryan DeGama, Celtics Hub: Fiction. Even at their 2008 peak, this group of Celtics has never relied on a single player and the players have only become more interdependent with the encroachment of age and injury. So, even if KG could dominate both sides of the ball in every game of the 2012 playoffs (he can't), the C's could fall in the early rounds.

Chris Forsberg, ESPN Boston: Fiction. The Celtics had a healthy and spry KG last season, and injuries to Rondo and Shaquille O'Neal were still too much to overcome in the playoffs. The C's certainly need a dominant KG to win a title, but they need a supporting cast, too.

Brendan Jackson, Celtics Hub: Fiction. Garnett is the best player on the Celtics, but he alone does not make or break the team. The Celtics still need to figure out how they are going to guard LeBron James, Dwyane Wade, and Derrick Rose-- something Garnett only tangentially helps them do.

Brian Robb, Celtics Hub: Fiction. Garnett is a crucial cog to this team, but his expertise (defense) has not been the C's problem these past couple of years. As long as the members of the Big Three do not have significant declines in their games next year, Rondo will be the player whose performance will determine the team's fate.
---
5. Fact or Fiction: The Celtics' title window has closed.
Hayes Davenport, Celtics Hub: Fiction. For next year? Yeah, probably. They aren't going to improve, and a lot of teams are going to get better around them. But the prospect of rebuilding with one of the league's best distributors, an aging star or two, and an otherwise vacant roster is actually pretty exciting.

Ryan DeGama, Celtics Hub: Fact. In the past, Boston could count on going deep in the playoffs even with a few things going wrong. Now, they need everything to go right for that same result. X factor: Ainge's bench construction. A batch of young, athletic bigs and wings would give Boston a decent chance at making the Finals one more time.

Chris Forsberg, ESPN Boston: Fiction. Health is key, and age makes that more difficult, but with the right moves in building a supporting cast around the Big Four, the Celtics are in the mix, especially in a shortened season.

Brendan Jackson, Celtics Hub: Fiction. There is no doubt the road to the Finals goes through Miami or Chicago, but the Celtics will still be the third-best team in the East. Ainge will have to get creative in reloading the roster, but if the Big Three can still play at a high level, the Celtics still have a chance.

Brian Robb, Celtics Hub: Fiction. There have been numerous injuries that have hampered Boston's playoff runs since 2008. Excuses are excuses, but the fact of the matter is this team still has four All-Stars capable of playing at elite levels along with a top-notch coach. The window is closing, but there is still a wide enough crack to see through for one more year.


ESPN.com and the TrueHoop Network
Chris Forsberg covers the Celtics for ESPN Boston. Hayes Davenport, Ryan DeGama, Brendan Jackson and Brian Robb contribute to the TrueHoop Network.