Another year, another rebuilding plan in Toronto.

In Season 1 A.B. (After Bosh), the Toronto Raptors predictably stumbled, finishing 2010-11 with the worst winning percentage (.268) in franchise history since a 16-win campaign in 1997-98. But after importing another high-profile European -- center Jonas Valanciunas (of Lithuania), who won't arrive until 2012-13 -- is the Raps' long-term outlook back on track?

On the next-to-last stop on our 30-team offseason tour, our five-man team explores the possibilities across the border.
1. Fact or Fiction: The Raptors were wise to draft Jonas Valanciunas.
Note: The Raptors were rumored to be very interested in drafting PG Brandon Knight and C Bismack Biyombo, among others, but passed on them. Valanciunas will not join the Raptors for the 2011-12 season, but can join them for the 2012-13 season by exercising a buyout.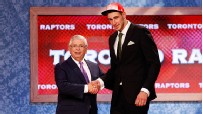 Patrick Hayes, PistonPowered: Fact. The Raptors have long lacked an active, tough rebounder in the middle. I don't know if Valanciunas will develop into that guy, but in a weak draft, he was worth the risk. And it's not like waiting a season for him is a bad thing. Perhaps it even improves their chances at a better pick in what should be a much better draft next year.

Sam Holako, Raptors Republic: Fact. Knight, Biyombo and Walker were the favorites among the fan base, but none was a surefire pick at No. 5. The Raptors have been in desperate need of a center forever, and Jonas fits the bill. He's an active guy who can fill up the lane and make things happen on both ends of the floor. His dominant MVP performance at FIBA U19, where Lithuania won gold, makes his drafting much more palatable.

Rashad Mobley, Truth About It: Fiction. The book on Valanciunas is that he's a good rebounder and defender. But if the Raptors wanted to bolster their defense -- which was last in the league in points allowed per 100 possessions -- why not reach for Bismack Biyombo, who is widely believed to be the defensive stalwart of the draft?

J.M. Poulard, Warriors World: Fiction. He currently projects to be a cross between Spencer Hawes and Primoz Brezec -- which isn't necessarily a bad thing. However, the Raptors already have a poor rebounding 7-footer taking up most of the minutes at center.

David Thorpe, Scouts Inc.: Fact. I give credit to the executives who drafted the player they thought was going to be the best player overall, despite knowing he wouldn't be helping them this year. He has been fantastic this summer and looks like the closest thing to a legit scorer/rebounder that an 18-year-old can look like.
---
2. Fact or Fiction: Toronto has a future All-Star on its roster.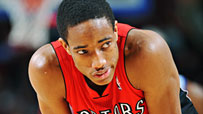 Patrick Hayes, PistonPowered: Fiction. The closest the Raptors come is probably DeMar DeRozan. He has intriguing talent, but as a guard in the East, his path to the All-Star Game is blocked by Derrick Rose, Rajon Rondo, Ray Allen, Deron Williams, Dwyane Wade and Joe Johnson, among others.

Sam Holako, Raptors Republic: Fiction. DeRozan is the closest thing the Raps have. The kid is a gym rat who has improved his game significantly from his rookie season and is on an upward trajectory. However, to challenge the likes of Wade, Johnson, Iguodala, Allen, et al., he will have to defend like a Trojan and be lights out from the perimeter. The team will also need to win some games.

Rashad Mobley, Truth About It: Fact. DeRozan, who right now is the only Raptor with a chance of earning an All-Star berth, has the potential to average 20-25 points per game for the next five to seven seasons. Once the Raptors complete their post-Bosh rebuilding process and reach the playoffs again, he'll be a no-brainer to make the team.

J.M. Poulard, Warriors World: Fiction. In order for the Raptors to get a player to the All-Star Game, they would likely have to manage a winning record at midseason and also have a player better than some current stars in the Eastern Conference. That's not very likely to happen now is it?

David Thorpe, Scouts Inc.: Possibly fact (as opposed to definitely fiction). Valanciunas has all the makings of an All-Star and is the only Raptor we can write that about. DeRozan and Ed Davis both can be good starters on good teams with improvement, but neither has the upside of Toronto's most recent pick.
---
3. Fact or Fiction: The Raptors' recent strategy of finding and featuring top international talent has worked out well for them.
Patrick Hayes, PistonPowered: Fact. They've found talent -- Bargnani, Calderon and even Garbajosa before his injury are all capable NBA players. The problem has been evaluating what it is worth. Bargnani and Calderon are both overpaid considering their limitations.

Sam Holako, Raptors Republic: Fiction. The Raptors have accumulated nice Euro talent over the years, but what gets lost is how cheaply, for the most part, they have been able to acquire them. The problem hasn't been the players' ethnicity, but the timing and philosophy in team building. While Anthony Parker, Jorge Garbajosa, Jose Calderon and Leandro Barbosa were all solid pick-ups, Bargnani, Turkoglu and Kleiza weren't good fits.

Rashad Mobley, Truth About It: Fiction. To say a strategy "worked out well" means your team is a championship contender. The Heat acquired Chris Bosh and LeBron James, and went to the Finals. The Spurs drafted Tony Parker and Manu Ginobili, and won three titles. The Raptors' international strategy the past six years has netted them two first-round playoff exits and a .420 winning percentage.

J.M. Poulard, Warriors World: Fiction. In the past four seasons, the Raptors have lost far more games (192) than they've won (136). They have gotten some decent talent from overseas, but the parts do not fit together, signaling that the strategy has to be deemed a failure for now. I like players such as Calderon, Bargnani and Kleiza. Just not on the same team.

David Thorpe, Scouts Inc.: Fiction, though not because the players they have found can not be productive NBA players. It's a coaches league, so the coach has to take most of the blame for the poor defense they have played for a while. Plus, had they gotten Tyson Chandler (which they tried to do) and Bosh stayed, their other players would have been better able to play to their strengths.
---
4. Fact or Fiction: Toronto should do all it can to sign Tyson Chandler.
Patrick Hayes, PistonPowered: Fact. Although the Raps would undoubtedly have to overpay to get him, Chandler would help; he and the active Amir Johnson would help mask Bargnani's defensive issues. Given Chandler's age and injury history, the signing could easily backfire, but Colangelo might not have time for a long rebuilding process.

Sam Holako, Raptors Republic: Fiction. The Raptors need to build for the future and have a nice start with Bargnani, DeRozan, Davis, Johnson and Valanciunas. Chandler is injury prone, and will command in the vicinity of $8-10 million a year, which could be a prohibitive deal in the new CBA. While he is exactly the type of player the Raptors need at center, acquiring him would have made much more sense while Bosh was in Toronto.

Rashad Mobley, Truth About It: Fact. Chandler is from Compton, Calif., just like DeRozan, so there's big brother/little brother potential. His inside presence frees Bargnani to play a Dirk Nowitzki-type game. And as cliched as "championship pedigree" sounds, it worked for James Posey as a role player in Miami and Boston, so it can work for Chandler as a starting center in Toronto.

J.M. Poulard, Warriors World: Fiction. Chandler would be a nice addition to play alongside Bargnani, but the team would still lack the necessary physical and mental toughness. Unless he comes with a Chris Paul or a Kobe Bryant, I don't foresee any drastic improvement from the Raps.

David Thorpe, Scouts Inc.: Fiction. Adding Chandler to this group defeats the purpose of loading up with young players and improving the "old fashioned" way. He, and they, would be frustrated with the end result and they would not be getting their money's worth.
---
5. Fact or Fiction: It'll be years before the Raps recover from losing Bosh.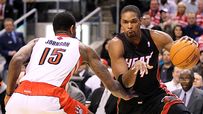 Patrick Hayes, PistonPowered: Fiction. Losing Bosh set them back, but this is a franchise that stayed alive after giving away Vince Carter. The Raptors have young assets in DeRozan, Johnson, Ed Davis and Valanciunas. As they surely know after landing Bosh in 2003, a turnaround only takes getting lucky in the lottery once.

Sam Holako, Raptors Republic: Fiction. If the Raptors handed Bosh that six-year, $120 million deal -- treadmill city. The problem was not losing Bosh, but the players that were hand-picked to play alongside him over the years; every single one of those moves set this team back. What's impeding the recovery is the fact that the guys who made those decisions are still at the helm.

Rashad Mobley, Truth About It: Fiction. Vince Carter left the Raptors after leading them to three playoff appearances, and Chris Bosh was there to pick up the slack and lead them to two of his own. Bosh left and DeRozan, Bargnani, Valanciunas and the 2012 lottery pick they will inevitably have will pick up the slack and have the Raptors in contention sooner rather than later.

J.M. Poulard, Warriors World: Fact. Bryan Colangelo might have made some great moves in Phoenix, but he has been mediocre at best as Toronto's general manager. The moves for Jermaine O'Neal, Shawn Marion and Hedo Turkoglu were complete flops and there's no reason to expect anything different going forward as long as he is at the helm.

David Thorpe, Scouts Inc.: It's a tossup until next year. That's when Valanciunas arrives. If he comes in as the heir apparent, or better, then the Raptors will glow in his aura just like OK City did with Kevin Durant despite losing so many games his first two seasons.


ESPN.com and the TrueHoop Network
David Thorpe is an NBA analyst for Scouts Inc. Patrick Hayes, Rashad Mobley, Sam Holako and J.M. Poulard write for the TrueHoop Network.