First ESPN.com and the TrueHoop Network ranked every NBA player, from No. 500 to No. 1. Then we started counting 'em down.

Now we're more than halfway though, and the countdown rolls on.

How did we do so far? Here are some reviews of players ranked too high or too low by our esteemed panel of 91.

You can follow the latest countdown on Twitter (@NBAonESPN), from No. 500 to No. 1.
1. Which player so far is the most overrated in #NBArank?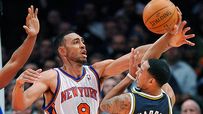 Jovan Buha, Clipperblog: Jared Jeffries at No. 264. He's one of the game's worst offensive and least productive players, incapable of scoring, shooting, dribbling or passing (he plays defense … sometimes). There's no way he should be ahead of Reggie Williams, Nazr Mohammed, Craig Smith or Kemba Walker (to name just a few players).

Hayes Davenport, Celtics Hub: Steve Blake at 241. The Lakers brought him in last season to provide steady distribution off the bench. Instead he gave them a defensive nonentity, his worst true shooting percentage since 2007 and two assists in 20 minutes per game. The crazy part? He might not have been the Lakers' worst point guard.

John Hollinger, ESPN.com: The Michigan State backcourt. Charlie Bell and Mo Peterson each rated ahead of 120-plus players even though both are utterly finished and have been for at least two years. Also, Eddy Curry is seven spots too high.

Rahat Huq, Red 94:
Luther Head. His 403 ranking is a falsehood, a crime against honest evaluation. Anyone who has suffered the grave misfortune of watching Luther Head play basketball up close, extensively, knows that he should be ranked no higher than as the very worst player in the entire NBA.

Jared Wade, Eight Points, Nine Seconds: Brandan Wright at 305. In 2008, it was funny when we were overrating this guy based solely on the potential of his athletic ability. Now? It's just puzzling.
---
2. Which player so far is the most underrated in #NBArank?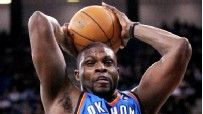 Jovan Buha, Clipperblog: Nazr Mohammed. No. 286 would put Mohammed as a mid-tier 10th man in the league, which is a complete travesty. Despite lacking notoriety among the NBA community, Mohammed is one of the game's top backup centers and a solid rebounder and defender, and has discreetly racked up a half-decade of quality efficiency.


Hayes Davenport, Celtics Hub: Craig Smith at 290. Rhino's minutes and Rhino himself are not huge, but he plugs the inside and pulls down solid rebounding/shooting numbers in the time he gets. His PER alone puts him about 150 slots higher. Craig's a useful player, which at least separates him from everyone in his rank neighborhood.

John Hollinger, ESPN.com: Every rookie. For example, the fourth overall pick in the draft (Tristan Thompson) is rated between Luke Walton and Maurice Evans. Not those two players in their prime, but those two right now, in their barely-hanging-on phase. That's just silly.

Rahat Huq, Red 94: The notion of Josh McRoberts being underrated likely comes as sheer hilarity. But this affords an opportunity to make mention that the Memphis Grizzlies apparently thought highly enough of this man to trade O.J. Mayo for him. That nixed deal probably told us more about Mayo than anything else, but my world since still hasn't made any sense.

Jared Wade, Eight Points, Nine Seconds: A.J. Price, even though his ranking isn't egregious. But he will be a good backup point guard in this league for the next half-decade and in the 10-man rotation of one of the league's 30 teams, so No. 324 is a little low.
---
3. Which player so far will make the greatest leap in 2012?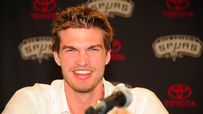 Jovan Buha, Clipperblog: Tiago Splitter, who's now at No. 226. With Tim Duncan fading into oblivion, Antonio McDyess close to retirement, DeJuan Blair running out of opportunities and Matt Bonner lacking defensive/rebounding skills, Splitter is set to have a prominent role in '11-12. He'll never put up gaudy numbers, but he seems poised to become one of the game's better defensive big men.


Hayes Davenport, Celtics Hub: Reggie Williams at 283. Next year will be his third in the league, and in each of the last two he's increased his ability to both get to the rim and shoot from outside. Still doesn't rebound or defend his position that well, but he doesn't deserve to be looking up at Chris Duhon as it is.

John Hollinger, ESPN.com: Tiago Splitter. After a year learning the system, he's ready to be a major contributor to the Spurs' front line. His translated European stats indicate he'll be an upgrade on Antonio McDyess.

Rahat Huq, Red 94: Gordon Hayward, No. 221. The sparkling shooting percentages jump out as good future indicators for the cult hero. I'm also among the 27,000 to have watched highlights on YouTube of Hayward dropping 26 on the L.A. Lakers; I feel rather comfortable with this pick.

Jared Wade, Eight Points, Nine Seconds: Probably one of the rookies. The Cavs certainly hope it will be No. 4 pick Tristan Thompson. But Tiago Splitter (No. 226) has the chance to move up 75 places in his second year now that Spurs coach Gregg Popovich will trust him a little more.
---
4. Which player so far will fall the furthest in 2012?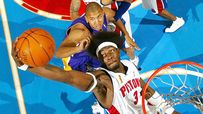 Jovan Buha, Clipperblog: Ben Wallace, No. 227. Besides a remarkable 2009-10 season, "Father Time" has severely limited Wallace's productivity since 2008. The soon-to-be-37-year-old will continue his downward spiral next season, allowing Greg Monroe to log significant minutes as the Pistons' premier big man and franchise cornerstone.

Hayes Davenport, Celtics Hub: Michael Redd, now at 252. He'll always have his legacy as the league's best pure scorer in 2006, but his knees have reduced his games played for the last four years and brought his shooting percentages down with them. Next year he'll sign with a contender off the bench, but I don't know if the risk is worth the investment.

John Hollinger, ESPN.com: Well, Brad Miller is ranked above more than half the league even though he had microfracture surgery, will likely miss the entire season, is 35 and may decide to retire. So I'll put my chips on him.

Rahat Huq, Red 94: Ben Wallace. It's hard to see Big Ben's body holding up another year. In truth, it was hard to see Big Ben's body holding up another year three seasons ago. If he can average more than six boards again in '12 (or '13, by the looks of things), put in my drink whatever he's been having.

Jared Wade, Eight Points, Nine Seconds: Juwan Howard at 334. We saw some great flashes from Ol' Man River in Portland, but he was very ineffective in limited minutes with Miami last year. I'm not sure how any team could rationalize giving him minutes next season.
---
5. Which player's #NBArank has surprised you the most so far?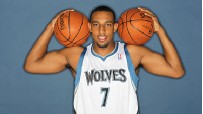 Jovan Buha, Clipperblog: The rookies. It's surprising to see first-round picks ranked behind players currently out of the NBA (or 14th and 15th men in the league). The 2011 draft class isn't good by any means, but at least a few players will find their way into their team's rotations, thus cracking at least the top 250.


Hayes Davenport, Celtics Hub: The biggest debates going into the 2011 draft were Brandon Knight versus Kemba Walker at point guard and Jonas Valanciunas versus Jan Vesely underneath. And now both pairs tie each other exactly? In a set of rankings voted on by 91 different people? Where is the Justice Department on this? Are they afraid to investigate?

John Hollinger, ESPN.com Jonny Flynn at 262. After a rocky first season and an absolutely brutal second one in the wilds of Minnesota, I'm surprised he retained enough name recognition to outpoll Kemba Walker, Brandon Knight and Jimmer Fredette.

Rahat Huq, Red 94: DeShawn Stevenson at 229 -- behind the corpse of Brad
Miller -- is a bit of a shock. I guess nail-tight defense for the reigning champs, and $2.30, still only gets you a cup of coffee at Starbucks.

Jared Wade, Eight Points, Nine Seconds: Von Wafer. Largely because I forgot he had even returned to the NBA.


ESPN.com and the TrueHoop Network
John Hollinger writes for ESPN.com. Jovan Buha,
Hayes Davenport, Rahat Huq and Jared Wade
contribute to the TrueHoop Network.