Are the Lakers out of gas? Will Blake Griffin gather not one, not two … MVP trophies? What's next for the MVP laureate in the Valley of the Sun?

The questions just keep coming in the Pacific Division like waves lapping the beach. Such as: Will Mark Jackson turn the Warriors in the right direction? And what of this Jimmer fellow in Sacramento?

Our panel launches a few arcing shots in today's game of Over/Under, Pacific-style.
1. Over/Under: One title for the Lakers in the next five years.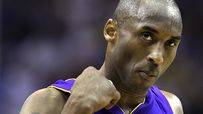 J.A. Adande, ESPN.com: Push. I don't think it will happen with this current roster, but if they make a big move, they can get another one before Kobe Bryant retires.

Jordan Heimer, ClipperBlog: Push. Here's one not-too-hard-to-imagine way 2011-12 plays out: Kobe's knees are richer in platelets, but the rest of him is still old. Andrew Bynum reports 20 pounds overweight and promptly gets injured. Mike Brown gives so many defensive news conferences, he thinks he's back in Cleveland. Lakers flags stop flapping by mid-May … and a year later, Jerry Buss is filling a champagne flute for Dwight Howard.

Jonathan Santiago, Cowbell Kingdom: Push. I think they can win at least one more title the way they're constructed. Despite shortcomings in depth, that's an issue they can solve through trades or free agency. Last season's short playoff run might even provide the extra rest Kobe needs to slow his decline.

Michael Schwartz, Valley of the Suns: Under. It's never wise to bet against Kobe, but this Lakers team looked old last postseason and might have to find a way to lop off payroll if the owners win the collective bargaining agreement. Without a massive payroll advantage and with Kobe aging, these won't be the same Lakers.

Ethan Sherwood Strauss, Warriors World: Under. Much like Kobe's bite after big shots, this is a strong under. As Bryant and Pau Gasol exit their primes, the Lakers will tote less spackling to cover up for what they lack at point guard and small forward. Where is the new talent coming from? Don't say "Bynum," because his knees are made from that spackling. And if you say "Dwight," that's more a hope than a promise.
---
2. Over/Under: One more full season in Phoenix for Steve Nash.
J.A. Adande, ESPN.com: Under. Mainly because I don't think there will be a full season in this, the final year of his contract. I don't think they'll trade him; he'll leave as a free agent after next season.

Jordan Heimer, ClipperBlog: Under. One of the lockout's residual effects is a stacked 2012 draft. It's true that cost-conscious (read: cheap) owner Robert Sarver has been reluctant to trade Nash, the one draw on an uninspiring team. But Sarver must recognize that nothing depresses a fan base like a team with no discernible plan to contend -- Nash is gone if the Suns can find an offer that includes a lottery pick.

Jonathan Santiago, Cowbell Kingdom: Under. This is probably the year the Suns seriously look at trade offers for Nash. Although I think he's capable of playing at a high level until he's 40 years old, his value only declines as time goes on. Sell while it's still relatively high.

Michael Schwartz, Valley of the Suns: Over. Suns president Lon Babby has repeated the mantra "We are not trading Steve Nash" so many times that he has considered making a recording for reporters to play whenever this topic comes up. A terrible first half could make the Suns change their tune, but they have given no inclination of any desire to part with their franchise player.

Ethan Sherwood Strauss, Warriors World: Under. A friend has a theory that an "aging" Nash will never get worse but instead simply explode into mummy dust one fateful game. Although I doubt that will happen, it's more likely than Nash playing another season under Sarver after his contract is up.
---
3. Over/Under: No. 8 seed in the West for the Warriors.
Note: Upon being hired as the new coach, Mark Jackson said, "I fully expect, put it in bold letters, the Golden State Warriors to be a playoff team next year."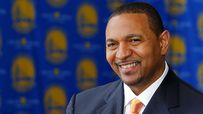 J.A. Adande, ESPN.com: Under. I don't see where they will get the extra 10 wins that would have made them a playoff team last season. (Blake Griffin added only three wins to the Clippers last season.)

Jordan Heimer, ClipperBlog: Under. It's great that Coach Jackson has come in preaching defense. Hand down, man down? Agreed. But just because it rhymes doesn't make it true. Monta Ellis still can't guard opposing 2s and David Lee still can't move, liabilities that can't be overcome in the hypercompetitive Western Conference.

Jonathan Santiago, Cowbell Kingdom: Under if the season is played entirely, push if it's shortened. The Warriors were only five games back from making the playoffs the last time there was a lockout. And this current team has far more talent.

Michael Schwartz, Valley of the Suns: Under. The Warriors always have possessed enough offensive talent to be a playoff team, but they have barely seemed to try on defense. Jackson will make defense a priority, but as things stand now, Golden State does not possess the kind of defensive personnel to make wholesale improvements on that end.

Ethan Sherwood Strauss, Warriors World: Under. Golden State loves to gild a dirt clod, so it's nice to see a coach with actual expectations. But the Warriors just have too many guys playing the same position. On the court, it will be Stephen Curry and Ellis fighting over the ball. Off the court, it will be Larry Riley, Bob Myers and Jerry West fighting over whether to trade Curry or Ellis.
---
4. Over/Under: One MVP award in Blake Griffin's career.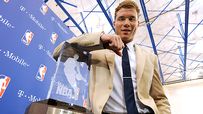 J.A. Adande, ESPN.com: Under. See above. See also LeBron James, Dwight Howard, Kevin Durant, Derrick Rose. Those guys will be too good for too much of Griffin's career.

Jordan Heimer, ClipperBlog: Over. No one would argue that he has the talent. Now throw in the dunks, the exposure that comes with playing in Los Angeles, his charismatic emergence as the league's most marketable face and the practically messianic aspects of turning the Clippers into contenders. (Also, I assume my love counts for something.)

Jonathan Santiago, Cowbell Kingdom: Push. If he can do the unthinkable and turn the Clippers into a perennial 50-plus win team over an extended period, he should win at least one. Remember, Elton Brand was in the MVP conversation the last time the Clippers were good, and they won 47 games.

Michael Schwartz, Valley of the Suns: Push. Griffin is an incredible talent who figures to produce one transcendent season to net himself an MVP. However, with LeBron and Durant MVP threats every season and the Clippers yet to show many signs of competency, it's a stretch to expect Griffin to join the exclusive ranks of multiple-MVP winners.

Ethan Sherwood Strauss, Warriors World: Push. Like Charles Barkley, Griffin will win an MVP on his second, more competent team.
---
5. Over/Under: 25 games in which Jimmer will lead Evans in scoring.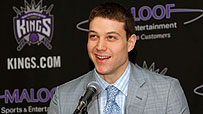 J.A. Adande, ESPN.com: Under. To lead the team in scoring, Jimmer Fredette will have to keep the ball out of the hands of Tyreke Evans and DeMarcus Cousins. They won't like that … and they're bigger than he is.

Jordan Heimer, ClipperBlog: Under. Undoubtedly, there will be a handful of games in which Jimmer will pace the Kings with 30-plus. But a far more common sight will be Jimmer on the bench in crunch time after one of the West's high-octane shooting guards has spent three quarters lighting him up. To score a lot of points you need to play a lot of minutes, and there will be a lot of nights Jimmer won't be able to stay on the court.

Jonathan Santiago, Cowbell Kingdom: Under. Besides Evans, Marcus Thornton (should he re-sign, and there are strong indications he will) and Cousins are both ahead of Fredette in the Kings' offensive hierarchy.

Michael Schwartz, Valley of the Suns: Over. Evans missed 25 games last season and failed to hit even double figures in nine more. Even if Evans stays healthier next season, Jimmer is explosive enough to surpass this mark fairly easily, unless the lockout robs him of half a season.

Ethan Sherwood Strauss, Warriors World: Under. I'm not shaking a wrinkly fist at Jimmer's streetball verve. No, what concerns me is Fredette's shot. He often slowly gathers, pulling the ball back like an ogre loading a medieval catapult. This is where the Stephen Curry comparison melts. Curry wasted no time adjusting to the NBA because he wastes no motion when hoisting 3s above limbs.


ESPN.com and the TrueHoop Network
J.A. Adande writes for ESPN.com. Jordan Heimer, Jonathan Santiago, Michael Schwartz and Ethan Sherwood Strauss contribute to the TrueHoop Network.