Are the Oklahoma City Thunder ready to step up to the NBA Finals? Is Greg Oden ready to shake the injury bug? Will Ricky Rubio shoot well enough to survive in the league?

Plenty of questions abound for the Northwest Division teams.

No easy answers exist, but our writers gave their best over/under estimates on a key possibility for each team.
1. Over/Under: Western Conference finals for the Thunder.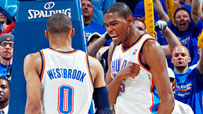 Henry Abbott, ESPN.com: Push. My concern is Kendrick Perkins' health. (My concern is not the maturation of James Harden, Serge Ibaka and Kevin Durant.) With Perkins healthy, they're huge, tough, scrappy and supertalented.

Zach Harper, Daily Dime Live: Push. The Thunder had a great run last playoffs and put away two up-and-coming teams on their way to the Western Conference finals. They also seemed to realize they had a fantastic playmaker on the wing in Harden. But coach Scott Brooks still comes up with end-of-game offensive schemes that seem overmatched. No shame in pushing on this one.

Nick Smith, Salt City Hoops: Under. The Kevin Durant/Russell Westbrook show is great fun during the regular season, but I don't see OKC making the conference finals until it discovers a way for those two to be efficient in tandem. It's time for OKC to cash in for Westbrook and let KD and Harden take over.

Jeremy Wagner, Roundball Mining Company: Over. I picked the Thunder to make the NBA Finals last season, and I have not seen anything to dissuade me from believing that they will not be the dominant team in the West throughout Durant's prime.

Royce Young, Daily Thunder: Push. One thing a lot of people don't realize about the Thunder's run to last season's Western finals: It was kind of a perfect storm for them to get there. The Spurs got upset by the Grizzlies. The Lakers were in a bit of turmoil. And even the Mavericks weren't a powerhouse before the postseason started. Oklahoma City will be a year older and therefore a year better with added wisdom and maturity. But the West will be strong again. It's no easy road to the Finals through the West, and although the Thunder will get over the hump eventually, it just might not be next season.
---
2. Over/Under: 50 wins for the Nuggets next season.
Henry Abbott, ESPN.com: Over. I know they keep losing people to far-flung places, but the post-Carmelo-trade Nuggets are as enthusiastic a bunch as you'll find anywhere.

Zach Harper, Daily Dime Live: Under. I can't believe I'm going to type this, but a George Karl team will greatly miss J.R. Smith. We don't know what the Nuggets will do in this flash-mob offseason, but they still don't have a go-to scorer at the end of games. Two of their best wing players, J.R. Smith and Wilson Chandler, will be stuck in China. They'll end up with a win total in the mid-to-high 40s, but that sounds like the ceiling to me.

Nick Smith, Salt City Hoops: Under, especially if they don't re-sign Nene and half the team is stuck playing in China. Denver hit the jackpot by getting Kenneth Faried late in the draft, but Timofey Mozgov and Kosta Koufos are not about to fill the shoes of Nene. If those key players are gone, Denver just won't have the talent for 50 wins.

Jeremy Wagner, Roundball Mining Company: Under. The key to Denver's late-season success was its depth. The Nuggets already lost Smith and Chandler to the Chinese league (from which they cannot return until the end of the Chinese season), Kenyon Martin might have played his last game as a Nugget, and there is no guarantee that Nene will be back, either.

Royce Young, Daily Thunder: Under. It hasn't helped that two of last season's rotation players won't be back, as they've taken their talents to China, at least until March. Then, of course, there's the issue of getting Nene re-signed. Aside from all that, the remade roster after the Carmelo trade overachieved for two months. I don't see how they can sustain that performance for 82 games (or 50 or whatever).
---
3. Over/Under: The No. 8 seed in the West for the Jazz.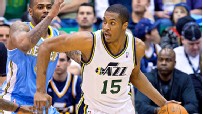 Henry Abbott, ESPN.com: Under. I believe in Derrick Favors, but this is Year 1 of a profound transition, and the Jazz are in a conference with the Mavericks, Lakers, Thunder, Spurs, Nuggets, Rockets, Grizzlies, Hornets, Blazers. ... The math gets tough.

Zach Harper, Daily Dime Live: Under. This has less to do with them and more to do with the stacked Western Conference before them. Assuming we don't have major cosmetic changes to the Spurs, Lakers, Mavs, Thunder, Blazers, Grizzlies, Nuggets and Hornets, the West is just very crowded. Add in the Clippers and Suns, and we're already over capacity for this party.

Nick Smith, Salt City Hoops: Under. Utah has an exciting young roster but nowhere near enough experience to grab that last playoff spot. A Jerry Sloan-led team might claw its way in, but Tyrone Corbin is as inexperienced as his players. The Jazz's highest priorities should be about the development of their young players, especially Favors, even at the expense of making the playoffs.

Jeremy Wagner, Roundball Mining Company: Under. The Jazz were a mess at the end of last season, and although I like the additions of Enes Kanter and Alec Burks, I do not think the pieces they have fit very well together. If they do sneak into the playoffs, it will be because teams such as Denver, Houston and Phoenix are declining, and the eighth spot becomes a scrum for the mediocre as it is in the East.

Royce Young, Daily Thunder: Under. It's tough to imagine, but it's really full on rebuilding time in Salt Lake City. And it's a good time to do it. With Sloan gone along with Deron Williams, it's sort of a natural time to start anew. There's some talent on the roster, but the team is missing a star scorer who can carry them through tough stretches. It takes winning at least 45 games to get to the playoffs in the West, and the Jazz aren't built for that.
---
4. Over/Under: 41 games played with the Blazers for Greg Oden.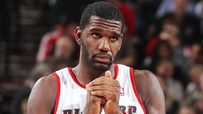 Henry Abbott, ESPN.com: Over, for sure, but some of those might be on Xbox.

Zach Harper, Daily Dime Live: Over. Greg Oden probably will play about 80 games with the Blazers. You're just asking about the rest of his career, right? And now I'm depressed.

Nick Smith, Salt City Hoops: Over, but only if the Blazers limit his playing time. Jokes about Oden's health are easy, but I'd love to see the guy play a full season. With the Blazers following the Shaq/Yao Ming/old-man model and limiting his playing time, hopefully he'll stay away from street clothes. Will anyone play 41 games, though?

Jeremy Wagner, Roundball Mining Company: Under. Many players suffer a couple of injuries early in their career and end up with the injury-prone label. Nene was one of those players, but when you look at the injuries he suffered, there was no pattern, just bad luck. With Oden, there is an undeniable pattern. I might take the under even if we were talking about 41 games for the rest of his career.

Royce Young, Daily Thunder: Over. I continue to remain blindly optimistic about Oden's career. I don't have a good reason for it, but I just think that at some point it will work out for him. Maybe not for a full season, but at least for half of one. I mean, he almost played 40 games in his freshman season at Ohio State, so why can't he do it once in the NBA?
---
5. Over/Under: 40 percent FG% for Ricky Rubio in his rookie season.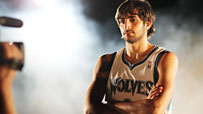 Henry Abbott, ESPN.com: Under. Plenty of NBA rookies shoot in the 30s. Players who can't score at lower levels of basketball are especially prone to this.

Zach Harper, Daily Dime Live: Under. I'll guess about 38 percent for Ricky in his first season with the Wolves. The shooting percentage won't matter as long as he's finishing around 55 percent at the rim and taking fewer than six shots per game. And whatever you ask for the over/under on passes to the third row, I'm taking the over.

Nick Smith, Salt City Hoops: Under. After watching Rubio play in the EuroBasket, I'm absolutely baffled trying to imagine a scenario that will allow him to have any success scoring the ball in the NBA. That said, I'm not writing him off as a complete bust -- I think he will surprise with his court vision and ability to defend.

Jeremy Wagner, Roundball Mining Company: Under. I can see the argument that his overall skill set is better suited for the NBA than Europe, but bad shooting is bad shooting regardless of what geographic location the shots are taken. Rubio may struggle to make 35 percent of his shots in the NBA.

Royce Young, Daily Thunder: Under. Some players who shot worse than 40 percent as a rookie: Jason Kidd (38.5), Russell Westbrook (39.8), Chauncey Billups (39.0) and Raymond Felton (39.1). Not only will it happen, but it also happens to pretty good players. It's hard to know how good Rubio is or will be, but we definitely know he can't shoot. I'd say Rubio shooting worse than 40 percent would have to be the lock of the 5-on-5.


ESPN.com and the TrueHoop Network
Henry Abbott writes for ESPN.com. Zach Harper hosts Daily Dime Live. Nick Smith, Jeremy Wagner and Royce Young contribute to the TrueHoop Network.